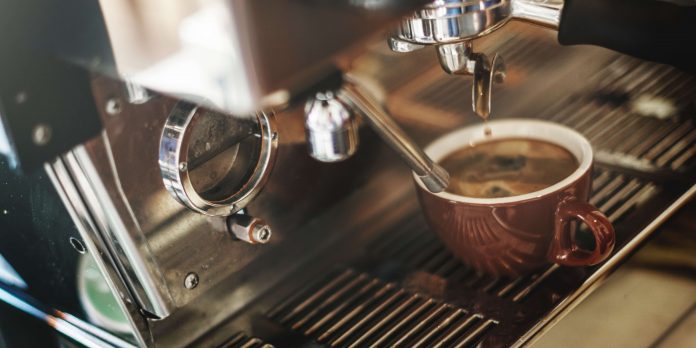 So… you like a quick cup of coffee, and a quality brew at that, then a single-serve coffee maker with a built-in grinder should be your choice.
You don't have to be coffee gourmet to know that a coffee maker with grinder packs in more functionalities than regular coffee makers. Like a typical hybrid machine, this type of coffee maker offers you the best of both worlds. Read on for our list of Best Single Serve Coffee Maker that has been reviewed by us and other users.
With the single-serve or single-cup functionality, you get a coffee maker that is optimized to reduce waste of brewed coffee or your premium coffee beans.
Finally, you got the built-in grinder. It is there to grind fresh coffee beans. This, invariably, means any time you get the coffee maker to dispense your beverage, it is going to be fresh. If you prefer to grind your beans yourself – that is an even better option, as you can then buy the grinder that you feel most comfortable to work with. Here is an article on how to choose a grinder and what to look for in one.
All this comes at a cost. The hybrid nature of a single-serve coffee maker with built-in grinder demands you pay a bit more for them than ordinary coffee makers. After all, you are practically purchasing three machines in 1 elegantly-built coffee maker.
But you just don't run off and get one once you'd decided you need it, especially if this is your first hybrid coffee maker. Below are some of the factors you must consider first
Type of grinder – burr grinders is better than blade grinders. But they are more expensive
Grinder settings: the best hybrid coffee makers should give you the option of choosing how fine you want your coffee beans ground
Filter – it should be easily removable and changed in case it is not functioning well.
10 Single Serve Coffee Makers With Built-in Grinder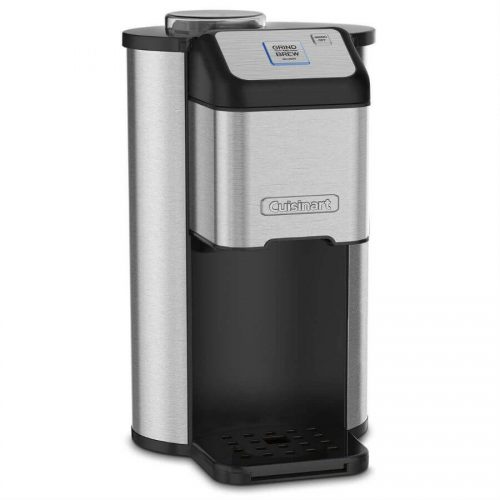 Cuisinart's Grind and Brew is a single-serve coffee maker with a built-in grinder that combines quality and convenience in a sleek, polished-chrome with black trimmings body.
Among its other features, this easy-to-use coffee maker has an automatic whole beans blade grinder which dispenses the ground coffee directly into the filter basket.
It has several removable parts for easy cleaning including a drip tray large enough to accommodate a travel mug.
Considering the elegance and design, Cuisinart coffee maker is not too pricey. It is the sort of appliance that complements a modern kitchen.
Pros
The controls are easy
3-year warranty
Spills are almost non-existent
Beautifully designed and durable
Can make coffee with different flavors
Cons
Too many parts clean and reassemble: can be time-consuming
You have to clean after every cup of coffee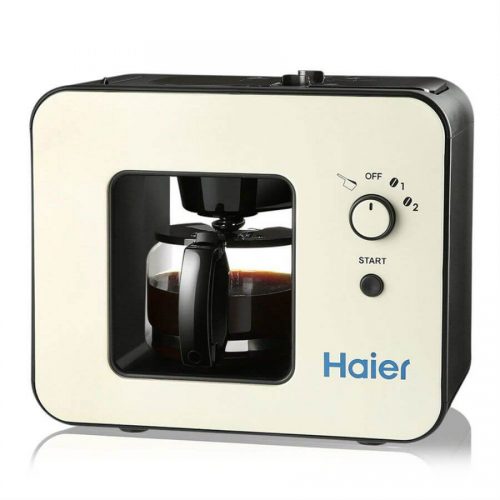 Apart from the unusual square shape, the Haier Brew Coffee Maker with Grinder comes with several stand-off features to be a perfect fit for your tabletop.
The compact coffee maker has a fast-brew function that'd grind and brew a hot cup of coffee in 5 minutes tops. Just the thing you need when you are running late.
The simple-to-operate unit has an automatic filter. In effect, you never have to buy extra filters.
For a coffee maker so unique, the price is very attractive bothering on 'cheap.' But it is a quality product at that price.
Pros
Unique retro design
It is very inexpensive
Easily removable blade and filter parts for cleaning
Very easy to use with a simple dial
It is compact and doesn't take up too much space
Cons
The coffee pot is rather small
Brewed coffee is not very strong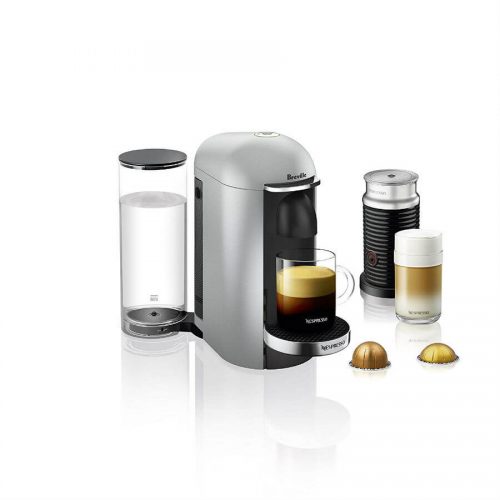 The Nespresso VertuoPlus Deluxe coffee maker is a charcoal black, tastefully-designed unit with silver accents. This coffee maker stands out by the design of the water reservoir: its position can be changed depending on available space.
It comes with a 'Centrifusion' technology that automatically recognizes the kind of capsule to be brewed. It then adjusts extraction for the best flavor.
The unit is all about flexibility. It can accommodate four different cup sizes depending on your need at any time.
The coffee maker doesn't come cheap though. Similar Nepresso's products are not as expensive. But the combination of quality and features makes it worth the dent in your cash balance.
Pros
Comes with 12 complimentary Nespresso Vertuo capsules
Responsive customer service
Adjustable cup positions
No need to adjust settings for a new blend/brew
One-touch operation for all coffee flavors
Cons
Doesn't come cheap
Too many moving parts; prone to mechanical failure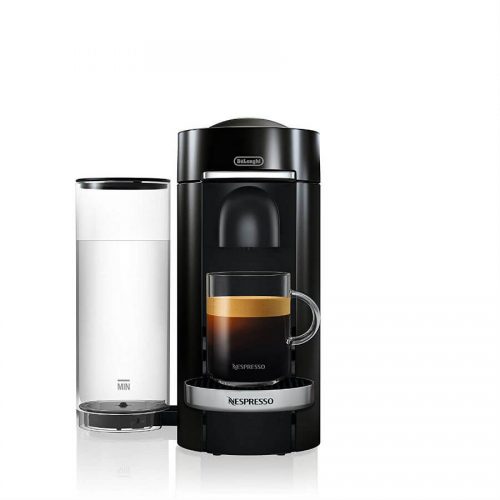 DeLonghi's VertuoPlus Espresso Machine is a single serve coffee maker with built-in grinder designed in black colors with silver trimmings.
The unit is minimalistic and comes with a 'Smart Coffee Maker' feature that can brew perfect coffee with different blends without adjusting the settings.
This is a fast-heating machine that heats up in less than 15 seconds to guarantee your favorite coffee in quick time. Among other features, the water tank is mounted on a motorized platform that can swivel to different positions.
Relatively, this coffee maker offers a bargain price compared to the Nespresso Deluxe reviewed above that has almost similar features and functions.
Pros
Cup sizes are adjustable
Simple One-touch operation
Features automatic blend-specific brewing
Capsules are hygienically sealed and can be recycled
The flavors are great
Cons
Can use Nespresso Vertuo capsules only
Brewed espresso is not very hot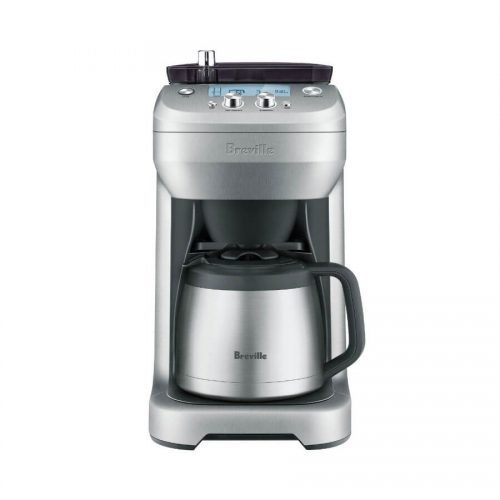 Breville's BDC650BSS Grind Control coffee maker is a compact, stylish and light unit with a built-in grinder.
Its QuickTouch feature sets it apart from other coffee makers. This feature integrates three functions: time, brew-strength and auto-brew to create just the perfect coffee when you need it.
It also has a 'Sneak-A-Cup' function that allows you to get a quick cup while brewing without making a mess. This can be handy for those mornings you still are blurry-eyed.
To get this compact machine, you'd have to spend quite a bit. It could be the most expensive coffee maker in this review by a long shot.
Pros
It is a very light compact unit
The concentration of brew can be regulated
Beautifully-designed and well-built
Stainless steel burr grinders would last long
Includes a cleaning brush for easy maintenance
Cons
Quite expensive
The bean hopper is relatively small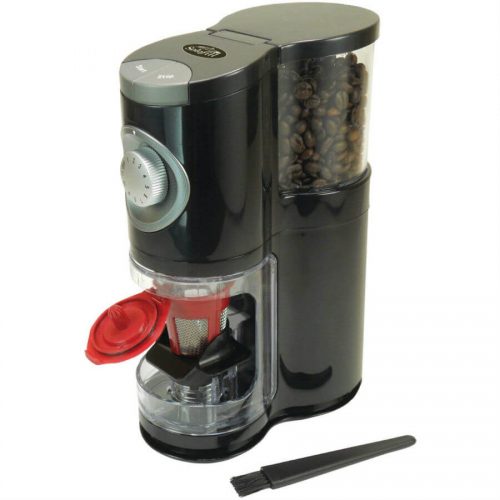 Solofill's single serve coffee maker is a black, compact, easy-to-use machine that'd be a perfect fit if space is at a premium in your apartment or tabletop.
The unit has a 'Grind and Drop' feature that feeds the exact amount of ground coffee to the filter cup. Before that happens, the low-rpm grinder ensures there isn't an unnecessary built up of heat when the coffee is being ground.
Other important features include grind-size selection, auto shut-off and an adapter that makes it possible to interchange the single serve cup and ground coffee container.
Unlike most coffee makers in this review, this coffee maker is relatively inexpensive. This makes sense considering the compact size and simple design.
Pros
It is easy to use
Comparatively inexpensive
Adjustable grind size
Auto-shuts off until after completed grind circle
Can select grind size
Cons
Doesn't have a setting for a single K-cup
It is hard to clean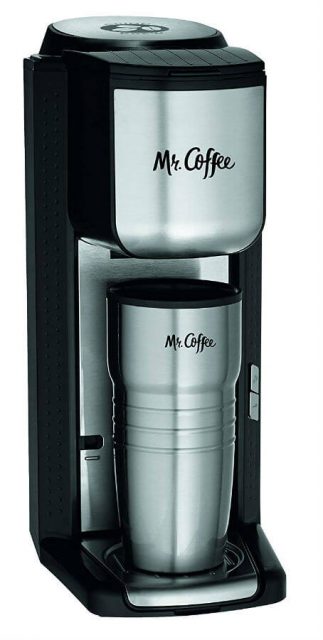 Mr. Coffee's Single Cup Coffee Maker with a built-in grinder is a simple, yet elegant coffee maker in a black and silver frame.
It comes with a stainless steel traveling mug you can carry along with you to drink on the way if you are in a rush. The filter basket is very easy to detach from the unit making it easy to clean. It is also dishwasher-compatible.
The adjustable brew-size functionality is the standout feature in this coffee maker. The variable brew sizes cab be adjusted up to 16 oz. to fill up those large mugs.
For a coffee maker of such quality, it is very affordable and compares favorably with some of the least expensive brands in this review.
Pros
It has adjustable brew sizes
Can brew coffee directly into a travel mug or coffee cup
It is effortless to use and clean
Filter basket can be removed easily
Can grind and brew whole beans or traditional ground coffee
Cons
Using the grinder can be messy
Travel mug doesn't keep coffee hot for long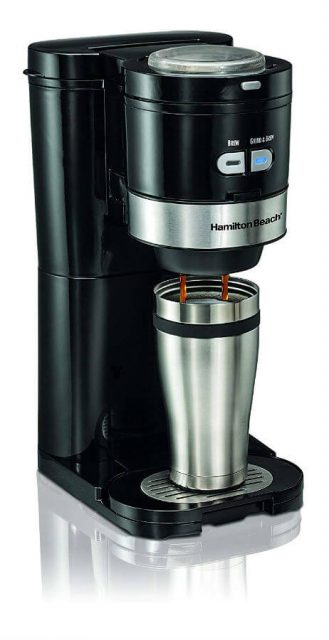 The Hamilton Beach 49989 single serve coffee maker with built-in grinder is one of the better coffee makers in the market which combines functionality with competitive price.
This mainly black coffee maker is easy to operate and comes with auto-rinse and adjustable cup rest features. Other features include the additional coffee scoop, travel-mug compatibility, and ability to dispense two cups simultaneously.
The automatic rinse is the standout feature. This cleans the grinding chamber automatically to prevent clogging.
With the adjustable cup rest, you have the option of either using a regular cup or a travel mug for those times you want more coffee.
Hamilton Beach's grind and brew coffee maker is priced decently in keeping with the simple design and functionality of the product. It is a middle of the line product relative to the other products in this review.
Pros
It is convenient to use
Cleaning is easy with help from the automatic rinse
Has a metal drip for a less messy brewing process
You can fill two cups simultaneously
Gives the option of using traditional ground coffee
Cons
The grinder is way too noisy
The adjustable cup tray is unstable and flimsy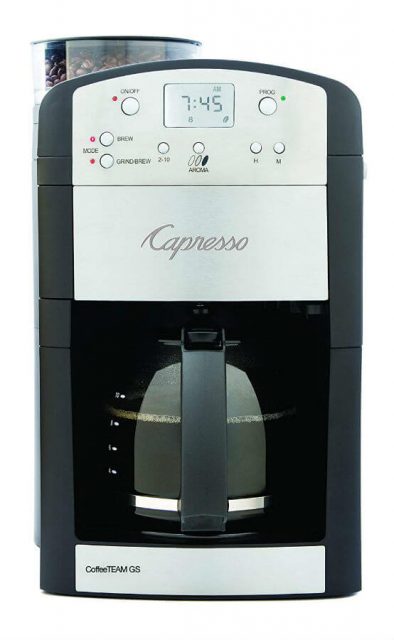 The Capresso 464.05 Coffee Team is made in the best traditions of a modern coffee maker with built-in grinder. It is a fully programmable, sleekly-designed machine with a digital control panel for easy operations.
The coffee maker comes with a conical burr grinder, large beans container, five grinder settings, charcoal-based filter, permanent gold-tone filter, and 2-hour safety shut-off.
The five grinder settings are designed to let you change the grinder type for the coffee beans to get the best flavor possible.
With the programmable design, only the exact amount of ground coffee needed is loaded in the filter before brewing starts automatically.
You'd expect a coffee maker like this to cost quite a bit. That's spot on. But it compares favorably with similar products in the market.
Pros
Has a detachable see-through cover for easy cleaning
3-programmable coffee strength
The charcoal filter can remove up to 80% chlorine and impurities
Easy to brew the kind of coffee you want
Has automatic shut-off
Cons
A bit expensive
The heating element is hard to replace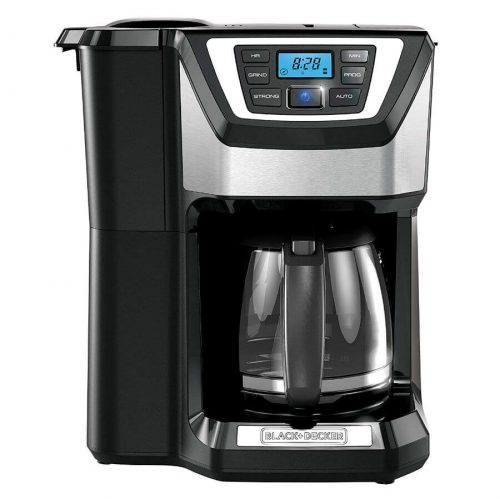 The Black + Decker is a rugged-looking single serve coffee maker with an integrated grinder that would fit snugly into a small space while doing what it was designed to do: making good coffee when it is needed.
It comes with QuickTouch programming, Sneak-A-Cup, permanent filter, auto-brew, auto shut-off features, and a brew-strength selector to give you the exact brew you ordered.
The QuickTouch feature fits right into a groggy morning schedule. It makes it easy to prepare your coffee without wasting time figuring out the controls.
The permanent filter attached to the grinder precludes the use of paper filters. It is also easy to detach and clean.
If you are on a strict budget, this could be the coffee maker for you. It has enough features to rank among the best with higher price tags.
Pros
The carafe is large enough to hold up to 12 cups
Adjustable coffee-flavor settings
You have the option to use pre-ground coffee
It is not expensive
Fully programmable
Cons
Prolong heating diminishes the effectiveness of glass the carafe and hot plate
Tends to brew slowly after some time
Conclusion
So these are the ten best single serve coffee makers with built-in grinder we feel would be right for you. Eventually you will choose something that will suit you best price wise and comfort wise, but we hope that this article will inspire you to make a smart and educated purchase taking into consideration what is important and what – not so much.