Coffee Cake Muffin Recipe
Wake up your Brain. Let the Coffee Cake Muffin Recipe Reign
Everyone needs a hug in a mug every morning. When you visit your favorite coffee shop and wait for the aroma of caffeine to get you through the day, you just can't stop yourself from buying those cute little muffins looking at you from the shelf. As you brush the remaining crumbs off, you wonder who chose to put so much goodness in such a small, cute little gift.
How did the Coffee Cake Muffin Recipe start?
Evolving from the German word "muffe" (which means "small cake"), it is impossible to know when the first muffin was made, It was somewhere around the 18th Century. Muffins were originally made from a small amount of bread dough leftover time, the muffin has evolved into so many different forms. The good thing is coffee cake muffins are caffeine free, but they do pair exceptionally well with a nice cup of coffee or tea.
Do You Know the Nursery Rhyme the Muffin Man?
The culture of Muffins was brought by Catherine of Braganza, also known as the first British tea-drinking queen, while she Reigned Tea houses became very popular, and afternoon tea became a staple in British culture.
Men would walk the streets at tea time with pans of various muffins on their heads, and Young and old would come to purchase these treats. This inspired the childhood favorite nursery rhyme about the muffin man!
Coffee Cake Muffin Recipe
The Classic Muffin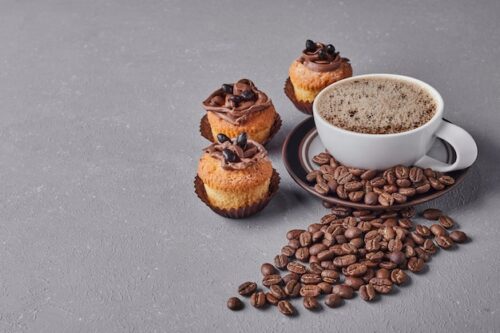 Ingredients
1 ½ cups all-purpose flour

½ cup Light Brown Sugar

2 teaspoons baking powder

1 teaspoon cinnamon

¼ teaspoon baking soda

¼ teaspoon salt

¾ cup milk

⅓ cup canola oil

2 large eggs
For the Crumb Topping
⅓ cup Extra Fine Granulated Sugar

⅓ cup Light Brown Sugar

1 teaspoon cinnamon

¼ teaspoon salt

½ cup 1 stick unsalted butter, melted

1 ½ cups all-purpose flour
For the Glaze (Optional)
¼ cup confectioners' sugar

½ teaspoon vanilla extract

1 teaspoon milk
Preparation
Preheat the oven to 375 degrees F.

To make the crumb topping, combine sugars, cinnamon, and salt in a medium bowl. Whisk in melted butter. Add flour and stir.

In a large bowl, combine flour, sugar, baking powder, cinnamon, baking soda, and salt.

Whisk together milk, canola oil, and eggs. Pour mixture over dry ingredients and stir until moist.

Scoop the batter evenly into the muffin tray. Sprinkle with reserved crumb topping, using your fingertips to gently press the crumbs into the batter. Place into oven and bake for 15-17 minutes.

To make the glaze, combine confectioners' sugar, vanilla, and milk. Whisk until smooth. If the glaze is too thin, add more confectioners' sugar as needed.

When the muffins are done, cool for 10 minutes and drizzle the glaze on each muffin.

Allow glaze to set before serving.
Banana Coffee Cake Muffin Recipe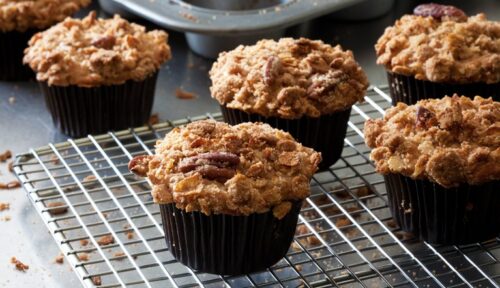 Ingredients
For the Spiced streusel
¼ cup (50 g) maple or light brown sugar

½ cup (60 g) all-purpose flour

¼ tsp salt

4 tbsp (57 g) unsalted butter, cold and cubed
For the Cinnamon filling
1/3 cup (70 g) maple or light brown sugar

1 tbsp (9 g) ground cinnamon
For the Banana coffee cake
1 cup (120 g) all-purpose flour

1 cup (120 g) cake flour

2 tsp (2 g) instant espresso powder

1 tsp baking powder

½ tsp baking soda

¼ tsp salt

1 cup mashed banana (about 2 medium-large)

¾ cup (150 g) maple or light brown sugar

½ cup (113 g) unsalted butter, melted

2 large eggs, room temperature

½ cup (120 g) sour cream, room temperature

2 tsp (10 ml) vanilla extract
For the Espresso glaze
1 cup (125 g) powdered sugar

1 tsp vanilla extract

1-2 tbsp (15-30 ml) brewed espresso or strong coffee
Preparation
Preheat the oven to 400 F.

Make the spiced streusel by whisking the sugar and flour together in a large bowl until well combines. Work in the cold, cubed butter until well combined. Place streusel topping into the fridge to chill until the muffins are ready to be topped. 

To make the filling, whisk together the sugar and cinnamon powder in a small bowl until very well combined.
To make the banana coffee cake muffins, whisk the flour, baking powder, baking soda, espresso powder, and salt together until well combined. Set aside.
In a separate, larger mixing bowl, whisk the melted mashed banana,  butter, sugar, eggs, sour cream, and vanilla extract together until smooth and well combined. The liquid will be a pale yellow once all is mixed together.

Stir in the dry ingredients until just combined.
Let the muffins rest in the fridge for 20-30 minutes.
Scoop the muffin batter into each lined muffin liner about halfway

.
Add 1 teaspoon of filling into each half-filled muffin tin. Using a   toothpick, cake tester, or end of the knife, swirl the filling into the batter.
Top each muffin tin with the remaining batter.
Top each muffin with the streusel. Press the streusel gently into the muffin batter.
Bake at 400 F (204C) for 10 minutes.
The muffins will bake for an additional 10-15 minutes (about 20-25 minutes total).
Cool the muffins in the pan on a cooling rack for 25 minutes.
To make the espresso glaze, whisk the freshly brewed espresso or

strong coffee and vanilla extract with powdered sugar.
Drizzle the espresso glaze on top of each muffin. Allow 45-60

minutes to fully set the glaze.
Conclusion
It's really hard to stop yourself at just one muffin, especially since these babies are loaded with the goodness of some yummy treats.
What are you waiting for? Dive straight into The Coffee Cake Muffin Recipe and start Baking!!!
You can also check:
You can also visit foodiewish.com for more food-related blogs.