Take A Look At Our Frozen Coffee Recipe If You Want A Great Day. Frozen coffee is an emotion of its own. Though it is not as smooth as a scalding hot cup of coffee, it surely has its own way of hitting the sweet spot. You will have to try it to know about the experience.
Frozen Coffee Recipe
What is Frozen coffee?
Frozen coffee is a coffee beverage served ice cold. Frozen coffee or slushie coffee. It is a great way to beat the summer heat allowing the crushed grazed ice to cool down your tastebuds.
The Origin of Frozen Coffee
Coffee was discovered initially by coffee entrepreneur George Howell, in Torrefazione Italia Cafe in Seattle. He later brought it to Boston and it immediately became a big craze among the Harward University students.
Later Starbucks bought the coffee business from Howell and named this beverage Frappuccino. The company later made its own twist on this beverage and came up with a variety of flavours. To date, the company is improvising and coming up with new flavours that hit our tastebuds in different ways.
Frozen Coffee Recipe – Method of Preparation
Of the many types of coffee available the most refreshing is frozen Coffee. Let us have a look at how to make our very own Homemade frozen Coffee Recipe.
This would be perfect if you are not in the mood to go all the way to the coffee shop to grab your coffee, you can make it at home. Just the way you like it.
Start by getting a mug of Coffee and a blender.

To make Frozen Coffee, prepare a cold brew concentrate.

Pick your milk of choice, Scoop out the desired amount of Ice

Add in any flavouring and blend it all for just 10 Seconds.

You can also top it up with Whipped cream.
Dunkin Donuts Frozen Coffee Recipe
After Starbucks, Different brands made their own version of the famous Frozen Coffee.
Let us see how Dunkin Donuts make its version of the Dunkin Donuts Frozen Coffee Recipe.
Ingredients
½ cup double-brewed coffee in Ice Cubes.
½ Cup Whole milk
2 Tsp Sugar.
Directions
For the double-brewed coffee, brew a pot of coffee in a regular percolator. Let it cool. Then brew another batch of coffee and use the first batch as water. Now let this cool too. Fill the Ice trays with the coffee and freeze till solid.
Next, add coffee, milk, sugar, and the ice cubes in a blender and blend till smooth.
You can top this up with whipped cream and even caramel if you wish.
Dunkin Frozen Coffee Recipe
The Dunkin Frozen coffee recipe is made with real Arabica Coffee beans and milk. The coffee is then frozen and blended with ice to create a rich and creamy beverage. This coffee is made by combining coffee extract ice and milk.
Frozen Coffee Drinks Recipe
Here are a Few Tricks and Tips to make the perfect Frozen Coffee Recipe.
Frozen Coffee Cubes. Adding frozen coffee cubes to your coffee adds a lot more flavour than normal water-iced cubes. You can simply make this by pouring coffee into your ice tray and freezing it.
Chill your glass: This helps keep your drink cooler a lot longer. Put your glass for a few minutes in the fridge before pouring your drink.
Blend Thoroughly: Allow time to blend the ingredients thoroughly. Once you have a smooth and thick mixture it is ready to pour.
Garnish: The perfect part about making your coffee is this. Time to garnish. You can go crazy at the time of garnishing. One of the most common ones used is whipped cream and caramel sauce. You can also drizzle the top with chocolate if you like.
So While you can go crazy and use your imagination in trying out a variety of flavours while making frozen coffee, let us take a few minutes to go through a few examples of Frozen Coffee Drinks Recipe.
1. Pumpkin Spice Frozen Coffee Drink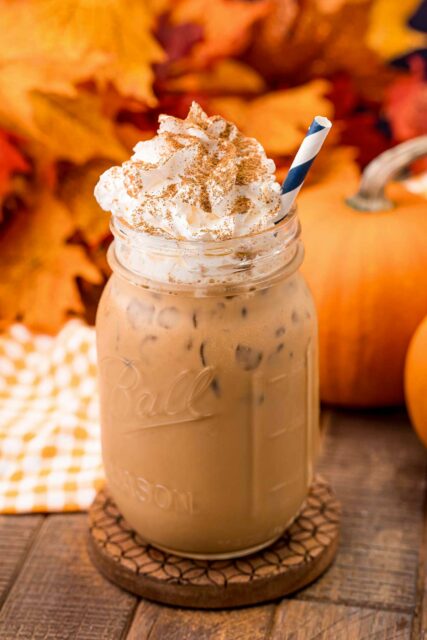 Ingredients
Ice Cubes
¼ th cup of coffee Syrup
¼ th cup heavy cream
Ground Nutmeg
8 oz strong coffee
Whipped Cream
Directions
Fill a cup with ice and pour in the Syrup, heavy cream, and coffee.
Next, pour it all into a blender and blend until smooth.
Finally, top it with Whipped cream and nutmeg.
2. French Vanilla Frozen Coffee Drink
Ingredients
2 Cups of coffee brewed and cooled.
3 Tsp Sugar
2 TbSp Flavored coffee creamer
2 cups Ice cubes
Chocolate Syrup
Cool Whip (Optional)
Directions
Mix the coffee creamer and sugar.
Pour into a blender. Add ice cubes and blend until smooth.
Once you get a smooth blend you can top it up with Chocolate syrup and cool whip.
Note: Depending on the power of your blender, you may need to crush your ice first.
3. Christmas Coffee Drink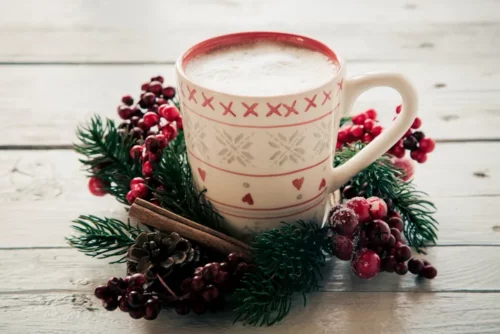 Ingredients
2oz Skim Milk
2 shots Espresso
4 Tbsp Chocolate Sauce
Sugar
1 Cup Ice cubes
2 Oz Kahlua
2 Tbsp White Chocolate.
Directions
Prepare stemless glasses by wetting the rim of the glass and dipping them in sugar spread on a flat plate.
In the shaker, combine skim milk, espresso, Kahlua, and chocolate sauce. Add the ice cubes and shake.
Pour into prepared seamless glasses and garnish with whipped cream and shaved chocolate.
Note: you can also drizzle a very small amount of cinnamon on top of the whipped cream for a perfect finish.
4. Coconut Mocha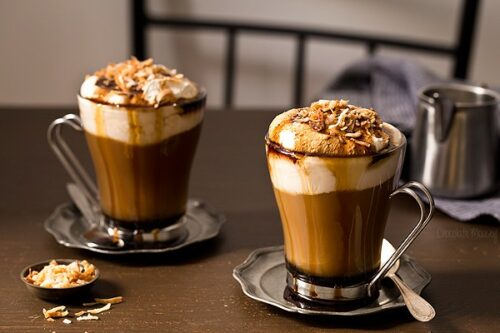 This is a frozen coffee recipe that is simple and vegan.
Ingredients
2tbsp Instant Coffee
3 cups coconut milk
1 tsp Vanilla extract
1 Tbsp Unsweetened cocoa powder
1 tbsp brown sugar
Coconut cream
Dark chocolate.
Directions
Place all of the ingredients into a small pot
Heat on medium-high heat and keep whisking to combine all of the ingredients.
Once hot and steaming but not boiling pour into two cups.
You can top this up with coconut whipped cream and grated dark chocolate.
Note: The nutritional value is estimated and calculated without the optional toppings.
When heating the ingredients don't let them boil. It should be hot and steaming, but not boiling.
Closing Thoughts
If you prefer your coffee on the sweeter side you can add more sugar or more sweetener.
The toppings are optional and you can play around with them as per your liking and tastes.
Using Coffee Cubes instead of water-iced cues makes a big difference.
You might get a brain freeze or two with these strong coffees, but we can assure you that it is completely worth it. Allow yourself to chill and unwind with this recipe or use it as a pick-me-up when you have some home errands to finish off.
You can also check:
You can also visit foodiewish.com for more food-related blogs.