In this article, we will review the best coffee for the french press, and offer you a small guide to help you with the buying process.
The French press method is one of the best brewing methods out there. Mainly because it is so simple and easy to use. But also because with this method and a little bit of time you will be able to bring out the best taste from your coffee beans with a device that costs so little.
Our choice of the best coffee beans for a French press
The Peet's Major Dickason's dark roast whole bean coffee is a fresh, deeply roasted, single-origin coffee. It is sourced from the best coffee growing regions of East Africa, Central and South America and South-East Asia.
Peet's ensure that all the coffee beans, that end up on the shelves, are freshly hand-roasted in small batches by a team of veteran toasters. The result is a bold, rich coffee with each blend having the distinctive flavor of its region.
Each pack of Peet's bears the roast date so that users would know how fresh the coffee is. This information is vital in making a good cup of coffee without a stale flavor that'd linger with every sip.
The coffee is relatively cheap and compares well with other coffee beans for a 12 oz. pack. However, several users complain of getting a blend that was not very fresh.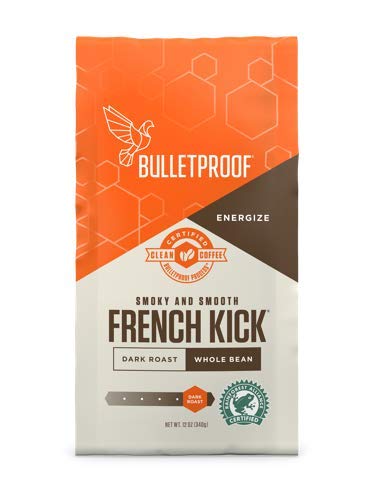 Here comes the Bulletproof French Kick dark roast coffee is a single-origin coffee bean grown in passive organic farm estates in Guatemala. The beans are roasted in small batches in the US and meticulously tested in the lab. So the roast meets the high standards Bulletproof are known for.
Each bean is handpicked from farms where traditional farming methods are employed. To make sure only ripe beans of the highest quality make it to the roaster.
The result is a clean, bright, well-balanced, chemical-free, full-bodied brew with undertones of caramel.
Bulletproof also comes in a decaffeinated blend. This is produced using the 'Swiss Eater' process. A non-solvent method of eliminating caffeine from the beans. To meet the peculiar taste of people who love coffee without the caffeine rush.
This dark roast coffee is excellent.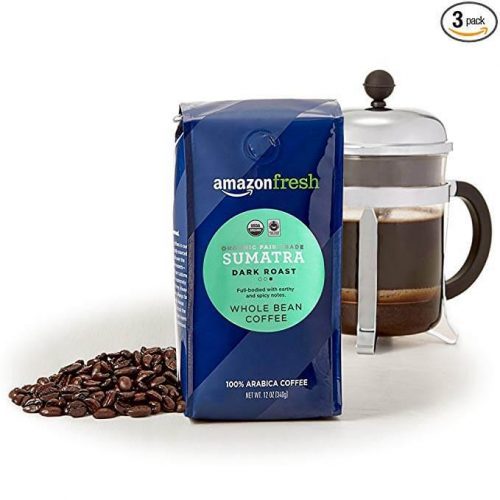 From the coffee growing region of Sumatra comes this 100% Arabica coffee roasted and packed in the US.
AmazonFresh unique roasting and packing technique ensures the coffee is carefully roasted in individual batches and packed soon after using a 'one-way freshness' valve. This provides that the coffee retains its freshness for a long time.
The resultant brew is a rich, full-bodied, profoundly robust, chocolatey dark coffee infused with spicy notes, rich aromas and all the flavors associated with Sumatra coffee.
AmazonFresh coffee is sold in a pack of three which could be a downside since you might be stuck with two unopened packages if you don't like it. The price is competitive though.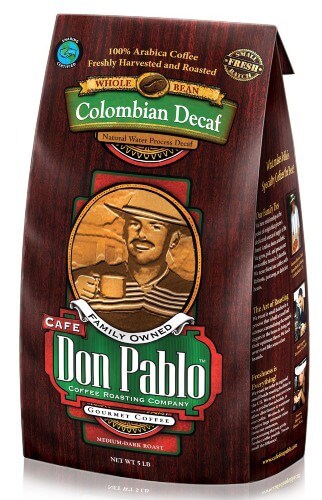 Don Pablo's whole bean coffee brings the unique flavors of medium roast to your French press coffee. The 100% Colombiana coffee is sourced from several of the best coffee-growing regions around the world.
The Don Pablo coffee beans are carefully blended and roasted expertly to deliver the famous brand flavor and taste that makes them one of the most popular medium dark roast coffees in the World.
And the resultant brew from a Don Pablo coffee blend is a well-balanced, medium-bodied coffee with a smooth finish.
The only problem you might have with this coffee beans is availability. This could be down to people snapping them up real fast once they are available. And sometimes, the coffee beans and the resultant brew might not be as fresh as expected.
On balance, the brew from the coffee beans is something to look forward to each morning. Though the price is a bit steep, what you get should offset that especially if you purchased the fresh beans.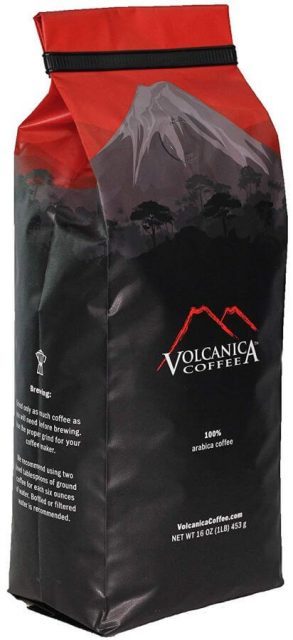 From the mountain of Kilimanjaro comes this 100% pure Tanzanian coffee blended and roasted by Volcanica Coffee Company in the US.
The coffee beans are roasted fresh and immediately packed and sealed. This ensures freshness and the resultant brew is a wonderfully acidic, medium rich brew, with an intense flavor and a winy, fragrant aroma.
The fact it is a Peaberry coffee makes it unique with a much richer flavor. Peaberries are rare and have to be removed manually; and because the taste is more elegant than usual, it is a favorite of coffee connoisseurs.
In spite of the unique qualities of these coffee beans, you don't have to create a big hole in your wallet to get it. The 1 pound pack comes at a super decent price compared to other brands.
However, you might get flavors different from what you expect as there is no consistency in the beans that end up for sale.
Cafe Don Pablo's Subtle Earth Organic coffee is a 100% Arabica dark roasted whole bean affair sourced from Honduras.
Perfect for French press coffee, the methodology for roasting this coffee has been perfected to a fine art combined with scientific precision.
The coffee beans are slowly roasted in small, multiple batches with the artisans using sight, smell and sound to ensure that natural sugars are perfectly roasted. The roasting only stops when an optimal flavor is attained.
This roasting technique ensures a brew that is a rich, smooth, low-acid coffee with deep velvety and chocolaty flavors.
Regarding price, a 2-pound bag is modestly priced. On the negative side, if your preference is a strong coffee brew, you might not like this because it is a bit weak.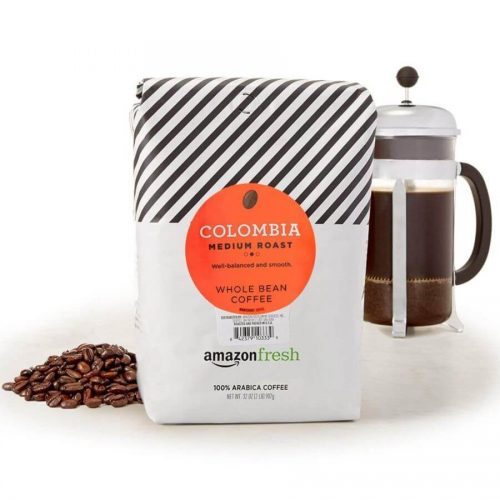 This AmazonFresh whole bean coffee is 100% Arabica coffee sourced from Colombia.
The coffee beans are masterfully roasted in individual batches. Carefully timed to ensure each batch retain the toasty flavor and aroma unique to Arabica Coffee.
Because it is a medium roast coffee, it is good for people with acid reflux. The brew has a balanced, full-bodied, smooth taste with underlying citrus, cocoa, and brown sugar aroma.
Like most coffee from AmazonFresh, the Colombia medium roast is a bargain as far as the cost is concerned.
Though great for French press, you have to be very careful to get the grounds right or you'll lose all the subtle flavors that make this an excellent product for French press coffee.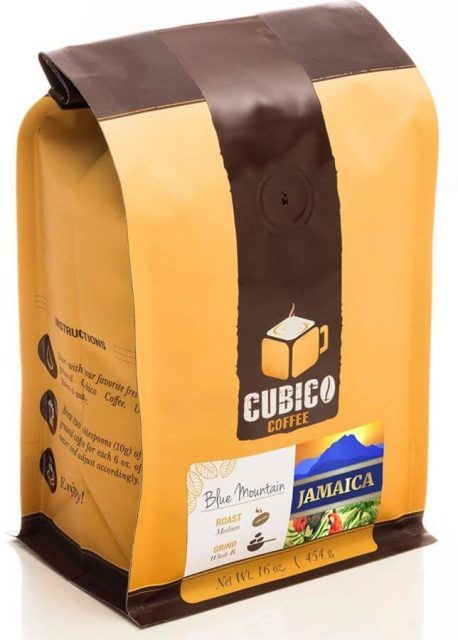 The Cubico Coffee's whole bean coffee is a medium roasted 100% Arabica beans entirely sourced from Jamaican Blue Mountains.
Coffee beans from the Blue Mountains are considered one of the best in the world. And specifically made to serve the title of best French press coffee beans. The roasting process, done in small batches and when the berries are fresh, is designed to preserve the complex and subtle flavors and the intense aroma of the beans.
With over a century of experience behind them, this family-owned business must know a thing or two about making the perfect cup of coffee. The flavor and aromas are both subtle and complex. The rich, full-bodied brew is underlined by a nutty tobacco flavor and slightly acidic notes.
The search for perfection comes at a price though. Cubico Coffee's Jamaica Blue Mountain coffee is one of the most expensive for a one-pound bag.
Aside from that though, you get quality beans that would be perfect for French press especially if your stomach linings are sensitive to acids.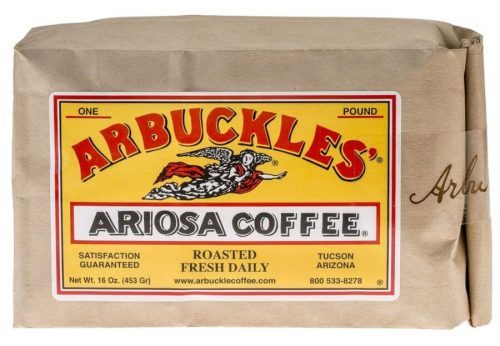 Arbuckle's Whole Bean Coffee is a single origin. 100% Arabica, medium roast coffee sourced from premier coffee-growing regions of Central and South America.
Arbuckle claims they invented the unique hot air roasting process. That is the roasting technique used in their factory in Arizona to convert fresh beans to a medium roast that people in America have loved for over a century.
This hot air roasting method ensures the beans are not scorched by coming into contact with hot metal. This guarantees the original pristine flavor while making sure the beans retain their correct weight.
The result of all that is perfectly balanced, low-acid coffee with a rich aroma, and excellent smooth taste.
Some people might find the 1 pound bag of this coffee expensive. But it is indeed not the most costly of the reviewed products here; besides you get a free peppermint stick tucked inside each bag.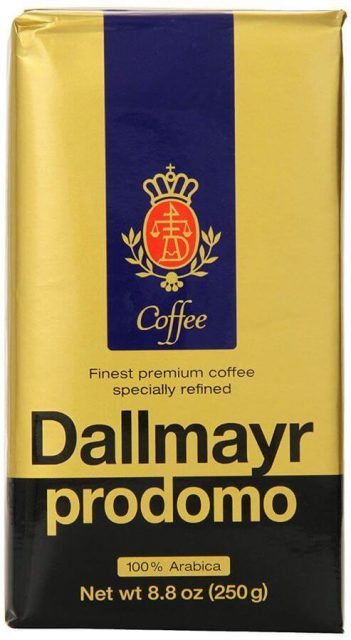 Dallmayr, imported from Germany, is a 100% Arabica coffee sourced mostly from Ethiopia and other coffee-growing regions around the world and is one of the best French press coffee beans out there.
The only ground coffee in this review. It is specially processed to eliminate the bitter taste of coffee and other irritants without affecting the level of caffeine in the brew. This makes the brew a great coffee for people who desire low-acid beverages.
Though it is ground coffee, the grinds are perfect to use in a French press machine. This saves you the time of having to use a grinder. And of course, if you don't have a grinder, this is the "go-for" coffee for your French press coffee cup.
The brew is rich in flavor without being bold, smooth and infused with fruity flavor that is reminiscent of fresh mint leaves.
How to buy coffee for your French press?
As with everything else in the World – you will need some practice to master your coffee brewing skills using the French press method. The good news is – you will get the hang of it a lot quicker then, if you would want to learn how to brew with a pour-over, for example.
But everything starts with the beans – if you choose the right beans for your French press, you will get your coffee just right. This is not only about the grind size (although it is important), the flavor (that, too, is very important), or the origins of your coffee beans (you guessed it – important, too). It is also about the time you take to stew the grounds (around 3 minutes or more, depending on your French press size) when were your beans ground (the best way to ensure you get the most in terms of flavor is to grind the beans yourself), and the temperature of the water (around 195F).
All of this together will determine whether you are having the best brew of the day or just another cup of coffee.
All that is important, but your coffee beans are far and above the most important part when brewing your cup using the French press method.
Here's a beautiful French press brewing guide video from Proud Mary Coffee 🙂
This video reminds me of one particularly early morning I once spent on a ledge of my cousins' third-floor window. Drinking coffee and reading a book – it was really early, the sun had just come up (and the only ones awoke was me, the birds and the gardener on the street below me). That was like 6 years ago, and the video reminded me of it. The soundtrack, mostly, I guess. I wish I could re-live that morning or at least the feeling of it.
Whole coffee vs. Grounds
A lot of folks who regularly use a French press generally opt for ground coffee. Ground coffee is easier to use as you get to by-pass the grinding phase. And you don't even need to own a coffee grinder.
But if you want to extract the best from your coffee and get the best brew possible, you need to grind your beans, and for that, you will need a coffee grinder.
Since the French Press needs a medium to coarse grind
THE PRE-GROUND COFFEE IS MOST OFTEN THAN NOT, TOO FINELY GROUND TO BE SUITABLE FOR FRENCH PRESS
Apart from the fact that pre-ground finely ground coffee passes through the filter and leave too many residues in your jug, your coarse ground produces a better-flavored and brighter brew.
The Roast (not the kind you perform on people)
As far as the coffee roasts go
THE BEST BET IS TO OPT FOR MEDIUM ROAST OR DARK-MEDIUM ROAST
when purchasing your coffee beans for French press.
Medium roasts are the most common and for good reasons too. The flavors are more vibrant and if the Coffee's floral, berry, or earthy aromatics can usually be felt in a brew.
Dark medium roasts have most of the qualities of medium roasts. With dark medium roasts though, the oils are more pronounced on the surface. And there is an aftertaste that hovers between bitter and sweet.
Coffee origins
MOST OF THE WORLD'S COFFEE IS EITHER FROM THE ARABICA OR ROBUSTA PLANT SPECIES
Generally, arabica beans are associated with the best coffee. That is why they tend to be more expensive. Most of them are grown in South America and a few places in Africa.
Robusta beans, on the other hand, are mostly found in Africa and South-East Asia. They are harsher and have more caffeine in them. Coffee made from robusta is generally inexpensive.
So, the best coffee beans for a french press…?
So these are some of the best French press coffee beans that should consider when brewing coffee with a French press. Once you have chosen and liked a particular blend, find a way to store it properly to keep it tasting fresh.
Store your coffee in a cool, dry environment far away from heat and light. And do transfer your coffee to an airtight container if they came in a paper bag.
P.S. I also have a brewing guide for French press coffee. Check it out!