And a French Press Brewing Guide: All You Need To Know
Brewing coffee via French press technique is the most widely used method in the world. It is easy to understand why. It is simple, it doesn't require expensive equipment or machine and depending on the type of French press, coffee can be brewed for a small party of colleagues or friends in about four minutes. You can easily brew coffee with it while outdoors, too, if you have hot water in a thermos with you. If you are an outdoor activity lover, please, take a look at this article in case you were looking for a coffee maker that is perfect for camping, these are perfect for camping. However, since we all know that the  French Press alone will not do the trick – brew the perfect cup for you, we have added a short guide, too.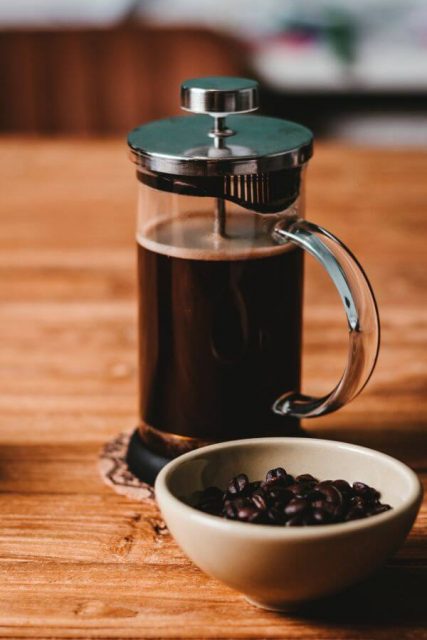 French press brewing involves a round pot with a plunger attached to the lid. The plunger has a built-in filter that separates the coffee grounds from the brew.
Most coffees beans would work with a French press. But, and this is important, light roast coffee beans are recommended. This is to avoid getting the bitter flavors of dark roasted beans. Also – avoid using beans that are meant for espresso beans.
Although, you could use the dark roasted coffee beans if you want the brew to taste like the bitter espresso blends.
We have researched and written an article on how to choose the best french press coffee beans, this research was done on the basis of hundreds of responses and reviews from coffee lovers, and, for some of the brands – our own experience, I hope you will find it useful.
The main trick is to get the ground right
Using consistent and uniform medium grind is the recommended texture by the experts. Get that right, and you are on track to making great-tasting French press coffee brew.
French press brewing guide: before you start
The French press must be cleaned thoroughly before using it. It is advisable to clean it after each use. Old grounds still caught in the filtering mechanism would ruin your brew with off or bitter flavors. The same goes for your coffee grinder – keep it clean for the best taste. Here is a guide on how to take care of your grinder.
Whole bean coffee is recommended for starters. As for the grinding, burr grinders are best for getting the required consistency and uniformity of the grinds. You can check our suggestion for best coffee grinders for the french press!
Grind the coffee beans just before brewing
Grinding it too early would result in the coffee losing some of the flavors and aromas that make French press brewing a delight.
Have a scale handy to measure the ingredients. This ensures your coffee to water ratio is not subjected to guesswork.
What you need
For this French press brewing guide, you would need the following:
Here we come to the part where we can showcase our favorites and TOP 3 french presses! So, without further ado…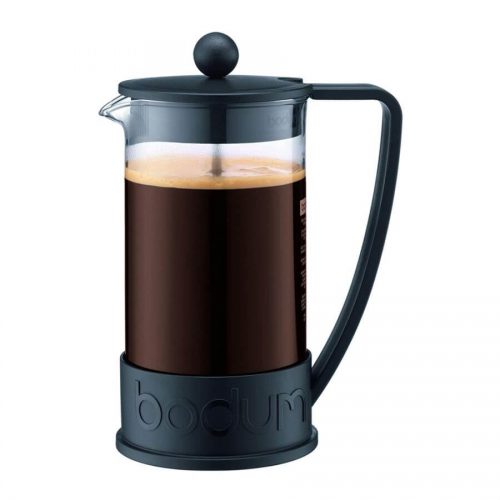 This french press is made of heat-resistant borosilicate glass, it is hardened and won't break on swift temperature changes, it does not contain BPA and is super-easy to clean and to use. The plunger is made of stainless steel and is a three-piece item equipped with a mesh filter that guarantees the best possible filtering of the coffee grounds and will extract aromatic oils and flavor, paper filters often do the opposite and absorb the small, but ever-so-important flavor nuances. You can make up to 8 cups of coffee with the carafe.
The only con for this one – only one, that is – if some part of it breaks, like the carafe, you would need to buy a new press, as they can't be changed.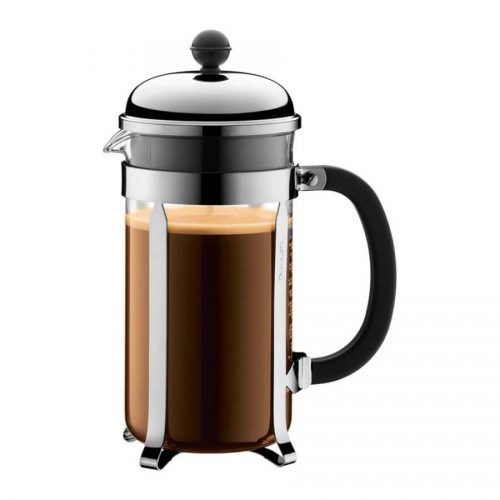 From the same brand as our TOP pick. This french press is a bit more expensive, but it also looks more classy. The carcass is embedded with stainless steel braces. The plunger, as the previous model, is made from three parts that each serves a purpose of providing better filtering without absorbing the coffee ground oils and flavor. It is equipped with a safety lid that will prevent unwanted spilling and is machine-washable, handy, right? This will also make  8 cups in one go, with 4oz each.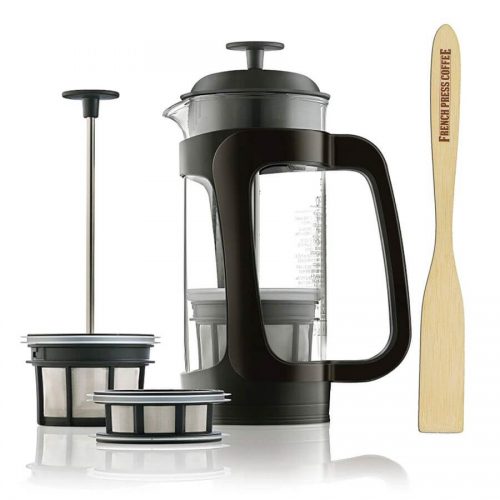 Made out of hardened, thick Schott-Duran glass this french press is our last, but not least pick, I brew my coffee in this one and it makes the perfect coffee for me. Of course – a lot of depends on the coffee beans you use, and even more – from the grind. Go for a thicker grind, not only for this french press but for any french press and coffee beans in general. The walls of this french press are by 40% thicker than the usual french press walls, which means my coffee stays hot for longer. You will also have three choices for the filter – the standard double French press filter, tea filter, and an optional paper filter.
One of the essentials for making a great French press cup of coffee is the grind consistency. You can check our guide to best coffee grinders for the French press.
Before you actually deal with the consistency and method of grinding your beans you first must master the art of choosing the best coffee beans for the French press. We have done this homework for you by reviewing the best coffee beans in this article!
Temperature about 205 degrees Fahrenheit (fun fact – that is the temperature of boiling water at sea level).
French press brewing guide
Step 1
Heat the empty French press to help maintain the temperature while you are brewing. Extraction works best with a pre-heated French press.
You can do this by rinsing the French press with boiling water.
Step 2
Use the scale to measure out about 30g of coffee beans. Set your burr grinder to grind the beans medium coarse.
Step 3
Empty the hot water from step one. Your French press should be warm and ready by now.
Pour the ground coffee into the empty French press. Then add some of the hot water to the coffee. Don't discard the remaining water as it would be used later.
Generally, the coffee to water ratio is 1:12. So for every gram of coffee, you must use about 12g of hot water.
For this French press coffee brewing guide, 30g of coffee was used. Then you need to measure about 360g of water; heat it to boiling before adding it to the ground coffee in the French press.
Make sure all the grounds are saturated in hot water. Start your timer.
Step 4
After about one minute, use your coffee paddle or wooden spoon to stir the mixture gently but thoroughly. This is to break the upper crust and submerge all the grounds that might have risen to the top.
Step 5
Pour the remaining water. Now, gently cover the water-coffee mixture with the lid of the French press.
Using your timer, allow it the steep or brew for four minutes.
Step 6
At the end of 4 minutes, it is time to use the plunger. Just push down the plunger by applying firm pressure. Press the plunger until it is holding the ground coffee at the bottom of the press with the brew floating above it.
If the plunger meets resistance making it hard to press down, it is likely your coffee grind is too fine.
On the other hand, if the plunger swiftly hits the bottom of the press with just a bit of applied pressure, it means the grind is too coarse.
That is why great attention must be attached to getting a good burr grinder to get the required grind consistency all the time.
Step 7
After you are done with pressing, do serve the brewed coffee immediately. Leaving it to sit in the French press would continue the brewing leading to over-extraction.
Enjoy your coffee
Some Additional French press brewing pro tips
Don't allow the plunger to rest on the ground coffee after extraction. Pull it up immediately. This makes cleaning it easier
If plunging is proving hard, try to use a coarser grind next time. Using less coffee is another solution too.
If you prefer your coffee stronger, use less water or more coffee
If on the first attempt the coffee is watery or weak, you could try brewing for more than 4 minutes. Or you can use a finer grind as long as it doesn't affect the plunging.
We hope that you enjoyed this French press brewing guide, if any questions pop into your head  – please write to us, or leave a comment. We'd love to hear from you!
And if written material is not enough for you, here is a great video from
Stumptown Coffee Roasters, that explains the whole process in detail, enjoy!!