Performance/ Brewing capability
7.0/10
Convenience/Ease of Use
8.0/10
Pros
Unmatched value for its price
Powerful bar pressure (15)
It is compatible with grounds and E.S.E pods
Easy to use and clean, comes with an integrated tamper
Lightweight and portable
Automatic priming function
Swivel jet froth makes making cappuccino and latte easy
Cons
Temperature inconsistency may arise because of its single boiler
The froth comes out watery a few times
Its pour spout height limits the cup sizes suitable for the device
Milk froth operation is from the steam dial
DeLonghi EC155 Espresso and cappuccino maker are one of the automatic espresso makers out there. That is – if you are into high-quality coffee and effortless brewing. This coffee maker is built to last and looks good on your countertop.
DeLonghi is a trendy and reliable Italian brand that sells coffee machines. DeLonghi EC 155 is probably their supreme creation which you can rely on. It is an automatic espresso machine used at home, preventing users from spending their money on expensive store-bought coffees.
And, above all, get you that creamy, strong, and perfect-tasting cup of coffee or cappuccino that you wanted. This coffee maker is very popular and in demand by our readers and everyone else who is interested in brewing coffee.
Who Is Delonghi?
De'Longhi is an Italian-based manufacturer founded in Treviso, Italy. The brand entered the North American market in the early '80s. And did not take too long until it transformed the heating industry with its first-ever portable radiator. With a vast knowledge of Italian craftsmanship, the company perfectly blends innovation, superior quality, and design. Hence, making it a world leader in kitchen appliances and making its voice heard in over 33 countries worldwide.
In the world of espresso coffee machines, this brand sits right at the high point of the list. It has won various awards from renowned design awards companies. Such as Red Dot Design, Housewares Design Awards, the World Branding Forum CIC, and more. The company aims to offer customers innovative home appliances with a distinctive combination of performance and style, turning "the everyday" into something special.
De'Longhi EC155 Overview
DeLonghi EC155 is an easy-to-use and simple-to-clean espresso and cappuccino maker that pulls a quality shot of coffee from either ground espresso or E.S.E pods. The device comes in a sleek, eye-pleasing design. Along with other outstanding features that lets your kitchen look exquisite. As well as providing quality Cuppa for your home and guests. You can choose to enjoy espresso or cappuccino made at a perfect temperature with two separate thermostats. If you are a latte or cappuccino fan, its advanced swivel jet frothier will provide you with a rich, creamy froth any and every time you want it.
Self-priming – no more waiting on your coffee maker
A standout feature of this machine is the self-priming operation. You may find this very interesting if you dislike the start-up operation of many coffee machines and you just want your coffee quickly, in the shortest possible time. The EC155's automatic priming function eliminates this start-up time and will make both espresso and cappuccino preparation quick and easy.
Its patented Dual Function Filter Holder, superior-grade stainless steel boiler, removable water tank, and drip tray are also important highlights of this machine.
Our Verdict On DeLonghi EC155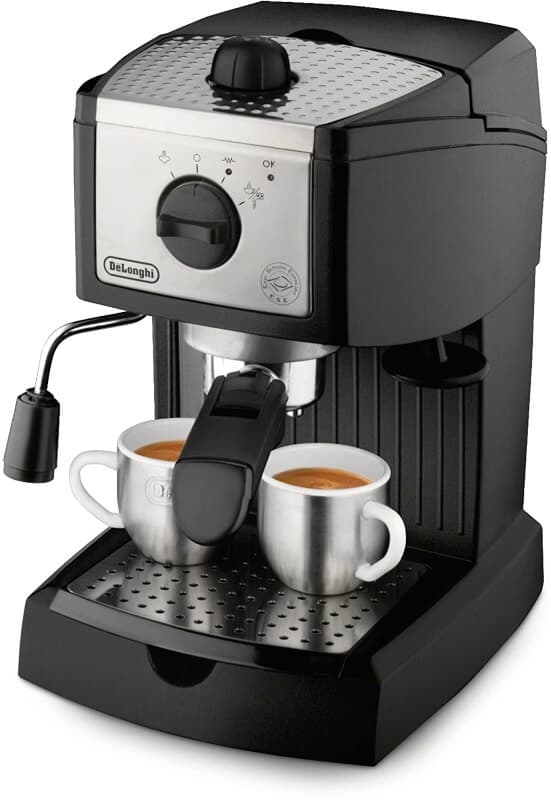 Below is a detailed evaluation we carried out on the EC155 and the results we got. This appraisal gives you a piece of detailed information on this product and what to expect if you buy it.
Build and design
The EC155 build quality isn't so spectacular or somewhat outta-the-box. However, you've got to look at its price too. It isn't so fair to expect the same quality on high-end devices costing over $500 with a device somewhere around a hundred bucks.
Some parts of the machine come in a plastic construct but you wouldn't have to worry about BPA because the parts that come in contact with your espresso are made of stainless steel. Plastic parts can be synonymous with lesser durability. But, if you handle the machine properly, its long-lasting capacity will not be questioned.
This device isn't a recent product from the manufacturer. This might be somewhat of a turn-off if you are keen on having new models. Yet, on the bright side, it means the machine has gone through various upgrades to solve any common problem and you wouldn't find it difficult to get an engineer to fix it.
Overall, the machine externally measures 12.2 x 19.3 x 15.0 inches (L x W x H). It weighs about 6.8 pounds and has a 1-gallon water tank. The appliance delivers 15 bars of pressure, comes with a removable drip tray, and has a power rating of 1100W.
---
Performance and Brewing capability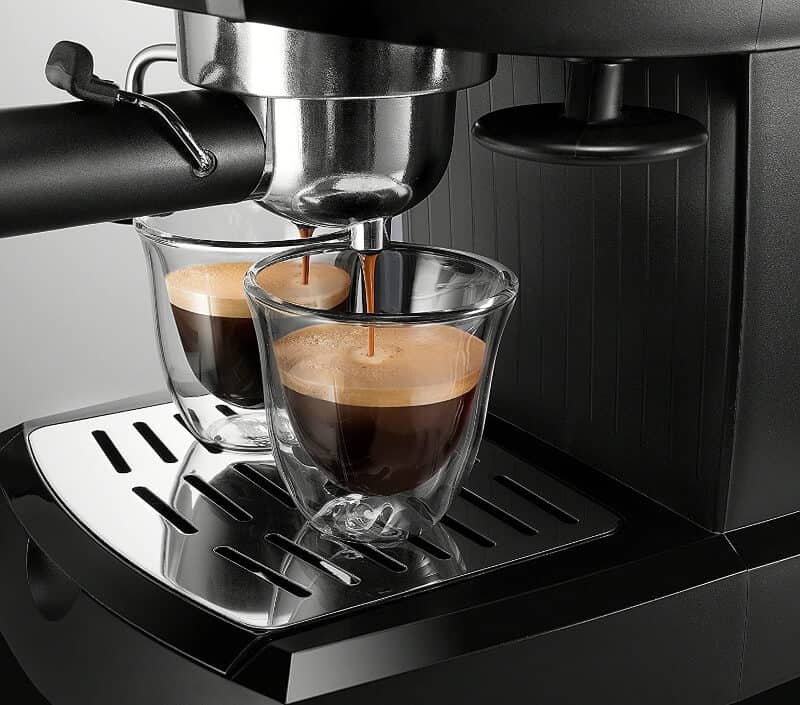 High-end espresso machines come with a rotary pump mechanism that delivers top-notch shots of espresso. Yet, those machines cost at least three times as much as the EC155.
It is not like you will get a horrible cup of coffee or you cannot brew any ground you want. Certainly, you will get a toothsome cup of Joe. But you'll have to give heed to certain peculiarities and know the limits of your device. For example, if the machine can't handle too fine ground: it'll clog. Also, the appliance only uses a single boiler for both brewing and steam production.
Although brewing and steaming production require different temperatures the EC155 uses two thermostats to control the temperature of its single boiler. This may not be the ideal way. Moreover, premium coffee makers use two boilers and advanced thermoblock and PID controllers for precise temperature. But the machine still manages to do a good job after all although subjected to more stress. Below are a few tests we made to precisely appraise the device brewing abilities
Thermocouple measurement
A thermocouple is simply a device that measures temperature accurately. NCA (National Coffee Association) recommends brewing coffee between 195 to 205 degrees Fahrenheit. In our measurement of the device's maximum brewing temperature, we got readings mostly at 205 F but a few of the times the device scaled to 213 F. This might be a little off the standard but the designers account for this by suggesting you first push a small amount of water through the group head until the heat indicator is red, then initiate the brewing process when the light turns green.
Refractometer measurement
A coffee refractometer is a device used to estimate the TDS (Total Dissolved Solids) in a coffee. The device measures the degree to which light refracts on the coffee and compares it to the standard index. Thus, giving an accurate figure of the extraction amount and percentage along with the caffeine concentration in the coffee. The standard extraction percentage of coffee is between 19 to 22 percent. However, the results from the coffee brewed with this device reads between 16 to 28 percent.
In summary, EC155 has a good brewing capacity. It has a single boiler but its dual thermostat can control the temperature for brewing and set a different temperature for milk when frothing. This makes it just ideal for cappuccino, Americano, and espresso. the appliance delivers a staggering 15 bars of pressure required for a quality, balanced shot of espresso all the time. Sadly, it does not allow for manual tweaking of the brewing process but you should still expect a delicious cup of joe.
Are you in maximum control over your brewing process and want to extract every bit of flavor for each of your coffee cups? You might want to try a manual, or lever, espresso machine. It gives you full control over the brewing process. But you will need to know what you're doing. Want to read more about it?
Pressure
The difference between normal coffee and espresso is the amount of pressure required to make them. National Coffee Association recommends a pressure of 132 pounds per square inch (9 bars) to make espresso. If a machine cannot deliver at least 8 bars of pressure, the resulting coffee will not be concentrated and smooth.
Furthermore, less pressure will require more time to get a good shot and more pressure will take less time. On the tricky side, a quick 10-second espresso wouldn't taste so nice.
EC155 produces a mouth-watering 15 bars of pressure. Just enough to pull a delicious, authentic Italian espresso. This is quite impressive because most machines this powerful cost much higher than this espresso maker.
Unfortunately, having this pressure on a countertop machine spells a few dark sides to the machine's overall durability. In other words, the EC155 is not suitable for very frequent use – maybe in a coffee shop, because its high pressure will wear out the machine. But for home use, with only a few shots per day, you may consistently use the machine without any reduction to its lifespan.
Convenience and Ease of Use
Like with other features, the EC155 isn't the easiest espresso maker in the market today but it is definitely not far from that. There is no steep learning curve for this machine.
There are few features on this device that guarantees user convenience even better than other expensive brands. First, the self-priming system, as the name implies, does not require you to manually prime the device on start-up. With the touch of a button the device primes automatically; thus, making it less complicated, hands-off, and shortening the wait time.
The interface of this device is also user-friendly. You can control the device from a small dial where you can brew and froth. Well, there aren't so many features on this device so its simplicity is top-notched.
Lastly, the device is compatible with ground coffee and E.S.E pods. Yes, freshly ground coffee produces the tasting cup but we all know those mornings when you just don't feel like grinding coffee. In those days, this device can make a difference. There isn't an integrated grinder on the device though but the simple fact that it affords a choice of multiple sources of coffee is excellent.
Overall, the EC155 is quite simple to use – just put in your coffee and have water in your tank, push a button and you'll get your delicious cup of coffee.
Milk frother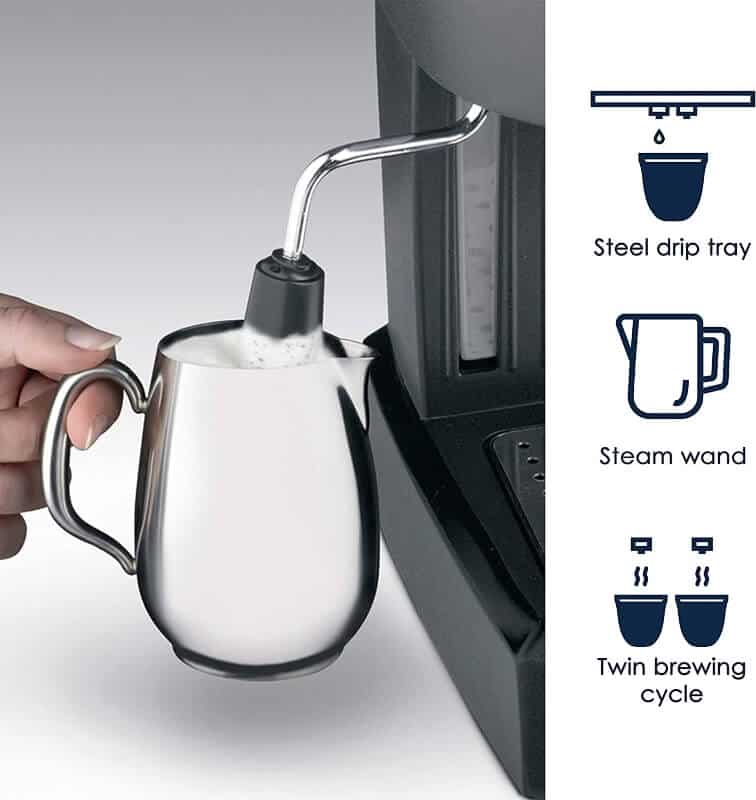 What's a cappuccino machine without an awesome milk froth? An imposter, I guess. The EC155 may not be top-rated compared to pricier competitors on other features but its milk froth is simply amazing. You can thank its advanced swivel jet frother for that!
Reserve some accolades for the designers who positioned the frother next to the portafilter with a natural angle for convenient milk steaming and frothing.
You also don't have to worry about the milk temperature as the built-in special thermostat regulates it.
Overall, EC155 produces awesome milk frothing. This is one of the machine's strengths. But you will need to use the right amount of milk to get the results.
Heating element
Yes, the manufacturer claims that this device has a Self-priming system that gets it ready in no time. However, upon closer examination, we found out that this function may save you the stress of manual priming, but it does only a little in making the overall brew time shorter than the norm.
As with other relatively excellent coffee machines, this device takes uses about 45 seconds after switching on to get to its brewing temperature. Further, the machine produces coffee at different temperatures, the first being the hottest if you re-initiate the brewing process immediately.
You may have to wait for the heat indicator to turn green again before making another cup to avoid this issue. The designer claims that the device can rapidly prepare the device for another shot but we found that claim to be untrue.
Well, this problem is quite common for countertop espresso machines anyway. But you can avoid that by opting for a double shot.
So, pulling an espresso with this device still takes the typical 3-4 minutes on most devices but you will not have to manually prim the machine on startup.
Cleaning
Cleaning the EC155 is a simple task. Along with its milk froth, ease of use, and powerful pressure, the brewer excels brilliantly here.
It is worth mentioning that cleaning your machine regularly not only guarantees good hygiene but ensures your coffee tastes its always. That's because no stale coffee from your brewing tools mars the taste of your new brew.
Anyway, there is an integrated cleaning light on this machine that tells you when it is due for descaling. Although the machine does not automatically descale like with other expensive brands, the designers made the descaling process quite easy by making the removable drip tray and water tank dishwasher-safe. This option along with its dual-function filter holder that guarantees easy cleaning of the portafilter makes the overall cleaning process convenient.
Accessories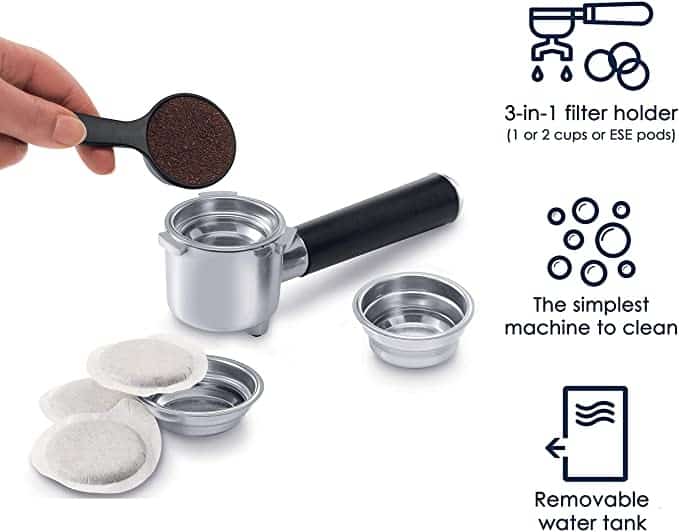 The EC155 comes with a few excellent accessories like the frother, cup warmer, cup, and filter system. The cup warmer, as it sounds, warms the cup before you fill it with brewed coffee. This option ensures that your coffee stays hot after the brew, keeping its flavors and aroma longer than usual.
The filter system on this device is also outstanding. EC155 uses a portafilter that lets you load, contain, and brew ground coffee. The portafilter comes in a tough and superior-grade construct that lets it withstand high pressure and temperatures. Yet, the real deal on this filter system is the DeLonghi patented dual-function filters with a simple design for ease of use and convenient cleaning.
The dual-function filter can handle both single and double shots- with a single shot accepting 7 grams of coffee and the double shot; 12 grams.
DeLonghi EC155's key features
Self-Priming Function
Dual thermostat
1-gallon water tank
Swivel Jet Frother
Patented Dual-function Filter Holder
Stainless steel boiler
15 bar pump pressure
Cup warmer
Product Warranty
DeLonghi provides a one-year warranty on this product. The brewer also has a 30-day money-back guarantee.
Why should you buy the DeLonghi EC155?
If you are looking for an affordable yet high-quality espresso maker that produces delicious cups of espresso with the least user effort required, the DeLonghi EC155 perfectly ticks those boxes.
Its simple design and outstanding features like the powerful pressure, self-priming function, swivel jet frother, compatibility with grounds, and pods make this machine much more advanced for its price.
Don't buy the DeLonghi EC155 if…
If you value customization of the brewing process, over simplicity of use, this product doesn't just fit. Also, if you need a machine that produces espresso quickly with a touch of a button, this product isn't that kind of device. It takes at least 3 minutes to prepare espresso with this brewer and it does not have a one-touch brewing function.
Lastly, if you are keen on a top-notch tasting espresso, you will need a brewer that costs at least five times the price of this device.
Closing Thoughts
DeLonghi EC155 Espresso and cappuccino maker is an affordable, lightweight device equipped with outstanding features that produce a toothsome cup of coffee. This device is an excellent option if you are keen on having a latte, Americano, cappuccino, and espresso at home and you're not willing to spend big.
The brewer may be lacking in temperature consistency, build quality, and the froth may be watery a few times. However, you may find it hard to try to get another product in the same price range that beats the Delonghi EC155.