Espresso Brewing Guide – People who love coffee see espresso as an intriguing subject. Partly this is due to the fact that making espressos at home is not common. This is a direct result of the cost of espresso machines: they don't come cheap.
This espresso brewing guide aims to show that mastering the art of espresso is not some arcane alchemy available only to a few chosen ones. It will also reveal to you that a great espresso maker for your home use can be found for an affordable price. Before going into this espresso brewing guide, a short definition of espresso is in order.
This shortens the brew time considerably, and the combination of pressure and hot water dissolves more solids in emulsified oils. The net result is the classic, distinctive layer of crème at the top of the brew.
As much as you have espressos, there always lie some intriguing details about them. You will be surprised to know that even though you may be an avid espresso drinker, you are a novice on espressos and their types. This article can be your shortcut espresso brewing guide to the world of espressos and espresso makers and which one of them will suit you. Let us dive in!
Simple Home Espresso Brewing guide
Preliminary steps of Espresso Brewing Guide
Expresso machine
Before you make espresso, it is assumed you have the espresso machine on standby. And of course, your machine must have a portafilter. All good espresso machines have it.
Coffee beans grinder
Another essential piece of equipment to have around is a coffee beans grinder. Your grinder must be capable of grinding to very fine levels. A burr grinder is here because it is easier to get consistent results with it.
Coffee beans
Probably the most vital part of any espresso, any coffee at that! We have a great espresso brewing guide for that, too, find it here – coffee beans for espresso.
A coffee doser
This is the brewing ratio or the coffee-to-water ratio. The technical term is 'dose.' The common dose for espresso is between 18 and 21 grams of ground coffee. This is the amount of ground coffee you'd use to produce your espresso.  This dose will yield about 2 ounces of espresso.
Tamping
No espresso brewing guide would be complete without mentioning 'Tamp.' This refers to compressing the ground coffee in the portafilter. This compression is done with a tamper.  Without tamping, the water would pass through the grinds producing very weak espresso. So tamping creates a better environment for water and coffee grinds to mix optimally. And because of this, more coffee oils are emulsified and more solids are dissolved.
Temperature
The temperature of the water that passes through the tamped coffee grinds in the portafilter is also crucial to making fine espresso.
Anything between 195 and 205 degrees Fahrenheit (90 – 96 degrees Celsius) is the recommended temperature. Good espresso machines have settings on them so you can program it to that temperature.
Espresso Brewing Guide – Steps for Perfect cup of Espresso?
Step 1 – Prepare your espresso maker
Fill the espresso machine with water and heat the water to the required temperature.
Step 2 – measure and insert your coffee grounds
Remove the portafilter and place the ground coffee (between 18 and 25 grams) in it. Make sure the grinds are distributed evenly across the portafilter. Spread the coffee around the portafilter for even distribution. This is important as you don't want to have uneven pressure during tamping.
Step 3 – tamp it, tamp it well!
Go ahead and tamp the coffee with the tamper. Unwanted particles could affect the final taste of your brew, so you need to make sure your tamper is squeaky clean and dry.  To ensure a smooth, even tamp, don't drive your palms into the base of the tamper. Apply the pressure downwards with just enough force to seal the coffee in nice and smooth.
Then gently spin the tamper to further smoothen the grounds for an even extraction of the brew. Return the portafilter to the group head of the espresso machine.
Step 4 – make the magic happen!
Turn on your espresso maker and wait for it to brew, shouldn't take more than 30 seconds.
Enjoy!
7 Espresso Makers For Every Espresso
Now, below you can see a list of our 7 reviewed espresso makers for your home. All of the reviews have been done online – meaning we went through a lot of product descriptions. A lot of user reviews and spent a lot of time comparing and cross-reviewing them (19 hours if we are counting) to come to this list. We hope you will find it useful.

Our number-one pick. Although it's a bit costly, for the price you can have a piece of stylish accessory that is very handy and makes great espresso. The infusion technique implemented in this piece will pre-infuse the ground coffee with low water pressure before it extracts the flavor from the grounds. This process expands the grounds and evens them out providing a higher quality taste.
This machine comes with built-in maintenance indicators so you will know when to attend to it. Various controls allow variating with strength and shot control. Combined with 9 bar pressure of extraction and digital temperature control it will provide the perfect temperature for your coffee.
---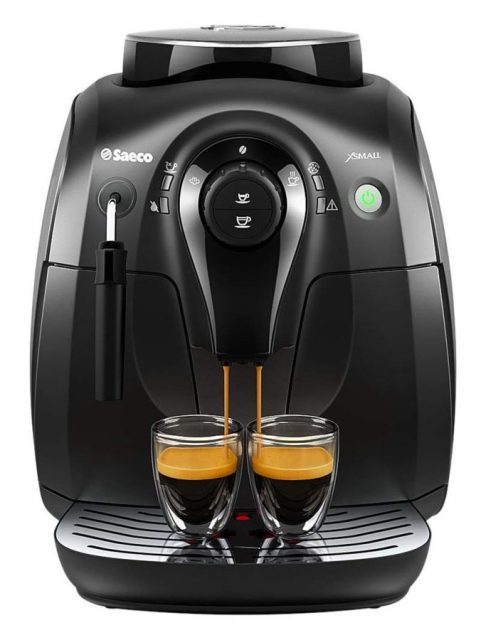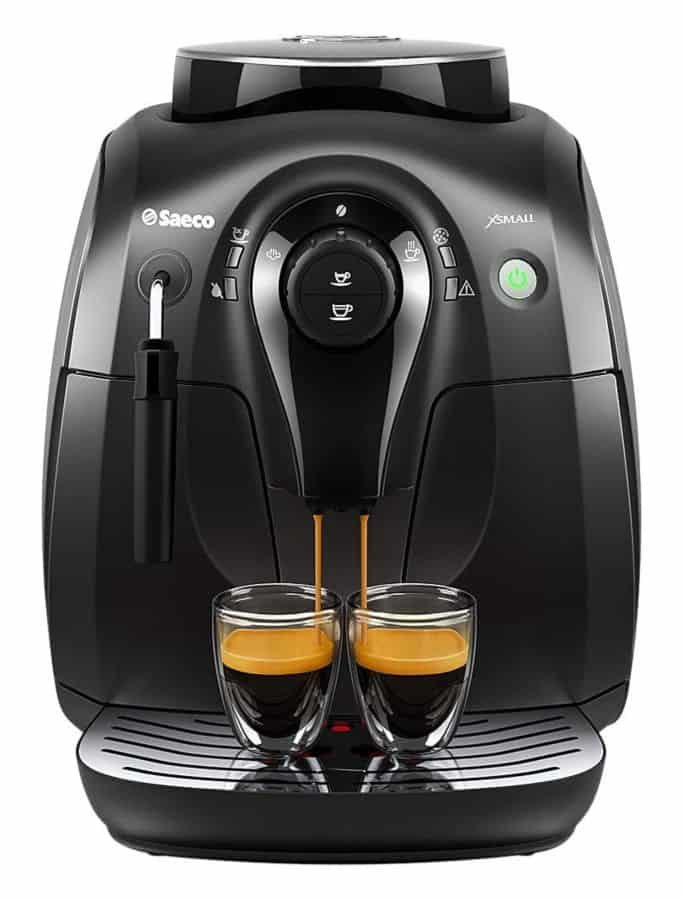 Equipped with a ceramic grinder it will grind your coffee harder than your spouse grinds the teeth in sleep. And into the finest coffee grounds, you've ever seen. Filling the air with fresh coffee dust. The grinder has 5 settings, so you can adjust it to your preferences. Don't worry about cleaning it – it has an auto-clean function (although that does not mean you won't have to tend to it, you most certainly will, but it'll be easier). Here you can find a manual frother, too. So you won't have to look for a milk frother in your drawers, that's nice, right?
As regards the item itself, stylish looking, tho a bit plastic. It will look nice on any counter, the brewing group (an awesome Saeco innovation) is removable and easy to clean. Also equipped with a quick heat boiler, so no more spending precious moments of your day waiting for it to heat up. It'll be ready in no time.
---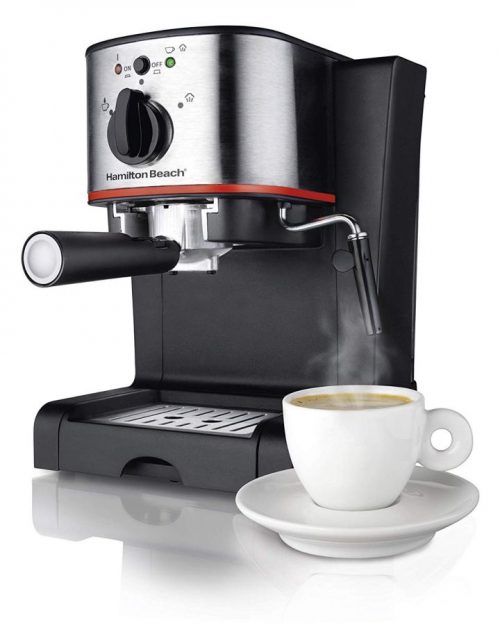 Want a barista-made-quality cup of coffee without having to endure the smirking, beardy coffee guy in the corner coffee shop? We got you. The Italian pump of this coffee can do 15 bars of pressure. More than enough for any type of coffee. It is easy to set up, no need to get lost in the manual. Everything is right in front of your eyes. Equipped with a steamer and a cup warmer to keep your coffee hot at all times, even if you forgot it while working on something.
This little space saver will fit into any kitchen without sacrificing anything for comfort or quality. Stainless steel accents will place all the dots. The water reservoir is a removable one, so that's handy. And you can use both – coffee pods and ground coffee.
---
With this one, you can choose to have either an espresso or just coffee. Single cup at a time – this little monster will prove that it's worth your money.
This is barista-grade equipment. Not only for espressos, but also for more complex coffee drinks such as flat whites, cappuccinos, and latte macchiatos. You can adjust coffee volume, milk temperature, and mixture. The TFT LCD display will show you what functions to select for the perfect cup. Sit back and relax. It can also display a guide on how to maintain and prepare it. Read our espresso brewing guide to know more details.
Great to look at, comes with many functions that will allow you to brew your favorite cup of coffee, not limiting you to espresso alone, what's not to like?
---

Single or double espresso maker? Can't choose? This one can do them both, you don't need to choose! In addition – it has a manual frother for your milky needs, hah!  And it will fit not only your usual cups but also a taller cup, like a travel mug.
Sleek and metallic, it does look superb everywhere. Your friends will appreciate the design. It has a 15-bar pressure system that will provide quality coffee (tho practically all of them have 15 bars nowadays).
Cons? It has a plastic stamper, that's not very nice, but you can buy a steel one for under 15 USD.
Pros? Additionally, to everything already mentioned – it does not require a filter.
---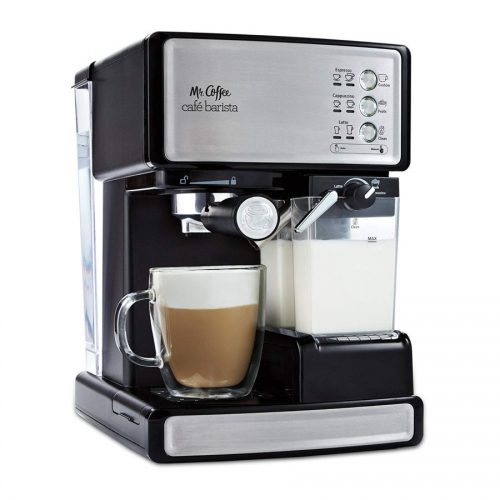 The semi-automatic coffee maker will bring you strong espresso, milky latte, and frothy cappuccino – all that in a single maker. As always – a 15 bar pressure will extract your coffee beans. One touch control panel for the blurred early mornings, hard to push the wrong button here. Removable water and mil reservoirs that are easy to maintain and clean.
It will turn off automatically after you have finished making your coffee. Can make not only espresso but also lattes, iced coffees, and many more.
Cons? The wooden screw in the portafilter may come undone. So before you start using the machine make sure that it holds tightly in place.
---
Looking for a great espresso maker? Here it is. Remember how I said earlier that most espresso makers will offer you 15 bars or pressure? Well, this one goes up to 19 bars. Test it yourself! This is a simple, fully automated machine that will do a better job than you (admit it, machines are better, our time is over). You can adjust your preferrable cup size, it will even save energy for you. Think green! And De'Longhi gifts each buyer with a complimentary gift of a Nespresso Original capsule welcome kit.
It is good looking, you'll like it, your friends will like it, and your mother will, too! You can get your coffee using the coffee pods, press a button, slip in a pod, press a button again, and have your coffee, simple!
---
Closing Thoughts on Espresso Brewing Guide
In the end, we know you love your espresso, and really – it is not that hard to make great espresso even at home, with some practice and this espresso brewing guide you will be ready to brew the perfect cup of espresso at home, you only need the espresso maker, some good coffee beans that (in the perfect world) are tailored for an espresso drink, and a little bit of patience to read this espresso brewing guide and do some trials. At least you now have a start on how to choose your perfect espresso maker.