5 Robust Kona Coffee Beans To Tantalize Your Taste Buds. Supreme Kona coffee beans can only be grown in a specific part of the world, making them very rare and extremely exclusive. Which also means it is very pricey. However, if you have not yet tried coffee from the Kona region in Hawaii you're missing out on a lot. Not only it is considered the tastiest coffee in the world, but it is also one of the most luxurious and rare coffee beans in the World providing the highest quality coffee available out there. Its' rich and deep flavour is unforgettable and can not be mistaken for any other coffee bean.
It is the result of the perfect coffee-growing conditions. Nurtured by the mineral-rich slopes of the volcanic mountains, bathed in near-constant sun rays with frequent doses of rain and care by the plantation owners – this is the perfect growing condition for the Kona coffee beans.
Be aware, however, of the Kona coffee's various blends. As these are the most expensive coffee beans in the World, many coffee distributors and sellers will try to get into the business by providing various Kona coffee blends. They are a lot cheaper than 100% Kona coffee, but still more expensive than great quality coffee beans that do not have "Kona" in the title. However, these blends are more often than not – just a week aftertaste of the real deal.
In most cases in these blends, there will only be the bare minimum of 10% Kona coffee in them, and in some cases – even less than that. Coupled with cheap coffee beans they will be sold for a pretty penny, but taste really bad. Just – avoid them. Here are 5 amazing Kona Coffee beans for a rich cup of joe.
5 Amazing Kona Coffee Beans For A Rich Cup of Joe
Hawaiian Kona Coffee is a leading producer of the coffee manufacturer, Volcanica Coffee. This company is a speciality retailer of exotic gourmet coffee with a commitment to offering only the finest quality from volcanic regions of the world.
This Kona coffee is a full-bodied, very flavourful, and rich coffee with a mellow character. It comes with low acidity, a heady aroma, a lively floral-fruity flavour note, and a hint of jasmine.
Unlike other misleading brands made of Kona blend, Hawaiian Kona is 100% pure Kona X-factor coffee grown from the volcanic lava slopes in Hawaii.
To improve the flavour of the beans, Kona coffee growers ensure to meet the perfect growing conditions for coffee trees. For a start, they pack the soil with broken chunks of volcanic lava to efficiently drain water into the soil. Also, the mild weather- gentle rainfall, cool mist, and bright sunny morning makes the trees safe from disease and high in nutrition and flavour.
The good part? Kona coffee has up to eight classifications; based on quality- defect rate, nutritional value, and more. The Extra Fancy beans are the highest quality of Kona coffee. It describes specially handpicked beans famous for their large size, extremely low bean defect, and uniform colour. So, you're not only getting Kona coffee from a renowned brand; you'll be getting the highest quality of coffee available.
Unfortunately, high quality is synonymous with a high price. As such, this medium roast coffee is the most expensive on our list, and a bit pricier than most competitors. Still, its flavour, rich taste, aroma, and overall quality justify its price.
It is available in whole bean and ground

Available in a wide range of flavors

Organically grown

Roasted after order to ensure freshness
It is 100%, Kona. So it's a bit bitter.
---
By way of introduction, it is worth mentioning that Koa coffee Kona won the "Top selling coffee in America" by Forbes. It also featured in Forbes's "Top 10 coffees of the world". The product also won the Gevalia Cupping Competition and PCCA Coffee of the Year.
Well, with all of these awards, you can expect premium quality products, excellent taste, and very flavourful beans and not be disappointed. Yet, we will still take a closer look at this Kona brand.
To begin, the brand harvests only cherry-red beans and handpick quality bean for processing. There is no mechanical harvesting or packaging; humans roast and package each bag per order. The seeds are dry-processed in the sun in their cherry skins. Hence, it is almost not possible to buy a stale bag. Also, because of this processing technique, the bean absorbs more natural sugars and nutrients. Thus, producing a delicate mouthfeel, intense aroma, and fruit notes.
Like other brands, this one grows coffee trees from high-elevation regions in Hawaii. It does not blend Kona with different coffee types but naturally processes 100%, Kona.
Koa coffee Kona comes in various qualities and packaging. For example, there are estate pack coffee beans grown in high elevation, single estate farms, nestled on the Mauna Loa volcano. Koa Coffee Kona also comes in a medium or dark roast tri-pack. This tri-pack features its three award-winning coffees- Grande Domaine Kona, Private Reserve Kona, and Estate Kona.
Overall, Koa Kona coffee is renowned for its smoothness and richness. The tri-pack is more expensive than other packages, but above all, they are worth their prices. More so, you will enjoy every sip of it.
Award-winning Kona coffee brand

100% Kona beans

Wide range of flavours

High-quality, handpicked beans
It is only available in whole beans or one ground option.
---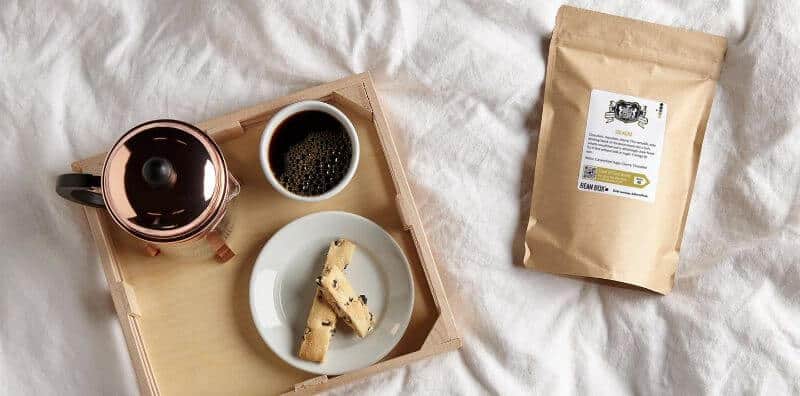 Keala is the Kona coffee of the Seattle-based coffee company called Bean Box. The company aims to bring caffeinated delight and the world's finest artisan coffee to customers. Pretty high, right? Now let's take a good look at their Kona coffee.
Keala is 100% Kona, and it comes from Keala's Hawaiian coffee. Each bean on the Keala is a specially handpicked, Extra Fancy grade cherry. As expected, it comes from carefully cultivated lush volcanic soil with a perfect blend of the morning sun, afternoon clouds, and the special Aloha spirit. All of these combine to produce smooth, rich (nutrient and aroma), nutty flavors of Kona coffee.
Like with other Kona coffee brands, Keala is roasted in Seattle by highly skilled artisans in small batches when ordered. So, you will always get a light, refreshing flavour when you order one.
The flavour profile of the Keala Hawaiian coffee is bright and sweet, with a hint of coconut and passion fruit. The acidity of the coffee is low. So, it is suitable for persons with acid reflux, heartburn, and other gastric issues.
More so, Keala comes without any artificial flavour. Its primary flavour is passion fruit. Yet, you will experience a perfect blend of the nuance of Kona- all thanks to its medium roast.
All in all, the Keala 100% Kona is an excellent choice. It has light, fun, and perfectly balanced flavors. So, except if you want a little bit of bitter coffee with kickback, the Kona Hawaiian coffee is right for you. Still, you can use an Aeropress brew to increase the kick.
Balanced flavour profile

Ships only on order

Extra Fancy grade coffee
---
Royal Kona coffee is from a Hawaii-based company called the Hawaii Coffee Company. The company's heritage dates as far back as 1968. So, being an established brand with decades of experience, you can trust their product will shimmer the outstanding beauty and taste of expertise.
Like Koa Coffee, this brand does not buy coffee from farmers. Precisely, they plant and harvest their coffee trees, taking the appropriate measures to ensure quality care of the tree and its produce.
Royal Kona coffee is of Extra Fancy grade. Each bean is specially handpicked and roasted to a custom roast profile different from other brands. The roast is a little lighter than the standard medium roast. However, it perfectly combines and brings out the smooth delicate flavor and aroma of the coffee.
If you prefer light roast coffee, you will find this coffee very appealing. Although the packaging comes with a medium roast tag, its roast is a bit lighter than most competitors with the same label. Yet, the Royal Kona has a lively and bright taste you'd love.
The aroma of this Kona coffee is also one of its strong attributes. Besides, Hawaii Coffee Company only roasts and ships the coffee upon order. Hence, its flavour, as well as its aroma, will be fresh. 
Overall, the Royal Kona is an excellent pick if you do not like any unpleasant aftertaste. It is low in acidity and of a fairly lighter roast than most medium roasts.
No aftertaste

A strong and delightful aroma

Extra Fancy grade Kona coffee

Well-balanced flavour
It might be too light if your preference is medium to dark roast.
---
A product from Koa had to make our list again. Well, there is no bias here; they are that good. Peaberry beans describe coffee cherries that amount to 3 to 5 per cent of the whole harvest. They are small oval beans, flat on one side because they were nested face to face.
Peaberry Kona is the rarest of all Koa Kona and dubbed to be the champagne of Kona. You can't attack them for such a title because many people even tag the Peaberry Kona as the most delicious coffee Kona in the market. Still, it is all a matter of taste buds and preferences.
Like other Koa Coffee, Peaberry Kona is 100% Kona harvested from Hawaii. It is of medium roast and perfectly blends its light, sharp, and fruity flavors into a full-bodied and smooth joe. It is low in acid and not bitter. Hence, suitable for persons with low acid tolerance.
The demand for Pearberry is so high that the company claims to buy some from local farmers to meet orders. Koa Coffee also sells peaberry flavours. So, if you want to spice up your coffee with its taste and aroma, you can get one.
Sadly, because there are only three Koa peaberry bags of coffee out of 100 bags, peaberry Kona gets frequently out of stock. Specifically, it takes weeks for them to collect enough Peaberry to meet market needs. So, whenever you get the opportunity to get one, you should grab it while you can.
Overall, the Peaberry medium roast is an amazing choice if you want your coffee sweet, light, and crisp in flavour. It is a bit pricey for its size, but its toothsome flavour will make you forget the price you paid for it.
It is smoother and sweeter than most Kona beans

100% Kona

Rare peaberry blend

No bitter aftertaste
---
What is Kona Coffee?
It is a premium coffee brand offering real Kona coffee to its consumers. There is only one region in the World where green Kona coffee beans can be grown, and that is in the Kona district of Hawaii's biggest island. If you know what pure Kona coffee tastes like, you will know that it can not be replicated or substituted with any Kona blend coffee. I will admit, Kona blend coffee is quite good but compared to the real deal – it will never be a worthy competitor for the Kona coffee beans!
What makes Kona coffee so special that it can only be grown in this specific part of the World? Well, mostly it is due to the weather conditions in Hawaii, more specifically – on these islands. The rain, sunshine, and shade proportions are ideal for the whole Kona coffee beans to get ripe and perfect for creating coffee in the world. 
In addition to that, most coffee plantations are located on the slopes of volcanic mountains Mauna Loa and Hualalai (thus one of the Kona coffee brands is called the Volcanica Coffee company), providing for a dark soil saturated with irreplaceable minerals and fertilizers much needed for these coffee beans. 
100% Kona coffee with no blends is quite expensive. However, if you have tried it before – you understand why. If you have not tried it yet – you ought to, if only just to see what all the buzz is for, really. 
What Is The Difference Between a Real And a Fake Kona Coffee?

Kona coffee is easily the coffee I have ever tasted. Grown on the slumps of Hawaiian mountains, this coffee has earned its place among the greatest. 
This is why there are so many Koa coffee "blends" that will try to sell as if they would be the same Kona coffee. A word of advice – it is not. While it still tastes like a really good coffee, if you have had real Kona coffee before, you will be able to tell the difference. 
Often, they will come with a good discount urging you to buy them. Don't fall for it. Kona coffee can't come cheap. Sure, they might offer you a small-ish discount every now and then, but never over 20-30%. This is not due to greed, but the special condition and care involved in growing the beans for Kona coffee. It takes extra time, care, and attention for this premium quality coffee, and, therefore, it should also taste premium. 
Where To Buy Kona Coffee?
It is also important to know where to buy Kona coffee. Real Kona coffee can not be bought in ordinary shops and markets. Kona coffee beans are too rare and pure to be found in those. You must try gourmet coffee shops, on the farmers' market, or in specialized shops on the internet, like Kona coffee, Volcanic, Keala, or Hawaiian coffee.
That is why you should not go to Amazon or Walmart when buying this kind of coffee. Go straight to the special distributors, such as Koa coffee, or Hawaiian coffee (we link to them in this article for your convenience). They guarantee that you will get original, one-hundred per cent Kona coffee beans and you will not need to worry about getting a blend for your money. 
How is Kona coffee cultivated?
The season length of growing Kona coffee lasts for a full 12-month period. In February and March, the plants are blooming and pollinating, followed by the development of fruit From the start of April until the end of August. The fruits are harvested – hand-picked starting in September and all the way through until the end of January.
It takes three years for a Kona coffee tree to reach maturity, each tree produces 25 pounds of cherry, which amounts to three pounds of original Kona coffee. 
As the cherries are ripening each in their own time from the start of September until the end of January, they have to be hand-picked as otherwise a lot of cherries might get picked before it is their time. The slopes of the Volcanic mountains don't allow for machine operation that easily either, making it harder for them to move between the trees. Therefore – they are handpicked. 
The cherry-pickers evaluate each berry to see if they are ready to be picked judging its size, color, and firmness. Once they are picked, the workers process the berries within 24 hours for maximum freshness and to keep the taste of the cherries at its top. 
What Is Kona Blend Coffee?
Kona blend coffee is part Kona coffee beans and part Brazilian or part Colombian coffee. Unfortunately, the major part of these "blends"  will contain your ordinary Robusta or Arabica coffee. Not that there is anything wrong with this coffee. Not at all. However, if you pay a  lot of money for coffee, you should get at least a decent blend. In most Kona coffee blends, the Kona part will be around 10-20 percent and the rest will be Colombian or Brazilian coffee. It will not taste like the true Hawaiian isles Kona coffee. 
Because real Kona coffee is so expensive, many companies are offering a cheaper Kona coffee alternative – blending it with lower-grade coffee beans. You should stay away from them. They will be more expensive than great quality Arabica or Robusta coffee beans without providing the Kona coffee tastes that you would get from true Kona coffee beans. And cheaper than real Kona coffee, but the taste will be watered down. So it is definitely not the "topmost setting coffee of both worlds", what you get instead is either a super-expensive Arabica blend or a watered-down replica of the real deal. 
How to make sure you buy real Kona coffee beans?
To make sure you are getting real, organic Kona coffee beans, make sure to check the packaging and look for where it is sent from and manufactured. Real Kona coffee will be grown, produced, and imported straight from the state of Hawaii. 
Hawaiians are proud of their high-quality Kona coffee, and their law carefully safeguards their reputation, thus making sure that only real Kona coffee is getting this label. 
So, if the product description does not mention Hawaii as the source or origin – don't buy the beans. Or if they mention Hawaii but in a very abstract way – that is also a red flag and you should be careful. 
How To Understand Which Beans Are Not From The Kona Region?
Another thing to look for is someone mentioning Hawaiian flavour, without saying that the coffee was grown in the Kona district. Most places in Hawaii are not suitable for growing high-quality beans. 
Most soil in Hawaii contains a lot of clay. That is due to over-excessive farming practices, the land is worn down, except for the Volcanic mountain slopes where the Kona coffee farms are located, which offers rich, nutrient-filled, and capable soil for growing Kona beans, along with one of the microclimates in the world for doing that. The perfect conditions, really, that you can not find anywhere else in the world. 
So, if your coffee is not coming from the Kona district in Hawaii – it is not the high-grade Kona coffee beans that you are looking for. 
Why Are The Fake Kona Coffee Blends So Popular?
The various Kona "blends" are so popular because of the super-high quality and exclusivity that Kona Coffee is offering. By Hawaiian law, the "Kona" coffee label can be stomped on anything that contains at least 10% Kona coffee beans. The cheap coffee brands found the loophole of 10% and are utilizing it – adding no more than the bare minimum required by law.
And filling the remaining 90% of the box with some crappy, super-cheap coffee selling this blend many times more expensive than good quality Arabica coffee, still cheaper than 100% Kona coffee tho. And if you don't know the difference you won't even know that it should taste a lot better, leaving you feeling surprised and cheated. 
What Are The 2 Types Of Kona Coffee Beans Grade?
Hawaiian coffee is submitted to the most inspection of coffee beans in the World. The Hawaii Department of Agriculture assigns a grade to each Kona coffee bean batch according to these tests. 
First of all, there are two types of Kona coffee beans. Type I beans consist of two beans per cherry, flat on one side, and oval on the other. Type II beans consist of one round bean per cherry, otherwise known as peaberries. 
Each bean type is undergoing meticulous grading tests by HDA. The grading considers such aspects as size and type of beans, moisture content, and purity. It is then receiving one of five grades:
Extra Fancy
Fancy
Number 1
Select
Kona Prime
All of these are the highest-quality Kona coffee and Hawaiian coffee beans there are. Kona Extra Fancy grade is the highest quality and most expensive coffee beans produced in the Kona region. 
All these types are represented by the Type I coffee beans I was explaining above in the article. There are two more types conveying the Type II Kona coffee beans:
Peaberry Number 1
Peaberry Prime
These are considered lower-quality beans than the ones from Type I, however, you will not be able to taste the difference or tell that one type of bean is better than the other. 
Then there is one last category called Kona No.3. This is the lowest grade Kona coffee and should not be considered as Kona region coffee but as Hawaiian coffee. 
But they are all worth your money, and you are worth these beans, too if you love your coffee and want to try the optimum quality coffee there is.
What does Kona coffee taste like?
It is quite difficult to characterize the taste of true, organic Kona coffee tastes like as it might be something else for each individual. 
Kona coffee is well-known for its low acidity, allowing the taste to appear very soft and easy on your stomach. Your Kona coffee should not feel sour or burnt or give you acid reflux. 
The taste ought to be sweet, clean, and creamy. It is very well-balanced and medium-bodied. You may taste a hint of chocolate and dried fruits, not always tho, as the taste it produces depends on the brewing method and barista skills. 
But really, you have to try it for yourself to know what real Kona coffee truly tastes like. That is why we have compiled, and offer you our 5 Kona coffee brands. Read the, check the links to your favourite one, order it, and enjoy the cup of coffee you've ever had.