McDonalds Vanilla Iced Coffee Recipe
The big Famous Yellow M you see when you drive down your street, In bright bold Yellow and attracts every child's attention, It's the favorite weekend meal, and its cute toys Galore, You got it right, it is none other than McDonald's the world's leading food organization. Operating over 30,000 restaurants in more than 100 countries on six continents. It's the world's largest chain. McDonald's is best known for its Hamburgers, Cheese Burgers, and Fries, although its menus include other items like Coffee, chicken, fish, shakes, soft drinks, and apple pie. It is a frequent topic of public debates about obesity, corporate ethics, and consumer responsibility.
Origins of McDonald's
Mc Donalds was introduced by siblings Richard and Maurice McDonald. They opened the first McDonald's at 1398 North E Street at West 14th Street in San Bernardino, California on May 15, 1940. The original mascot of McDonald's was a chef hat on top of a hamburger who was referred to as "Speedee". Back in 1954, a man named Ray Kroc discovered a small burger restaurant in California and wrote the first page of history. 
The mascot, clown Ronald McDonald, was introduced in 1965. 
Logo from 1940 until 1948

Logo from 1948 until 1953
Logo from 1953 until 1960
Products
McDonald's has a very scrumptious menu. Hamburgers, various types of Chicken sandwiches, French Fries, Soft Drinks, Breakfast items, Coffees, and Desserts. In most markets, McDonald's also offers salads and vegetarian delicacies. On a seasonal basis, McDonald's offers the McRib sandwich. During March of each year, McDonald's offers a Shamrock Shake to honor Saint Patrick's Day.
Products are offered as either "dine-in" where customers can eat at the restaurant or "take-out" where the customers can have a takeaway. 
The company has now introduced healthier options and removed high-fructose corn syrup from hamburger buns. The company has removed artificial preservatives from Chicken McNuggets, replacing chicken skin, safflower oil, and citric acid found in Chicken McNuggets with pea starch, rice starch, and powdered lemon juice.
In November 2020, McDonald's announced McPlant, a plant-based burger, along with plans to develop additional meat alternative menu items that extend to chicken substitutes and breakfast sandwiches.
McDonald's Menu differs as per the country. Restaurants in several countries, particularly in Asia, serve soup. This is to make food for the locals which the regional market is more familiar with.
In Germany and some other Western European countries, McDonald's sells beer. In New Zealand, McDonald's sells meat pies. In Greece, the signature hamburger, Big Mac, is changed by adding Tzatziki sauce and packaging in a pita. 
In the United States and Canada, McDonald introduced a partial breakfast menu.
McDonald's Iced Coffee Recipe
McDonald's started their McCafe line of drinks to rival a big coffee competitor Starbucks. Their beverages like Iced Caramel Macchiatos and Mocha Frappes. Instead of Frappuccinos, their frozen drinks are called Frappes. McCafe drinks can be ordered at any McDonald's throughout the day.
McDonald's offers three sizes of drinks: small (12 ounces), medium (16 ounces), and large (22 ounces).  Be assured that McDonald's uses 100% Arabica coffee beans, roasted by Gaviña. Their coffee is a medium roast and the espresso is a dark roast.  There are only two milk options for espresso drinks: whole and nonfat milk. There are no dairy-free milk substitutes. For iced coffees, a light cream is added to the drinks. McDonald's has 4 syrup flavors for coffee drinks: caramel, hazelnut, French vanilla, and sugar-free French vanilla. There's also chocolate syrup for espresso drinks. These may vary from location to location.
Variations of McDonalds Iced Coffee Recipe
Iced Caramel Coffee

-Ice + Brewed Coffee + Light Cream + Caramel Syrup. Has a bitter taste and buttery flavor. 

Iced French Vanilla Latte –

Ice + Espresso + Whole Milk + French Vanilla Syrup. It is sweet with an overwhelming vanilla flavor.

Caramel Frappe –

Ice + Caramel Coffee Frappe Base + Whipped Light Cream + Caramel Drizzle. This frozen drink is a mix of caramel coffee frappe base and caramel drizzle, so the mix of the two gives it a very caramel essence.

Iced Mocha –

Ice + Espresso + Whole Milk + Water + Chocolate Syrup + Whipped Light Cream + Chocolate Drizzle. This drink has a very chocolate flavor. 
5.Iced Caramel Latte – Ice + Espresso + Whole Milk + Caramel Syrup. The caramel and the espresso blend well together and provide the right amount of sweetness.
Iced Caramel Mocha –

Ice + Espresso + Whole Milk + Water + Chocolate Caramel Syrup + Whipped Light Cream + Caramel Drizzle. It's a lovely drink that feels like dessert. 
7.Iced Coffee McDonalds Recipe – Ice + Premium Roast Coffee + Light Cream + Liquid Sugar. Refreshing, and just a touch of sweetness from the liquid sugar.
8.Iced Caramel Macchiato – Ice + Espresso + Whole Milk + Water + Caramel Syrup + Caramel Drizzle. The boost of caramel really gives this drink an exotic feeling.
Iced Latte –

Ice + Espresso + Whole Milk + Water – Lightly sweetened with liquid sugar, the combination of espresso and milk together is a great combination.

Iced French Vanilla Coffee –

Ice + Premium Roast Coffee + Light Cream + French Vanilla Syrup. French vanilla flavor in the iced coffee makes it refreshing and great to have as an early morning drink.

Mocha Frappe –

Ice + Mocha Coffee Frappe Base + Whipped Cream + Chocolate Drizzle. This frozen, blended drink tastes like melted ice cream and is the most delicious on the menu.
McDonald's Vanilla Iced Coffee Recipe – Ingredients, Preparation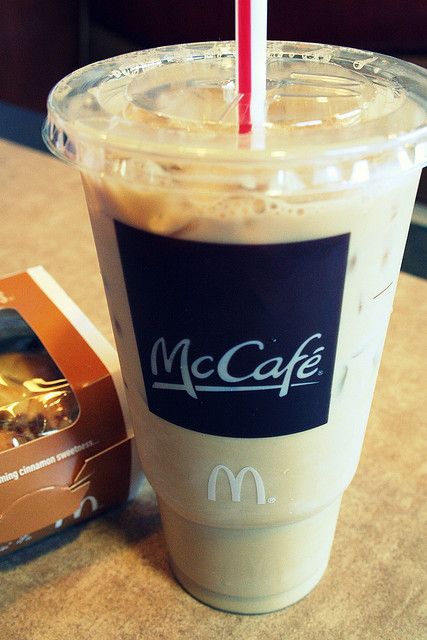 McDonald's iced coffee is loved all over the world for its vanilla flavor and subtle coffee finish. It is a refreshingly cool iced coffee made with premium roast beans and a smooth vanilla flavor.
Ingredients 
½ cup Arabic Beans

½ cup Half And Half

1 tablespoon Sugar

½ cup Ice Cubes

1 teaspoon Flavored Syrup

½ cup Water
Method of preparation
Mix together Arabica beans and water in a saucepan to brew a strong pot of coffee.

Bring to a nice boil and let it cool down.

Then, add ice, brewed coffee, vanilla syrup, and a half and half in a pitcher or a blender. Combine everything evenly by stirring frequently.

Finally, fill the glass with ice cubes and pour the coffee mixture on top.

Serve chilled iced coffee and enjoy!
You can also check: