Coffee drinks are a huge craze all over the world. It's rare to find one that is not attracted by the sexy, aromatic smell coming up from a hot cup of coffee. Coffee is great but lining up in the local coffee shop and spending tons of money to satisfy your craving for coffee every day is such a nightmare!
We know that there are a lot of coffee beverages that only professional baristas with specialized machines can make, but meanwhile, some are super easy that can be done right at home. So, if you have time and want to save up a bit of money, let's try to make those coffee recipes with us now!
Easy Coffee Drinks To Make At Home
Before going into details, please take note that the number of servings can vary depending on the cup sizes that you use.
Cold Brew Coffee
Ingredients (two servings)
1 ½ cups of cold water
Milk (optional amount based on your preference)
Ice (optional amount)
Utensils
A jar (any jar size that you have is accepted but the Mason jar is one)
A coffee filter, a fine-mesh sieve, or a sieve with cheesecloth covering
A tall glass or any type of cup to hold the coffee
A spoon
How to Prepare It?
Gently stir the coffee and water together in the jar.
Put the lid on and let the coffee-water mixture rest at room temperature for 12 hours or at least overnight.
After the brewing process, the ground coffee's quintessence now has been completely infused into the water, so you can use the filter or the sieve to strain the mixture, get rid of the sediment, and make it totally smooth.
Fill the glass with ice, and pour the coffee concentrate and water into it in a ratio of 1:1, or to taste.
(optional): Add milk if you desire.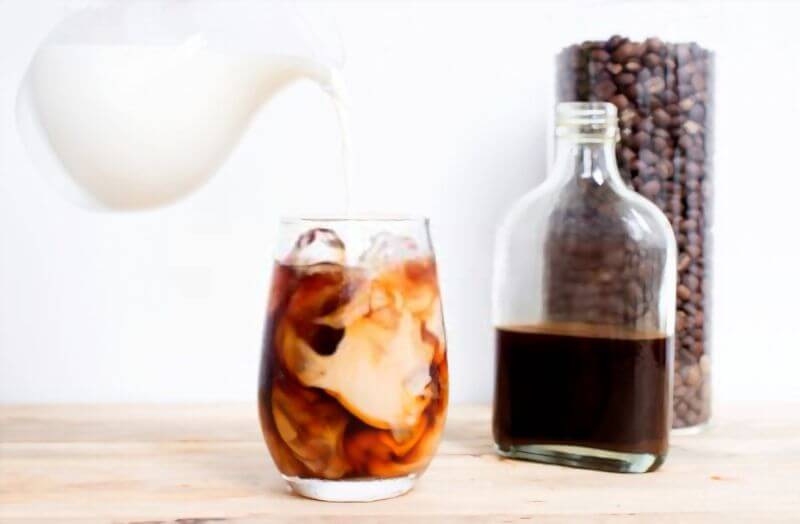 There is almost no coffee drink that is better for icing up the summer than Cold Brew! It is smooth and super fresh just like when you are drinking a glass of iced water but it's much more interesting to taste with the slight sweetness and bitterness.
Although Cold Brew takes time to allow the coffee to gradually infuse into the water, overall, every step in the process is really simple, and it's able to be stored. So, you can pre-make a pot of it, warm it up in just a few seconds in the microwave, and that's done for your busy morning.
Cold Brew will have the most delightful, clean flavor when the coffee beans are freshly coarse or medium-coarse ground right before the brewing process. So, if you have not had a great and affordable option for your cold brew grinder, you might want to check this!
Irish Coffee
Ingredients (two servings)
16 oz of hot water
2 teaspoons of light brown sugar/ maple syrup
1 cup of brewed coffee ( instant dark coffee is accepted but freshly ground one will be more flavorful)
½ cup of whipped heavy cream (>36% fat, handmade is preferred as the bottled one is too thick for this type of coffee)
2 oz of Irish whiskey (Jameson is the most widely used)
For garnish (optional): shaved chocolate; cinnamon powder
Utensils
How To Prepare It?
Warm the mugs with hot water for two minutes, and then pour it out.
Divide the sugar or syrup into two halves and put each of them into a mug. Either sugar or maple syrup is able to be the sweet element in an Irish Coffee glass.
Pour the newly brewed coffee first and gently stir to dissolve the sugar, then pour over the whiskey.
Whip the heavy cream until it reaches the soft peak form by hand or by the mixer in a separate bowl. The topping cream is advised to make at home rather than buying the pressurized can as it is too thick for this kind of drink.
Use the spoon to garnish the coffee with cream and garnish it with cinnamon powder or shaved chocolate.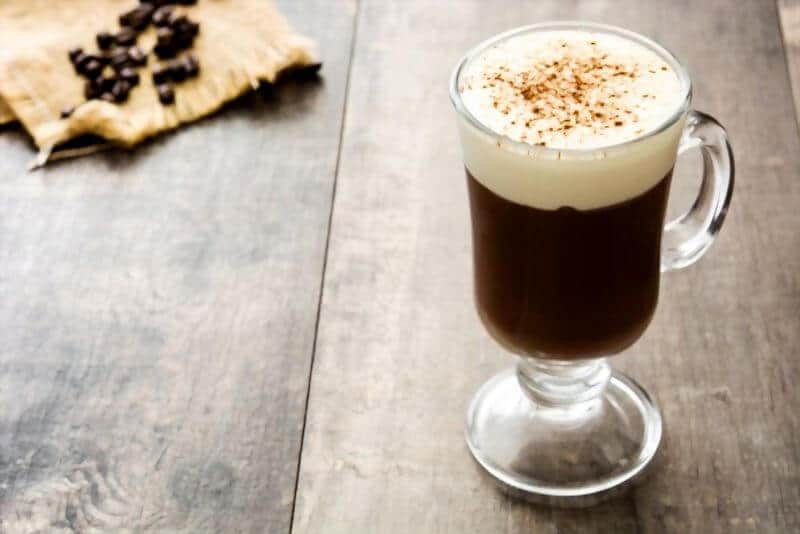 Irish coffee – from Ireland
Irish Coffee has appeared since 1942 and truly made a hit among Irish pubs. Countless guys have become this drink's fans because of its perfect flavor combination between the robust Irish whiskey and rich black coffee.
The known way to have a high-quality glass of Irish coffee is to use the French press or pour-over method with first-rate ground beans for the coffee part and freshly hand-whipped cream for the upper topping.
And, of course, a classic Irish coffee cannot be completed without a great Irish whiskey. Jameson is the most popular and widely used but you also can consider trying Bushmills or Kilbeggan. They're all nice!
So, how to taste the full flavor of this kind of drink in just one sip? Instead of using a spoon or straw-like many other drinks, with Irish coffee, you will directly drink the coffee through the cream to enjoy the bitter but creamy savor at the same time. Moreover, don't forget to preheat the glass before using it to keep your coffee hot longer.
Kahlua Coffee Float Bar
Ingredients (two servings)
A pot of fresh coffee brew (your favorite variety)
Kahlúa
Ice cream ( do-it-yourself ice cream is the better way to opt if you have time)
For garnish: syrups (chocolate, caramel, or both), whipped cream (optional)
Utensils
Two glasses
A scooper
A spoon
How To Prepare It?
Place the two glasses in the freezer for 15 minutes to chill them first.
Add about two ice cream scoops to each glass (Vanilla is the traditional flavor but it's still great to alter by chocolate or coffee).
Pour coffee and Kahlúa into the glasses successively (the ratio is not fixed but our recommendation is 3:1, 3 parts of coffee to one part of Kahlúa liquid).
Top off the glasses with syrups and whipped cream.
Source: homecookingmemories.com
If you are fed up with those traditional coffee drink recipes and want to find and try out something new and fun for your get-togethers with family and friends, Kahlua Coffee Float Bar is a worth-trying choice!
A slight addition of alcohol from Kahlua liqueur will make the drink more interesting than ever. What's more about this kind of drink? That's ice cream! Who does not fall into the sweetness of ice cream, especially when the weather turns hot, right? And now, it has become an amazing ingredient in the recipe of Kahlua Coffee Float Bar.
Most people will choose Vanilla, but giving other flavors such as chocolate and coffee a shot is totally a great idea. There is no precise number of the maximum ice cream scoop that you can put into this drink, so just feel free to modify it as you want!
Vietnamese Egg Coffee
Ingredients (4 servings)
2 egg yolks (large size)
½ cup of condensed milk
1 teaspoon of vanilla extract
60 grams of finely-ground French roast coffee
1 liter of hot water
For garnish: cocoa powder
Utensils
A bowl
A stand mixer/ an egg whisk/ an electric hand mixer
Four cups
A small spoon
How To Prepare It?
Beat the combination of egg yolks and condensed milk until it's fluffy and can float on the upper side of a glass of water. The mixture must be so smoothly made and well blended that you cannot see the separate part of milk or egg.
Brew coffee (your favorite recipe).
Pour the coffee into four cups.
Top off each coffee with the egg mix. No reservation, no waiting, just serve immediately when the coffee is still hot to enjoy the outstanding, creamy taste of this unique drink from Vietnam.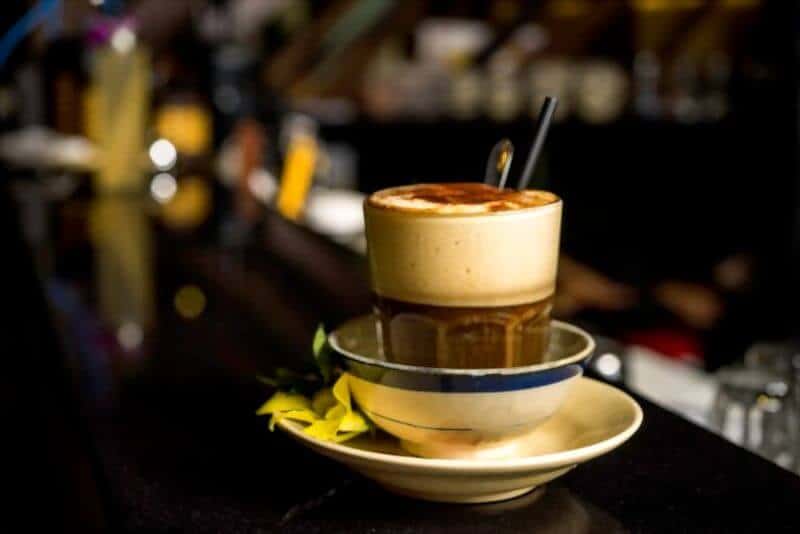 What Is Egg Coffee?
Egg Coffee might sound unfamiliar to you, but in Vietnam, this can be considered traditional street food. Well, you must think that "how can egg and strong dark coffee be related?". Still, trust us, try it once and you will soon get addicted to it!
This special drink was first made in the 1940s years, by Giảng, a long-standing local coffee shop in Hanoi.  The airy egg foam combined with condensed milk gives the whole mixture a fluffy texture and outstanding creamy flavor. When compared to the common whipped cream used in Western. Thanks to this creativity, the intense and bitter dark coffee of Vietnam has become more approachable. And more flavorful for those who cannot put up with traditional dark coffee.
Egg Coffee must be served when it's still hot. A tip from many local coffee shops in Vietnam to keep this coffee hot longer is to put the whole cup of coffee into a small bowl of hot water like in the image above.
Conclusion
If you love coffee more than any other drink in the world, why don't you go to the kitchen, roll up your sleeves, and start to make our recommended easy coffee drinks to make at home right away?
We have listed down those supreme recipes and we believe that they will not let you and your coffee obsession down. Lastly, we hope that you're into this article. Good luck and don't forget to share with us your recipe-trying result!