For many coffee enthusiasts and professionals, a good espresso grinder is the cornerstone of a great cup of coffee. Whether you're running a bustling coffee shop or simply looking to perfect your home brewing setup, having a reliable, high-quality espresso grinder is essential. With so many options on the market, however, it can be tough to know where to begin your search.
In this article, we'll be taking a look at ten of the best commercial espresso grinders available in the United States. From top-of-the-line models to more affordable options, we'll break down each grinder's features, pros, and cons to help you find the perfect one for your needs. So, whether you're a seasoned barista or just starting out, read on to discover our top picks for the best commercial espresso grinders on the market.
Whether or not your cup of espresso is the one you can have will also depend on the coffee maker you use and the beans you grind, I have some other articles here that will help you choose the coffee maker for an espresso that will not cost a fortune and the beans for espresso to use for your cup as well as a guide on how to brew your perfect espresso at home, so we got you covered!
What Are Coffee Grinders?
Espresso grinders brew coffee by forcing a small amount of pressurized hot water through finely-ground coffee beans. A high-quality grinder will be able to correctly extract the aroma and taste from coffee beans leaving well-brewed espresso.
What Are The Types of Commercial Espresso Grinders?
Two kinds of espresso grinders serve well for personal and commercial use. The kind you opt for would depend on your budget and the quality of the ground you want.
Blade Grinders
These coffee grinders are operated manually, and they are so named because they cut coffee beans using small blades. Blade grinders are the cheapest type of grinders you would find on the market. However, they do not offer high-quality ground coffee and are not suitable for big coffee shops.
Burr Grinders
Burr Grinders are an option to consider if you want to purchase a coffee grinder for business. This type is great for coffee drinkers who love the taste of high-quality brewed coffee. However, they are costlier than blade grinders.
Burr grinders are also more efficient and consistent in grinding coffee than blade grinders.
Burr grinders come in different types: Flat and Conical Burrs
However, the aroma and flavor remain the same.
Flat burr grinders
They are the more popular option due to their efficiency and grinding speed. But, a fast grinding speed could lead to the buildup of heat and burn your ground. Flat burrs are also prone to clogs which means you would have to spend a considerable amount of time on maintenance.
Conical burr grinders
These, on the other hand, are usually much slower at grinding coffee but this is also added advantage as you would avoid heat buildup and clogs.
Our 10 Commercial Espresso Grinders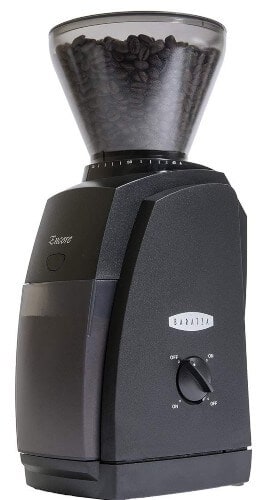 The entry-level all-purpose conical burr grinders come equipped with a variation of 40 grinding adjustments. It is one of the most affordable conical burr grinders with a good number of features. Its key features include a high-torque motor, a gearbox, and speed control.
High Torque Motor
While most users would want a grinder that grinds fast and dispenses coffee very quickly, there is the problem of heat buildup which would affect the taste of the coffee and ruin it for you.
The Encore is equipped with a high torque motor which keeps the burrs spinning at 450 RPM.
This speed is just good enough to brew high-quality coffee.
Speed Control
The Encore is fitted with an electronic speed reduction mechanism that keeps the speed of the burrs in check so that the burrs spin at exactly 450 RPM from start to finish. However, you can decide to raise the speed limit to 495 RPM or reduce it to 405 RPM. Before making any speed adjustments, it is worth noting that slow speed allows for noiseless operation and reduces heat. This ensures that the coffee is brewed perfectly with no effect on the taste and aroma.
Cost and Value
The Baratza Encore is one of the cheapest options in the market, but it is also one of the options to consider among espresso grinders within its price range.
Pros
Pros
Slow speed prevents heat buildup
Great features for the price
A wide range of grind settings
High torque motor
Cons
Cons
Lacks convenience features such as a screen or timer
Grinds slowly
---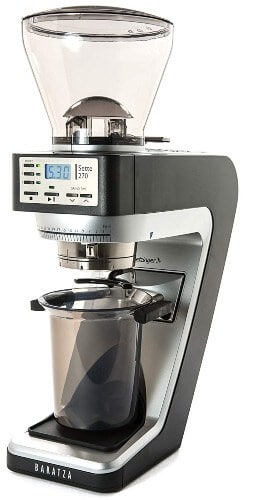 The Baratza Sette is quite similar to the Encore in the sense that they both are conical burr grinders. However, the Sette comes packed with more features and is, therefore, more expensive. The grind-by-weight espresso grinder has several key features including an accurate weight dosing functionality to ensure you get a consistent dose with every drink. Other features include a hopper stopper, adjustable holder arms, a gearbox, and a high-torque motor.
270 Grind Settings
Although the Sette has many upgrades that set it aside from other grinders, its most distinct feature would be its grind settings. With the Sette, you get 270 grind settings that fit well with a wide range of brewing styles and coffee types.
Convertible Device Holder
Another key feature is its built-in convertible holder which is unique to the series. The holders allow you to grind into your portafilter.
Cost and Value
If you are opting for the Baratza Sette 270Wi, then you should expect to spend more than a few bucks because it's quite expensive. In the end, you will be getting the right features and grinder you need for your commercial needs.
Pros
Pros
It has an accurate weight-dosing functionality
High torque motor
A wide range of grind settings
Cons
Cons
---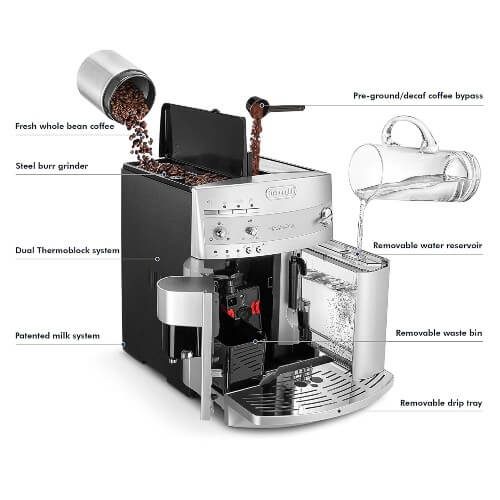 The DeLonghi ESAM3300 is not just good at making espresso, but other kinds of coffee, cappuccino, and latte drinks. The ESAM3300 is a burr grinder with an abundance of features that matches its price. It scores points for consistency, maintenance, and ease of use. Its key features include a three-hour auto-shutoff feature, a 60-ounce water tank, a 7-ounce bean contain, a coffee thermostat, and a water level indicator.
Stainless-steel boilers
The ESAM3300 is equipped with two stainless-steel boilers for heat distribution and reheating functions. This keeps the machine at a consistently ideal temperature when brewing coffee.
Cost and Value
Looking at the features of the ESAM3300, one would expect it to be on the expensive side which it is. However, if you want to serve your customers or you value the taste of high-quality coffee, then you can opt for this grinder.
Pros
Pros
Quiet operation
Easy to use and clean
Automatic brewing functions
Cons
Cons
---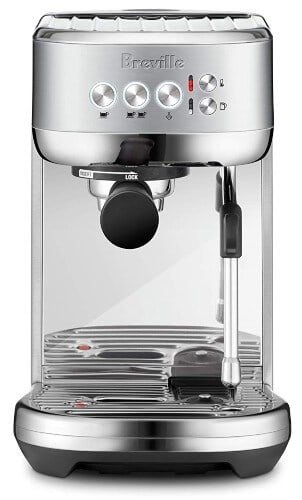 The Breville BES500BSS is a commercial grinder that lives up to its hype. It comes equipped with a lot of features that ensure you get only quality coffee.
Its key features include auto micro-foam milk texturing, faster heating time, auto heat purge, PID temperature control, and low-pressure pre-infusion.
PID Temperature Control
One of the requirements for brewing high-quality espresso is maintaining the right temperature. The BES500BSS uses temperature control to ensure the temperature is kept at the right range.
Cost and Value
The BES500BSS also falls on the expensive side. However, it is among the popular choices for making high-quality espresso and is worth every cent.
Pros
Pros
Heats up fast
Large water tank
Auto purge feature
Cons
Cons
Microfoam production is quite disappointing
---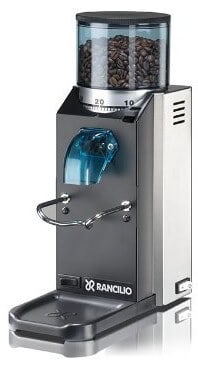 Coming from one of the most recognized names in commercial quality espresso grinders you should expect the Rocky Coffee Grinder to be of good quality.
The grinder features 50mm commercial grade burrs, 55 grind settings, and a compact tinted hopper.
55 Grind Settings
55 levels of grind controls mean you can try every brewing style or coffee type you want with just one machine. From espresso to French press coffee, the list of possibilities goes on and on.
Cost and Value
The Rocky Coffee grinder is an affordable choice to consider. It is quite challenging to find a high-quality grinder with the right features at a low price, but the Rocky grinder makes things easy. It comes in versions with and without a doser which have different price tags.
Pros
Pros
Commercial-grade grinding burrs
High-quality build
55 grind settings
Cons
Cons
Power switch placement makes handling quite tricky.
---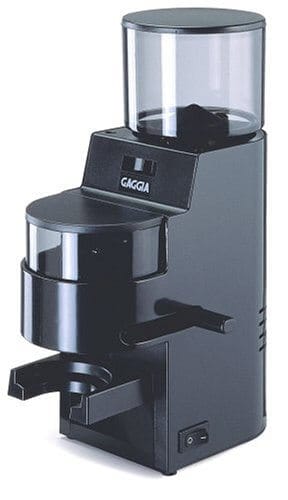 The Gaggia MDF Grinder is quite similar to other grinders on our list in terms of features and quality. It features 50-mm commercial-grade grinding burrs, an 8-ounce ground-coffee container, a doser, and a 10-ounce bean hopper.
34 Grind Settings
34 grind settings offer a wide range of grinding options for regular coffee and espresso.
Cost and Value
The Gaggia MDF Grinder is one of the most affordable options in the market.
If you can overlook the poor design of the grinder and focus on its functionality, then you would get value for your money.
Pros
Pros
Commercial-grade grinding burrs
Decent grind for the price
Cons
Cons
---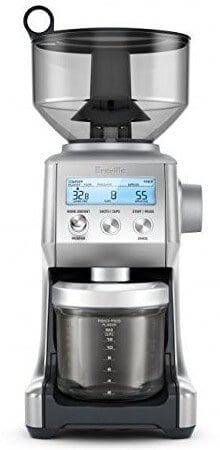 The Breville BCG820BSSXL takes things up a notch with 60 accurate grind settings and stainless-steel conical grinding burrs.
It is one of the few grinders in the market equipped with convenience features like a timer for adjusting grind and dose time.
60 Grind Settings
60 grind settings give you a lot of brewing styles and options. Many users tend to have a problem with grinders that don't provide accurate grind settings.
Fortunately, the BCG820BSSXL grind settings are precise and will create the perfect coffee you need.
Cost and Value
The BCG820BSSXL is not the cheapest grinder in the market, but it is an affordable option. With just a few bucks, you can get this high-quality grinder.
Pros
Pros
60 grind settings
Easy to clean and maintain
Cons
Cons
---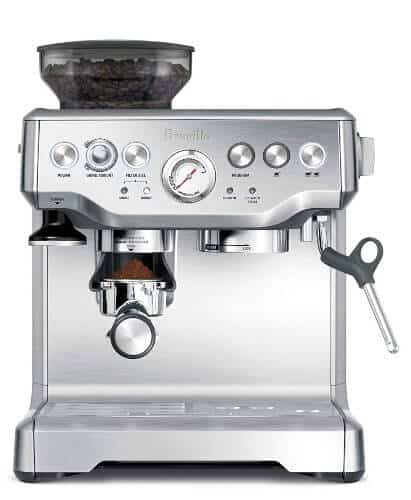 The Barista Express is not the most affordable option on the market, but if you expect a lot from your coffee, then it's an excellent option for you. The BES870XL comes packed with a lot of features which is the reason for its high price. Its key features include dose-control grinding, PID temperature control for precise espresso extraction, micro-foam milk texturing, a 2L water tank, and semi-automatic functionality.
2L Water Tank
Its 2L water tank is big enough to make several espressos without stopping. This saves you the stress of continually refilling which is typically associated with grinders with small water tank capacities.
Cost and Value
The BES870XL is one of the most expensive grinders on our list. However, you shouldn't expect a high-quality espresso grinder to come cheap. The BES870XL has the right price tag for its features and quality.
Pros
Pros
Abundance of features
Attractive design
Large water tank capacity
Cons
Cons
Could be difficult to use especially for beginners
---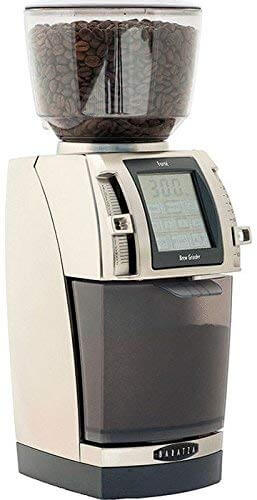 The Baratza Forte Brew Grinder was explicitly built for light commercial use with 260 grind settings and commercial-grade flat steel burrs.
The Forte features a built-in digital scale for weight-based dosing which allows you to grind by weight. It also has 3 programmable settings for continuous dosing.
260 Grind Settings
260 grind settings mean the Forte can be adjusted for any brewing style or coffee type you desire.
Its grind settings are quite accurate which means you get quality coffee of any sort.
Cost and Value
Forte is quite expensive. However, its price tag aligns perfectly with its value. It can serve commercial and personal purposes and still offer the same quality.
Another thing to consider is its durability. It scores good points in this area which makes it a good choice if you want something that will last and still offer quality coffee.
Pros
Pros
260 Grind settings
Durable
Easy to use
Cons
Cons
Scale tends to lose accuracy
---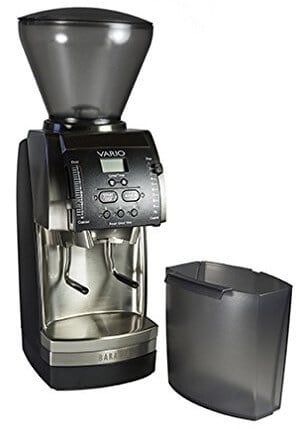 The Baratza Vario-W is another grind-by-weight coffee grinder from Baratza with a good number of features. It has 230 grind settings which are 30 settings lower than that of the Forte.
However, it still produces coffee of all types. The Vario-W features a 54mm ceramic flat grinding burrs, a shut-off hopper, and an easy-to-use control panel.
Cost and Value
The Vario-W cost way less than the Forte which is understandable since it lacks some features you can find in the Forte grinder. The Vario-W is still an excellent option for commercial purposes with a reasonably affordable price tag.
Pros
Pros
230 grind settings
High-performance burrs
Easy to use and maintain
Cons
Cons
Not as many functions as to others compared here
---
Closing Thoughts
In conclusion, choosing the right commercial espresso grinder is essential for any coffee shop or cafe. With our comprehensive list of the top 10 commercial espresso grinders, we hope we've made your decision-making process easier. From high-end models with advanced features to affordable options that don't compromise on quality, there's something for every budget and need. Whether you're looking for speed, consistency, or precision, there's a grinder out there that can help you make the perfect cup of coffee every time. So, go ahead and pick your favorite, and get ready to take your coffee game to the next level!