6 Coffee Scales To Completely Satisfy Your Coffee Craving. Barista-grade coffee scales for perfect results when brewing your perfect cup of coffee. Why so much emphasis on the appropriate coffee scale out there? Have you ever wondered why coffee lovers, baristas and anyone else involved in coffee culture put so much effort into finding the perfect coffee scales to work with?
You might wonder what is the use of these scales, but you should know that any beverage can only be as perfect as the recipe that it is made from. So your daily morning shot of coffee can only hit that sweet spot if it has the right amount of ingredients.
Have you ever wondered why the coffee you make daily tastes differently with each new brew? No matter how hard you try, you never seem to achieve that consistency in taste baristas get with seeming ease. A good coffee scale ought to help fix this issue for you.
It does not matter how sophisticated your brewing equipment and intricate brewing techniques and recipes are. You can read the recipe on how to make the perfect espresso. The absence of a simple coffee scale can make all the difference in how your brew turns out. Furthermore, not sticking to the right coffee amounts can lead to caffeine overdose, which will not only make your coffee bitter. It can also lead to using too much coffee in your everyday life, and too much caffeine can cause adverse effects on your health.
Who wouldn't love accuracy in coffee brewing? That's where a coffee scale comes in handy. The correct amount of beans can only be achieved by a coffee scale. Read the rest of the article to get an idea about coffee scales, and buy one today. So, next time your caffeine cravings kick in, make a perfect cup of coffee without these special scales.
Coffee scales give you complete control over the ingredients. It immediately eliminates the guesswork in arriving at the optimal ratio of water to grounds for any brew.
Chances are, you are reading this because you need a good coffee scale. We've gone five better with 6 of the coffee scales that would enhance the consistency of your coffee. And turn your next cup of cappuccino yours yet.
How To Choose The Perfect Coffee Scale?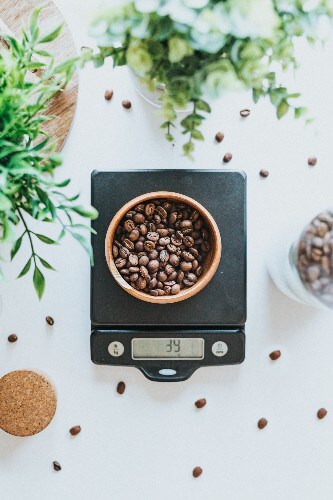 There are so many coffee scales to choose from it can be daunting to get just one that suits your needs especially if you have no clue what to look for.
The features below are the most important to look for in the supreme-level coffee scale when it comes to sifting out excellent products from mediocre ones.
Tare function of your next coffee scale
This feature lets you know the exact weight of items in a container without doing some needless addition and subtraction manually.
In most cases, you put the container on the scale and press a button to reset it to zero. Then you can add your coffee beans.
Auto-on/off function
This is a battery-saving feature. The machine would switch off after some time to save power.
It can be frustrating, though, if the feature activates after a couple of minutes or less. But this feature can be of great help if the timing is essential in your desired being method.
Built-in timer
If you love to brew coffee manually (pour-over method, for instance), this is a handy feature to have. It helps you determine the length of time the coffee needs to bloom, and the intervals required to add more water.
Display
The display is one of the most important features to look out for. It shows the weight, and for those with a timer, it lets you know how much time has elapsed.
The display must be easy to read and should come with a backlight to make reading easy in poor light.
The precision of the scale
The precision of measurement plays a considerable role in getting the brew just the way you want it. Accuracy down to a gram is sufficient in most cases.
But if you want the exact amount of coffee, a coffee scale with a precision of 0.1g is the preferred option.
Unit conversion
It is great to have a scale with multiple units. It is common for some brewing recipes to measure ingredients in metric units while others express them in standard units.
The commonly used units of measurement are ounces, pounds, and grams. Here are 6 amazing coffee scales.
6 Amazing Coffee Scales You Must Know!
The combination of low price tag and extreme functionality makes this GreaterGoods digital scale a natural choice to make. Especially if you are looking for a decent coffee scale that goes about its business without frills.
The oval-shaped grey-colored scale is made from sturdy plastic material that is resistant to scratches with a smooth surface that ensures it is quite easy to clean.
You would love the LED display: conveniently located at the bottom of the scale, it has a high-contrast design making it easy to read. The 11 lbs capacity means you can measure any amount of coffee and other items with it.
The precision is capped at 1g. But that is mitigated by the large weighing surface and a tare function that, in combination with the sensors, allows you to measure stuff in a bowl or container with high accuracy.
The scale allows you to switch between grams, ounces, pounds, millimeters, and fluid ounces.
Pros
It is quite affordable
Easy to clean
Switches between units easily
Comes with a Tare feature
An LED display is easy to read
Cons
Batteries last just a few days
Slow to respond
---
With the Coffee Gator digital scale, you get your pour-over coffee exactly how you want it. Wondering if you added too much water or not enough? Too little coffee beans or too much? Now that is out of the question. Everything measures to near perfection.
All this is made possible by the bright green LCD that displays the accurate weight. And you get to choose if you want to measure in ounces, grams, or fluid ounces.
If you don't like messing around with how you make your pour-over coffee, you would love the timer option. It lets you gauge the accuracy of your pours in 30-second intervals.
Another handy feature or accessory is the gripping rubber pad that comes with the scale; you put this over the scale's platform. It is a very thoughtful accessory that prevents the heat from your pour-over from getting to the scale.
You also get 2 AAA batteries when you purchase it. Though it comes with higher price tags than some of the units, it still falls within a price range that makes it a very affordable and good value for money.
Pros
It is easy to use
Great timer function
Accuracy
Multiple measurement units
Well-designed and durable
Cons
Has a consistency problem
Slower response rate
---
The ERAVSOW coffee scale is a compact, stainless steel unit packed with so many exciting features and functionalities that at the price point, could provide the most value for money.
It uses a unique G-sensor to provide accurate measurements up to one-tenth of a gram. That is precision you only get in premium models. Besides that, you have the option of measuring items in grams and ounces, and it also comes with a built-in timer.
The scale itself is round and made of stainless steel. This material gives it a shiny, sleek look while making it easy to clean after brewing your coffee.
Powered by 2 AAA batteries, It comes with a large LCD with a backlight that is easy to read and auto shuts down after five minutes of inactivity to preserve battery power.
As stated earlier, this is one of the cheapest coffee scales with similar features and functionalities. And the 1-year warranty that comes with any purchase is not to be sniffed at.
Pros
It is very affordable
Large LCD with backlight
Had a wide range of applications
It is easy to clean
5 minutes auto-shutoff
Cons
Some find it rather unwieldy
---
The Hario V60 delivers exceptional accuracy measuring within one-tenth of a gram. It would be hard to find a better coffee scale if that is the only standard for evaluating this category of home appliance. The compact and small size makes it perfect for small kitchens and offices.
While there is nothing spectacular about the design, it packs a lot of features many users love. For instance, the display is large enough to accommodate readings for the timer and weight simultaneously. This display makes it easy to see the measurement while pouring your grounds.
It comes with an auto-off feature that is disabled when using the timer. With this, you don't have to worry about the scale switching off while trying to perfect infusion times.
2 AA batteries power the unit. The minimalist design ensures it takes a while before you would need to replace the batteries.
Compared to some of the units, the V60 is a bit more expensive. But you get full value for every penny spent on it.
Pros
Easy and simple to use
Variable auto-shutdown between 5 – 60 minutes
Comes with a built-in timer
Accuracy is within a tenth of a gram
It is durable
Cons
Slow to read weight changes
Open on both sides
---
The simple elegance of this scale belies its utility as an excellent scale for weighing coffee beans and other food items. It is a stainless steel appliance making it easy to clean while also providing an anti-bacterial surface on which to place your products.
One standout feature you'd love is the absence of a battery to operate it. The unique power dial generates its power when you turn it. The power dial would fit into your lifestyle if you care about reducing your carbon footprint.
This 'battery-less' design also means you can use the scale anywhere including for outdoor activities, making it one of the most flexible food scales today.
The large LCD ensures it's easy to see the measurements all the time. And there is still enough room on the stainless steel platform to accommodate big bowls.
The awesomeness of this scale is not restricted to the unique features and sleek design. It is also very affordable for such a well-made digital scale.
Pros
It is easy to use
Works without batteries
The stainless steel platform makes it resistant to corrosion
Comes with a 3-year warranty
It is easy to clean
Cons
It doesn't have a timer
The unit's switch is at the bottom; which makes it awkward to use
---
If you have to choose a coffee scale based on aesthetics alone, you'd more than likely reach for this Ozeri digital scale. It is designed like premium high-tech gadgets commonly found today. Premium features and performance is what it is all about, though, to go with the optics.
The scratch-resistant surface, made of tempered glass, is sleek and can comfortably take up to 12 lbs of weight placed on it. The thickness of the glass ensures that it'd take a lot more weight than that to put a crack on it.
Another exciting feature is the accuracy of the weight that is enhanced by the tare function that resets to the default reading: this allows for faster weighing of new samples.
It uses 2 Lithium batteries for power. The bad news is that the batteries don't last that long. The good news: the batteries are affordable, easy to get, and you can replace them quickly. You don't even need a screwdriver to do that.
So how much would you pay for such a sleek coffee scale? Not a lot. This is one of those times you get one of the appliances, coffee scales, at a very affordable price.
Pros
It is sleek, with a modern design
Has a high-weight capacity
Durable and easy to use
Special sensors enhance scale accuracy and precision
A scratch-resistant tempered glass surface
Cons
The battery doesn't last long
The tare feature is slow
---
4 Reasons You Need a Good Coffee Scale
Are you wondering what is wrong with that good old scoop or spoon you have been using? Or why do you have to invest in another appliance that you don't need?
These are just four of the reasons the coffee scale should be a part of your brewing equipment. And consider this: you don't even have to spend that much to get better brews daily when you purchase one.
A coffee scale, unlike something like a scoop, allows you to get the exact amount of coffee and water all the time for brewing consistency.
With precise measurements, it becomes easy to try out different coffee strengths. You can have fun experimenting as much as you wish.
It makes everything so much easier and allows you to focus on other essential aspects of the brewing process such as the extraction time, temperature of the water, and grind size.
You get to save a bit of money too. This might not seem like a lot for each brew, but over time you'll notice the longer interval between visits to the shop to replenish the coffee beans.
Closing Thoughts
In the final analysis, the coffee scale you choose is the one that works well for you. Your preference, in turn, could be determined by such factors as colour, size, price, and aesthetics, among others.
A pair of coffee scales, though a very small addition can make a world of difference to your morning coffee, simply because it will be able to give you control over the taste, aroma and strength of your coffee.
That said, you don't want to compromise the quality and consistency of your brew with a poorly made and inefficient scale. Taking a punt on any of the scales would be worth the investment. They all deliver on their promises.