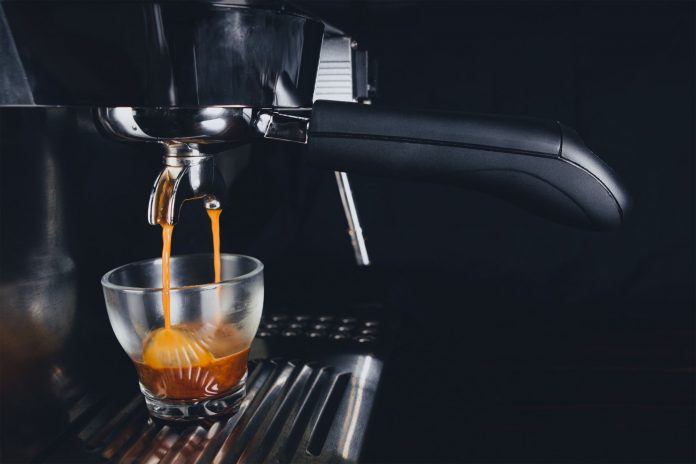 (plus a review of best espresso makers from Amazon)
People who love coffee see espresso as an intriguing subject. This is due in part to the fact that making espressos at home is not common. Which is a direct result of the cost of espresso machines: they don't come cheap. This espresso brewing guide aims to show that mastering the art of making espresso is not some arcane alchemy available only to a few initiates.
If you can go past investing money on a good espresso machine, it requires just a few trials runs before you become quite good.
Before going into this espresso brewing guide, a short definition of espresso is in order.
Espresso is coffee made by filtering hot, highly pressurized water through fine coffee grounds to extract the coffee
This shortens the brew time considerably, and the combination of pressure and hot water dissolves more solids in emulsified oils. The net result is the classic, distinctive layer of crème at the top of the brew.
Simple Home Espresso Brewing guide
Preliminary steps
Expresso machine.
Before you make espresso, it is assumed you have the espresso machine on standby. And of course, your machine must have a portafilter. All good espresso machines have it.
Another essential equipment to have around is coffee beans grinder. Your grinder must be capable of grinding to very fine levels. A burr grinder is best here because it is easier to get consistent results with it.
Coffee beans.
Probably the most vital part of any espresso, any coffee at that! We have a great guide for that, too, find it here – Best coffee beans for an espresso.
A coffee doser. 
This is the brewing ratio or the coffee to water ratio. The technical term is 'dose.' The common dose for espresso is between 18 and 21 grams of ground coffee. This is the amount of ground coffee you'd use to produce your espresso.  This dose will yield about 2 ounces of espresso.
Tamping.
No espresso brewing guide would be complete without mentioning 'Tamp.' This refers to compressing the ground coffee in the portafilter. This compression is done with a tamper.  Without tamping, the water would pass through the grinds producing very weak espresso. So tamping creates a better environment for water and coffee grinds to mix optimally. And because of this, more coffee oils are emulsified and more solids dissolved.
Temperature. 
The temperature of the water that passes through the tamped coffee grinds in the portafilter is also crucial to making fine espresso.
Anything between 195 and 205 degrees Fahrenheit (90 – 96 degrees Celsius) is the recommended temperature. Good espresso machines have settings on them so you can program it to that temperature.
How to make Espresso
Step 1
Fill the espresso machine with water and heat the water to the required temperature.
Step 2
Remove the portafilter and place the ground coffee (between 18 and 25 grams) in it. Make sure the grinds are distributed evenly across the portafilter. Spread the coffee around the portafilter for even distribution. This is important as you don't want to have uneven pressure during tamping.
Step 3
Go ahead and tamp the coffee with the tamper. Unwanted particles could affect the final taste of your brew, so you need to make sure your tamper is squeaky clean and dry.  To ensure a smooth, even tamp, don't drive your palms into the base of the tamper. Apply the pressure downwards with just enough force to seal the coffee in nice and smooth.
Then gently spin the tamper to further smoothen the grounds for an even extraction of the brew. Return the portafilter to the grouphead of the espresso machine.
Step 4
Turn on your espresso maker and wait for it to brew, shouldn't take more than 30 seconds.
Enjoy!
Now, below you can see a list of our top 7 reviewed espresso makers. All of the reviews have been done online – meaning we went through a lot of product descriptions. A lot of user reviews and spent a lot of time comparing and cross-reviewing them (19 hours if we are counting) to come to this list. We hope you will find it useful.