A manual espresso machine is the one thing every coffee gourmet should have in their arsenal. It provides the most control over your shot. And, once mastered, will give you the coffee anytime and every time.
In this article, we will provide you with all the information you need to get a perfect shot always. So, for any budget, taste preference, learning curve you can afford, etc., you'll definitely see a product perfect for you.
While an automatic espresso brewing machine seems lucrative, you can take complete control over your brewing method by just using a manual espresso machine. A renowned brand of manual espresso machine will offer you the quality of espresso at home. As these machines offer more space for customization, you can install them just as you wish.
Next, we did not want to assume that you know a lot about a manual espresso machine (also called lever machines), so we added a buyer's guide to give you precise information on how to make your choice.
Certainly, you'll be wowed with all the other information contained in this article. Can't wait, right? Let's dig in already! First things first, below are the manual espresso machines available today.
Our 7 Manual Espresso Makers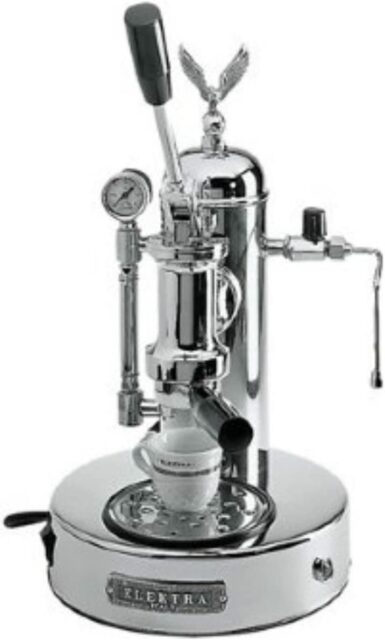 Since its establishment in 1947, the "Elektra" brand has grown to become one of the leading names in the coffee industry. The company is known for its constant improvement in technological evolution, having bagged a good number of international patents from the early 50s up until today.
So, if you are looking for one of the espresso makers and you're willing to spend a bit more than the norm to get your favorite beverage, your option will be the Elektra SC1 Micro Casa Lever. Why is that? Its features, build, and performance is simply top-notched.
Let's see a few of them…
First, the design and lever operation is according to the oldest tradition of the espresso machine, making it look like an advanced, stylish retro espresso machine. It comes with an eagle-topped dome and an elaborate mirror-finish, regardless of the product material used (Copper brass, chrome or brass, and chrome). Thus, making it shimmer with luxury and excellence.
Anyway, we always say that the design of any coffee machine comes after its performance.
So, let's have a peek at the machine's overall performance.
The machine features a built-in heater. As a result, the need to boil water separately is no longer there: thus, reducing the efforts required to brew a quality shot of espresso. To provide you full control of the brew, the device has a steam pressure gauge and sight glass for monitoring the boiler's temperature and water level.
Unlike other lever machines, this one features the spring piston. The unique advantage of this lever type is that it will guide the extraction pressure more efficiently and consistently.
Lastly, for your safety, the device comes with a thermal safety switch and an overpressure valve. Yet, compared to other products on our list, this machine does a little poorly in guaranteeing your safety. Precisely, the heating parts on the Electra S1 Micro Casa are fully exposed. Hence, you will have to be careful while brewing, otherwise, you may burn yourself.
Pros
Its large boiler (610z) can supply up to 18 shots of quality espresso.
Built-in pressure gauge and sight glass for efficient monitoring of the brew
Elegant design, high-quality construct
Commercial grade but also a perfect espresso coffee machine for home
Cons
Its exposed heating parts can compromise your safety
The lever is a little bit heavier than the usual
---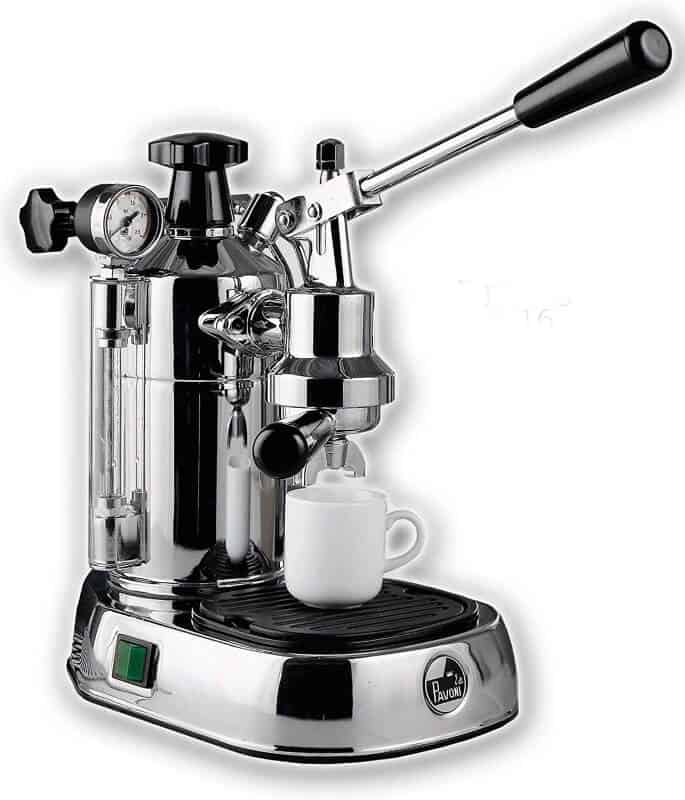 The heritage of La Pavoni dates back to 1905. Since then, the company has been a good forerunner in innovating more efficient methods of brewing, paying keen attention to ergonomics.
Sometimes, equipment with a slightly higher price can be synonymous with better quality, improved performance, and sturdier construct than cheaper items. And that is the case of La Pavoni PC-16. It is not as expensive as the Elektra SC1 Micro Casa but is pricier than others that made our list. Still, its features and performance justify its price tag. Now. Let's take a meticulous look at this manual press machine.
La Pavoni PC-16 is a unique blend of style, reliability, and quality. Although it is available in numerous finishes, the machine's construct is mostly of chrome-plated brass to ensure maximum durability. However, the base is made of stainless steel with triple copper and brass plated on its exterior. Its interior of the base has a light polish to eradicate problems that may arise from moisture. Finally, its large boiler guarantees minimal effects from limescale deposits, thus, reduced maintenance required.
Operating a lever espresso machine can be a little tricky with this product. Like the Elektra, it has a large boiler capacity and a pressure gauge. Yet, the does not use a spring lever but a piston and will require more energy and skill to use (just maybe it's the reason for its name "Professional").
Well, let's make you a pro in no time. You will need to get your grind size and tamping technique rightly and be skillful with the pre-infusion stage (raise the lever and feel it latch into its position) to pull the better shot. After the lever latches, allow for a few seconds then you'll see some coffee trickle out of the portafilter. Next, you pull slowly and steadily for around 25-30 seconds to get a quality shot.
Another little drawback of this machine is that, as with all manual espresso machines, you're in charge of its maintenance. That is, there are no reminder lights, automatic descaling functions, or more. Still, the descaling process is very easy to carry out (see the buyer's guide section of this article).
Pros
Quick heat-up
Excellent construct with a high long-lasting ability
It can pull up to 16 shots of espresso thanks to its large tank
Built-in steam jet and manometer
Cons
The piston is fully manual
No three-way valve. Hence, you'd have to wait before removing the portafilter after the brew.
---
Flair Signature is a company with much lesser years of manufacturing than La Pavoni or Elektra. However, the unique standout advantage of this brand is that it was born from the heart of an espresso lover who wants a quality shot of espresso from the comfort of his home. So, expect the simplest brewing technique you've seen; no gadgets, but a pure, delicious cup of espresso.
If you're not willing to spend a lot on an espresso maker but want a quality cup anyway, you should consider this product. It is a sleek, hand-powered, fairly-priced device but will produce quality espresso-like any high-end, electric machine.
The design of this hand espresso maker sets it apart from its competitors. Its construction is of high-quality materials like stainless steel and aluminum and will deliver consistent quality without electricity. Precisely, it comes in either a matte black, brushed chrome or white finish but with the Signature copper-plated, bottomless 2-in-1 portafilter base, a stainless steel screen, and a custom pressure gauge to carefully produce the results.
The pressure kit of this product also stands out. It includes the custom-fitted carrying case to ensure safe transport and comes with a stainless steel tamper and the custom pressure gauge that lets you track and manage your brew.
So, if you're going on a camping trip or some other adventure, Flair's Signature will be a great option because of its easy mobility (since it comes with a suitcase) and the ability to work anywhere (does not use electricity).
One drawback of this machine is that, as with all manual coffee machines, you can't simply set the device and walk away. In fact, the flair signature will require you to pay close attention to every detail to produce a quality shot.
More so, this machine, as with any manual espresso maker, will require you to disassemble and clean the portafilter and piston after every shot. But the cleaning process is very simple and takes less than a minute to do.
Pros
Environmental friendly: no plugs or pods needed.
Easy to use and clean
It can make cold-pressed espresso
Portable and simple design
It uses a piston and pressure gauge, ensuring a consistent and perfect amount of pressure
Cons
It requires more attention to details to use
Its small parts will require you to disassemble and wash after every brew
---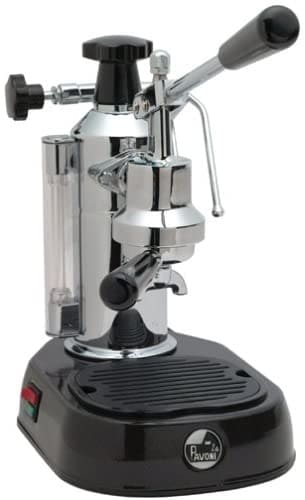 Like with every brand, if you see two products with almost the same design, for the same purpose, but different prices; it means that a few features on the pricier equipment are missing on the cheap one. This is the same for the La Pavoni EPBB Europiccola and La Pavoni Professional PC on our list.
Asides from the lesser tank capacity, La Pavoni EPBB is only short of two features, the cappuccino automatic and the mounted pressure gauge. These features can significantly affect the result of your brew. However, if you have mastered how to efficiently apply pressure to this Italian espresso machine, you can use the EPBB effectively to produce similar results to the PSC model.
The cappuccino automatic function describes a mechanism for perfect cappuccinos every time. Precisely, this function on the PSC model comes fitted with a steam jet interchangeable with the automatic cappuccino maker for the preparation of cappuccinos and other hot drinks.
Now that you know what's missing, let's look on the bright side: what you'll get.
This product, like with the La Pavoni Professional, comes in a triple-plated brass construct, a sleek and luxurious design, and a modern chrome finish. You will still get the sight glass to see and monitor the water level as you brew. There is also a relatively large boiler on this device that guarantees minimal effects from limestone deposits and very little maintenance required.
Although the device misses out on the cappuccino automatic, this doesn't mean that it cannot make cappuccinos. In fact, making cappuccino with this devices doesn't require more than putting the end of the flexible tube in a container of milk, holding your cup of espresso under the auto-frother, and turning the steam knob. More so, you can make toothsome cups of caffe latte and other coffee drinks with this device.
Is there a drawback? Well, nothing exceptional, its drawbacks are just similar to the La Pavoni PSC or any other manual espresso maker. You'll have to disassemble and clean after every use. And yes, you'd need to be a bit skillful before you can pull a quality shot of espresso.
Pros
High-quality parts
Attractive vintage espresso machine with a chrome base
Quick heat-up
It lets you select to make one or two shots at a time
You can pull up to 8 cups of espresso
Cons
It will require a bit more skill to use because of its lever type
---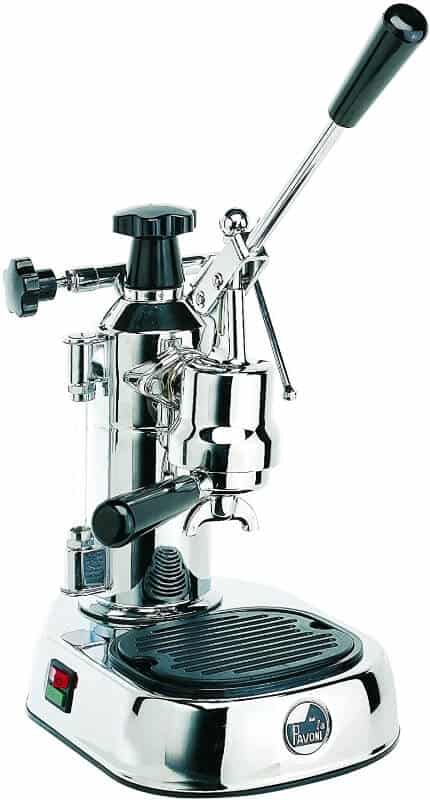 Unlike the EPBB, La Pavoni EPC Europiccola misses out only on the mounted pressure gauge. That is, you'll get every feature available on the EPBB and the pressure gauge to give you precise control of your brew.
The above rightly implies that you'll have to spend a little more than you would have with the EPBB. But c'mon, I think a few more bucks for more consistent results are worth it.
Anyway, EPC-8 is a stylish machine built of high-quality steel and chrome finishing. Its design guarantees one or two cups of constant, perfect espresso shots with a pull of the lever and thus, one of the espresso machines for home.
Like with other La Pavoni products on our list, this one is steam pressure and piston operated. It also features internal thermostats to continuously monitor the pressure and temperature of your brew with its reset fuses.
This device is capable of making up to eight cups of espresso and it allows you to make one or two cups at a time. It includes an automatic milk foamer that allows you to make espresso and steam milk with great ease and two stainless steel filter baskets, making it an awesome addition to your kitchen.
As with the PC-16, this coffeemaker has an attractive, sturdy, triple-plated chrome design with a chrome base and a nickel-plated, stainless steel heating element.
Pros
Easy-to-use piston lever machine
Removable drip tray for easy cleaning
Integrated internal thermostat for monitoring brewing temperature
It allows more control of the brewing process
Cons
The streamer is a bit lower in temperature than most competitors
---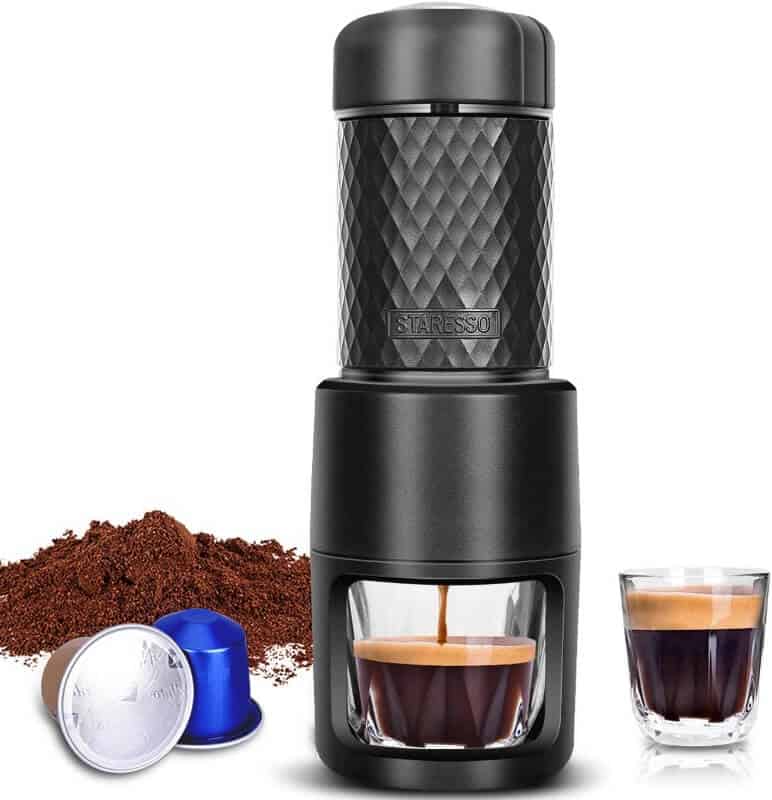 Staresso is an international, award-winning brand on a mission to provide fashionable and more convenient coffee and tea devices. The Staresso products stand out for their out-of-the-box innovation, portability, and ease of use. In fact, the Staresso Portable is arguably the inexpensive espresso machine on our list. It comes in a simple design and mode of operation that it will be more precise to call the device a hand espresso maker.
This award-winning (Red Dot award 2018) hand press espresso maker works without electricity and can generate between 15 to 20 bars of pressure for a toothsome cup of espresso with full "cream."
Its build combines stainless steel, glass, and ABS plastic weighing about 400grams. The package includes a measuring cup, cleaning brush, two espresso shot glasses, and a spare sealing ring.
The operation of this espresso press seems a little like the spring lever machine. That is, when you want to build pressure, a little twist anti-clockwise will make the plunger spring back into position. Pumping the device is fairly easy. Although you may need a few pumps and there will be a little noise. You can also use the plunger to pump air through the hot milk to make a froth.
Sadly, being portable means you can only make a few shots of espresso at a time. In this case, only one shot.
Pros
Extremely easy to use
Cheap price (the least expensive on our list)
Robust build quality
Consistent espresso extraction
Cons
Pumping is a little noisy
Can only make a shot per instance
---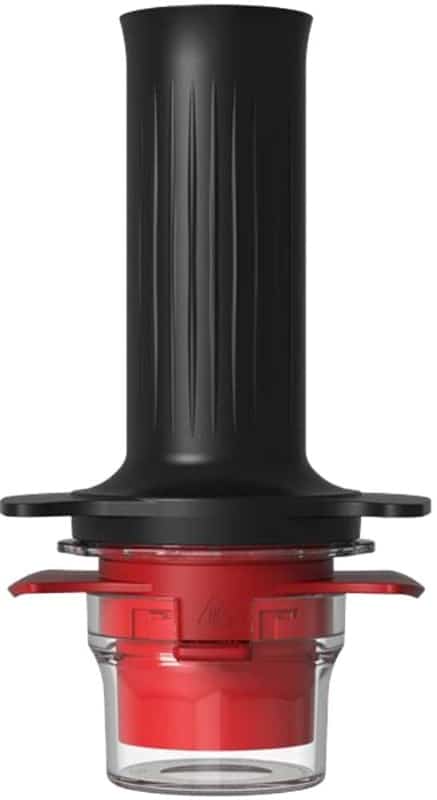 Cafflano Kompresso is the world's most compact, the lightest, and the most simple espresso machine in the market today. This easy espresso machine uses a hydraulic system along with Pascal's principle of pressure to improve the extraction of espresso. And that, along with its extreme compactness and portability is the device's stand-out feature.
It's innovative, simple, yet intricate design shows that a few times, experience doesn't mean everything. Seeing that the company only launched its first product in 2013.
Cafflano Kompresso is a lightweight (200g) espresso press with its construction consisting mainly of BPA-free plastic. Although the portafilter and shower screen is metal.
As with the Staresso portable espresso machine, this single espresso machine is easy to use. If you can handle the tamping, dosing, and grind size, you're just good to go. You will not get the 15 bars of pressure available on Staresso but a consistent, standard 9 bars of pressure are within reach.  
Overall, if you're looking for a simple hand pump espresso machine, the Cafflano Kompresso is definitely an outstanding option to consider. In fact, it is one of the hand-pressed espresso machines in the market today, only made by the Staresso espresso machine.
Pros
It comes with an innovative hydraulic water compression system
It can deliver consistent high-pressure of over 9 bars
Durable, compact, lightweight, sustainable and ecofriendly
Affordable
Cons
It can only make a shot per brew
---
How To Choose The Topmost Manual Espresso Machine?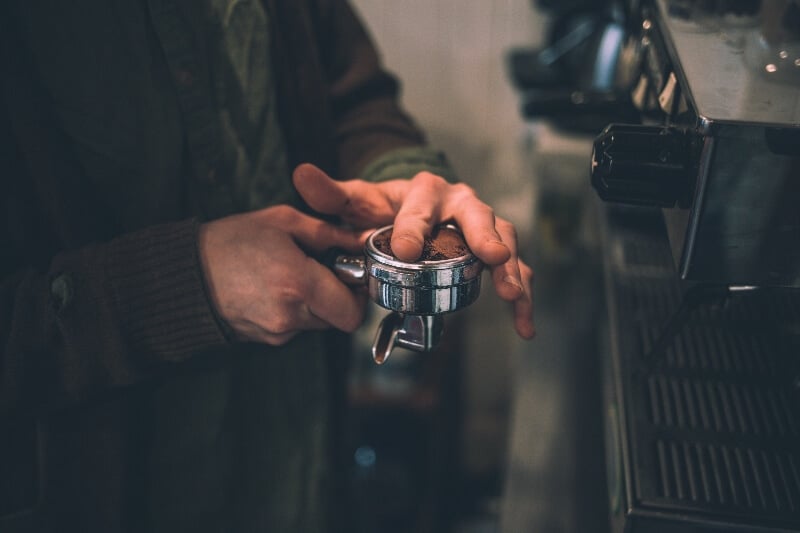 What is a manual espresso machine?
Manual espresso machines are the foremost way of brewing espresso and a simplified alternative to automatic espresso machines. This brewing device is mostly favored by traditionalists and connoisseurs who want more control of the brewing process than what electric machines provide. 
These machines were a popular choice until the 1940s, when the electric ones made the brewing process easier, required less skill, and energy. However, some coffee lovers still hold on to this traditional method with claims that with the right skill, these devices can produce the tasting espresso.
We won't disagree with that claim. That's because the taste is relative and an electric espresso will consistently produce shots with the same taste. Whereas, with a manual device you can fully control and alter every aspect of the brewing process to your taste preference. 
Types of manual espresso machine
In our topmost manual espresso machine, we highlighted that the Elektra S1C Micro Casa comes with a more efficient lever type. To add to that, there are two types of levers for manual espresso machines. And this feature most distinguishes manual espresso machines.
The spring piston lever espresso machine

The direct lever espresso machines
Spring piston lever machine 
This design is easier to learn and use than the direct lever machine. It features an internal, calibrated spring to push the water to and then through the grounds in the portafilter. Precisely, the machine's lever forces the spring to compress or "cock."
Next, on the release of the lever, the spring then expands and pushes the water through the grounds at an automated and diminishing pressure. Although the spring automates the pressure, manual espresso machines allow you to control the pre-infusion time (we'll explain later), the volume of water that goes through the coffee (by recocking the spring as you pull), and the time to pull a quality shot.
Advantages of using a spring piston lever machine
Less skill required:

Truthfully, there is a learning curve required for both machine types. However, the automation of the pressure required for the spring-piston machine slightly reduces the skill you will need. So, if you're looking to buy the first manual espresso machine, you will find the spring piston type more convenient.  

Higher bar-pump pressure:

Spring piston lever machines come with the standard 9 bars of pressure calibration required to make delicious cups of espresso. 

Consistent pressure:

this machine type provides a more consistent pressure to your grounds than the direct lever type. That's because of the automated pressure system here unlike with the direct lever-type where you'll have to apply the pressure yourself.
Cons of the spring piston lever machine
Less control of the brewing process:

Spring piston machines are a bit more automated than the direct lever machines. You will have only a little control of the speed of the shots, the compensation allowed for different grind coarseness and somewhat of the overall taste of your coffee.

Price:

You may be wondering why the Elektra S1C Micro Casa Lever machine is almost twice as expensive as the La Pavoni EPBB-8 Europiccola. Well, while there are few differences in build and features, the lever type plays a more crucial role in determining the price. In other words, spring piston lever machines are more expensive than the direct lever ones- they may go as high as five times the price. 
Direct lever machines
The direct lever machine operation is more hands-on than the spring lever type. It does not use a spring to automate the pressure but requires you to do the pumping of the water through the grounds yourself. Although the force you'll need should come from the strength of your arm, it doesn't need so much of a force to do it. Even more, the quality of your shot depends on the right blend of skill and pressure.
Both manual espresso machine types have a simple mode of operation but the direct lever machines are more mechanically simple. This may not be so much of an advantage because it denotes that you'll do more of the work yourself and maintaining a consistent result might be a little more difficult than with the spring piston type. 
Advantages of a direct lever machine
Better control of the brewing process:

Direct lever machines gives you full control of the amount of pressure you put on the lever. Since no spring automates the applied pressure. So, you can tweak the pressure you apply to each coffee beans to produce different but delicious tasting cups of coffee. 
Direct lever machines are less expensive
Cons of a direct lever machine
How does the espresso machine work?
Before we venture into how an espresso machine works, let's describe its main components. 
Water reservoir –

like with every coffee maker, manual espresso machines have a tank for storing and heating fresh water.

Heating element –

As the name implies, there is a heating element contained in the water reservoir which heats the water. 

Portafilter –

this component, sometimes spelled as porta-filter, holds the coffee grounds before and during the brewing process. It is the part of the

espresso machine

where hot water is run through the ground and the flavors extracted. 

Lever –

the lever is responsible for forcing water through the tamped ground in the portafilter; thus, extracting the espresso from the coffee grounds. Bringing down the lever results in the extraction for piston lever machines whereas, it only initiates the compression for spring lever machines.

Pressure gauge –

Not all manual espresso makers come with a pressure gauge monitor. Although a bit important, it is not a necessity. This part lets you monitor how much pressure (in pounds per square inch) is in the boiler. 
Overall, manual espresso coffee makers give you ample control of the brewing process. Their operation uses hot water in the reservoir heated by a built-in heating element mostly made of stainless steel. 
After the water boils, the portafilter is filled with the coffee grounds, tamped, and reinstalled in the machine. Then by bringing down the lever the hot water is forced through the tamped grounds causing extraction of the flavors.
The right tamper is another aspect of your espresso brewing process that you ought to give some thought, read our guide of the espresso tampers, to choose yours.
How much control does a manual machine provide?
Pre-infusion –

it is worth mentioning that only manual espresso coffeemakers allow you to control pre-infusion. Pre-infusion describes the process of soaking the puck of ground coffee in the portafilter before applying the extraction pressure. This process enables the water to evenly penetrate the grounds ensuring that the entire puck of coffee has the same amount of water flowing through it during the extraction. 
You can check out how to pre-infuse your coffee by watching this video. Although the setup, maybe how far up the lever should go, might be a little different for each machine, but the idea is the same. With a little practice, you will get the perfect setup for pre-infusion. 
The amount of water used –

Like with other machine types, the manual coffeemakers allow you to control the amount of water in the shot output. Although many automatic machines come already programmed to the golden ratio, you can alter that by re-programming them. 
The real catch with manual machines is that you do not only choose how much water you want but when you want that extra water during the brew. You can add more water by recocking the spring of the piston lever machine (bringing the lever down), opening the valve between the boiler and the piston then fill it up. 
Why use a manual espresso machine?
Excellent brew quality –

One of the various benefits of a manual espresso machine is the top-quality, toothsome brew it produces. Many barristers agree that you can't compare espresso made from a

manual coffeemaker

with those from the semi-automatic of fully automatic machines. This is one of the reasons most luxurious coffee bars use manual espresso makers to automatic ones.

Full control of the brewing process –

We know some coffee lovers just want their cup of espresso as quickly as possible and with the least of effort so they don't fancy a manual device. However, if you want something more than the average, you've got to give it your time, energy, and skill. Manual espresso makers give you complete control of the entire brew process to meet your taste preference.

Classic design –

Although beauty they say, is in the eyes of the beholder, we all can agree that manual espresso makers have more visually appealing: sleeker and classic design, than automatic machines. So, you wouldn't only have toothsome cups of coffee from this machine type, your kitchen will get a classic look also. 

Durability – Manual espresso makers have better durability than automatic espresso machines. 
Manual espresso machines vs Automatic espresso machines (comparison table)
| | | |
| --- | --- | --- |
| Machine type | Pros | Cons |
| Manual  | Top-rated brew quality | Steep learning curve |
| | Full control of the brewing process | They tend to be expensive |
| | Classic design | |
| | Simple mechanical design | |
| Semi-automatic | Easier to use than manual machines | Still requires a bit of a learning curve |
| | It allows fairly good control of the brewing process | |
| | It can make delicious espressos | |
| | Relatively low priced compared to automatic options | |
| | It blends flexibility available on the manual devices with a little convenience on the automatic machines | |
| Fully-automatic | User-friendly design; thus, Less effort required than a manual brewer | Little control of the brewing process |
| | More consistent results | Also expensive |
| Super-automatic | It provides the better convenience | Most expensive of all manual espresso maker types |
| | It provides a little control of the brewing process than the fully-automatic machines | |
What to look for before buying a manual coffee machine?
Machine type –

the first thing to consider before buying a

lever espresso machine

is the type of manual machine that suits you. First, if you want optimum control of the brewing process, including how much pressure your grounds get, and you're also not dissuaded by the learning curve required, the direct lever machine is your pick. On the other hand, if you want a more consistent brew with little of your skill and somewhat of fairly good control of the brew, the spring lever machine is your option. Only be willing to spend more. 

Water tank –

The water tank both holds the water and serves as a heating chamber. The capacity of this component determines how many cups of coffee you can brew quickly. So, if you need more than two cups per time or you probably have a large family, you should go for a manual espresso maker with a big water tank. The

Elektra SC1 Micro Casa Lever

can give you up to 18 shots of espresso; hence, it is an excellent pick.

Construct –

Lever machines have been tipped to have a longer-lasting capacity than automatic machines. Still, they come in stainless steel, plastic, metal, etc., construct. Although machines with stainless steel frames will resist rust and last longer, whichever machine you choose, ensure it can withstand moisture getting wet without marring your coffee taste nor getting wrecked too sudden. 

Pressure –

As a general rule, 9 bars of pressure are used to make top-quality espresso. However, to give users more control, some machines can allow for higher or lower pressure. If you are set on using the standard 9 bars of pressure, the spring coffee machine type may be your pick as most come already calibrated with 9 bars. However, piston lever types allow you to apply as little or as low pressure you want. 
Why do people find manual espresso machines difficult to use?
We may have talked, a good number of times, about the learning curve associated with manual espresso makers but don't get scared, they can't be as difficult as rocket science. In this section, we will show you the real problem most people face with lever machines and how to avoid them.
There are two main reasons a lever machine can be difficult to use when starting out.
Getting the exact grind size
Your coffee grind size is a huge determinant of the result of your coffee irrespective of the machine used. Although some high-end automatic machines have a grinder set to the precise size appropriate for a machine, you wouldn't get that luxury in a lever machine and that poses a problem to some barristers. 
If your ground is too coarse, there would be insufficient extraction of grounds, resulting in weak shots and the reverse for too fine grounds. As a rule of thumb fine ground is for espresso. However, the coffee type and your taste preference will determine how fine the ground should be. You may have to opt for experimenting with the various fine ground settings on your grinder and sticking with what setting appeases your taste most. 
Read our guide on how to choose the grinder for your coffee beans here!
Tamping your espresso correctly
Like with grind size, if you tamp your espresso grounds for your manual espresso machine too tightly, there will little espresso extracted. If you do it too lightly, you'll get a weak espresso without a "creama" because the water will run too quickly through the puck.
If you get your perfect grind size and tamp your espresso correctly, you're only a pull away from a quality shot of espresso. 
How to pull a quality shot of espresso with a manual espresso machine?
(If applicable) Check if there is water in the reservoir, turn on the machine, and allow it to warm up. You will have to wait for 10 to 15 minutes for the device to boil the water in its tank. 

Uninstall the portafilter from the machine

Put a measured amount of finely ground espresso (according to the specification of your basket) into the portafilter

Tamp the coffee firmly, ensuring an even surface. Take heed to keep your wrist straight and your elbow at about 90 degrees. Tamp with light pressure first, then re-tamp with more pressure. That's because tamping with full force at first may cause uneven pressure on the grounds. 
After tamping, lift the tamp slowly in a circular motion to polish the of the puck.
Inspect the puck for loose spots or uneven height. Then clean the portafilter

Reinstall the portafilter and place your cup under it

Raise the lever then push it down with even pressure to force the hot water through the ground. 

Tada! Your espresso drop into your cup. You can repeat this process by loading your portafilter if there is water left in your tank. But if there is no more water left in the tank, you'll have to switch the device off allow it to cool off then repeat the entire process.