Have you ever wondered what makes Keurig coffee makers so well-known, used, and trusted? Considering you are reading this article, I can tell that you know something about quality coffee and want to learn more. Pod coffee is a steady trend and is something that is specifically useful for those on the run. 
Keurig coffee makers are one of the most popular brands in the industry. The ease of use, excellent design, and versatility make it a good choice machine for most coffee lovers around the world. Keurig Inc. produces coffee machines for different purposes and places of use. Not only that, they upgrade each Keurig coffee maker twice a year. As a result of this frequent upgrade, competitors cannot beat the quality and features of each of its appliances.
We have included a buying guide to enable you to select what machine suits you. We will also compare Keurig models to facilitate your search. So, if you want to pick the right Keurig machine effectively, continue to read. Meanwhile, below are the well-known single-serve coffee makers.
Our 5 Keurig Coffee Makers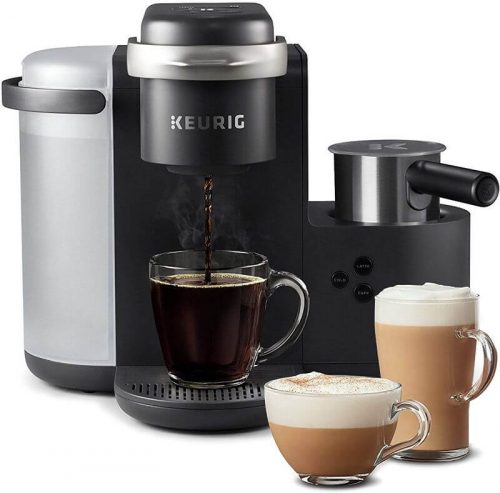 This product is an all-in-one coffeehouse brewing machine. It comes with a milk frother, and it can make a latte, cappuccino, and coffee. It is easy to use, smart and provides you various features most of the competition cannot afford. The versatility is coupled with a lot of space from the base to the dispenser, which makes it suitable for a wide range of cup sizes. 
Yet, one standout feature of this appliance is the intelligent interface that allows it to heat and brews in a straightforward process. In particular, the smart start feature eliminates the time required for heating before selecting a cup size.
Another excellent option on this device is a SHOT button. This option allows you to brew specialty shots of coffee for tastier iced or hot lattes, and cappuccinos. Something rarely any other pod machine can do. This would bring your coffee-game to a whole new level. 
Although marred by a high price, the machine offers you a great value. So, for the features it provides, we can easily say it is worth the price.
Pros
Excellent design

Ergonomic interface

Fast brewing time

K-cup compatible and vast range of brewing capacity

Dishwasher safe frother
Cons
Large footprint – it'll take up quite a lot of space in your kitchen

Pricey
---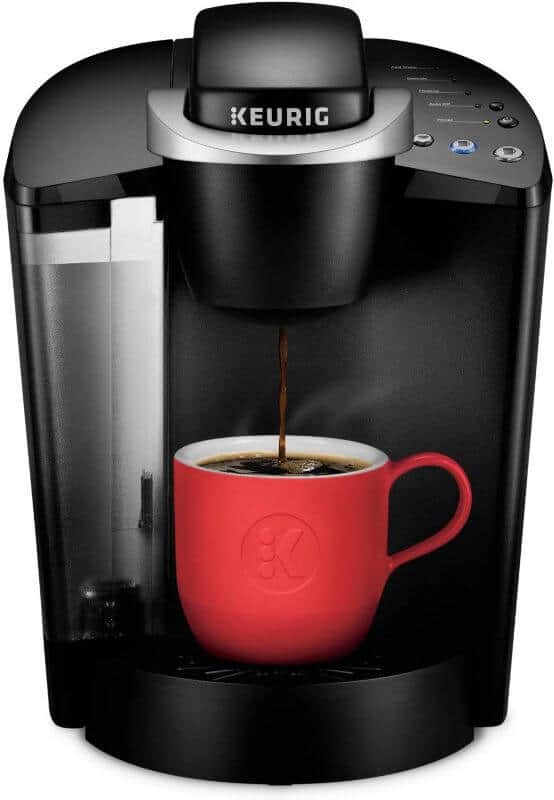 This Keurig single-serve coffee maker scores on the list of many single-serve coffee makers. That is because it comes at an affordable price. Well, it is a no-brainer that cheap means lesser features and a somewhat lower overall performance. Not a bad thing all by itself. Fewer functions make it more compact and portable than other models, and since coffee is made out of pods – it does not affect your coffee quality.
Asides from its ease of use, another excellent feature of the Keurig classic is its removable drip tray. The option allows you to use bigger mugs or travel cups on the device. This coffee maker has a water tank of 48oz capacity. This relatively large volume lets you brew and serve at least six cups of coffee before it requires a refill.
Did we already mention that this model is cheap? Even more, it is the most affordable on our list. Its fast brew time, wide-range cup size, and other superior features make it one of the choices for its low price. 
Pros
Easy descaling, therefore effortless to clean

Relatively large water tank 

High-quality brew and energy-saving programmable auto-off timer 

It is compatible with reusable coffee filters
Cons
The unit makes a lot of noise during the brewing process

It is a single-voltage device
---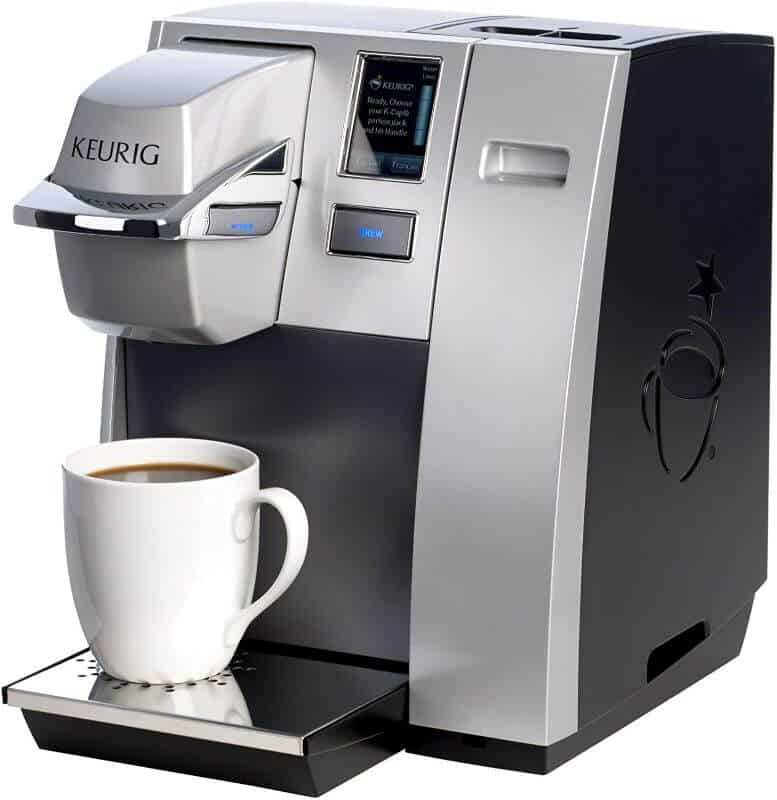 This model has a construct that is suitable for heavy-duty use. To illustrate, many people call this model the K155 commercial machine. Its build is not the sole factor that got this product on our list. The stylish design and touchscreen interface it comes with are features you cannot easily find everywhere. Yet, there is no compromise on the quality of the brew or the overall performance of the machine. 
Specifically, its extra-large water tank of 90oz is a feature we cannot ignore. This tank will gladly produce up to eighteen cups of coffee before refill. The device also offers a selection of four cup sizes and provides a removable drip tray to accommodate larger cups or travel mugs. Even more, it comes with a drainable internal hot water tank for storage and transport.
Among all the machines that made our list, this one is the most expensive. However, its sturdy construction and big water tank account for its price. 
Pros
Huge water tank

Commercial-grade construct

Excellent overall performance

High-quality coffee brew

Excellent descaling function
Cons
More expensive than other, similar models
---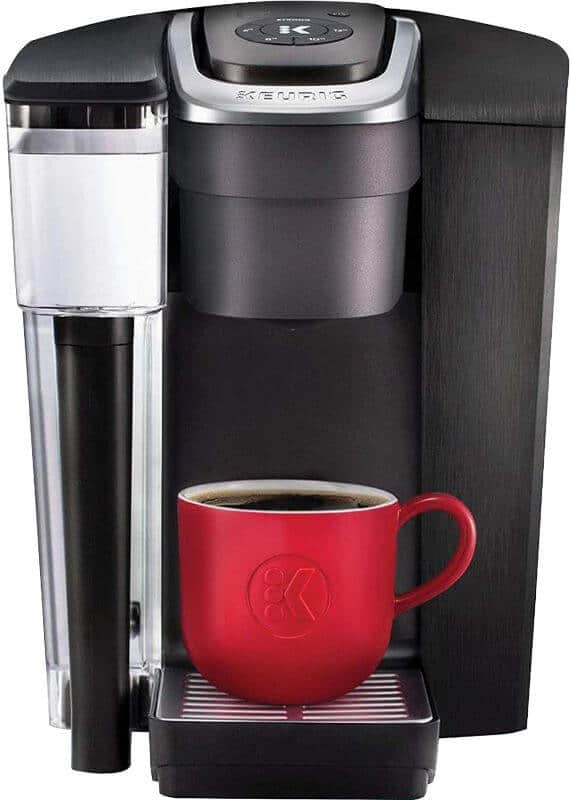 Like the K-155, this single-cup Keurig machine has a commercial-grade construct. Yet, it offers more features than the K-155 and many other Keurig makers. For that reason, we can easily say that this device is the good Keurig machine in the market. 
For a start, its large tank of 96oz surpasses all the k cup brewers already in the market. Hence, the better-suited one-cup coffee maker for a tank. 
Further, the machine comes with integrated Quiet Brew Technology and a simple one-touch automatic operation. For that reason, it brews coffee quicker and quieter than most K-cup coffee makers.
With all of these features, this machine goes for less price than the K-155. Although it is not the cheapest commercial-grade coffee maker in the market, it is neither the most expensive. For its price, it offers excellent value.
Pros
It comes with an energy-saving auto-shutdown function

The water tank is large and comfortable to remove

For the large reservoir, it has a reasonably compact design

The tray drip is removable
Cons
---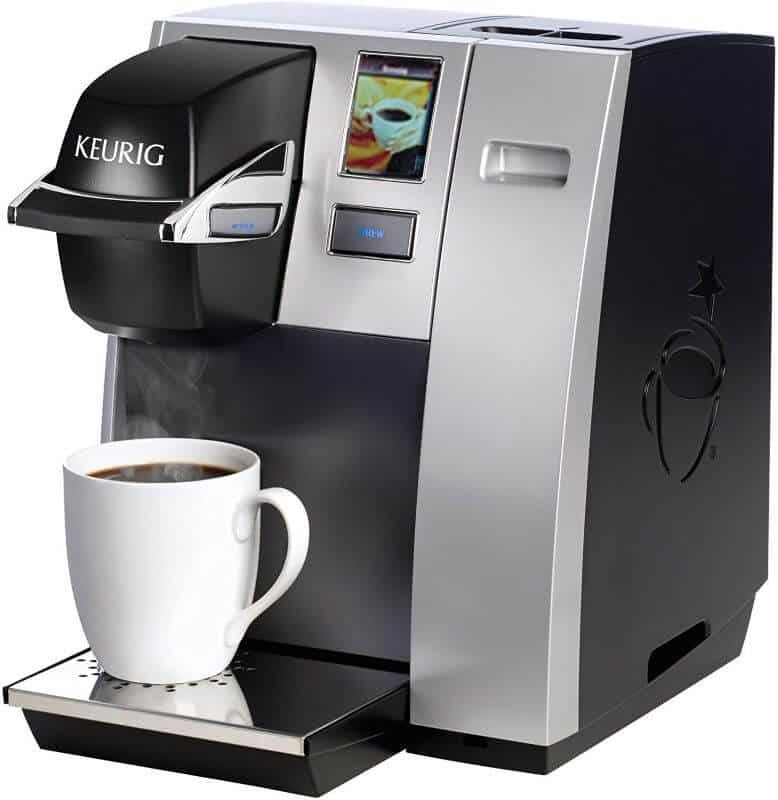 There is usually a distinction between coffee makers that are suitable for home use and others that are efficient for commercial use. Yet, this Keurig coffee maker combines a commercial-grade construct (UL certified) with a household-friendly coffee machine. In other words, it combines high-end, heavy-duty features with a stylish design that will suit your kitchen or office décor.

It knows three languages – English, French, and Spanish. The ergonomic touchscreen interface will also be an additional feature that crowns its ease of use.
Another notable feature of this coffee maker is its pre-assembled water-line plumbing. Because of that, you can have a continuous brew without the need to refill frequently.
Pros
Quiet Brew technology

Full-color, backlit, touchscreen, LCD

A built-in temperature control function

Adjustable drip tray to accommodate bigger mugs 

It plugs directly to water-line
Cons
It does not come with a filter kit to water-line
---
How To Choose The Keurig For Your Kitchen?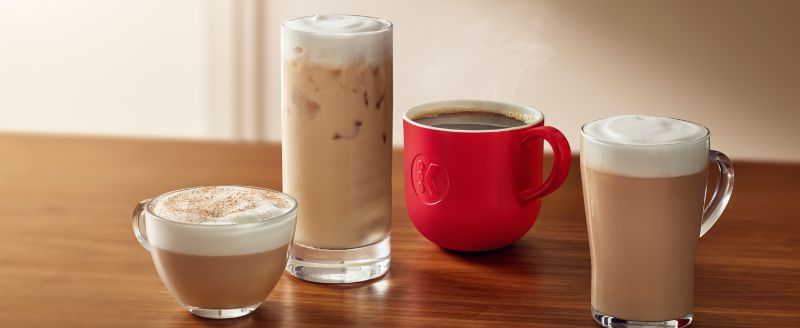 We have laid out our choices for a Keurig k-cup coffee machine in the article above. To find the coffee maker for you, we did extensive product research, browsing through virtually all Keurig coffee makers, comparing the specifications, considering all the bells and whistles, and figuring out which ones are necessary and which ones – are not so much.
However, you don't have just to trust our opinion. Instead, we have created a buying guide below. The first thing you need to do is figure out what is that which you are looking for in a k-cup coffee maker. Once you have done that, read our buying guide and decide for yourself which Keurig is for you. It might be something from our list, or something completely different. Let us know in the comments what you've chosen. 
Precisely, this section of the article will provide you with a detailed guide on how to effectively choose the machine that is right for you. We explain in detail the features and accessories to look out for and the various factors you should consider. 
A Brief History of Keurig

Keurig is a coffee brewing system for commercial and home use. Its beverage varieties are cold and hot coffee, cocoa, tea, dairy-based beverages, fruit-based drinks, lemonades, and cider. 
Keurig, Inc. is a Burlington, Massachusetts-based company owned by Keurig Dr. Pepper. Its main products include Single-serve coffee cups, K-pods, other beverage pods, and the K-machines that brew these beverage pods. 
Keurig Pepper founded the company in 1992, but it launched its first brewing machines and K-cup pods in 1998. The company owns over 60 brands and 400 different varieties of coffee and other beverages, and its name "Keurig" is a Dutch word for "Excellence." 
Why Should You Buy a Keurig Coffee Machine?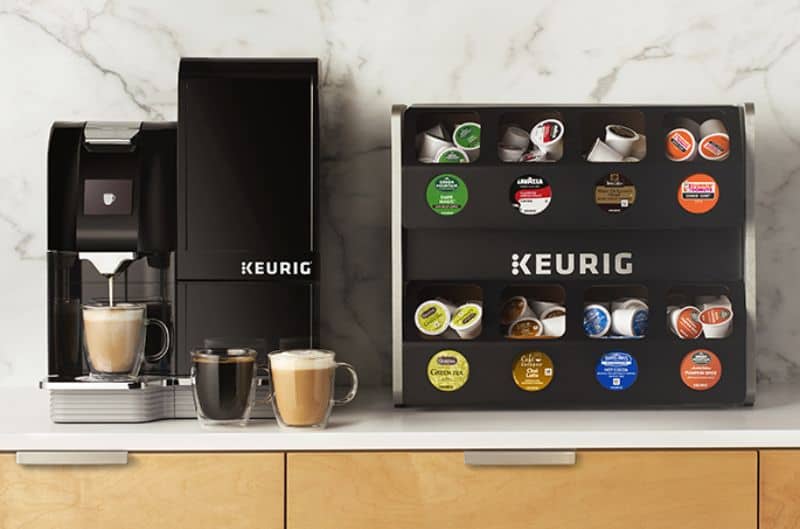 If you are asking this question, our guess is that you are not familiar with coffee machines. Therefore, we will use a familiar illustration. Keurig coffee machines are the iPhones of the coffee industry. Their pods and machines are pricey, but no other product can beat its value. Even more, these machines are the fastest single-serve brewing coffee makers in the market. Indeed, most of them produce freshly brewed coffee in seconds. 
Keurig machines are one of the most convenient coffee makers in the market. They do not require any specialized knowledge before you can operate them. You put pods in the bay, close the lid and push a button, then coffee comes out from the drain. 
It is also worth mentioning that K-machines are very compact and portable. The ones with the most prominent tanks come as compact as possible that one can call a small Keurig coffee maker.
Plus, there is a wide variety of Keurig coffee pods you can get in the market. To interest you, it will take you over six months to taste all the available Keurig coffee pods in the market. That, if you decide to consume one per day. 
What Are K-Cups?
K-cups are small nitrogen-flushed (number 7 polystyrene, food-safe) plastic cups that contain measured amounts of tea/coffee and a paper filter. A food-safe adhesive seals the lid of the cup. The cup can resist moisture, light, and heat to prevent its contents from getting stale or moist. 
After loading your machine with these cups, it draws water from the tank, heats it, and passes the water through the cup chamber. The brewing process starts when a needle punctures the cup on its lid and fills it with heated water. Then, another needle punctures its bottom to release the brewed coffee into the drain.
Despite its high price, many people still prefer the K-cup to coffee grounds. On Amazon, you can hardly find a K-cup with an overall rating of less than 3.5. Even more, some cups have a mind-blowing 5-star overall rating from over 200 customers.
What to Look Out for in a Quality Coffee Maker?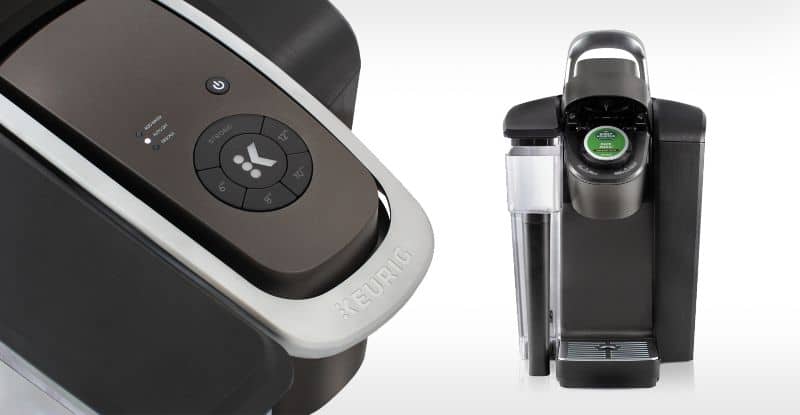 As stated earlier, choosing a quality coffee maker goes beyond design and brand. Although quality brands like Keurig make their products very fancy, without a negative effect on their performance, we will explain these features and how they relate to the overall quality of a coffee machine.
Speed
One of the essential things to consider before buying a coffee maker is its brew time (Speed). If you overlook this feature, you might be waiting for a single cup of coffee when you would have gotten two. Generally, coffee makers come at different speeds. For example, some can brew in minutes while high-quality devices can brew in seconds. So, evaluate your level of patience and pick a minimum brew time.
Water Reservoir
Water makes 98 percent of coffee, and its freshness will affect the taste of the brewed coffee. We know you might not be lazy, but we are sure of two things. First, you do not want to get stuck with a machine that needs frequent refills. By the same token, you also do not want the water in your tank to stay for a long time before refilling. This feature is a two-sided coin! 
Therefore, ensure you know how frequently you take coffee and how much you can consume in a short time. After that, peg a minimum water tank volume for your coffee machine. Else, you may end up with a rank coffee or the work of constantly refilling the tank.
Brewing Temperature
The brewing temperature is an essential feature to look out for before buying any coffee maker. That is because the temperature of the water during the extraction process determines the quality of the coffee. Correctly, the National Coffee Association (NAC) states 195 to 205 degrees Fahrenheit as the ideal temperature for extraction. At that heat range, the flavors of each bean extract are appropriate, producing a quality fresh, tasty cup of coffee.
However, if the brew goes farther than that temperature, it will burn the pods and bring out brown, bitter drinks. On the other hand, the bland taste of coffee for below that range. So, always go for makers with temperature adjustment options.
Cup Sizes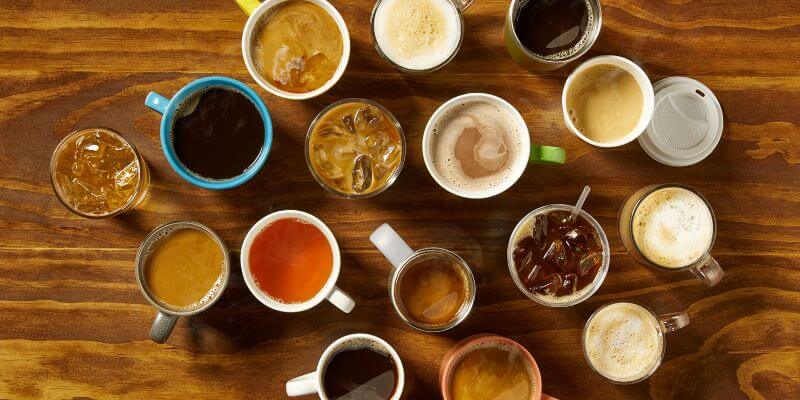 Keurig coffee makers come with trays that accept different cup sizes. The cup size affects the overall taste of the coffee. Correctly, there is a regular cup size of 8 ounces. The standard small cup size is 4 to 6 ounces, and the large cups range from 10 to 12 ounces. 
If you prefer diluted coffee, you should insist on a large cup size and a machine that will accommodate the cup. Conversely, for strong-tasting coffee, you need a maker for small-size K-cups. 
However, some Keurig machines provide a removable drip tray and also allow you to select the size of the beverage.
Brewing Style
One major problem most coffee makers have is that they do not regard your preference for brewing. That is, you have no say o the brew strength, temperature, or time. However, the new Keurig machines let you control how strong the coffee brews. 
The temperature at which water boils is a significant factor that affects the coffee taste and type (check the brewing temperature above). So, some Keurig machine allows you to adjust over the heat during the extraction. This feature gives you complete control of the taste and style of your coffee.
So, you must check if the machine provides user control over the brew strength and temperature.  
Scheduled Brewing Time
You will need a smart machine if you drink coffee on a regular schedule. For instance, maybe you want a cup as soon as you wake up. To afford you that luxury, some makers come with a programmable timer. 
To use this option, fill the filter with the coffee ground and the carafe with water. Then, set the timer for four minutes (if your machine brews in 4mins) before the schedule. With that, you will always have a fresh cup of coffee when you want one. Therefore, before buying, you should check if the machine has this feature. 
K-Cups vs Ground Coffee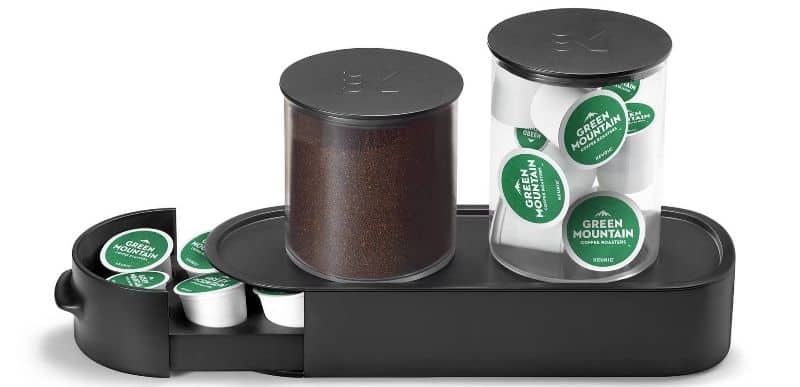 If you read this article to this point, you should know what K-cups are and why you should buy one. However, what is ground coffee? Precisely, ground coffee is a ground-down coffee bean that did not go through industrial processing. Like K-cups, they are convenient to use and eliminate the cost of buying a grinder. Yet, ground coffee is less customizable, and they produce low-quality coffee.
Generally, K-cups are 2 to 9 times costlier than ground coffee. Even on the same brand, ground coffee costs four times less than K-cups.
Additional Features
There are other features you should check before buying a coffee maker. Although they are not as important as the ones listed above, they will still come in handy.
Built-in filter – Some Keurig coffee makers come with a built-in filter while others do not. The feature gives you the advantage of using even tap water on your machine without reducing the taste of the coffee. Also, it eliminates the cost of having to buy a separate filtering device.
Descale alert – Many reasons account for bad coffee. Even more, many other factors will cause your machine to be slow in performance. Yet, a dirty device is a significant cause of both problems. For that reason, some Keurig machines will alert you, either by text display or LED light, when your device needs a cleanup. 
Machine interface – One factor that determines the quality of a coffee machine is its ease of use. Keurig machines have a reputation for their ergonomic interface. In particular, some come with an LED touchscreen while others use button controls. You should know the option that suits you and pick a device that offers as much. 
Maintenance and Longevity
Keurig Inc. offers an excellent warranty on all its coffee makers. That is because they trust the durability of the machines they produce. 
Correctly, these machines will last for ten years before they break down. Albeit without proper care and maintenance, they will break down before that time. To properly maintain your Keurig appliance, we advise you to clean the machine frequently. Even so, we recommend a complete descale after three to six months of use.
To clean your machine, start the brew cycle without a K-cup. Then, collect and discard the water from the drain until the tank is empty. By doing that, you will remove scale buildup and lime from your appliance.
Closing Thoughts
Nothing beats starting your day with an excellent cup of coffee. Yet, superior quality coffee results after you put many factors in place. A good K-cup, clean water, and an outstanding brewing device are a few of them. 
The problem arises when one cannot correctly identify the quality of these elements. Well, it does not apply to anyone who finds this post. That is because, after reading this article, we are very sure you must have useful information on the Keurig coffee machines. Also, you will have adequate education on how to identify the quality features on each device that matches your standards. 
So, you can hit the market for a fantastic piece of Keurig coffee maker that suits your priority. However, remember that your machine's lifespan is a factor in its care and maintenance. We also want to remind you that you should not forgo these priorities because of the design of any Keurig machine. Mind you; a proper test will come because the company manufactures products with excellent aesthetics.