10 Stainless Steel Coffee Makers That Can Ease Your Life. You'd likely heard tales of how the coffee tastes so much better when brewed with stainless steel coffee makers. Some chemicals in the plastic might infuse your coffee during the brewing process and alter the taste ever so slightly. One way of avoiding it would be to go for a BPA-free coffee maker. Or you can try a stainless steel coffee maker, for a change.
You'd also likely heard about how plastic is not a 'thing' anymore. Going green by getting a stainless steel coffee brewer would be your small contribution to saving the environment. Even more – stainless steel coffee makers keep the coffee warm and fresh for more extended periods. Doing so helps you cut down on the electricity bill since you don't have to reheat the coffee.
There is something weirdly satisfying about having a stainless steel coffee maker. It is nice to have something traditional in your kitchen and the great coffees are obviously an additional advantage as well.
If you want to make pure and healthy coffee, our suggestion is that you replace your plastic coffee maker with an aesthetic stainless steel coffee maker. As plastic melts faster than water, there is always a risk that plastic particles can be mixed with the coffee. These premium stainless steel coffee makers present pure and healthy coffee.
Are you convinced of the benefits of a stainless steel coffee maker (and why not)? The next move is to get it if you don't have one already. Here are 10 stainless steel coffee makers.
Our 10 Stainless Steel Coffee Makers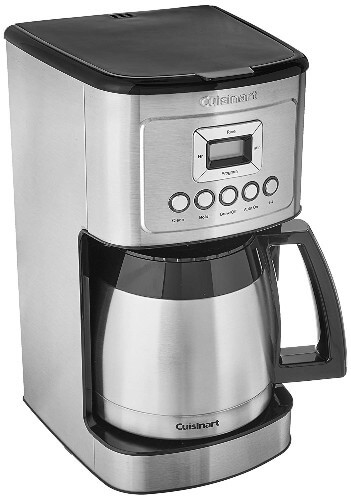 The 12-cup stainless steel DCC-3400 coffeemaker is the appliance for you if you regularly brew a large amount of coffee. It is sleek and durable. Fully automated machine with excellent features. Such as 24-hour programmability, auto-off, self-clean, brew-strength settings, 1-minute recall settings, and brew pause.
Other features include the easy-to-read backlit LCD, an indicator light to show when it's time to decalcify the machine, and a 'ready tone' that can be turned off or on.
With the 'brew-pause' feature, the coffeemaker allows you to pour and enjoy a single cup of coffee before the whole brewing cycle is complete. Brew-pause is excellent if you are in a rush to get somewhere.
You would also love the 'brew strength' control that allows you to select your coffee flavor without a loss in quality. Whether you want it strong or regular, this coffee maker has it covered.
For such a sleek, fully automated coffeemaker, it sells at a very affordable price. It is a bargain that offers more value than its price tag.
Pros
Pros
Programmable
It is affordable
Self-cleaning
Transparent water window
Durable
Cons
Cons
The water reservoir lid does not open far enough
Spout sprays coffee out the sides
---
There are lots of things to love about this 10-cup coffeemaker from the staples of the aptly named Mr. Coffee. Like features such as the removable water reservoir, fast brew time, delay brew, and freshness timer. It also brews coffee at a temperature of up to 205°F. That is something that is not common in many other expensive coffeemakers.
It comes with a Gold-Tone permanent filter ensuring that extra long-term expenses in buying replacement filters are out of the question. This combines with the water filtration feature that removes up to 97% of chlorine assuring great-tasting coffee.
If you have a busy morning schedule, the 'delay-brew' feature helps you get your early morning coffee fix instantly. You set the brew time before going to sleep, so your coffee is waiting for you when you are ready to hit the road in the morning.
Aside from the fact it is easy to use, another reason that makes it a favorite among users is its affordability. With such a low price tag, you might end up ordering a second unit as a gift for a family or friend.
Pros
Pros
Easy to use
Affordable
Keeps coffee shit and fresh for long
Decalcification is easy
A great water filtration system
Cons
Cons
Steam comes out of vents
Coffee pours slowly from the sealed carafe
---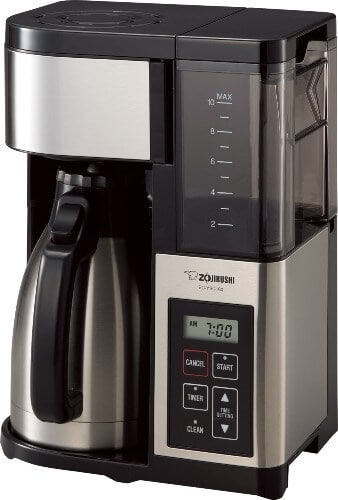 Zojirushi has made a name in the industry as a maker of cutting-edge appliances, and this coffeemaker is no different. It is customized to keep coffee warm for several hours. Equipped with features such as the 10-cup carafe, removable water tank, high brewing temperature, and automated clean cycle for easy cleaning. Thumb-activated pouring, and easy-to-access filter basket so you can clean it easily.
The thumb-activated pouring of the fully automated and programmable appliance makes it easy to serve coffee after brewing, effectively eliminating annoying drops of coffee on the table.
You would love the 'clean' indicator LED that comes on when the unit needs cleaning. This automated clean cycle ensures you get fresh, great-tasting coffee and ensures the machine performs at optimal levels.
This is not a coffeemaker for the faint-hearted though. You need to be ready to spend a decent amount of cash. But then, you'd be getting a premium product that exceeds expectations in terms of performance. Safe to say that this is one of the stainless steel coffee makers out there.
Pros
Pros
Automated clean cycle
Keeps coffee hot for a long
The carafe is vacuum-insulated.
Durable
Drip-prevention mechanism
Easy to clean
Cons
Cons
It is expensive
Slight leaking when pouring
---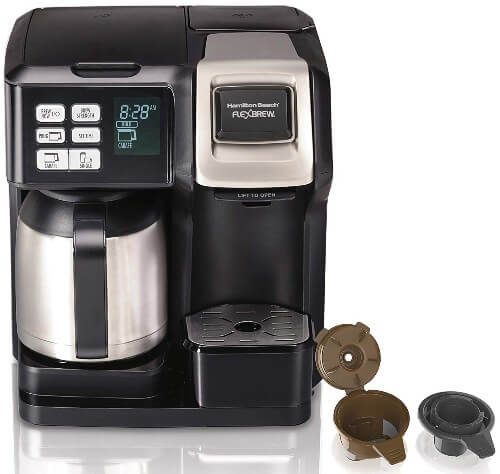 The FlexBrew 49966 thermal coffee maker from Hamilton Beach is a flexible and fully programmable unit that combines the convenience of a single-serve coffee machine with the utility of a 10-cup brewer.
It comes with separate water reservoirs for each brewer, fast brew time, Keurig pod compatibility on the single-serve brewer, dual bold/regular brewing options, automatic pause & serve, and many more.
The 'automatic pause and serve' is an excellent feature if you are too impatient to taste a cup of your favorite brew. It lets you remove the carafe and serve a cup with minimal dropping even before the brewing process is complete.
The single-serve feature is compatible with K-pods and allows you to brew with or without the pods. This flexibility makes it possible to use your grounds if you don't like using pods. The included brew basket handles the task efficiently.
Like most of the units, this programmable coffeemaker is very affordable and provides value for money.
Pros
Pros
It is durable
Affordable
Easily programmable to fit any schedule
Easy-to-fill separate water reservoirs
Gentle learning curve
Coffee stays fresh and hot for a long time
Cons
Cons
Performance is inconsistent
You might encounter problems while using K-pods
---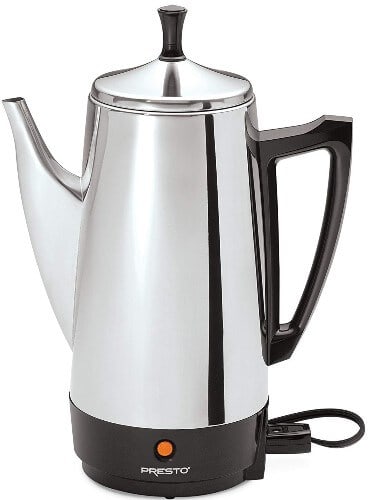 The Presto 02811 12-cup coffee maker is what you need if you are looking for a simple coffee maker with no frills or bells. But it does what it is supposed to do with the utmost efficiency.
A traditionally designed coffee maker is suitable for offices, homes, hostels, and other places where space is at a premium. The stainless steel coffeemaker comes with an easy pour spout, stainless steel filter basket and perk tube, and brew signal light.
The signal or indicator light lets you know when the coffee is ready. With it, guessing if the brew is ready to be served is pretty much taken out of the equation.
You'd love that the coffee maker with its retro design can double as a tea kettle. You can make a drink for just yourself or a large party of 12 with only one brew. Most importantly, the stainless steel body keeps the brew hot and fresh for as long as possible.
And matching its simplicity is the price tag. It is very affordable and so well made that you might never need another coffeemaker or a replacement.
Pros
Pros
Very easy to use
It is very affordable
Cleaning is easy
Can make up to 12 cups
Can be used as a tea kettle
Cons
Cons
Some might find it too basic
---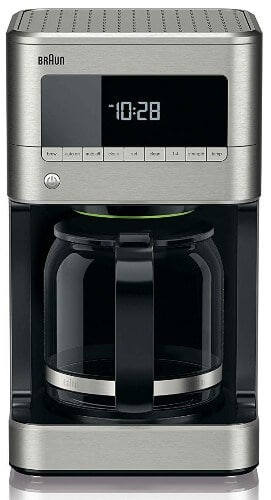 With its extra-wide display, gold-tone filter, and easy control buttons, you always look forward to the aroma of freshly brewed coffee with the Braun KF7170SI BrewSense coffee maker.
The sleekly-designed machine comes with several useful features:
The anti-drip system. It enables you to pour coffee during the brewing cycle
A 24-hour programmable timer
PureFlavor system
Charcoal filter
With the PureFlavor system, you'd get your coffee with the optimal flavour and aroma of the grounds. This is the result of the machine selecting the right temperature and brewing time.
With comfortable buttons, you can easily choose between strong and regular coffee via the brew strength selector. The unique water level indicator allows you to brew just the amount of coffee you need.
You can get all the benefits of this cool stainless steel coffee maker at an affordable price tag. It is another real bargain like most appliances.
Pros
Pros
Durable
Large 12-cup carafe
Dishwater-safe parts
Large easy-to-read display
Convenient cord storage
Affordable
Cons
Cons
Might leak coffee grounds into the coffee pot
Filter/funnel can be hard to remove for cleaning
---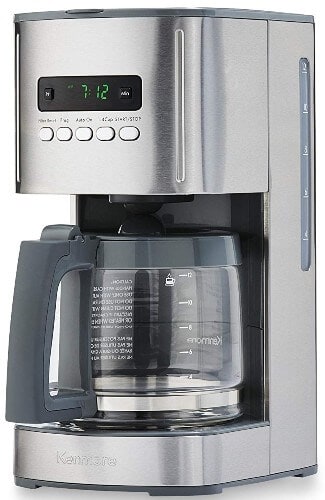 If you hate waiting in the morning for your cup of coffee, this Kenmore coffee maker is just the right unit for you. Freshly brewed coffee will be waiting when you get out of bed with the programmable timer that sets the exact time you want the brew.
The stainless steel appliance also features a gold-tone filter, a bright LCD, a 'pause and serve' setting, and a large carafe that can brew up to 12 cups of coffee.
With this appliance, there would be no need ever to buy replacement filters. The gold-tone filter is reusable and also features a carbon water filter to guarantee a great-tasting brew all the time.
And you don't have to wait for the brewing cycle to be completed to get a mug. The 'pause and serve feature lets you conveniently serve a cup to enjoy while waiting. You would love it that the non-stick plate would keep the coffee warm for a long time.
It comes at an amazingly low price for a programmable coffee maker. But don't allow the low price tag to belie its undoubted quality.
Pros
Pros
Low cost
Easy to use
Reusable gold-tone filter
It is durable
12-cup carafe
The carbon filter helps remove impurities from water
Cons
Cons
The glass carafe is not thick
Very loud
---
Modern design and stainless steel accents. This silver and black Oster coffee maker might be the coffee brewer that ends your search for a programmable, affordable brewer.
It features a backlit LCD; very few intuitive buttons making it easy to program and use; a 2-hour auto-shutoff; a water window; an adjustable aroma; and a 'pause and serve' function.
The 'adjustable aroma' feature lets you program the brewing to select the right temperature and brewing time suitable for your preferred flavour and aroma. You will have lots of fun fiddling with this feature as you try and pin down your favourite settings.
The famous 'pause and serve' feature is now a must-have feature of decent modern coffee makers. You can pause the brewing process to pour some coffee before returning the carafe to the brewer to finish the brewing.
Pros
Pros
Large 12-cup carafe
Easy to program
Modern design made with durable parts
Very affordable
Auto shut-off
Cons
Cons
Auto shut-off has no tone or alarm to alert users
Some might find the brew not hot enough
---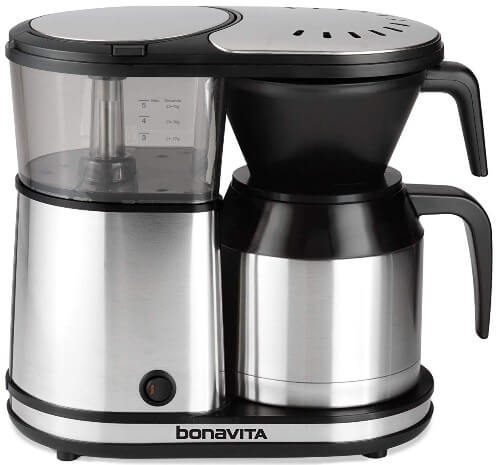 If you love brewing great-tasting coffee in small batches of about 5 cups max, the Bonavita BV1500TS has you covered any day. The 1000-watt heater, capable of brewing at a maximum temperature of 205°F, features easy One-Touch operation guaranteeing you get to brew without delay.
The BPA-free appliance uses standard #4 cone-shaped filters and comes equipped with a stainless steel lined thermal carafe, enhanced heater, awesome showerhead, pre-infusion mode, and precise flat-bottomed filter basket.
The showerhead ensures even distribution of the water over the coffee grounds and combined with pre-infusion mode. You get a coffee maker that can mimic the pour-over brewing method with ease. This gives the coffee grounds enough time to brew, infusing your coffee with the possible flavour.
Good coffee makers don't come cheap, but this one is very affordable, enhancing its growing reputation as one of the bargain buys in this niche.
Pros
Pros
Keeps brew hot and fresh for long
It is very affordable
Unique showerhead for even water distribution.
Efficiently mimics the pour-over coffee brewing method
It is easy to use
Parts are dishwasher-compatible
Cons
Cons
The carafe is hard to empty completely
No warming plate
---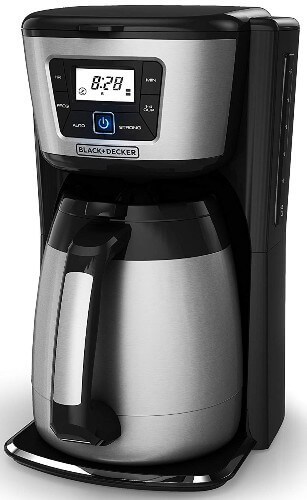 Always enjoy a full, rich-flavoured brew with the CM2035B coffee maker by Black and Decker. The Stainless steel appliance comes with a vacuum-sealed carafe to ensure your coffee stays hot and fresh for several hours.
Premium features integrated into this programmable coffee maker include the LCD that is easy to read. Brew timer to let you know how much time has passed since brewing the last batch. Brew strength selector, and Sneak-A-Cup feature.
The Sneak-A-Cup gauge allows you to pause the flow of coffee to pour a cup for yourself without making a mess.
The fantastic Evenstream showerhead is designed to dispense water evenly over the coffee grounds ensuring optimal flavour extraction during the brewing process.
There are so many functions you would love, and like any good coffee maker, it is not hard to operate or program. Amazingly, it is one of the cheapest fully-featured programmable coffee makers you would find anywhere.
Pros
Pros
It is very affordable
Not very hard to use
The water window is easy to view
Large water reservoir
Comes with auto-shutoff
Cons
Cons
The basket tends to overflow for more than 10 – cups of brewing
Brew cools down fast
---
Essential Features to Consider When Choosing the Stainless Steel Coffee Maker 
Type of Carafe
Since the whole idea is to go stainless, carafes made out of steel are preferable to either glass or plastic.
Do you regularly make large brews throughout the day? A stainless steel carafe would keep it warm and fresh for longer hours, so you don't have to reheat the coffee.
Water filter
If you have to choose between models, always use the presence of a water filter as one of the critical deciding factors.
Models with water filters ultimately improve the taste of the coffee because tap water contains chemicals like chlorine that the filter removes. Though these chemicals are not harmful, their interaction with coffee grounds does alter the flavour of the brew.
Brewing temperature
The brewing temperature is essential in making great, vibrant, and delicious coffee with all the underlying flavours intact. A lot of credit for the taste of a good cup has to be given to the coffee beans used, but the preparation process is just as important.
The brewing temperature is between 195°F and 205°F. Most coffee-brewing appliances list the brewing temperature on the box or packaging. Be sure to check it out.
You should give models that don't explicitly state the brewing temperature a wide berth.
Brew strength control
You can't help but love a coffee maker that gives you the option of choosing if you want your coffee very strong or just regular.
Most of the products come with this feature. Brew strength control would be very useful in homes or offices where there are varying preferences in coffee strength.
Pause and serve
The 'pause and serve' is known by other names depending on the model. It is essentially a feature that allows you to pause the brewing circle to pour some of the already-brewed coffee into your cup or mug. Without making a mess all over your counter or table.
Almost all programmable coffee makers have this function to show its increasing importance as a vital feature in modern coffee makers.
This is a convenient feature if you are a bit impatient to wait for the whole carafe to brew. You can get that first cup in less than a minute!
Endurance
And this goes without saying, stainless steel coffee makers, apart from looking shiny and sleeker, are more durable. In the long term, the cash you don't spend on replacing broken parts and general repairs makes them better value for money.
Other built-in features and considerations that are also vital include:
Automatic shut-off
The price tag
Easy to operate
Is it easy to clean and maintain?
How much space it would take in your kitchen or office
The capacity of the water reservoir
The type of insulating system
The presence or absence of a warming plate
Ready to take the plunge and splash the cash on a new stainless steel coffee-making appliance? It would be smart to know the features to look out for. You know – to avoid throwing money for a mediocre product.
Frequently Asked Questions 
Q1. My coffee maker is not as fast as it used to be. Why is that so? 
The common cause of this issue is a clogged heating element as a result of mineral deposits on it.
Usually, the mineral deposits get into your coffee maker if you use hard water to brew coffee.
A quick fix is to run vinegar through a brewing circle. Also known as decalcification, the acetate in the vinegar reacts with the calcium found in mineral deposits. This reaction dissolves the calcium effectively removing sediments, scales, and clogs from the heating element.
Q2. The coffee filter is malfunctioning and causing an overflow. What can I do? 
This issue mostly pops up if you have a paper filter. Using permanent filters instead should solve the problem.
But if you have to continue using paper filters, check to make sure you are using the correct size and shape for the machine.
If the shape and size of the filter paper are right, and the problem persists, try damping the sides of the filter before adding the grounds. Ensure the filter sticks to the sides of the filter basket.
Q3. Is it advisable to reheat cold coffee in a coffee maker?
The short answer is no.
Putting back cold coffee into the reservoir to heat would likely damage the unit as it is not designed for heating cold coffee. Not to mention that repeatedly heated coffee gathers more acid in it. Here is an article on the negative effects caffeine can cause. The smart option is to use a microwave or other heating appliances.
Q4. Which parts of my coffee maker are safe to clean in a dishwasher? 
For this, it's recommended that you check the user manual for your specific model. In general, though, the following parts can be placed on the rack of the dishwasher:
Glass and stainless steel carafes
Brew baskets
Pod baskets
Closing Thoughts
When shopping for a stainless steel coffee maker, there are some essential features you must take into consideration to get value for your money.
Features like the capacity, type of carafe, and the presence or absence of a warming plate are all essential. The type of insulating system, the design, the water filter, and the brewing temperature are just some of the variables that must be in sync to get your dream appliance.
Each of the products we have listed is amazing and grade-A quality. So you can be sure you are investing in a good product. You could choose any of them and it would be a great way to start your day.
All this might sound complicated if this is your first purchase, but patience is your ally and might be the key to getting it right. If you don't rush it, you will find excellent products to choose from even at insanely low prices.