French Vanilla Iced Coffee
You wake up to a lazy morning and yes it's Monday and the first day of the week. Instead of feeling bright and rosy, you feel like running back under your cozy quilt. And definitely yes you need something to boost your energy and wake up your mind. A Cold Iced coffee early morning is a perfect go-to drink, especially on a hot summer day!
What is Iced Coffee?
The iced coffee is simply a black coffee cold served in a glass with lots of ice cubes. For a person who likes to start every day with a good cup of coffee in the morning, then this iced coffee is just perfect! It's the perfect drink to get your caffeine fix and still be refreshed through the summer.
Variations of Iced Coffee Recipe
There are certainly coffee lovers out there who love to add a dash of other ingredients to make their coffee more interesting! Adding an extra ingredient to your cup once in a while always gives a fun change to your normal coffee routine. We are not talking about cream and sugar. 
Iced Vanilla Latte Vanilla is a very delicate flavor. It is aromatic and warm. Distinct, but complementary to many different flavors like nuts, honey, and caramel. It also goes very well with mildly fruity flavors and is the secret ingredient for adding depth and complexity to many dessert recipes.
The French Vanilla Iced Coffee Recipe is another variation of the Iced Coffee. It is the perfect grab & goes drink. Creamy and delicious, it takes only a few minutes to prepare! The French Vanilla Iced Coffee is chilled and creamy with a light flavor of French vanilla. You can also sprinkle a dash of cinnamon on the top and it tastes just divine!
French vanilla coffee Recipe is a rich, full-bodied coffee with a sweet and creamy taste. It is very popular in the United States, and is often referred to as 'French Vanilla'. The name of the drink refers to vanilla beans, which are the main ingredient to flavor the coffee and its flavor.
Vanilla Iced Coffee Recipe is the perfect coffee drink for this summer! All the black coffee flavor in an iced coffee drink flavored with vanilla and made with only 2 basic ingredients, coffee, and ice. This vanilla iced coffee recipe is just delicious.
Vanilla Extract –Vanilla Extract add as a natural sweetener to your coffee. You, don't need to depend on sugar and processed creamers. Try a few drops of pure vanilla extract instead. For a different taste, you can also try the almond extract.
Are vanilla and coffee romantic?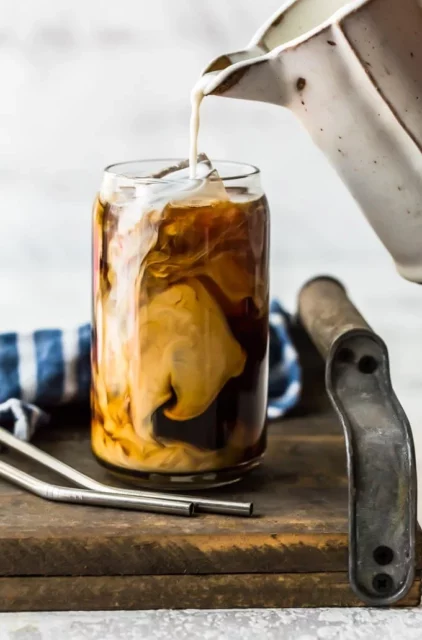 The Coffee and Vanilla story revolves around Risa Shiroki who is a 20-year-old timid girl who comes to Tokyo from her hometown. The series of Vanilla extract and Coffee is a very romantic combination and surprisingly great combination.
The flavor is so unique and also very strong at the same time. It's not like adding sugar or syrup to your coffee. Instead, it is more like a strong flavor to your coffee. It is quite different but at the same time delicious.
Adding vanilla extract to your coffee is a great way to make your coffee taste more sophisticated and pleasant and this works especially well for people who are not big fans of strong coffee. Adding vanilla extract to your coffee will lower the strength while not adding any additional sweeteners.
Coffee with vanilla extract is a simple and easy way to make your coffee and at the same time make it stand out. It is great in all sorts of coffee beverages. The flavor is unique and also very strong. The reason why vanilla extract was chosen as one of the most popular ways to sweeten coffee is because of its ability to be mixed into any type of hot drink, making it easy for people with varying taste preferences. You can use any brewed coffee or any high-quality coffee to mix with the vanilla extract.
If you add vanilla extract to a cup of cold coffee, then add a little cream and a little sugar, you will be amazed to see how well it works together. After adding the vanilla extract, you can also sweeten it with a bit of sugar or simple syrup and a dairy of your choice. You will just be left with an iced coffee that is flavorful and tastes like the breeze of summer in a cup.
Health Benefits of Vanilla in Coffee
Provides a Calming Effect

Helps Curb Sugar Intake

Eases Toothache

Nutrition – it consists of Calcium, Magnesium, Phosphorous, Potassium

Very Good for your Heart

It has healing Properties

Great for your hair 

Helps to calm anxious people

Reduces acne

Promotes Healthy Digestion

It helps to ease respiratory conditions

It can aid in weight Loss
French vanilla iced coffee recipe
Ingredients
1 cup brewed coffee, cooled (best to do this the night before and store in the fridge)

⅛ cup, vanilla syrup

2 cups ice

Your choice of creamer, to taste
Method of Preparation
Add ice to an insulated cup or your favorite iced coffee glass.

Pour coffee over top, add vanilla syrup, and cream to taste.
Vanilla iced coffee recipe
Ingredients 
Coffee: espresso coffee, filter coffee

Ice cubes 

Sugar

Milk

Vanilla 
Method of Preparation
Prepare your usual coffee and let it cool completely.

Fill a large glass with ice.

Add the sugar and vanilla extract or add them directly to your hot coffee.

Pour in the cooled black coffee and stir with a large teaspoon.

Enjoy!
Conclusion
If Flavor Extracts Had a Popularity Contest, Vanilla Would Always Win! Vanilla is so far away from bland and boring, and regardless of what industry you're in, the use of pure vanilla in a wide array of applications continues to increase. From high-protein and vitamin-fortified nutritional beverages (or any beverage, for that matter) to timeless baked goods, frostings, candies, and much more, vanilla is one of the key ingredients in countless applications.
You can also check:
You can also visit foodiewish.com for more food-related blogs.