Do you like to travel but not settle for a low-quality cup of coffee? Then you need to read this list of amazing RV coffee makers.
The ideal coffee maker will create the same taste and blend in coffee at home as the renowned coffee shops. Whether you prefer a wide creamy and milk-based coffee or just a dark and intense espresso, a good RV coffee maker will be your biggest comeback bet.
You can use a portable power station to power these coffee makers.
Sure, when I travel, I like to pull over to a gas station to refill my cup of coffee, stretch a little, and just breathe in some fresh air. But we all know that there might not be a gas station around wherever you go, and when you do – coffee there does not taste as good as your brew. And once you have pulled over in a place with magnificent scenery, perhaps some mountains, in a park, in the woods, with nowhere to get coffee from, a coffee maker in your RV would come in handy.
There is no better feeling than to wake up in the middle of a forest, breathe in some fresh air, and enjoy the view with a cup of hot, freshly brewed coffee.
And, if you like to walk around a lot and to have warm coffee with you anywhere you go, but not just warm coffee – a freshly made coffee, but you don't want to carry all the equipment with you, the premium option to go for is a portable coffee maker for outdoors. This might be just what you were looking for!
5 Incredible RV Coffee Makers For All RV Campers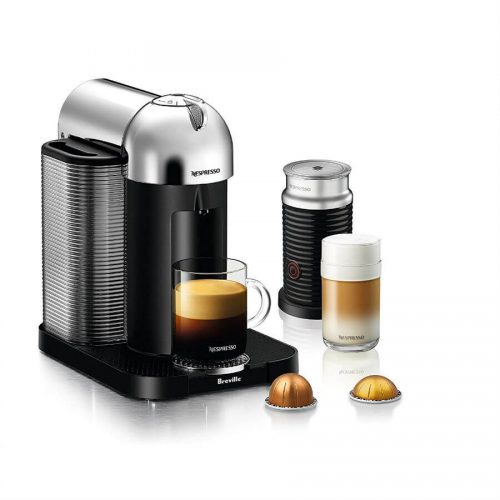 Our pick for this list of RV coffee makers. It has many beautiful functions and advantages. But when it comes to an RV coffee maker, the good one is – it is compact. This is an important aspect. Quality over comfort is something I like to stick with; in this case, you get both.
This is a very versatile coffee maker, using pods instead of ground coffee it is easy to clean, and it has a variety of 5 different single-size coffee cups. It's a smart coffee maker, meaning it will read the K-cup barcodes to adjust the settings specifically for the type of coffee you want.
It will heat up in 15 seconds and to save energy – it has a function to shut off after 9 minutes of inactivity. In the bundle package, you will get the frother included (very useful for cappuccino or latte).
3 cup sizes
Instead of having to buy three machines, you can have this machine. It allows you to combine three sizes in one: 14oz. Alto, 8oz. Coffee and 1.35oz. Espresso. It has two different capsule sizes – a large one, for making various coffee types, like Alto, or basic coffee with milk or black coffee, and a smaller one, for espresso-type coffee.
One-touch brewing
One button is all it takes to create the perfect cup of coffee – as I've mentioned earlier in my article about the perfect coffee beans for cappuccino – it's a fine art. Capsule insertion is automatic, and you only need to place it in the machine it will be then dispensed automatically. No hassle there, adjust the cup support, and your coffee will be ready in 15 seconds.
Cost and Value
This K-cup coffee maker will not cut a deep hole in your budget. It is quite pleasant, and considering the brand, the ease of use, and the quality of the materials used – this is my first option for an RV coffee maker.
Pros
Pros
Easy to use, clean, and maintain.

Energy-saving – it will not drain the battery of your RV as it has a built-in automatic power-off function.

Vacuum-sealed pods, pressurized, contain ideally ground coffee beans.

Well made, sturdy, and beautiful looking.

A large selection of coffee variety.
Cons
Cons
Milk frother comes separately.

Regular coffee might be a little watery (still does not lose the flavor).
---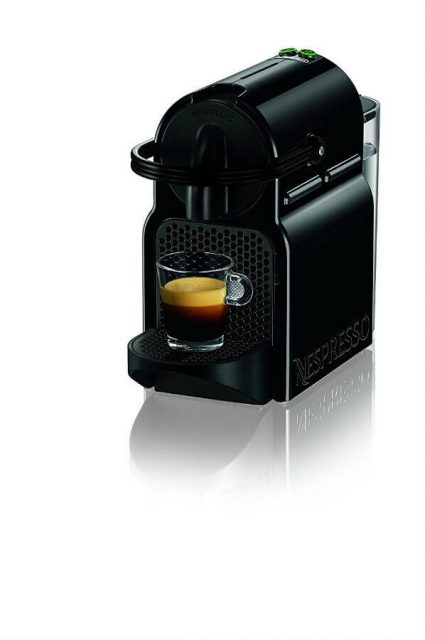 Qualities that describe this RV coffee maker most precisely are – quality, speed, versatility, and efficiency.
It can and will deliver up to 19 bars of pressure, and won't break under it, either, as the parts and frame are made out of high-quality material.  
25 seconds is all it takes for this machine to heat the water, and for your sleep-deprived eyesight in the morning, it will only make one touch. You can adjust the cup sizes. The required energy input is 1200w, and the built-in energy saver will kick in after nine minutes of inactivity.
This is one of the supreme coffee makers I've seen in the market, not only for the price but also for the functionality. And not just for your RV coffee maker, but will serve as good in your household.
Espresso and Lungo cup sizes
The large water tank comes close to 1 liter and will hold up to 9 cups of coffee worth of water. And all that will be heated to the perfect temperature in just 25 seconds. You only need to press one button. And you have the option to choose between Espresso and Lungo cup sizes.
High-Pressure Pump
With the barista's level of service, this coffee maker will provide the same quality coffee. You might as well think that you went to get it in your local indie-like coffee shop (for a lot less money tho, and while in your RV in the middle of nowhere). The high-pressure pump provides 19 bars of pressure, making the tasty frothy in town.
What will this cost?
For the quality and service here? Practically nothing (or a few coffee cups from your local coffee shops). Although you would still need to buy the pods, this is the supreme option.
Pros
Pros
It will take only 25 seconds to heat a full tank (less if you want one cup).

Energy-saving function – preserves your RV's battery and the environment.

19 bars of pressure – finest frotte in town (wildlife, too).

The water level is easy to check.

And even easier to clean.

Steam creates excellent foamy / froth addition.
Cons
Cons
Make sure to align the coffee pod accordingly to the manufacturer's guidelines.

Can be a bit noisy for the first few seconds.
---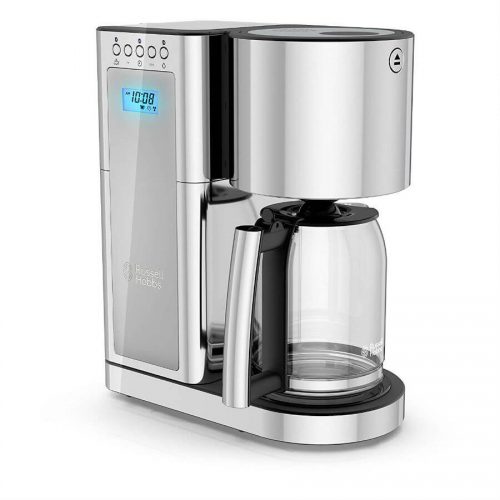 Are you an impatient coffee lover who wants the cup of coffee now and not the second before you said that? This coffee maker will do it just for you because it's so reliable and fast. And we all like it. It offers speedier brewing time by 40%, and you will not have to worry about the filters -this one got it covered for the lifetime, this machine will work its head off to compliment you with the much-needed cup of coffee. A fast little RV coffee maker.
Schedule your coffee
Set the timer on your coffee maker and wake up not to the chirping of the birds, but to the smell of your freshly made coffee. The setup is easy and hassle-free.
Awesome shower head
It is designed, so it saturates the coffee grounds evenly, providing you with the full flavor of the coffee, extracting the last bit of the taste in the brewing process.
Pros
Pros
Pause and pour – no need to wait until it finishes brewing the whole carafe.

Cafe warming palate – will keep the coffee hot, forever!

1,25 liters large glass carafe.

Self-cleaning function.
Cons
Cons
The warming plate shuts down after 40 minutes (on the previous version it lasted 2 hours)

No options to control brewing strength.
---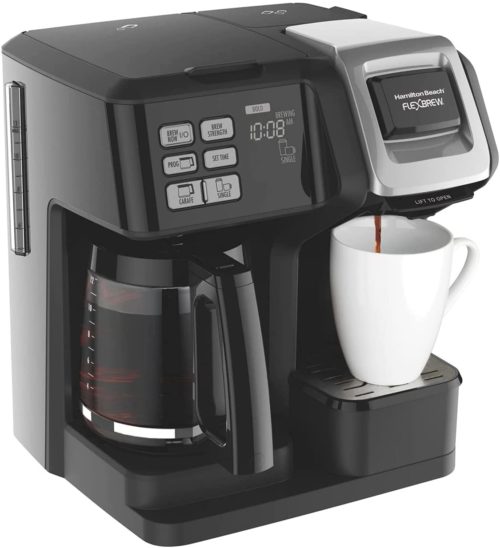 Versatility and convenience must have been in the minds of RV coffee maker designers and inventors when they were creating this masterpiece. You can choose whether to brew the full carafe or your travel mug and head out in the fields, mountains, exploration, wherever your RV has brought you.
And taking into consideration how many functions this maker contains – it's not that big, and you can easily settle it upon your counter in your RV.
Versatility
Brew a single cup, your travel mug, or the whole carafe. This coffee maker will allow you to go with all of that. Even more – you can use both – ground coffee and K-cup coffee pods and choose the strength of your coffee – something not available for the previous machines.
A space saver
When you are in a caravan or an RV space is sort of important, not that it is not enough behind your window, but inside it can get a bit cramped, well, this machine won't make any difference, it's small enough to fit the category of an RV coffee maker.
Cost and Value
Again – on the lower end of the price chart, I am making this hard if you are trying to save money – all of these machines are bliss for the price and offer great functions, but this one might as well be at the high of the list.
Pros
Pros
Compact and efficient.

Accepts ground coffee and K-cups.

Large carafe, and compatible with travel coffee mugs.

Programmable timer.

You can regulate the brew strength.

Amazing customer service.
Cons
Cons
Be sure you insert the K- cups carefully.
---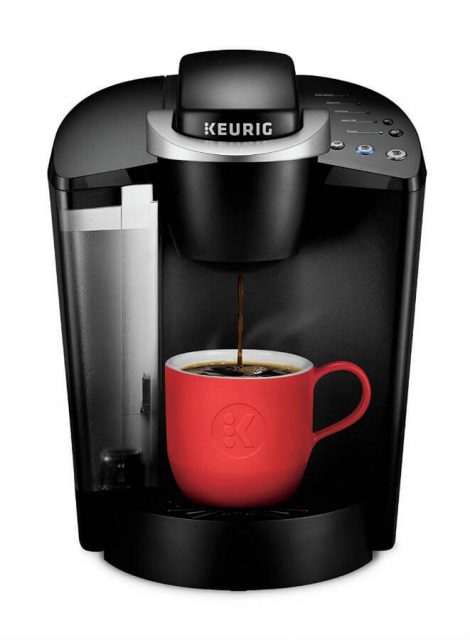 The machine we all need. A classic, what more should be said? It works like a charm with four K-cup pods of various sizes (6, 8, and 10 oz), it cleans the water with the help of 2 water filters, comes with a large water tank (48 oz), and does descaling – cleans the machine from the calcium and scale. It is small enough for your countertop and perfect for everyday use in your RV.
An auto-off function
One of the good functions of this RV coffee maker, it is easy to program to turn off your machine after two hours of inactivity saving energy and our lovely planet Earth.
Descaling
The descaling function cleans the inner parts of the machine, as the calcium can build up in the device due to the water circulation. It is essential that the coffee you make is clean and safe to drink.
Is it worth the money?
Absolutely, this machine costs less than any other on this list, true – it offers fewer functions, but it provides the most important one – making the cup of coffee that you need. And does it beautifully at that.
Pros
Pros
Two water filters with a filter holder with a handle.

Can brew a variety of cup sizes.

Cleans itself of calcium.

Auto-off option.

Can be used with reusable pods!
Cons
Cons
---
What to look for When Buying an RV Coffee Maker For Your Motorhome?
As with everything else – when considering your purchase of a coffee maker that would fit in your motorhome, there are some key aspects to take into account. The buyer's guide to the amazing coffee maker for your RV will mention these essential aspects. Briefly pointing out what you need to look out for. Everything you read here is a compilation of many hours spent browsing through opinions left by true RV passionates, coffee addicts, and those who have made the same buying journey as you are about to. Thus creating a shortcut for you.
The size of the coffee maker
The size matters, as always. How much kitchen space do you think you have in your motorhome? Think about it. When you have an image in your head – reduce it by 30%. That is the actual space you will have for your coffee maker. There will always be extra things next to your machine – filters, coffee packages, and water reservoirs. The space in your RV is minimal. And its use should be optimized as much as possible. Therefore a large coffee maker with many extras might not be a good idea.
What are The Different Types of RV coffee makers?
There are quite a few choices to choose from when hunting for a coffee maker. Starting from simple pour-over coffee makers that you can easily hang above the fireplace to warm the water. Or you can have a more sophisticated coffee maker that will fit either under the cabinet or attached to the bar surface in your camper. Or go for something else and choose a simple single-serve coffee maker for one cup at a time. 
1. Single-serve coffee makers – for those who like to travel around (of the patient ones)
The supreme part of single-serve coffee makers is that they are small. The not-so-good part – they can only brew one cup at a time. It is all good if you are traveling alone, as I often like to. But if there are more than one, or at most – two people in the caravan, it would make more sense to go for a drip coffee maker or under-the-cabinet coffee maker. They are larger and can fill up more cups at a time. 
2. Pour-over coffee maker – the ultimate space-saver coffee maker for RV
These coffee makers are great for camping in the wild. You don't need electricity to run them, just heat a pot on an open fire, pour the hot water over coffee (you will need a carafe where the coffee goes and a filter) and wait a short while for it to brew. And it is ready. 
Percolator – Percolator coffee maker is another one of my favorites and one of the ultimate tools for those travelers, who enjoy a thing called van life – basically, you get a van, transform it into an improvised living space, and hit the road. The percolator's function is simple – you pour the water in first, then place the filter, add coffee to it, put it on the fire, and wait for the coffee to brew. It is simple, and you can have great coffee with this, add some cinnamon, chocolate, or other spices to make it even better. 
Drip coffee maker – This is for those who genuinely love comfort while traveling. Drip coffee makers are bulkier and more complex than percolators or pour-overs. And they offer a lot more quality-wise. The biggest drawback here is that you need to run on electricity to use it, and the size of the coffee maker.  Of course, these are all low-wattage coffee makers so you can use them in your RV with a 12-volt power outlet or just use the 24v power outlet at the back of your car, every car has at least one of those. Some of the motorhome coffee makers are drip coffee makers. 
Under-cabinet coffee maker – Another type of low-watt coffee maker. An under-cabinet coffee maker is the real space saver in your RV and will be safer to travel with, as they are attached to the bottom of the cabinet in your RV and will not move about while driving. The under-counter coffee maker for RV is something you want if you have kids with you, too.
Looking after it – cleaning and maintenance
You will be traveling around a lot, which is the whole point of buying a coffee maker specifically for an RV. It is essential that the cleaning of the machine is easy and convenient. One of the answers here might be a pod coffee maker, like the Nespresso Vertuo coffee maker. Pods are easy to use and even easier to clean. Or you might go for something that has an auto-clean option. Or a removable water reservoir. Self-cleaning function, like the Russell Hobbs Glass Series.
The material
When looking for a coffee maker for your RV, you ought to remember one thing – it moves around. The roads will not always be straightforward and laid out like a towel on a beach. You will, most likely, go over rough terrains, hills, woods, deserts, and whatever else might get in your way during a road trip.
A coffee maker made out of glass will break more quickly than a stainless steel one. A larger unit will be harder to attach safely in your RV. If you plan it to be connected to a stovetop, that is fine, if you want to keep it securely strapped in a cupboard while on the road, and unpack when stationary – then you will need a more durable machine. All this, however, depends on your needs and plans.
Will your coffee maker run on electricity?
If you are camping overnight at a remote place with no electricity – will you need an additional generator for that? Or is it going to be enough to plug it into your car? How about the hot water? Unless you are brewing a cold brew. And for that, you don't need a coffee maker in your RV, just read this guide on how to brew cold drip coffee at home or learn how to use immersion methods for making a cold drip coffee. You can buy a coffee maker in which you can pour in hot water to brew your coffee. Or you might buy a coffee maker that plugs into your car's electricity outlet to brew it.
Will you need a coffee grinder?
If you like to grind your beans, this is a point worth considering. A more complex coffee maker will often come with a built-in grinder already. But we are not going for a more complicated coffee maker for our RV. We are going for a light, space-saving, quick, and efficient coffee maker. Those, most likely, don't have a built-in coffee grinder.
Of course, you can always take pre-ground beans with you, whether you need beans for espresso, cappuccino, or just for a french press cup of coffee.
But if you are into grinding them yourselves – you need to think if you would instead use a hand grinder or electric grinder.
When you have considered all the arguments described above, you may think of the coffee maker that would be a better fit for your individual needs. Then it is time to start looking for a good device. And, lucky for you, we have already done that, picked our perfect options, and laid them out for you. Take a look and feel free to ask if anything is left unclear.
Closing Thoughts on best RV coffee makers
Your RV, your traveling house, your choice. I hope I did help you make your well-informed decision. If you want to know anything specific – drop me a message. 
And, to get you inspired to go on a vacation in an RV, here's a video from KeepYourDaydream:
Coffee on the go is an excellent option, and coffee on the go ON the road is even better! You will not have to drive for many hours for a decent cup of coffee while you are on the road if you have an RV coffee maker, this says a lot. And the quality of coffee of each one of the RV coffee makers is high enough to satisfy even the highest hopes and demands.  Choose your coffee maker wisely, use it with care, and it will serve you for a long time.
FAQ's about RV coffee makers 
What is an RV coffee maker?
An RV coffee maker is a compact coffee brewing device designed for use in recreational vehicles (RVs), motorhomes, and campers, allowing you to make coffee while on the road or at a campsite.
What types of RV coffee makers are available?
RV coffee makers come in various types, including drip coffee makers, single-serve coffee makers, and portable espresso machines. The choice depends on your preferred coffee style and available space in your RV.
Are RV coffee makers 12-volt or 110-volt powered?
RV coffee makers can be either 12-volt or 110-volt powered. 12-volt models are suitable for use in RVs without the need for a generator or shore power, while 110-volt models require a power source.
Can I use RV coffee makers outside of my RV?
Yes, many RV coffee makers are designed for outdoor use as well. You can use them at your campsite or picnic table, allowing you to enjoy coffee in the open air.
Are RV coffee makers easy to clean and maintain?
Most RV coffee makers are designed for easy cleaning and maintenance. Look for models with removable and dishwasher-safe parts to simplify the process.
How do RV coffee makers handle power fluctuations in an RV?
Some RV coffee makers are equipped with voltage stabilizers or surge protectors to handle power fluctuations commonly encountered in RVs, ensuring a consistent brewing experience.
Can I use regular coffee grounds in RV coffee makers?
Yes, most RV coffee makers are compatible with regular ground coffee, allowing you to brew your favorite beans while on the go.
What are the size and weight considerations for RV coffee makers?
RV coffee makers are designed to be compact and lightweight to fit the limited space and weight restrictions of RVs. Be sure to choose a model that fits your RV's setup.
Can RV coffee makers make espresso or specialty coffee drinks?
Some RV coffee makers are versatile and can make espresso or accommodate coffee pods for specialty drinks. Check the features of the specific model you're interested in.
Are there options for making coffee without electricity in an RV?
Yes, there are non-electric options like manual coffee makers and pour-over methods that are suitable for RVs, making them a great choice for boondocking or when you don't have access to electricity.
What safety features should I look for in an RV coffee maker?
Safety features may include automatic shut-off, overheat protection, and durable construction to ensure safe operation in an RV environment.
Can I use an RV coffee maker in a regular home or office setting?
While designed for RV use, many RV coffee makers can also be used in a standard home or office, making them versatile appliances.
Are RV coffee makers compatible with RV inverters?
Some RV coffee makers are compatible with RV inverters, which can convert DC power from your RV's battery into AC power to operate the coffee maker.
Do RV coffee makers come with travel mugs or cups?
Some RV coffee maker models include travel mugs or cups as part of the package, while others do not. Check the product details to see if they are included.
What is the price range for RV coffee makers?
The price of RV coffee makers varies depending on the type, brand, and features. You can find options to fit various budgets, from affordable to high-end models.