Home coffee roasters – the next step on your coffee journey!
You are ready to step up your coffee brewing game and to roast coffee at home is a logical next step. Before that happens, tho, you need to pick your home coffee roaster. One that you can not avoid, and one that you will never regret! Home coffee roasters offer the possibility to discover whole new blends. Lets you learn a lot more about the origins of coffee and how they behave under heat. Once you have scented the aroma of freshly roasted beans, you can never go back to buying them in your local shop, no matter how inconvenient it might be. 
There are other benefits to roasting your coffee at home. One of the biggest is that you will have the freshest beans possible. Another factor is – green beans are cheaper. And the third point – you'll love it! The process, the smell, the work and energy you leave there, and the satisfaction for your first perfect roast. 
First, to get you started we have made our Top 5 selection of best home coffee roasters for you. We have something for those who are new to this, and for those who want to upgrade their current home roasting gear.
TOP5 best home coffee roasters!
1. Fresh Roast SR540 –
Best home coffee roaster for beginners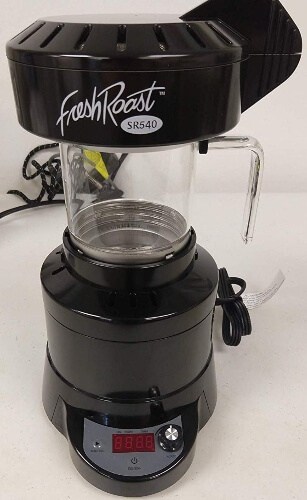 The Fresh Roast SR540, the successor of the SR500, is the perfect tool for those who are new to roasting beans with anything else than a popcorn popper. It is easy to use and understand intuitive controls and simple but sturdy design.
Most coffee connoisseurs would suggest starting with the FreshRoast SR540 as it provides decent control over the roasting process. With this small coffee roaster, you can roast 4oz (or 120 grams) of beans at a time. That is more than enough for a few cups and will last you a few days. It has a real-time temperature display. However, since the temperature is measured where it enters the chamber, it might slightly vary the actual temperature within the chamber. If you want to be completely precise, you should use an infrared thermometer for that.
The fan provides a constant and throughout movement of hot air between the beans. It also makes them tumble around the chamber for an even roast. It operates on the fluid bed roaster principle. 
Pros
Great control over the timer, fan, and temperature. 

Quiet enough so that you can hear the cracking of the beans. 

3 minutes cooling stage – works like a charm.

Simple enough for anyone new to roasting to pick up this art.
Cons
The chaff collector does not always collect all of the chaff.

 

On the lower settings, the fan is too weak, the lowest you can go is on setting 3 for it to be efficient, but that is enough for a good roast.
2. Gene Cafe CBR-101 –
Home Coffee roaster for knowers and professionals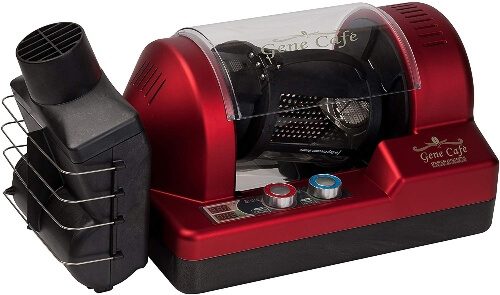 One of the best home coffee roasters that are capable of roasting larger batches of beans of up to 8oz. The Gene cafe coffee roaster offers great control over the roasting process. Its 3D off-axis drum rotation system provides an even and throughout roast to all the beans while decreasing the overall roasting time down to around 15 minutes per full batch. One of its best qualities is the quietness with which it operates. Meaning you can safely use it in your house without troubling your family and neighbors. It also has a smoke reduction system in place for your darker roasts.
The temperature and time controls can be adjusted before and during the roasting providing you with great adjustability over the process. The chaff collector is large and highly effective in collecting all the chaff from the drum. 
The best part yet – you can see the beans clear;y during the process. So you do not need to trust that your time and temperature settings are correct (even if they are impeccable). You can see the beans at all times and just hit the stop butting when you see that they have reached the perfect roast level.
Overall, this is the best small coffee roaster for home use for both – those new to this and those who have had some practice already. Although this coffee maker stops short at the higher end of the price tag, it is well worth it, much like the Apple products.
Pros
The capacity of nearly 8oz (250 grams) – enough for a week's worth of coffee even for the most demanding of us.

15 minutes roasting time – for a full batch of 8oz that is impressive.

3D off-axis rotation – ensures an even roast every time.

120v power outlet.

Very quiet and efficient. 

Easy to ventilate and clean.
Cons
Difficult to hear the cracking of the beans (not due to it being loud, but because the noise is well insulated).
3. KALDI coffee-W –
Favorite amongst baristas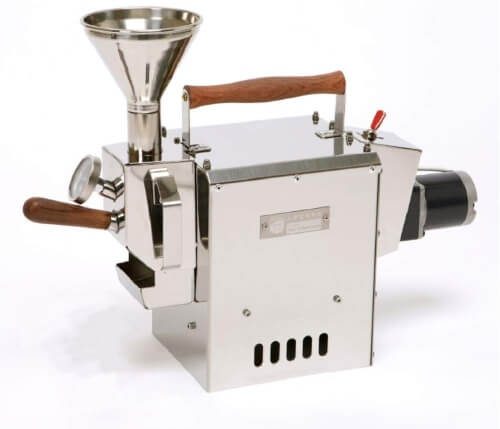 South Koreans love their coffee, so it should not come as a surprise that they also know how to make the best home coffee roasting equipment, too. The KALDI coffee W is made following the best traditions of Korean engineers – sleek, sturdy-looking and modern, with some rough edges and lots of stainless steel. 
You will need a gas burner to this coffee roaster, as well as an electrical outlet to work the drum and make it go around. But that is the traditional way of roasting beans and one that is preferred by most baristas. You can use a stovetop gas burner for this coffee roaster if you want. 
You will have great control over the roasting process. Being able to manipulate the time and temperature of the roaster. Pro advise – write down your settings every time you use it to be able to return to what settings were best for you to be able to replicate the results. This is not a machine that you can simply turn over, walk away and then get back when the roast is finished. You will need to keep an eye on it and tweak the settings along the way for the perfect roast. The best part is that it is able to develop complex roast profiles.
Pros
Convenient control over roast with the gas burner.

The cooling cycle can be started right after the heating is over.

High-quality corpus with few components.

The drum roast system provides larger capacity.

Precise built-in thermometer.
Cons
It smokes a lot for darker roasts, so – use it outdoors for that.

The gas burner comes separately from the coffee roaster.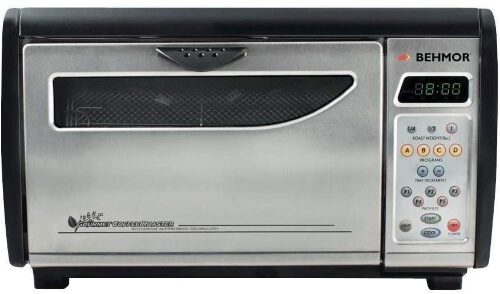 Getting close to the professional level roasting of baristas and industrial coffee roasters. This home roaster comes close to the point where it is not considered only for home roasting, but also considered as one of the best coffee roaster machine for small business. It offers true functionality control over your roast, trumping any other roaster on this list. But for a fair price, of course. 
As with other high-end coffee roasters, this is not something that you can turn on and walk away. Constant attention is required for the best performance. And it does not matter that this roaster comes with an auto-off function. If you are ready to buy this roaster that means you are truly into coffee roasting and would not leave it unattended anyway. 
This roaster has five customizable roast profile settings that will allow you to repeat your results of best roast batches. It features a highly effective cooling system, removable chaff tray, which makes it super-easy to clean and maintain. However, it is not meant to roast Vienna, French, Italian or darker beans.
Pros
Capacity of 1 pound coffee roaster – the largest capacity among home roasters.

High control over roast profiles (5 customizable roast profiles). 

 Smoke suppressor works great and the roaster can be used in the kitchen.

  Great manual features.

 Best price to features ratio.
Cons
Can not roast Vienna, French, Italian or darker beans.

Somewhat difficult to insert the drum requires some practice and patience.

Not for the beginners.
A simple, affordable ceramic coffee roaster that will require constant attention and care – every batch you make will be better than the previous. You must truly love the process of roasting beans manually, to buy this one. And why not, it relaxes me, for example. And we all love the smell of freshly roasted coffee beans. No noise except for the swishing of the beans and the sound of the first (or second) crack.
You can take this piece of coffee roasting equipment anywhere you go. To use it you just need a source of heat. Note that the induction heating surface won't do with this one. 
Since it is made out of ceramic the cleaning is very simple – just wipe it down with clean cloth and it is done! Tkas all five seconds of your time!
This is the PERFECT tool to get you hooked on the roasting process. You will love the smell of freshly roasted beans so much that you won't ever want to go back to pre-roasted beans that you used to buy in the shops. And, once you have gotten to know the roasting process better you can upgrade to something more sophisticated. 
Pros
Super-cheap and easy to use. 

The handle is made out of rubber, so it does not burn your hands.

You can take it anywhere you want.

You can check all relatable pages that feature this project in your search for reviews.

That includes various Amazon pages (.de, .fr, .it, .com, .co.uk, etc) as well as other online shops.
Cons
Hot beans may fly out of the handle – watch your hands when shaking the roaster!

Small capacity of 1 to 2 oz (30 to 70g).
Why should you roast coffee at home?
I know that you know that coffee starts losing its aroma as soon as the roasting process is finished and the beans come out of the coffee roaster. Even though I have told many times before that nothing tastes better than coffee brewed using whole coffee beans that you grind yourself – something can taste better. 
The beans that are roasted before packed, although done with the best coffee roaster machines, start to lose the aroma and freshness right after you take them out of the roaster. Meaning – you will never get the ultimate cup of coffee unless you roast and grind the beans yourself. 
That is where the home coffee roaster comes in. Nowadays you can buy a good home coffee roaster machine for a decent price and start roasting the beans yourself. There are small coffee roasters that will fit easily on your countertop or in your motorhome if you like to travel much and use gas stoves or burners. And larger roasters that you can plug-in electricity. 
Coffee roasting can be fine art, it can also turn disastrous
You can become a true coffee guru by learning more about the process of how a green coffee bean from a field somewhere in Colombia or Brazil ended up in your house. Learning about the process of coffee roasting and the differences between roasting degrees can be fun, and a great conversation starter anywhere you go (especially in coffee shops).
And what is even better – you can adjust the taste to your preferences. You can experiment with blends, origins, roasting types, and degrees. The possibilities are endless, and you can learn about it your whole life. 
So, I have you convinced of the coffee roasting benefits at home? The roasting of coffee really does sound great, but how to go about it? There are several factors you need to consider before buying your own coffee roaster. 
Types of coffee roasters – the first thing you need to learn
There are two types of coffee roasters. Not only when roasting coffee at home, but also when roasting coffee commercially. Air and drum roasters. The air roasters are generally considered as a small batch coffee roaster with fewer beans being roasted at a time. Air roasters can usually do a portion for one of two people at a time.
Whereas drum roasters are used in industrialized processes as this type of roasting can roast larger batches of beans at a time. Most people prefer air roasters over drum roasters for home use as home drum coffee roasters, tho smaller, takes longer to roast the beans than the air roaster. The reason for that is that there is something artistic to using the air roaster, you have to find the perfect balance between the heat temperature, the roasting time and the bean profile. Only then you will have the best roast, it is hard to achieve, but once you have done it, the joy and proud is immense. 
Air roasters
Air roasters use heated air to roast the beans, the beans do not touch the surface of the container, thus avoiding the burning. Instead, they are tumbling around pushed by the heated air. These roasters do the job more quickly, and the best coffee roaster models give the user a lot of control over the roasting profile, allowing to adjust the roast to your preferences. 
Drum roasters
Drum roasters work more slowly than air roasters. But they will be able to roast larger batches of beans at a time. It depends on the size of the roaster you have, but these machines will produce about 8 to 12 oz of coffee beans from one batch. As it is with the air roasters – the more you pay for the roaster the more control over the roasting process you'll have. 
Electric roasters or stovetop?
Then you have another choice to make – whether to go for a roaster that is simple and basic to use – one that goes on top of an open fire or a stove. Or to go for a more complex machine that will use either a gas burner or will be plugged into an electricity socket. For a personal coffee roaster, you can go both ways. But before deciding think of how you are going to use your coffee roaster. 
Stovetop roaster
A roaster that is meant for a stovetop will be perfect if you are looking for an inexpensive, portable coffee roaster for your beans. The most popular choice in this category would be the ceramic coffee roaster. One of the most popular choices here is the Nuvo Eco Ceramic Handy Coffee Bean Roaster. However, with these roasters, you will need to pay more attention to listen for when the beans start to crack and they need constant attention. You will need to shake the roaster by hand quite often to stir the beans around, otherwise, they would get burnt. 
Electric roaster
An electric roaster is gaining popularity between home coffee roasters because of the ease of use, convenience and the level of control they offer. One of the most visible roasters in this category is the Fresh Roast SR540. Most famous for its ease of use and diversity, it can only roast 4oz or 120 grams of coffee beans at a time, but it comes with a wide variety of various settings. 
Coffee roaster capacity
Air roasters are smaller and drum roasters are larger and can roast larger quantities. 
Usually, it is enough with a capacity of 8oz. (250 grams) to roast enough beans for a few people that would last for a week or so. It is a good idea to figure out how much coffee you consume in a week, for example, and then see which roaster capacity you would need. Larger coffee roasters are available, too, for example, 1 lb coffee roaster, which would amount to holding about 450 grams of coffee, but those are more industrialized and costs way more (not to mention that you don't really need a roaster with that capacity at home). A small coffee roaster is better. 
Controlling the roast
How much control do you need? Is it enough just to flick the switch, set the timer and go brew a cup of coffee (time and temperature control) while you are waiting for your beans to roast? Or do you want to have full control over the roasting process? Including creating and saving roasting profiles and preferences for increased consistency or roast over longer time periods? The basic rasters will offer you only the roasting time control. Whereas more expensive equipment can provide you with time, temperature, condition, various regimes, smoke suppression and more. The more money you are ready to spend on the roaster, the more control you get. However, I would suggest starting small. Buy something basic to see how you do, once you have learned what to look for and how to roast, you can upgrade. 
Cooling the beans
This process is as important as the roasting itself. In industrial coffee bean roasters, one of the most important aspects is cooling. Once the desired level of roast has been achieved, the beans are then transferred to a special tray and cooled down as quickly as possible. Roasting of beans is a fine art that requires high precision to get the best result. If the cooling process is not immediate and efficient, the beans will continue roasting, exceeding the ideal roast time. 
It is the same story with home coffee roasters. Although it is not that important when doing it at home for small-batch coffee roasters as you can always do more experimenting. 
What is the cooling process?
So, when buying a home coffee roaster find out what is the proposed cooling process for your roaster. Some of the roasters will use cool air to cool the beans down. More expensive roasters will have special, separate trays where the beans will go, to have them cooled down much quicker.  
Cold air cooling means that cold air will be blown over the beans once the roasting is finished. This is a not-so-effective way, as the heat is not dispersed quickly enough. 
Special tray involves the beans being dropped in a special tray outside the roaster where they are cooled down much quicker. 
Ease of use and Cleaning your roaster
Lucky for us, home roasters are very easy to use, most of them are a one-button operated roasters where you don t have that much control over the roasting process. Usually, you will only get to manipulate the time and temperature of the roaster. And you don't really need much more as those are the two main variables for any roast. For commercial roasters, you have much larger control, including the level of moisture, pressure and so on.  
How easy is it to clean the roaster?
Easy, they are not very complicated and a wet cloth after each roasting session will be enough.  Every now and then you will need to bring it in for annual service – where it gets opened up, cleaned properly and checked the roasters' overall status.  
What about the smoke? When roasting, some roasters will have smoke reduction systems in place, but even with those, when roasting darker beans, there will be a lot of smoke. Consider this when you buy the roaster – perhaps you will not be able to keep it in your kitchen? Spend a little more to have a smoke reduction system.
Is it noisy?
Some of the roasters can get quite loud during the roasting, look for the models that are quiet if that is important, one of the more quiet brands is the Gene Cafe CBR-101 Home Coffee roaster, but there are others, too. Check the specifications and cons and pros lists for the roaster you intend to buy. 
FAQ
What are the roast types?
There are four standard roast types. Light, medium, medium-dark and dark. In contrary to what most people think, the most caffein is not in the dark roast coffee beans, but in the light and medium-light roast. 
Light roast – roasted in the temperature between 350°F and 400°F, at this temperature the beans will not reach the first crack and will gain a light brown color. 
Medium roast – roasted in the temperature between 400°F and 430°F, in the roasting process they will acquire a darker-brown color and will be less acidic. 
Medium-dark roast – roasted in the temperature between 435°F and 445°F. Here the beans are roasted until right after the second crack. 
Dark roast – roasted in the temperature between 465°F and 480°F.
How long do coffee beans need to Degas?
This is important to know! When coffee is roasted, there are various gasses forming within the beans. Most of it is carbon dioxide. The degassing process can take somewhere from 2 days to 3 weeks, depending on the coffee itself. Darker roasters will take less time for this process than lighter roasts.
What you need to know regarding the degassing process is that you should not use the coffee beans right after roasting is finished. First of all – too much carbon dioxide will ruin the taste of the coffee, you have to let it bloom for at least 12 hours before using it. For most coffee types the optimal resting time would be around 2 days, sometimes more. 
When can I drink coffee after roasting?
After the roasting, you should always let the coffee beans breathe for a while, in most cases 24 hours would be enough. During this time the beans will release most of the CO2 that builds up during the roasting process and the coffee will taste better. 
How long do roasted coffee beans last?
Remember to always roast just enough beans to use them in a short period. After the beans are roasted it is best to use them within a week, then just buy or roast another batch. You can keep the beans for up to 10 days, but more than that and they will start to lose the aroma and will become stale and not tasty.
Final words
When you are interested in coffee more than just getting the first cup in the morning from your local coffee store. When you think about coffee brewing as a form of art, which it is. You start to notice how many things there are to learn. First, you need to master various coffee brewing techniques (there are quite a few). Then you realize that maybe, just maybe, buying pre-ground coffee beans from the shop is not your style anymore (there is nothing wrong with that tho, those beans are great). And you would like to invest in some good coffee grinders, as you realize that you are losing some of the freshness by buying the pre-ground coffee.
Once you get the hang of brewing, grinding the coffee beans, the next logical step is to start roasting them, too. It takes practice, patience, and will bring the best results from your failures along the way. Nevertheless – there is nothing better than the smell of freshly roasted coffee beans early in the morning, or late into the night. Need an inspirational story? Read this interview with an aspiring coffee roaster Sara Gibson, by the Roasters Guild.