Vanilla Iced Coffee For A Coffeelicious Desert You Will Love. This recipe is for the ones who love coffee in their desert. You will definitely get hooked on this. Make it in tiny shot glasses and serve it to your guests. You will just have to be ready for a lot of compliments and appreciation.
Vanilla Iced Coffee
A Vanilla Iced Coffee is a cold or iced coffee made with Coffee, Vanilla Syrup, Vanilla extract, or Vanilla iced coffee creamer focusing more on flavoring the coffee with vanilla.
Vanilla Iced Coffee recipe
This stylishly brewed yet simple coffee is perfect for a summer sit-down. It is quick, simple, and easy to make with just 2 essential ingredients.
Basically, as the name says a Vanilla Ice Coffee is a vanilla-flavored coffee poured and served over lots and lots of ice. This Vanilla iced Coffee recipe is a perfect way to kick-start your day. It is an ideal drink to get your caffeine fix and still stay refreshed all through the summer.
Vanilla Iced Coffee Recipe – Ingredients, Method of Preparation
Here is a simple Vanilla Iced Coffee Recipe.
Ingredients
Coffee – This can be espresso coffee, filtered coffee, or any other coffee… just brew it your regular way.

Ice Cubes – Ice cubes dilute the taste of coffee, so if you are worried about not getting your coffee shot, then you can make an extra strong coffee shot by reducing the amount of liquid added or just make coffee ice cubes.

You can use 2% milk or plant-based milk your perfect opinion here is Almond milk.

Sugar is the one you usually use in your coffee or you can use maple syrup.

Vanilla – Pure vanilla extract is the most suitable for this recipe. You can also use the seeds of a vanilla bean and infuse them in hot coffee. This will bring out the vanilla flavour more. 
You can also make homemade vanilla syrup, by heating maple syrup, Vanilla extracts, and 2 tablespoons of water in a saucepan and letting it infuse for 5 minutes.
Directions
Make your usual coffee how you do normally and let it cool completely.

Fill a large glass with ice or even better coffee ice cubes.

Now add in the sugar and vanilla extract or add them directly into your hot coffee.

Pour in the cooled coffee over the ice cubes, and stir with a large teaspoon.

Enjoy.
Iced Latte Coffee
The addition of the milk sweetens the taste of the black coffee and brings out the sweet vanilla flavour. This will make your drink even more delicious.
Other recipes with Vanilla Iced Coffee : 
Another delicious dessert involving the Vanilla Latte Recipe is the
1. Vanilla Latte Cake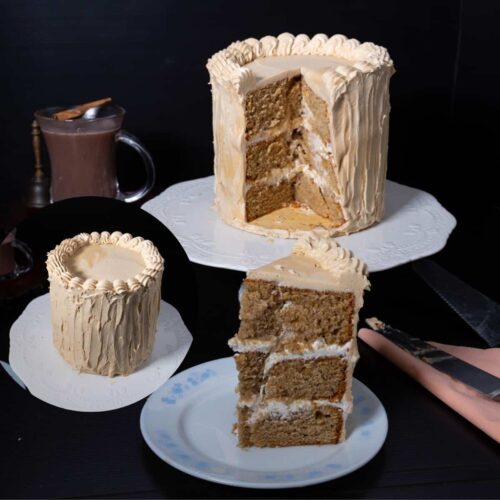 Ingredients
2 ½ cups all-purpose flour.

2 ½ tsp baking powder

¾ tsp salt

1 cup milk (room temperature)

1 Tbsp instant espresso powder

¾ cup unsalted butter

1 ½ cups granulated sugar

3 large eggs

1 tsp vanilla bean paste
Vanilla Latte Buttercream Ingredients
6 large egg whites

2 cups granulated sugar

1 ½ cups unsalted butter at room temperature

1 tsp vanilla bean paste

2 tbsp instant espresso powder, not granules
Directions
Preheat oven to 350F. Grease and flour three 6" cake rounds and line them with parchment

In a medium bowl whisk flour, baking powder, and salt until well combined. Set aside.

In a small measuring cup, combine room-temperature milk and espresso powder. Stir until dissolved and set aside.

Using a stand mixer fitted with a paddle attachment, cream butter, and sugar on medium-high until pale and fluffy (approximately 3 minutes). Reduce speed and add eggs one at a time fully incorporating after each addition. Add vanilla and vanilla bean paste.

Alternate adding flour mixture and espresso milk, beginning and ending with flour (3 additions of flour and 2 of milk) fully incorporating after each addition.

Bake for 30 – 35 mins or until a toothpick inserted into the centre comes out nearly clean.

Place the cakes on wire racks to cool for 10 mins then turn out onto wire rack to cool completely.
Assembly
Place one layer of cake on a cake stand or a serving plate. Top with approximately ⅔ cup of buttercream. Repeat with the remaining layers. And crumb coat the cake. Chill for 20 minutes.

Frost the top and sides of the cake and smooth with an icing smoother.

Do a swirl pattern on the sides and top of the cake. Rotate the turntable while pressing a small offset spatula into the frosting. Start at the bottom and slowly move up to the top of the cake.

Pipe small dollops on top using a 6B tip, with the remaining frosting. Decorate with whole coffee beans if desired.
2. Coconut Vanilla Iced Coffee with Coffee Whip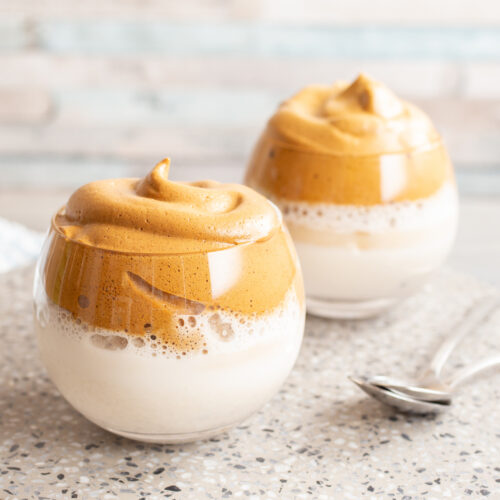 Ingredients
1 cup strong pour-over coffee

3 cups unsweetened coconut milk beverage

2 tsp pure vanilla extract

¼ cup hot water

¼ cup granulated sugar

2 tsp espresso powder
Directions
Pour the brewed coffee into an ice-cube tray, and freeze. In a pitcher, combine the coconut milk and vanilla. Store in the fridge until ready to use.

In a large bowl add the water, sugar, and espresso powder, and whip with an electric hand mixer for 4-5 minutes or until soft peaks form. Alternatively, you could also whip it by hand using just a whisk. This should take about 8 – 12 minutes.

Now for serving first add the coffee ice cubes to a glass, Fill half the cup with vanilla milk, and top the other half with whipped coffee. Serve
Note: The coffee whip can be re-whipped if it starts to defeat before it is served.
Storage: The vanilla coconut milk can be stored in a container for up to three days.
The coffee cubes can be stored in trays in the freezer for up to a week.
This is such an elegant little cup of happiness and is sure to be a crowd-pleaser. You could also present it to your guests in a large transparent jar and have them come in for seconds and thirds.
You can also check:
You can also visit foodiewish.com for more food-related blogs.