For a coffee art enthusiast, barista, or anyone else who enjoys a freshly brewed cup of coffee. Whether you are at home or at your favorite specialty coffee shop in the world, brewing coffee via the French press method is one of the best ways of making a cup of fresh coffee.
And one thing they all know is this – to get the brew just right, the correct grind is crucial for the whole process. If you want to know how to choose the best coffee grinder for yourself and what exactly to pick, then read on. I have prepared for you this guide to the Best Coffee Grinders for French Press.
Top 10 Coffee Grinders For French Press Method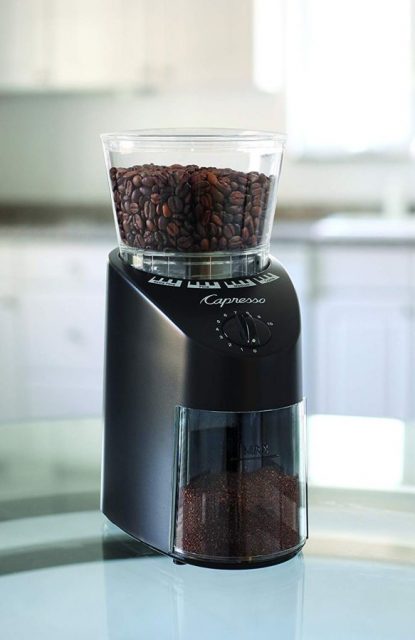 Capresso's Infinity Conical grinder prides itself as the lowest-noise burr grinder in the market. One thing is obvious though, it is an elegant grinder with a timeless design.
The all-black grinder has a very wide grinding spectrum. You could set it to produce ultrafine Turkish to coarse grounds. In other words, getting your preferred grinds for French press coffee with this grinder is just routine.
The grinder at the top is covered by a tight-fitting transparent container that can hold up to 9 oz. of your fresh coffee beans. It comes fitted with a gear reduction motor that grinds slow with a minimal static build-up and reduced noise levels.
The fully computerized unit comes doesn't come cheap though. But for a multi-featured unit, it would be money well spent.
Pros
Pros
Comes with 16 grind settings
It has a built-in timer
Steel burr grinders
It is durable
Cons
Cons
Can be a bit noisy
Jams occasionally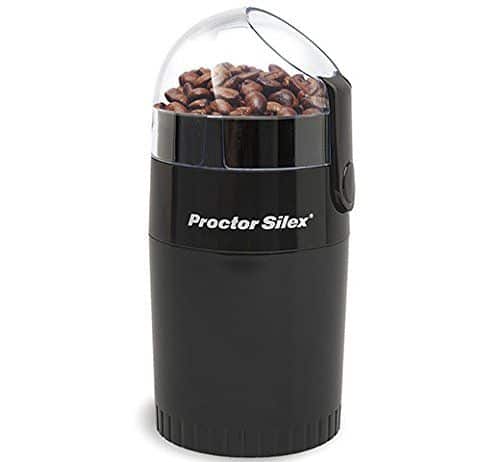 If you want a simple, compact coffee grinder without frills and complications for your French press brew, this Proctor Silex model would do the job without fuss.
The Euro-style black color design with a half-spherical transparent container at the top is really cute. But don't let the cuteness deceive you: it grinds competently and can really surprise you with its versatility.
The grinder comes with a retractable cord making it easy to pack for storage and very efficient stainless steel blades.
The unit grinds semi-coarse coffee and very fine grinds too. Obviously, you would be more interested in the semi-coarse grinds for French press.
Proctor Silex's E167CYR coffee grinder is arguably THE grinder for French press if you are on a tight budget and looking for something really affordable and durable.
Pros
Pros
Doesn't cost a fortune
Has a retractable cord
Very durable
Easy to clean
Cons
Cons
Dust and grinds get into the body of the grinder easily
Small size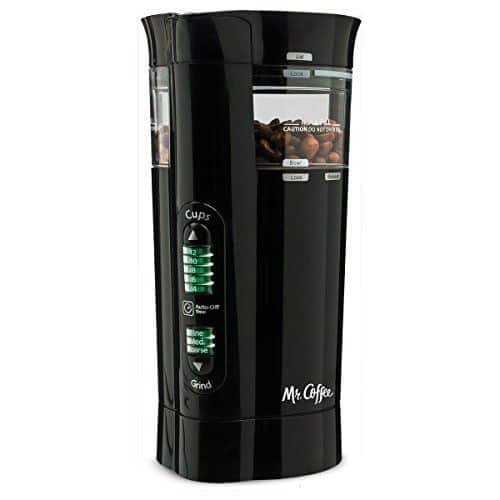 This Mr. Coffee's coffee grinder is an automatic, sleek, cylindrical machine with an all-black glossy color.
It has a removable grinding chamber, expansive upper collar, flip-top lid, cord storage, and a unique 'Chamber Maid Cleaning' system.
The Chamber Maid Cleaning feature is designed to clean the chamber walls. It does this by efficiently scrubbing grounds thereby eliminating potentially messy coffee remnants. This results in optimal use of coffee beans by the grinder.
This is an easy-to-use multi-setting grinder with settings for medium and coarse grinds that are perfect for French press coffee.
Like Proctor Silex's product above, this grinder is also very affordable.
Pros
Pros
Very cheap
Can be cleaned in a dishwasher
Would grind the exact amount needed for brewing
Durable grinder
Cons
Cons
Short power cord
Not easy to clean
Check Price on Amazon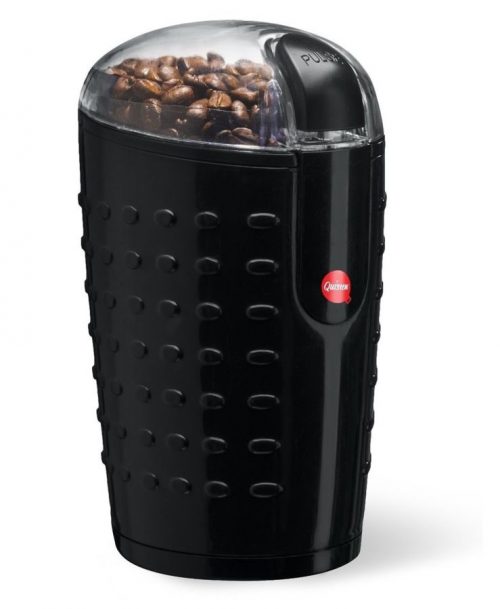 Quiseen's One-Touch Electric Coffee Grinder is a black, compact, easy-to-use coffee grinder with a capacity to yield up to seven cups of French press coffee.
The coffee grinder comes with durable stainless steel blades, a strong electric motor, a unique 'grippable' surface, a transparent lid, and a power cord that is built-in for easy storage.
Because it is a compact grinder, the grippable surface comes in handy when you need to hold it down while grinding your coffee beans. It eliminates the chance of the unit slipping from your grip.
The One-Touch design ensures you don't have to go through a series of hoops before getting your coarse grinds for your French press coffee. Simply press the button and it would quickly and efficiently grind your beans.
For a compact, sleek unit, the price is just about right compared with similar grinders.
Pros
Pros
Has durable stainless steel blades
It is quiet and cheap
You get specific coarseness fast
Compact and lightweight grinder
Cons
Cons
You have to hold the button down when grinding
It can get messy and requires regular cleaning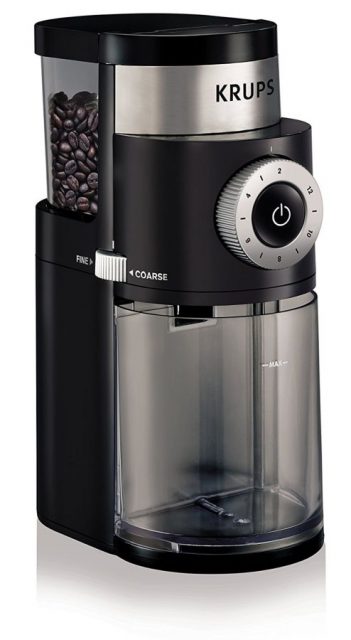 This electric coffee grinder from KRUPS ticks all the right boxes if you want a many-featured, metallic burr grinder for your French press brew.
The sleek, bold design and craftsmanship make it a good addition to any kitchen.
For your money, you get features that include the option of nine grind levels, a quantity selector between 2 and 12 cups, an auto-stop safety mechanism, and an 8 oz. bean container.
The black-colored machine would grind your coffee quickly and efficiently without getting overheated even if you push it to the limit.
In terms of cost, it is almost a steal considering the design, functionalities, and features in it.
Pros
Pros
The price is a bargain
Has multiple grind levels
The auto-stop feature is great
Large capacity
Cons
Cons
Hard to clean the grinder
Grinder dial might be hard to read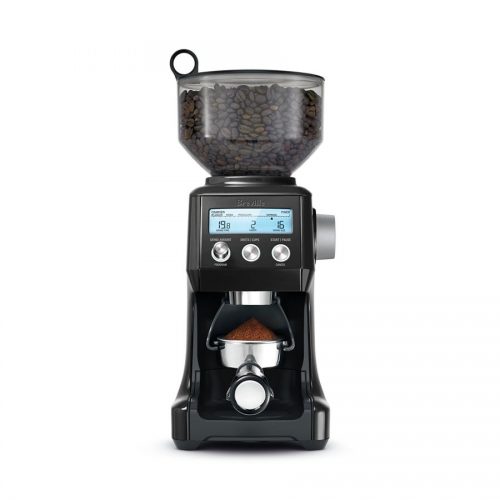 The Breville Smart Grinder Pro is a fully automated, stainless steel conical burr grinder that is optimized for power consumption and the protection of the essential oils in the coffee beans.
Whether you chose the sesame black, cranberry red, or brushed stainless unit, it instantly makes your kitchen or coffee table more attractive with its smooth modern design.
It features 60 grind settings, Precision Electronic Timer, a huge 16 oz. bean capacity, and a locking system for easy storage, removal, and transfer of the bean hopper.
The Precision Digital Timer allows you to program and adjust the grind time. This gives you full control of the dose you want all the time. This unit is not cheap by any means. But this is the norm for a fully automated burr grounder with an LCD display.
And for your money, you will get one of the best coffee grinders for French press coffee (and many other types).
Pros
Pros
LCD display
Stainless steel conical burrs
Grinds directly into the filter of choice
Comes with a burr cleaning brush
Settings are intuitive
Cons
Cons
Not that cheap
It is noisy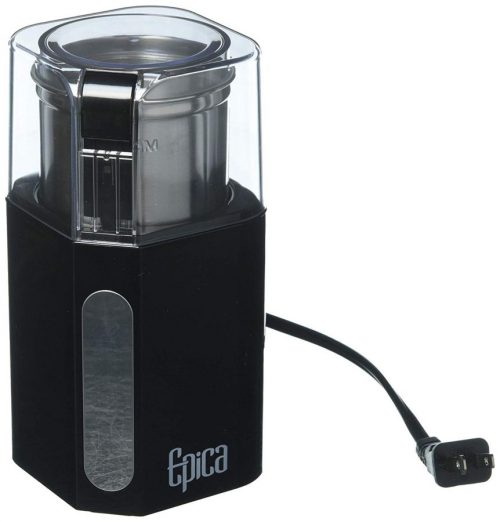 Epica Electric Coffee Grinder is a rugged-looking machine with a stainless steel finish. Suitable for the morning rush and tight schedules, it comes with a see-through lid to monitor the grounds so you get the texture that is perfect for your French press coffee.
Other features include a detachable stainless steel grinding cup for easy cleanup, a safety lock, stainless steel blades, and a large activation button for extra comfort.
The safety lock feature ensures the unit won't work when the lid is removed. This is a safety function that keeps the fingers safe from harm.
Epica's coffee grinder is also modestly priced like the Quiseen One-Touch grinder.
Pros
Pros
Dishwasher-safe
It is not loud during operation
Powerful motor designed for fast grinding
Sturdy and rugged
Cons
Cons
The motor is not durable
The lid does not seal well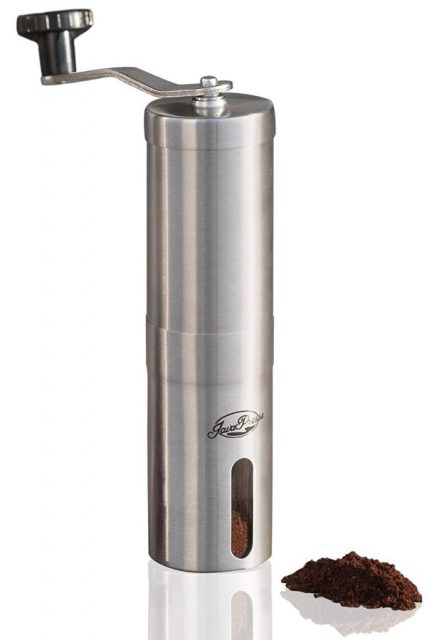 If you love your early morning coffee but hate all the noise of electric grinders, JavaPresse Manual Coffee Grinder is arguably your best alternative to electric grinders.
It is a conical burr grinder shaped like a cylinder with the crank at the top. You can't ask anything more from a manual grinder as it has everything you'd need in a grinder.
It has 18 built-in adjustable grind settings ensuring you have complete control over the coarseness of your grinds.
Requiring no battery or power cord, the stainless steel grinder also features a removable hand crank. This is designed to work with less than 90% of the noise generated by electric grinders.
This very practical burr grinder comes at a pocket-friendly price making it one of the best-selling coffee grinders today.
Pros
Pros
Very easy to use
Relatively quiet compared to electric grinders
It is rugged and very durable
Multiple grind settings to get preferred consistency
Cons
Cons
Small size
Requires patiente to get a good grind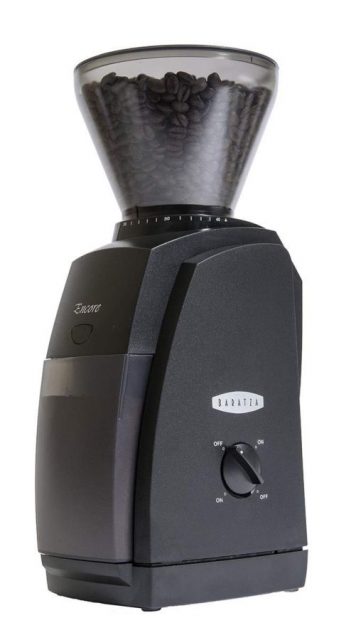 There is very little not to like about the Baratza Encore Conical Burr Grinder. For a conical grinder that offers so much, the design is simple but doesn't compromise on the quality of the grind.
The grinder has a whopping 40 grind settings. In other words, any kind of grind texture you wished for can be obtained with it. Crucially, the grinding speed is optimized for fast grinding without over-heating the unit which could affect the taste of the brew.
Despite how awesome it looks, it is very simple to operate with a front-mounted pulse button and a convenient power button. This makes it one of the best coffee grinders for the French press.
The grinder costs quite a bit. But it is not as pricey as the Breville Smart Grinder Pro above or the Baratza Virtuoso.
Pros
Pros
Durable, high-quality conical burrs
Very efficient with relatively low noise levels
Easy to operate
Motor built to keep coffee cool during grinding sessions
Multiple grind settings
Cons
Cons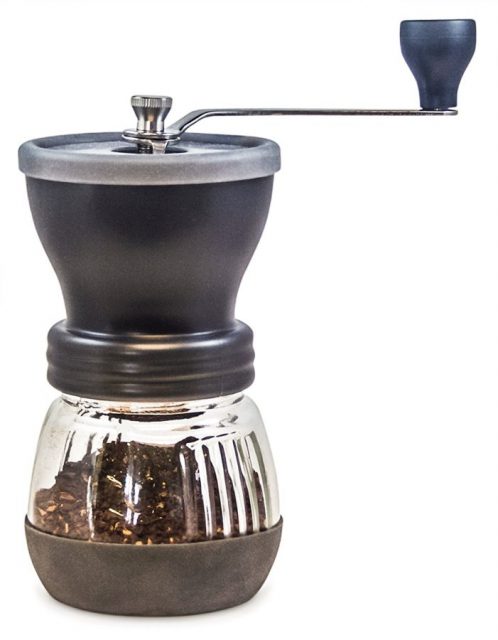 HG1B Manual Coffee Grinder by Khaw-Fee is an '8'-shaped grinder with the grinding mechanisms at the top and the glass collecting container underneath. In other words, it is a very basic grinder that does the job whenever you need coarse grounds for your French press brew.
It features a ceramic burr grinder of high quality, adjustable grind settings, a removable silicone base, and a rubber top to keep the beans from spilling out of the hopper.
The unit can be disassembled and assembled back quite easily. This is good news if you dislike wasting too much time on cleaning.
And it is only just slightly more expensive than the JavaPresse Manual Coffee grinder above. So it is still a bargain considering it has a larger coffee beans capacity.
Pros
Pros
100% money back guarantee
It is easy to use
Adjustable grind settings
It is relatively less noisy
Cons
Cons
Takes time to finish grinding
Burr shakes and feels unbalanced during grinding
Naturally, higher quality beans invariably translate to better brew flavor
No matter how good the coffee beans are, if the grinder is not right, it grinds too coarse and uneven, then you would produce a brew that is below your expectation.
So knowledge of the best coffee beans and owning the best French press coffee maker won't be any good if you have a poor grinder.
Would pre-ground coffee be a quick-fix to your grinder problem?
Up to a point, yes. But your French press brew would be decidedly mediocre. Besides, if you want to be labeled a coffee aficionado, grinding your own beans is a no-brainer. You can easily find great specialty coffee beans online – don't just go and pick up whatever beans you can from your local supermarket.
Best Coffee texture for French press coffee brew
The best grinder for a french press coffee maker would have multiple settings for different types of grinds. The grinds range from very fine to very coarse and everything in between these two extremes. And the grind size of the beans is very important for the quality and taste of the coffee.
For best results, the French press brewing method requires medium to coarse grind. That is because, at this level, the grinds provide an adequate surface area for the water to extract the full flavor from the coffee.
If the grind size is too fine, the coffee will turn out to be too strong and bits of coffee grounds will seep through in your coffee. That is because of the filter used in French coffee makers. The filter for french press coffee makers most of the time is made out of metal, like aluminum, and it is not meant to be used on fine coffee grounds. Like the ones used for espresso.
Besides, unlike other textures, coarse grind produces a brighter and more vibrant brew when they are used in the French press method.
Types of coffee grinders
Generally, there are two types of coffee grinders in stores: manual and electric.
Manual coffee grinders are hand-operated. The best part about manual coffee grinder is – they can be used outdoors.
And these coffee grinders are very convenient to use and easy to clean and maintain. They are often vintage-looking, therefore would fit in great with your interior and in an Instagram picture, whether outdoors or indoors.
Electric grinders, on the other hand, can produce a more consistent and even grind. Resulting in somewhat better quality coffee than you could get with a manual coffee grinder.
But this is subjective and depends on what quality coffee grinder you buy. And it is safe to give you this advice – it is better to spend some money on a good grinder whether electric or manual than drink bad coffee because of an inconsistent grind. And I can assure you that the taste differs, really.
Manual coffee grinders
They are easy to use. Load the coffee beans, apply the settings for the needed texture, and crank the handle to grind the beans. If you don't like a little physical exercise and don't have patience, you won't like manual grinders. Apart from that, they are cool to have around the home.
Electric coffee grinders
These grinders are automated. Load the coffee, apply your settings, and press a button to get it started. The best automatic coffee grinders have built-in auto-stop features that know when to stop grinding. They are faster and your chances of getting the best grind are higher. But some of them can be very noisy.
What to look for in the perfect grinder for French press coffee
Like most consumer products, there are so many coffee grinders to choose from. It is easy to get confused by glitzy designs and low cost only to end with a defective product or a below-average grinder.
The following are just some of the variables to look out for in the best coffee grinders
The consistency of grind – consistency of the grind is crucial to the quality of your brew. A good grinder should be able to give you consistent coarse or medium-coarse grinds whenever you need them.
Burr vs. blade grinder – sometimes, picking either a burr or blade grinder can come down to how much money you have.
Generally, burr grinders are more expensive than blade grinders. But, burr grinders tend to be more durable, give better grinds, and don't produce as much heat. I will take a look at some of the best burr coffee grinders for the French press in this article.
Steel vs. ceramic – ceramic grinder is more durable. But it is easier and cheaper to replace/repair steel grinders though.
Static – electric grinders create static in some cases. Static, which is the result of heat build-up, affects the consistency of the grind and produces off-flavors during the steeping process. A motor with a low revolving speed would lessen this problem. One upside of this is that low speed means less noise.
Conclusion
In the final analysis, the type of grinder you get would depend largely on your budget.  But you should also take into consideration your preferences. Hopefully, this guide included a variety of options to cater to different budgets and will be of use to you.
If you have any questions let me know and I'll do my best to help. You can also check an interesting article on coffee makers here.
Good luck as you go out there to get the best grinder for French press coffee brews.
And here is a nice video from Whole Latte Love on how to choose the perfect grinder, in case you like to watch, instead of reading: