10 Best Espresso Machines Under $200 That Are So Worth It. Do you crave a barista-quality espresso in the comfort of your home without breaking the bank? Look no further than our selection of 10 espresso machines under 200. These affordable yet high-quality espresso machines offer the perfect balance of convenience and quality, allowing you to whip up a delicious shot of espresso with ease. From compact and portable models to sleek and stylish designs, our selection of some of the most amazing espresso machines under $200 caters to all types of coffee lovers.
They are all small enough to fit into a small corner of your kitchen countertop, so you do not have to deal with any excess baggage in your kitchen. You will also notice that they are pretty stylish.
So, get ready to indulge in rich and flavorful espresso shots without stepping out of your home or spending a fortune.
Here are some of the 10 amazing espresso machines.
10 Budget-Friendly Espresso Machines Under 200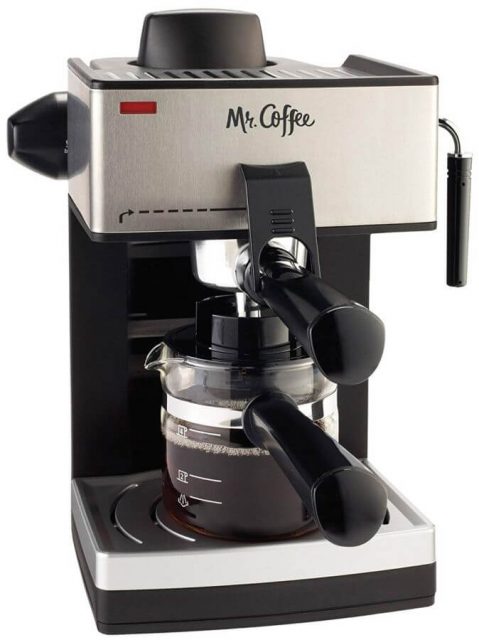 This Mr. Coffee's espresso maker would definitely be in 10 espresso machines under the 200 USD list. It is way below that price range it should be tagged as the 'cheapest espresso maker'.
Don't allow the price tag to mislead you though. This is almost a complete espresso maker with all the features any aspiring home barista would need.
It comes with a powerful milk frother that whips up almost perfect lattes and cappuccinos. For such a compact machine, you can get up to 20 ounces of the brew which is enough for 4 cups of delicious espresso.
Other features include an easy-to-pour glass decanter; a removable and washable drip catcher; and a steam heat feature able to produce a rich dark espresso brew.
It has a couple of downsides though. The steam pressure of 3 bars is not impressive and it requires thorough priming with vinegar before one gets a satisfactory performance and good brew from it.
But the price tag makes it an awesome espresso maker, especially for newbies, or if all you want is a quick decent cup of espresso or two at home.
---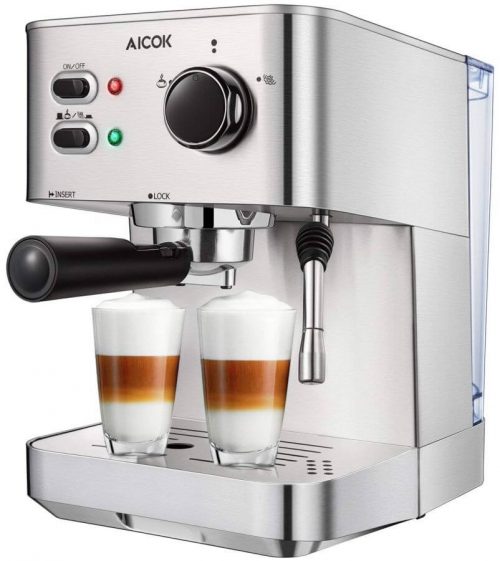 AICOK's Espresso & Cappuccino maker is a stainless steel espresso machine that packs most of the features of high-end coffee makers. It is fully automatic with a 1050W power heater that ensures you don't have to wait too long for a cup of espresso.
It comes with automatic temperature control; 43 oz. water reservoir; 15 bar pressure pump; and a frother for making cappuccino.
Perfect for an aspiring barista or for the home, it features a specially designed filter that allows even novices to prepare excellent espresso. It also has two spouts to dispense two cups of espresso simultaneously.
This espresso maker requires regular cleaning to perform optimally which is a drag for people who don't have the time or the inclination. But it is a great espresso that is even cheaper than the DeLonghi EC702.
---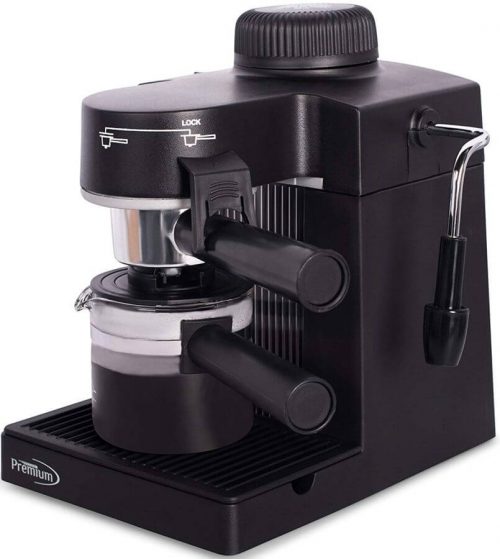 Premium PEM350 espresso machine is another great coffee brewer that offers more than its low price tag. The all-black, sleek machine proves you don't need wads of cash to get value for money when buying espresso makers.
It comes with a stainless steel removable filter and removable drip catcher making it easy to clean. Attached to the side is the frothing wand to foam your cream for delicious cappuccinos.
It also features a tempered glass carafe that has a four-cup capacity; convenient cord storage; and up to 5 bars of pressure to brew your coffee with.
Like many users, you would have preferred there were separate buttons for espresso and froth. Basically, though, it is a very inexpensive machine that makes a decent espresso.
---
Mueller Espresso Machine is a very impressive espresso machine and its low price tag is just a tiny part of the reason why. It is a many-featured, beautiful, and sturdy machine that has got many users drooling over it.
The espresso maker has a super-fast heat-up system that can deliver a tasty brew in less than 30 seconds. And amazingly for a basic espresso maker, it delivers up to 20 bar pressure like the expensive top-of-the-line products.
Apart from the ultra-fast heating system, it also features an auto switch-off mechanism, One-touch operation, a detachable water tank, and a programmable function to customize the amount of coffee you need at any time.
The lifetime replacement policy and 2-year warranty are certainly popular with users. However, the small water tank is a disappointment.
---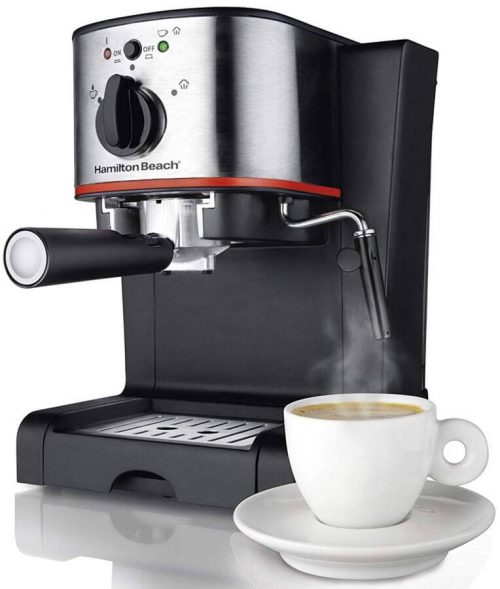 If you want café-quality espressos in your home or office, you wouldn't go wrong with this black, sturdy-looking Hamilton Beach espresso maker. It is a versatile coffee machine that uses either espresso pods or coffee grounds to make excellent espressos.
The Italian-made machine can force up to 15 bar of steam pressure to extract the flavours from your coffee.
It has excellent features such as the swiveling steam wand; a cup warmer; easy-to-use dials and buttons; and easily removable parts for easy cleaning and maintenance.
This espresso maker is very easy to set up and start brewing. The filter holder fits in easily with a lock on the side to hold it snugly. This ensures your grounds are held securely in place with little chance of spillage.
It is one of the cheapest products making it a good all-around bargain even if the frother doesn't perform as well as should be expected.
---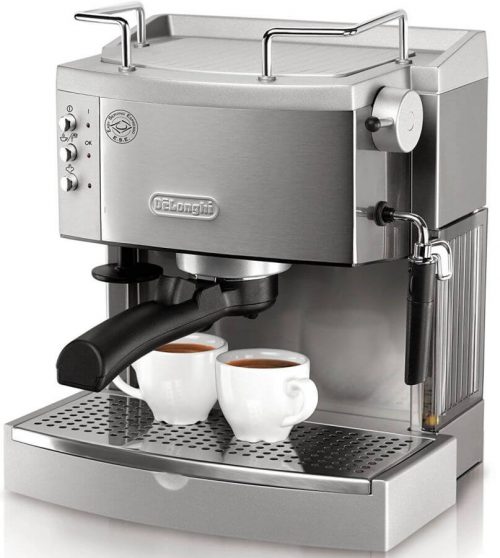 The DeLonghi EC702 Espresso maker has everything any barista expects from a basic espresso machine under $200. Don't get the 'basic' part wrong it wrong though, the sleek stainless steel machine is still so good it is one of the most popular coffee makers for coffee lovers.
It features a manual milk frother; a 3-in-1 filter holder for either single or double espresso shots; an easily detachable water tank; and an Automatic Flow Stop feature that dispenses the exact amount of coffee you need at your preferred temperature.
To make shots, it makes use of 15 bar pressure. This ensures a pretty good brew every time. It also has a cup warmer at the top, a thoughtful and convenient feature for really cold winter days.
One of the biggest downsides is the absence of a water filter. For an espresso machine of this price range and features, it is a bad oversight.
---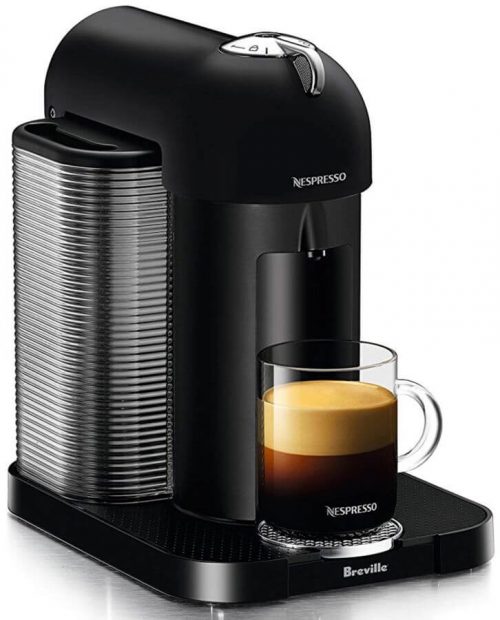 Breville's Nespresso Vertuo espresso maker is a really cool and versatile espresso maker that can make 5 types of brew with minimal fuss. You would have the option of 1.35 oz. espresso, 2.7 oz. double espresso, 5 oz. Gram Lungo, 7.7 oz. coffee and 14 oz. alto espresso with just a single touch of a button.
It features an automatic blend recognition technology; 3 cup sizes; centrifugation extraction technology; and a 40 oz. water tank.
Its automatic blend recognition feature is able to scan the barcode of a capsule to create the perfect blend during brewing.
However, this excellent espresso maker works only with Nespresso Vertuo capsules. That could be a problem when you need to replace them. Otherwise, it is a great espresso maker with a price tag that places it between AICOK's espresso maker and DeLonghi E702.
---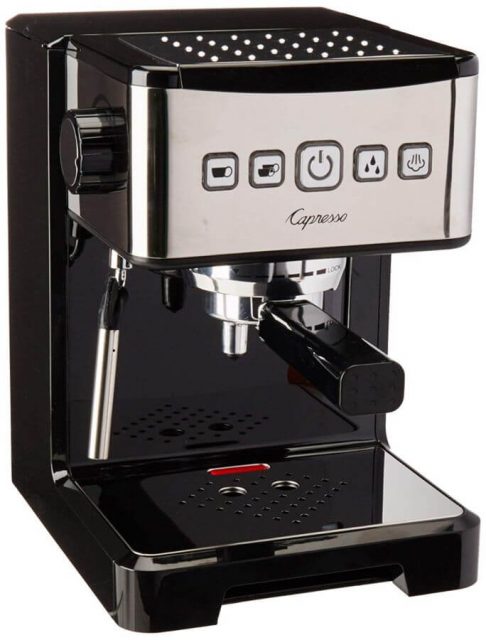 Capresso's black, stainless steel espresso maker is a sturdy, fully automatic espresso maker with a substantial warming platform. This coffee maker would stand out in your kitchen for its sleek design.
It comes with an auto-tamping portafilter making it easy to make excellent espresso brewed by a 15 bar steam pressure. The result is a rich crema with the characteristic thin layer of foam all perfectly brewed espressos have.
Other features include the large 34 oz. water tank; high-pressure frothing wand; programmable cup sizes; water-level window gauge; and a drip tray overflow indicator to let you know when to empty any waste.
In terms of cost, it is slightly cheaper than the DeLonghi E702 making it one of the most expensive espresso makers.
If you can accommodate the overflowing frother, you probably got yourself a high-end, compact coffee maker for a bargain.
---
This sturdy espresso maker is Mr. Coffee's second product. This is a cool espresso maker that makes bold espresso drinks when called upon.
It features a portafilter that can be programmed to deliver single or double-cup coffee at any time. The portafilter comes with a cute tamping tool to level the coffee grounds for optimal brewing.
Other features include the thermal block heating system that heats water instantly; a 15-bar pressure pump system; a removable drip tray for easy washing; and a powerful frothing arm.
Apart from the slightly loose portafilter, a bad oversight by the way, there is so much to like about this espresso maker. And the part is, it is not even expensive for a fully automatic and multi-featured espresso maker.
---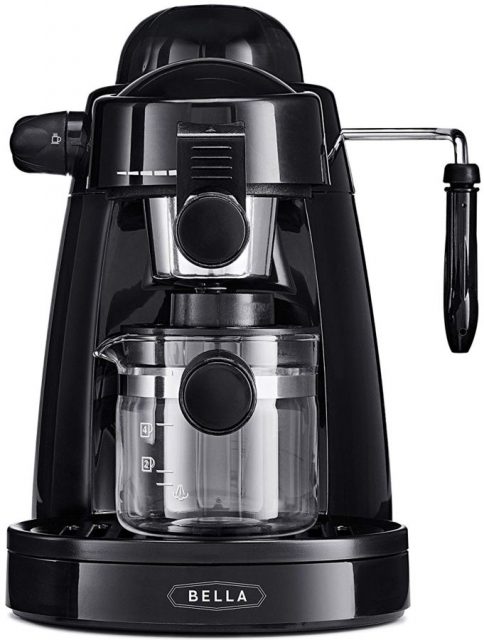 This black, sleekly-designed espresso maker by Bella takes 'under $200' down to a whole new level and is one of the espresso machines under 200 USD. It is the cheapest espresso machine and pound for pound, could offer value for money.
Weighing about 5 lbs. and just 11 inches in height, it would be perfect for a kitchen, office, or café where space is at a premium.
Like all espresso machines, it also comes with a frother, a removable drip tray, and an easy-to-use filter basket for easy cleaning.
It comes with an espresso scoop so you can easily get the right amount of coffee for your brew. And talking about brews, it can dispense up to 4 cups of coffee into its glass decanter.
The absence of a pressure relief button to indicate when is safe the cap is something Bella should fix. That aside, it is a great espresso maker for its price tag.
---
What to Look for in an Espresso Maker Under 200?
First of all – take a look at our espresso brewing guide which contains tips, tricks, and suggestions on how to brew the cup. This will come in handy once you start brewing good-quality coffee. The coffee beans you choose are as important in ensuring that you are having the coffee you can, too. So make sure you read this guide on the coffee beans for espresso. Every bean has its own specific quality that makes it better for certain coffee types and not so good for others.
Generally, there are 3 categories of espresso machines
Manual
Semi-automatic
Fully Automatic
What you should focus on is the semi-automatic category
In the semi-automatic category, you will find different brands and models of espresso machines that match your budget. They brew coffee using a portafilter filled with ground coffee.
Nobody is saying you can't get good manual espresso machines though. But come on, manual espressos don't cut it if you want to be like your local barista and whip up a tasty-looking brew with panache.
As for the fully automatic machines, they are way beyond our target budget. And the few that fall within that budget would be missing several important features.
So, a semi-automatic espresso machine is what you are likely to get!
Capsules/pods for espresso machines
There are some espresso machines under 200 that use capsules or pods. They come with some distinct advantages:
They are very easy to use
You don't need a grinder
You can experiment with different flavors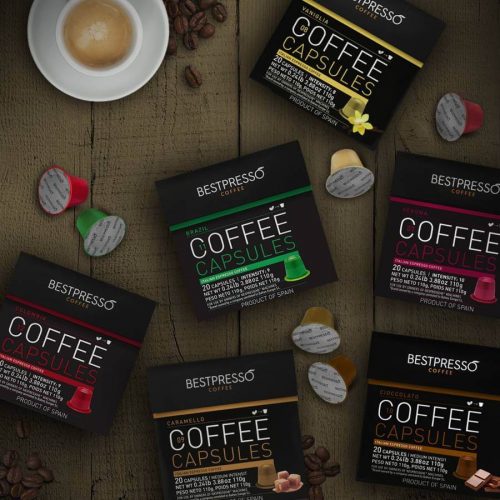 But, since you have to keep on buying replacement capsules, owning one could become expensive in the long run. They are cool though. Give them a shot if you don't mind buying capsules from time to time.
However, coffee makers require coffee beans but not all coffee beans are worth a good espresso, you must choose them carefully.
Once you have chosen your perfect espresso machine for the price you think: "Whoa! A bargain!", and you have also chosen the coffee beans for your espresso thinking that now you can not wait to brew your first cup with these…Hold your horses for a bit. You will need a good espresso coffee bean grinder, too.
You can always buy pre-ground coffee, but it will never taste as fresh and good as if you would have ground them yourself. Next, you can also drop by this guide on how to brew the perfect espresso cup. You might find it useful, or you might not, but we did put some good effort into researching and writing it, so you might as well take a sneak peek, who knows, perhaps you find a tip or two you did not know yet!
Portafilter – (An essential part of an espresso maker)
Most espresso machines under 200 dollars come with pressurized portafilter because they are easy to use and more convenient for the manufacturers.
However, if you plan on becoming a pro, get a machine with both pressurized and traditional portafilter.
Warranty
A warranty is vital because many espresso machines, no matter the cost, are very fragile. There are so many moving parts, and anything could go wrong.
So endeavor to get an espresso machine with a clearly stated warranty in case anything goes wrong and you need a replacement or refund.
Further, in this article, you can see ten espresso machines under 200 USD for you to choose from. The machines are mostly semi-automatic with a couple looking so sophisticated you could be forgiven for thinking they are fully automated.
Closing Thoughts Best Espresso Machines Under $200
This concludes our list of 10 Espresso Machines that You can get for less than 200 USD. The espresso maker you choose to buy would depend on a number of factors like the aesthetics, how big you want the machine, and of course the cost.
Whichever one you decide on, you are assured of getting good espressos from them. And by the time you have enough to buy the bigger, more sophisticated machines, you know enough to be fazed by them. So think about picking up one of these beauties.
Stumptown Coffee Roasters has been so kind to create a beautiful-looking video on how to brew a cup of great espresso, in case you like visuals better than reading, here you go (all credit goes to them, we just enjoyed it, like you!):