Homemade Coffee Syrup Recipe To Give You That Extra Special Touch Of Glucose. Why spend additionally on coffees and creamers when you can make so many of them from the comfort of your home? This coffee syrup recipe is surely something that can up your coffee game.
Coffee Syrup Recipe
In these recent times, it is very popular to add flavoured syrup to a coffee drink. How about adding these same coffee syrups to beverages and different coffee-based desserts? However, be sure to use extra-strength coffee to maximize the amount of coffee flavour that comes through.
This homemade Coffee Syrup recipe requires just three ingredients.
Ingredients for Coffee Syrup Recipe
1 cup water
1 cup white sugar
3 tablespoons ground coffee
Coffee Syrup Recipe Preparation
Step 1
Combine the sugar, water, and coffee in a pot over medium heat. Cook, stirring it often until all of the sugar has dissolved and the mixture comes to a boil, about 10 minutes. Now reduce the heat to low and continue stirring occasionally for about 10 minutes more.
Step 2
Next, remove it from the heat and let it cool for about 30 minutes.
Step 3
Place a fine sieve on top of a lidded container and pour the syrup through a strainer to strain out any coffee grinds if desired. Now cover it with a lid and store this in the refrigerator.
Optional Add Inns and variations
Vanilla: Add a vanilla bean or pod sliced in half to the skillet while the syrup simmers.

Spices: Such as a pinch of cinnamon, or just simply simmer the cinnamon stick with the syrup or nutmeg.

Almond Extracts: just a small amount added once the homemade syrup has cooled, taste amazing.
What kind of coffee can be used to make a coffee syrup recipe?
Choosing the right coffee entirely depends on your desired taste. This recipe is so flexible that you can use any type of coffee depending on the flavour, taste, and sweetness that you like. You can also use coffee beans, grounds, instant, etc.
However, if you are thinking of using flavoured coffee you must know and keep in mind, that the artificial flavourings get lost during the simmering process. This will not taste very pleasant.
How to thicken the syrup?
There is a huge impact on the Length of simmering and the amount of sugar used in a Coffee syrup recipe. You can use cornstarch if you want a thicker syrup. This you can drizzle over desserts without using any additional or extra sugar.
Create a cornstarch slurry by combining one teaspoon of cornstarch with one tablespoon of water. Mix it nicely until you see no lumps. Slowly whisk it into the syrup. Increase the heat to medium and allow it to simmer until it thickens. Depending on the thickness you are looking for keep adding more.
Caramel Coffee Syrup Recipe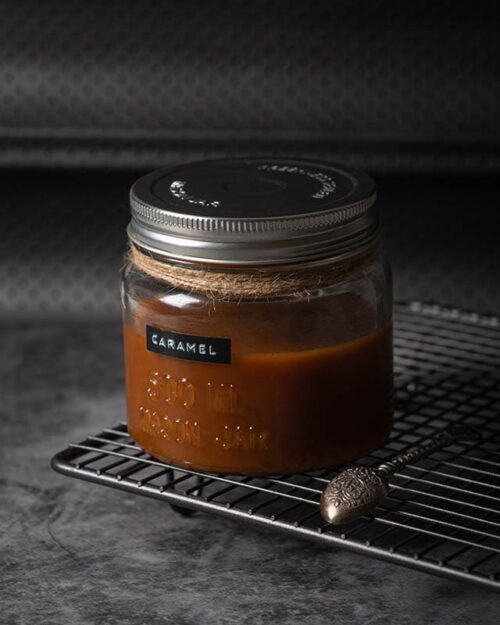 Ingredients
1 cup of sugar

¾ cup hot water, divided and kept ready 

1 teaspoon vanilla

1 pinch of salt.
Directions
First of all, like any other recipe, you gather all your ingredients and keep them ready.
Now you start by mixing ¼ cup water and all sugar in a saucepan over medium-high heat, till the sugar, is dissolved. Do not let it boil until the sugar is completely dissolved.
Cover and let it boil for two minutes.
Uncover and stir gently while it continues to boil until it turns a nice deep amber colour. Remove from heat.
Add the rest of the water and then when the bubbles settle a bit, add the vanilla and salt and stir gently to mix. Leave to cool. This will remain in the fridge for up to six months.
Tiramisu Coffee Syrup Recipe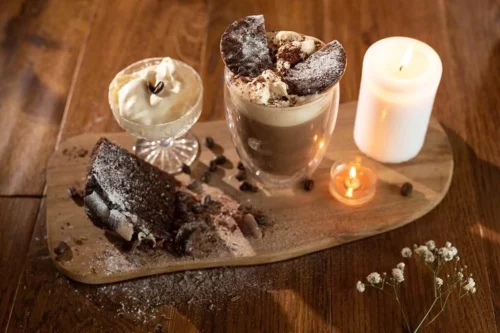 Ingredients
2 tablespoons coffee grounds

125ml boiling water

Milk

1 tablespoon chocolate sauce

1 tablespoon amaretto or amaretto syrup

Whipped cream (Optional)

Cocoa powder (Optional)

Biscuits (Optional)
Directions
Add 2 tablespoons of coffee grounds to your cafeteria.

Pour 125ml boiling water into your cafeteria and place the lid on top.

Leave the coffee to brew for about 4 minutes.

Press the coffee once brewed and pour until your mug or glass is filled halfway.

Add 1 tablespoon of chocolate sauce and 1 tablespoon of amaretto or amaretto syrup. Stir well.

Fill the remaining half of your mug or glass with your choice of milk.

Top it with whipped cream and a sprinkle of cocoa powder, if using.

Serve this with a plate of your favourite biscuits and enjoy!

Storage Recommendations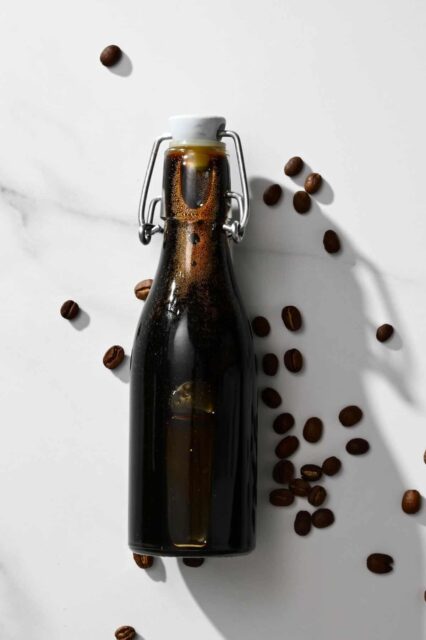 Store: store the coffee-flavoured syrup in an air-tight container in the fridge for two weeks. Give it a shake before using it each time. Microwave it for 15-25 seconds if you find it has become too thick.
Freeze First transfer the syrup to a freezer-safe container or jar, or you can also pour the syrup into an ice cube tray. This way you can freeze it for up to 4 months.
How to use coffee syrup?
A simple coffee syrup can be used in several ways. Here below are a few to try out:
You can easily add this syrup to your milkshakes

Make a coffee cream soda

Drizzle it into hot chocolate and you have your very own Mocha

You can also use it in cocktails.

Just a small amount of syrup can add flavour to your beverage. Be it a coffee or lemonade.

You can go crazy over ice cream. Just add a little bit at first and see how you like it.

Drizzle over cakes and frosted cupcakes

Spoon over cheesecake

Add it to your breakfast. Like waffles, pancakes, french toast, or other breakfast treats.

You can also drizzle it over yogurt bowls

Or add it to homemade sauces and marinades.

Enjoy it with oatmeal too.
Closing Thoughts
Never use high heat while preparing your

Coffee syrup recipe

. This may cause it to burn.

Use strong brewed Coffee. No matter which method you use to brew it, it is very important to make it stronger than usual.

Adjust the sugar ratio: For a rich syrup increase the sugar to a 2:1 ratio

Always remember that results vary. The coffee syrup may vary in colour, taste, consistency, and transparency depending on the type of coffee and sugar used.

You can also make a healthier version if you want to cut out on the sugar by substituting it for something lighter, like agave or maple syrup. Be warned, however, that this might lead to a difference in the flavour in comparison to the original recipe.
You can also check:
You can also visit foodiewish.com for more food-related blogs.