The espresso tampers are tools used to pack, tamp, or compress the grounds into the baskets of your espresso machine. This, in turn, will produce a tastier and even more consistent espresso. This tool and method have always been a unique and secret way many espresso experts and baristas make their espresso.
In the current market, espresso tampers are available everywhere. The challenge is to find out what works for you. These tampers are considered a unique and practical method of making excellent espresso. These tampers have a specific purpose, forcing the water to interact with the ground for longer, eventually bringing up a fuller flavour.
You may have come across one of those tampers, especially those shipped with an espresso machine.
If you are looking for the right espresso tamper accessory to help complement your coffee experience, then you have come to the right place. Below we have listed the ten espresso tampers that are in the current market.
10 Most Effective Espresso Tampers For Your Coffee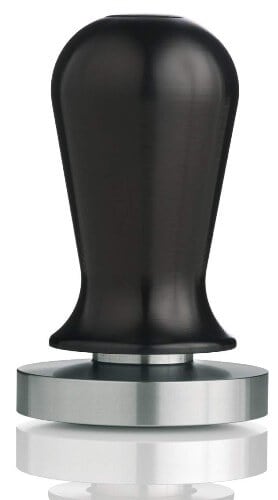 The Espro 3058F Calibrated Flat Tamper delivers a uniform pressure each time it is used, meaning it produces a consistent and seamless shot of espresso every time. This is so because it is factory regulated always to provide 30 pounds of pressure. The weight of the tamper device itself is 1 pound, which makes it a heavyweight tamper accessory and easy to produce the calibrated pressure.
The Espro is known to be a robust tool and very reliable to use.
It also comes with a one-year factory warranty, which means you don't need to be afraid of getting a product that won't even serve you for a year. Although the Espro is one of the more expensive tampers, the price is worth the quality of the product.
This tamper comes in different sizes, which is also one of the reasons why a lot of users love it, you can easily find the size that fits your machine.
Pros
Pros
It gives you a consistent 30 pounds of tamping pressure
Available in multiple sizes
Nice weight- a stainless steel base with an aluminium handle
Cons
Cons
---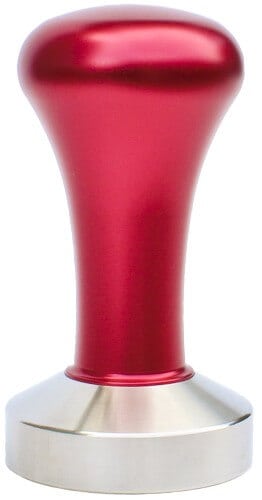 The Zoie and Chloe Stainless Steel Espresso Tamper has brushed stainless steel and can beautifully add color to your set of espresso machines – they come in three vibrant colors, which are: blue, red, and gold.
Thanks to the brilliant design of the tamper, the handle can be screwed off to be cleaned or changed the handle to a new one with a different color. This temper has a lovely ergonomic handle, designed to be easy to hold and use.
The Zoie and Chloe Stainless Steel Espresso only comes with the 49mm size and will fit well with most espresso portafilters, especially those with smaller baskets and home espresso machines. It is well-priced and will always be an excellent addition that you will appreciate.
Pros
Pros
Colorful, stainless steel
Good weight and designs for easy use
Cons
Cons
The small size of the base may be too small for larger portafilters
It is not dishwasher safe
---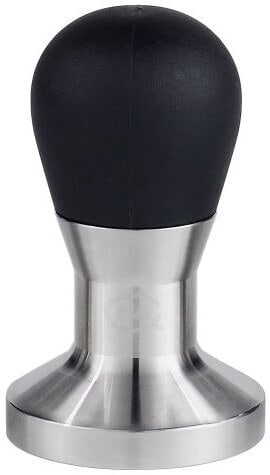 That is the Rattleware Round Handle tamper is a reliable and sturdy tamper built to last and deliver consistent pressure for a perfect espresso.
It weighs about a pound which helps to properly produce that requires 30 pounds of pressure needed to create that seamless shot of espresso. The Rattleware Round Handle tamper has a base of 58mm, and many portafilters are designed to accept that size as it is the standard size of baskets. Therefore it should fit and work with most espresso machines.
Although this tamper is not as fancy as several other tampers out there, it is simple and built to deliver the right pressure. It comes with a black handle and a silver base – just classic. It is durable and comes at a reasonable price.
Pros
Pros
Heavy, durable build
Evenly flat stainless steel base
Reasonable price
Cons
Cons
The handle is a little short which can be hard to use, especially for those with larger hands
No bells and whistles (personal preference though)
---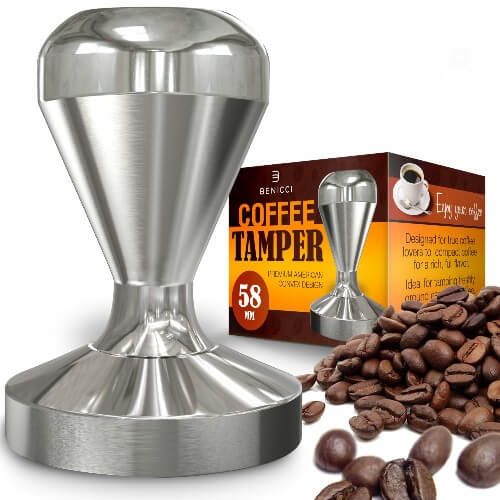 The Benicci Espresso Coffee Tamper weighs about 1 pound and a half, this is quite a heavy tamper and will put its weight on display when it packs your espresso grounds effortlessly. This accessory is a solid anti-rust stainless steel piece with a shiny bright silver design that is very durable and sturdy. (There have been a few claims that it will last as long as you keep using it unless you get tired of it).
It has a 58mm convex base designed to fit most home espresso machines, and helps pack the espresso cleanly, and the round bottom is built to prevent channeling.
The Benicci Espresso Coffee Tamper has a policy that guarantees 60-day money back to customers should they not like the way the tamper works.
Pros
Pros
Solid, single-body construction
60-day money-back guarantee
Commercial grade, rust-free stainless steel
Cons
Cons
Metal may scratch easily
Only available in 58 mm size
---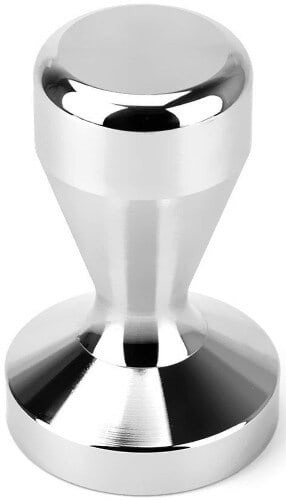 Apexstone 51 mm Espresso Tamper is an all-metal espresso tamper that sets it apart from other tampers. It has a firm build and is made from high-quality solid iron material plus chrome-plated touch to give it an appealing finish and look.
It is also important to note that the chrome finish is anti-rust and corrosion-free. Therefore you don't need to be afraid when it comes in contact with water. Although it has a beautiful design and solid build, the price of this tamper is shockingly fair and can fit your budget. It is one of the most inexpensive tampers out there on the market.
The Apexstone has a 51mm base, which is a good match with a weight of about 1.280 pounds, which makes it heavier than some other tampers. If you are new to espresso and in need of a tamper that is effective and cheap, then the Apexstone would be the right choice for you.
Pros
Pros
Value for money
Ergonomic and easy to use
Expertly crafted with a premium look
Cons
Cons
The chrome plating is not as durable as the robust metal
---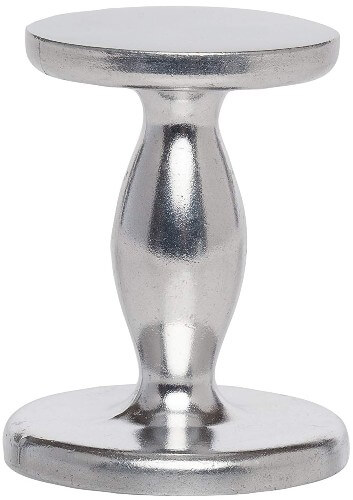 If you don't want to invest in those classy and expensive tampers and want an affordable tamper, you need the HIC Harold espresso tamper model. This tamper is highly rated, and the price is among the two cheapest.
Meanwhile, don't let the low price lead you into believing it is inferior. Instead, high-quality material is what characterizes it, whereas aluminium is corrosion-free. Still, that's not even the thing about the product. It has a double base – one is 50mm and the other second one is 55mm, making a versatile espresso tamper.
Although the handle is a little bit tricky to hold since it doesn't have a dedicated handle, making it not as easy and comfortable as some other products. It weighs 0.25 pounds, meaning it is lightweight – you will need a little bit more force to compress your coffee grounds properly.
Pros
Pros
It is very affordable
It is versatile, with two bases
Made from food-safe aluminum material. Will not corrode
Cons
Cons
The weight is quite light. Therefore it needs more force to compress your ground coffee
---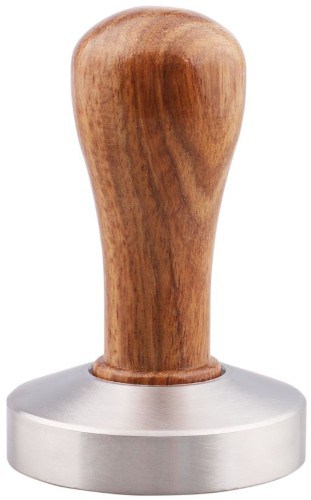 When you are looking for one of the espressos tampers to buy, the Omgogo Stainless Steel Espresso is one to consider as it has won the hearts of many by giving enough value for the money spent, and sports an excellent price-to-ratio quality. It is ergonomic and comfortable to use with a Rosewood handle, and you will find it easy to maneuver.
This is a lightweight espresso tamper that is easy to handle, with a weight of 8.8 0z. Meanwhile, it will need more force if you want to compress your ground coffee with that kind of pressure.
It is an industry-standard with a size of 49 mm as an industry machine, including home espresso machines that use a 49 mm portafilter. It assures users of durability as it comes with a base made out of stainless steel that is food-safe, long-lasting, and durable.
Pros
Pros
Affordable with excellent value for money
Lightweight and highly maneuverable
Ergonomic handle
Cons
Cons
---
If you are looking for an espresso tamper of high-quality materials, and yet provides affordability, then the BlueSnail Stainless Steel Espresso Tamper comes fully ready for that. The outside is made from high-grade stainless steel while the inside is iron. The material difference explains its affordable price when compared with all-stainless steel tampers.
For stylish coffee lovers, this espresso tamper is such a beauty in the eyes as it is quite elegant and provides aesthetic beauty. The BlueSnail Company paid attention to detail and gave extra care when making this product- the 51 mm base is entirely compatible with a lot of consumer-grade espresso machines, and you can easily apply enough pressure to your ground coffee, for it to compress. Despite the small caveat, it is a great product that is ideal for amateur and professional baristas as it will give a quality coffee compared to those made with plastic espresso tamper.
Pros
Pros
Affordable
Speaks style and gives aesthetic beauty
Lightweight and highly maneuverable
The base is compatible with a lot of consumer-grade machines
Cons
Cons
---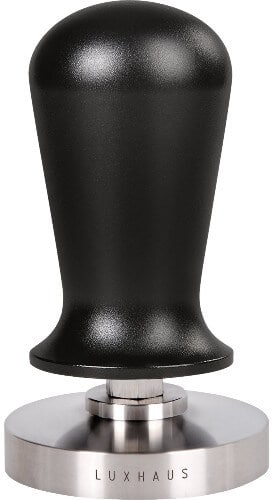 Another espresso tamper made from food-safe stainless steel. The materials are of top-notch quality, long-lasting, and highly durable and won't react with your coffee. If you are looking for an espresso tamper that is suitable for both personal and commercial use, then the LuxHaus Calibrated Pressure Espresso Tamper is an excellent choice to make. For coffee lovers that want something easy-to-use, this is also a great choice. You don't need much experience to use it and won't experience hand fatigue while using it for an extended period.
The LuxHaus Company is well-known for giving a close look to detail, and that is evident in this machine as you can quickly see for yourself that it was built with the utmost care and a lot of experience. It is a standard size of 49 mm, which makes it ideal for a regular espresso machine's portafilter. If you need something more versatile, then models that come in 51 mm are more suited. Whether you are an amateur user or a professional barista, this is one product that makes a great addition to your coffee collection.
Pros
Pros
Premium look and quality
Food-safe stainless steel
Comfortable ergonomic handle
Cons
Cons
A bit pricey
A fragile internal spring mechanism
---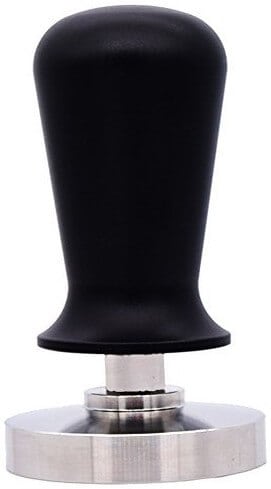 Sometimes, we need that heavy-duty tamper that won't break or stop working when used in a professional setting. The Feenm Calibrated Espresso Tamper is specially built to handle rigorous work; it can handle hundreds of cups of espressos daily without giving you something of less quality.
This is a calibrated tamper that harbors a small spring inside to enable it to exert a consistent and uniform force on the ground coffee, no matter how you press the handle. With each press, you will be getting precisely 30 lbs. of pressure at the base, which makes it well-powerful to compress a thick layer of ground coffee, giving a more tasting espresso.
The material is a 304 stainless steel metal that is long-lasting and durable, so you wouldn't need another espresso tamper for a long while as it will not corrode or rust over time. The handle is ergonomic and comfortable to use, but it requires extra attention as this is a heavy-duty tamper made from heavy-duty plastic. With an internal diameter of 58 mm, this product is one to go with if you want something that's up to the task ahead.
Pros
Pros
Ergonomic and comfortable handle
Calibrated tamper that delivers a consistent espresso taste
Heavy-duty tamper that's durable and long-lasting
Cons
Cons
---
What To Look For When Buying an Espresso Tamper?
Coffee beans are one of the most important parts of a great espresso. Espresso tampers are tools used to evenly compress espresso grinds into the portafilter of the espresso machine, to give you a premium quality espresso. Sometimes, you can tamp espresso without a tamper by using your thumb to press down the grinds. However, this can only work with smaller amounts and is not ideal if you want to make a great espresso. Not to say it is somewhat barbaric, too.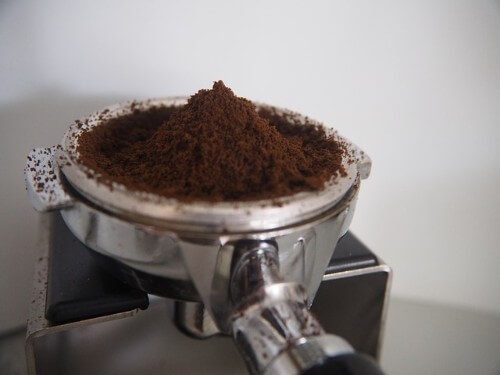 A tamper might be what is missing in your quest to make a creamy and rich espresso but getting one is also essential as there are a lot of products available in the market, making it difficult to choose one that is for you. Let's take a look at things to consider when buying an espresso tamper.
Size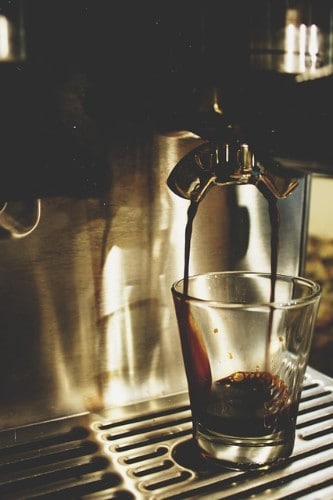 Espresso tamper usually measures in millimeters. The minimum size is 48 mm and can go up to 58 mm for some machines. A tamper should be precisely the same size as the internal diameter and the diameter of the basket for the espresso maker you are using. Always check to make sure that it is compatible before buying, especially when you purchase online.
Manufacturers often write the name of the brand on their tampers, so you know which brand of espresso machine the given tamper goes on. Also, the inner diameter of a portafilter of commercial espresso is different from that of home espresso machines. It is crucial always to measure the size of your portafilter or check the user manual of your espresso machine to know the size before making your purchase.
Flat or Convex Tamper for Your Espresso maker
Espresso machines come in two types- the flat and the convex tamper. Having to choose between these two types is always a difficult task as they only have differences in appearance but offer the same services. The convex tamper, just as the name suggests, is a bit beveled from the center and up to the edges of the tamper. When pressed against the ground coffee, the content of the portafilter will become a slightly convex compressed coffee. The flat, on the other hand, features a flat base, and when pressed against the portafilter, it gives a uniform and excellent flat-ground coffee.
Now, the advantage the convex tamper has over the flat is that the edge is slightly convex and prevents water from entering the portafilter, thereby preventing it from ruining the shot. Meanwhile, this result can also be achieved by the flat tamper when you use the right technique and movement when pressing the ground coffee.
The weight of a good espresso tamper
The weight is one aspect to look out for when buying your espresso tamper, and it will make a lot of difference in making a good espresso. You should note that a lightweight espresso tamper is not a good thing as an espresso tamper that weighs above 10 oz will work better and require less force. It is also challenging to maneuver a lightweight tamper.
Material to look out for in your tamper
The materials used in building your tamper usually determine how durable and long-lasting your tamper will be. Made with high-quality materials, it will not react with your coffee, and it will be effortless to clean. Compared to other materials, stainless steel is food-safe and more hygienic. However, stainless steel is more massive than other materials.
Calibrated espresso tamper – what is that?
Calibrated espresso tamper is more straightforward and has a spring attached between the handle and the base of the tamper. A significant advantage of this type of tamper is that it enables you to apply a uniform force when you press the handle, giving a more consistent taste when compared to a non-calibrated tamper. The downside with the calibrated tampers is that it's more expensive than the regular model.
Price
When it comes to the costs of espresso tampers, they are not too high priced or pocket-draining, however, it is good to always have a budget in mind and make sure it matches the quality of the product you want to purchase. We recommend that you always match your budget with quality, overall build, and durability before beauty.
Handle
When shopping for an espresso tamper, you should always ensure to check the handle and make sure it is well-built, made from durable material and it is long-lasting. Another thing you should check is if the grip is comfortable for you. You wouldn't want to be replacing your tamper after using it for just a bit, especially if you are often brewing. Most tamper handles are built using high-quality wood, plastic, or metal.
Closing Thoughts
If you are the type who likes to brew your own coffee or are new to it, you should know that tamping is an essential part of the process of making a great cup of coffee. It increases the quality of your espresso and makes it tastier and brighter as well. Most espresso machines will come with a plastic tamping accessory. However, to get more out of the experience, investing in a high-quality tamper will surely get you ahead of your game, as it makes a whole lot of difference when you tamp your grounds.
P.s. Here is a useful video from ChefSteps on how to do proper tamping, enjoy!