Wondering how to make a shot of espresso on a stove? There are little Italian coffee pots that can make it happen. Moka pots are the Italian coffee makers to date. Everyone knows how much the Italians love their espressos. However, not everyone knows that they can make their own Italian Moka pot espresso coffee at home with a reasonably priced (read –  inexpensive) stovetop coffee maker.
These Italian percolators are similar to real espresso makers in a way that they, too, use pressure to filter the water through the coffee grounds, to extract their flavor of them into the water. These coffee percolators use significant lover pressure of around one to two bars. Compared with an espresso maker, which produces and uses at least eight to nine bars of pressure when brewing a shot of espresso. They still manage to brew a cup of strong, vibrant, and flavorful cup of coffee with a pinch of the specific creaminess that you get from an espresso machine.
Our 8 Moka Pots For A Great Cup Of Italian Coffee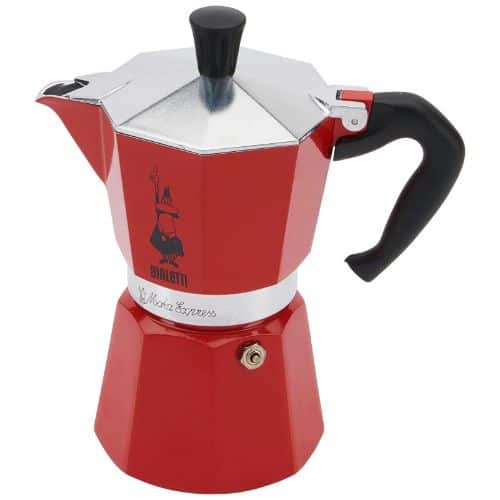 Bialetti is the most famous manufacturer of stovetop espresso makers in the market. This Italian-based company has more than 80 years of manufacturing experience, and its products are most peculiar for their classic design, technological simplicity, and low price. 
The company boasts over 200 million manufactured coffee makers, and its Moka Expresso is one of its most iconic products. 
The 6633 Moka Espresso maker is a 6-cup pot that comes with an elegant octagonal design, and brilliant finish. Its eight-sided shape does more than just design; it allows heat to diffuse efficiently to enhance the aroma and taste of the coffee. 
The build of this machine is of lightweight, durable, and polished Food Grade Aluminum Alloy that makes coffee making with this pot both easy and quick. Speaking of brewing speed, this Moka pot can produce up to six cups of coffee in less than five minutes. 
Although the product is neither for induction stove use nor it is dishwasher safe, it is suitable for stovetops and easy to hand wash. It is also easy to disassemble but make sure all parts are completely dry before reassembling, to prevent oxidation. 
Lastly, the pot comes with a 2-years warranty from its date of purchase.
Pros
Durable construct

Stylish Italian design and excellent finish

Brewing comes easily and quickly with this Moka pot
Cons
Not dishwasher safe

It is not suitable for induction cooktops
---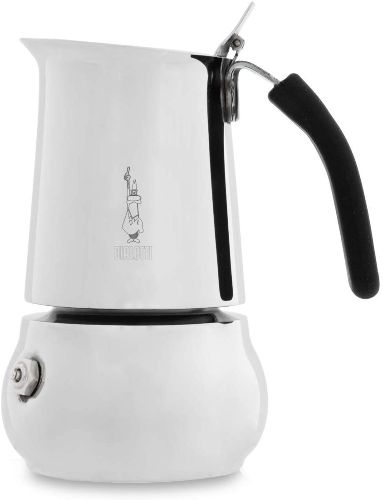 As much as we intend to be transparent in our selection, we couldn't help but include this product from Bialetti. Yes, they are just that good.
The 06661 Kitty Espresso maker is very much the opposite of the 6633 stovetop maker in so many ways. Albeit, this product still features a brightly finished exterior and a classy design (and they have the looking logo, too).
This pot comes in a durable, rust-proof Stainless steel construction, and it is compatible with gas, ceramic, and electric stovetops. Although it is not entirely dishwasher safe, some of its parts –gasket, Filter, Funnel – are suitable for dishwashing.
The taste of the coffee from this device is smoother than that of most competitors. Its design allows for easy operation and its built-in, heat-resistant ergonomic handles count as a plus on its overall ease and safety of use.
It is also worth mentioning that this coffee maker is an induction safe, and its maximum boiler capacity is 300ml. However, for results, do not use too fine ground coffee. The device is induction safe and still has the Bialetti two years warranty.
Pros
Elegant design
Construct
Induction safe
Cons
It is not entirely dishwasher safe
---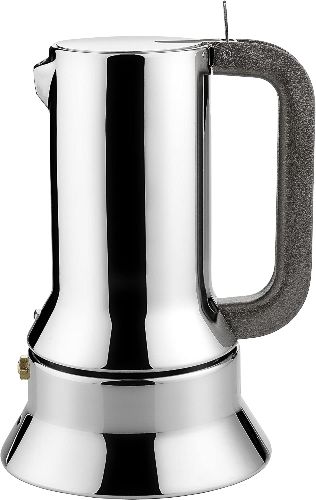 Alessi is an Italian-based company aimed at manufacturing the most advanced build, aesthetics, and functional quality. Founded in 1921, the company gradually evolved into one of the leading factories of Italian design, and its products reflect experience and excellence.
The Alessi 9090 is the first espresso maker and the most popular product from its manufacturer. Its designer, Richard Sapper, aimed at giving this percolator the features that competitors did not have. So, you can expect much from it.
First, the device comes with an enlarged base that maximizes the heat. It also features drip sprout pouring, and it has a lock lever that allows you to open the pot easily.
The pot comes in a durable 18/10 stainless steel construct. It has a magnetic steel bottom that makes it ideal for induction cooking. Overall, the pot is compatible with stove, electric, gas, and induction cooking.
There is an ergonomic, heat-resistant handle for grip as well as a lever for unlocking the pot. It is not dishwasher safe, but hand washing the device is easy and preferable.
Although this product is quite expensive – more than five times the price of the Bialetti 6633, its features and construct justifies it.
Pros
Thoughtful, sleek, and brilliant design
Suitable for all types of cooktop
Easy to wash and disassemble
Cons
---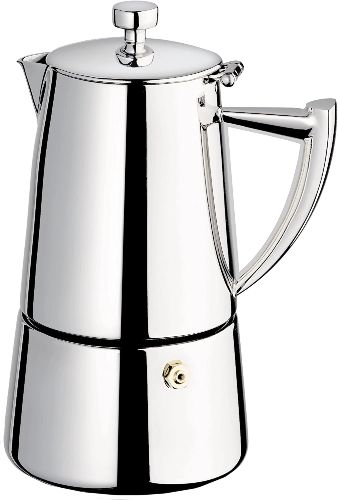 Cuisinox is a France-based manufacturer of a vast array of upscale stainless steel kitchenware. The company boasts of having products handcrafted from the highest grade of stainless steel that is both bisphenol A, lead, and toxic-free.
The Cuisinox Roma espresso maker has a premium-grade design and a distinguished style handcrafted to the highest possible standard in the industry. It features a sturdy, rust-proof 18/10 stainless steel design that significantly increases its durability, and its exterior comes in a mirror polish finish.
The pot is compatible with all types of cooktops, and it has an induction base specifically for induction cooking. Like every other good Moka pot, this one features a drip sprout design for efficiently pouring out your coffee without dripping some of it.
There is an extra gasket and reducer included in the pot, but you would not need them as all its parts are long-lasting. To add, the coffee maker has a warranty in the market- a 25-year warranty on manufacturer's defects.
Pros
Excellent warranty
High-quality construct.
Classic and mirror-polished finish
Cons
---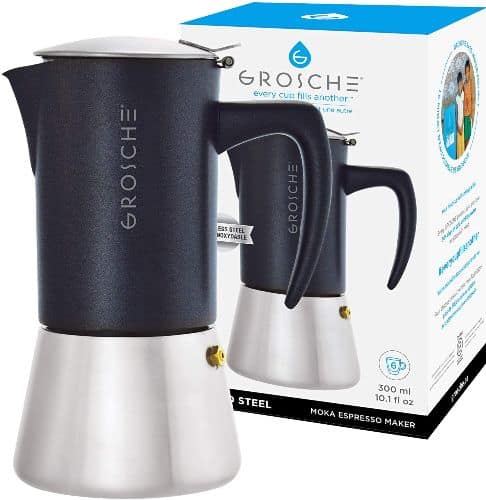 Grosche is a coffee and tea accessory industry gradually taking the world of the beverage by storm. The company only started in 2006. Yet its products are of equal or better construction standards and as feature-rich as products from older manufacturers. The
Milano steel espresso maker comes with a durable stainless steel construct. Its design -the satin finish, the subtle curve on the handle, and the matte black powder coating on the top shimmer excellent and premium quality.
The pot is compatible with all types of cooktops, including the induction cooktop and electric coil stoves. More so, all its parts are dishwasher safe- unlike most competitors. It has a non-drip spout for efficient serving and a durable steel hinge on its cover.
Its bottom comes in heavy gauge steel for improved durability, and it has a certified safety valve made in Italy.
Overall, this product is an excellent blend of quality, luxury, and features, and it is affordable.
Pros
construct
Suitable for all cooktops
Classy design
Cons
It leaks if you don't pour it properly (swerving too hard and fast)
---
Luxurious Italian Coffee Machine Maker, Stainless Steel Espresso Maker Full Bodied Coffee, Espresso Pot For 5-6 Cups.
bonVivo brand manufactures a wide range of kitchen and home accessories with high-quality construction and an excellent sense of style.
At a glance, this espresso maker is a sleek-looking device with a brilliant touch of class. Upon closer analysis, the pot is a stainless steel device suitable for all cooktop types that can produce a full-bodied aromatic cup of espresso.
The standout feature of this device is its hard-wearing chrome finish. Beyond looks, this finish makes the product last longer than the average Moka pot.
Like other good pots, this one has a U Style Spout that allows for easy pouring of coffee and little or no dripping. It also features a heat-resistant handle that allows you to pick up the device without getting burnt.
Sadly, the device is not safe for dishwashing. Yet, you can use soapy water to hand wash the pot easily.
Pros
Sleek design
Premium look and quality
Chrome finishing for improved durability
Suitable for all cooktops
Cons
It is not dishwasher safe
---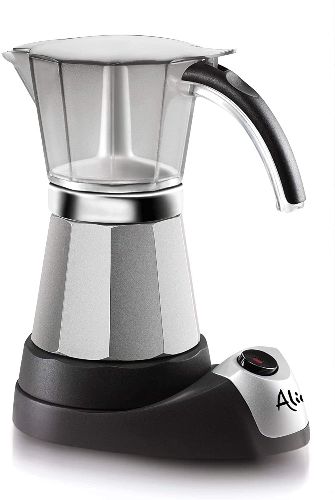 Delonghi is an Italian-based manufacturer whose product shimmers a thoughtful design and elegant construction. As with all its products, the EMK6 espresso maker comes with a unique build.
Precisely, this product is an electrical coffee pot that produces tasty cups of Italian coffee within minutes. With this electrical design, you wouldn't have to worry about burning your coffee. Specifically, there is an automatic shutdown feature that turns off the machine immediately after the brew is complete.
Also, the device comes in a transparent container that allows you to monitor the entire brewing process. You can also stop the brewing at any time with its easy operational switch at its base.
For easy movement and serving, you can easily detach the jug from its base for a cord-free serving. There is also another automatic shutdown feature that turns off the machine when the jug lifts from its base.
Overall, this aluminum and glass device is an easy and safe option for Moka brewing. It is easy to operate and of high durability.
Pros
Easy to operate
It allows complete monitoring of the brewing process
It is affordable
Cons
Its use is limited to only places with power supply
---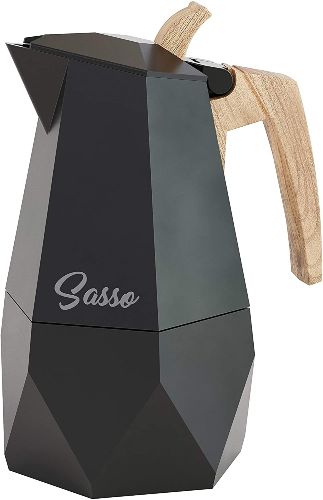 This product comes in a design very much different from any other Moka pot in the market. However, design alone is not all there is to it.
First, the pot comes in aluminum with a solid-cast body that allows for fast and even distribution of heat, producing a rich, strong espresso.
As with every other aluminum Moka pot, this one is compatible with gas, electric, and ceramic stoves. However, it is not suitable for induction cooktops. The device features a heat-proof, soft-touch, timber-look, ergonomic handle that will neither get hot nor melt when preparing your cup of joe.
It also comes with a safety valve at its bottom to prevent the building up of pressure. Although you may have to wait for years to use it, the device has a spare basket for replacement when it becomes bad.
All in all, this device has a build for durability and luxury, and it is very affordable.
Pros
Exquisite look
High durability
Drip-sprout design
Cons
It is not dishwasher-safe
It is not suitable for induction stoves
---
How To Choose Your Own Moka Pot?

Moka pots are the thing when it comes to brewing a simple, but elegant, full in flavor and creamy cup of coffee.  The Moka pots can be hard to find, so here is a guide to ease your journey into the world of stovetop coffee makers.
What is a Moka Pot?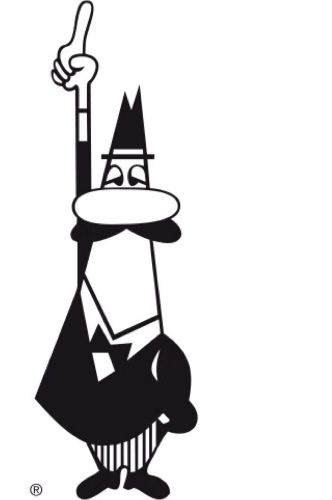 The Moka pot was invented by an Italian engineer named  Alfonso Bialetti in 1933. The name of this little stovetop percolator he borrowed from the Yemen city of Mocha, where it was made at the time. The Moka pot quickly became very popular among Italians, forming its coffee drinking habits and the very culture.
A Moka pot is a coffee maker that can be brewed on both – a stovetop or electrically. It uses pressure to push the water through ground coffee beans, extracting the flavor, enzymes, and oils into what you know as Italian espresso or any other espresso-based drink. Can a Moka pot actually brew espresso shots? Not really, its pressure is way below what a dedicated espresso maker produces (and that it needs for the drink to qualify as an espresso), but it brews a very similar drink. 
Traditionally Moka pots were made of aluminum. Mostly because, at the time, that was the most common material that could be bent and transformed easily enough to the shapes required for the coffee percolator. Nowadays, however, more and more Moka pots are made of stainless steel. 
How do Moka pots work?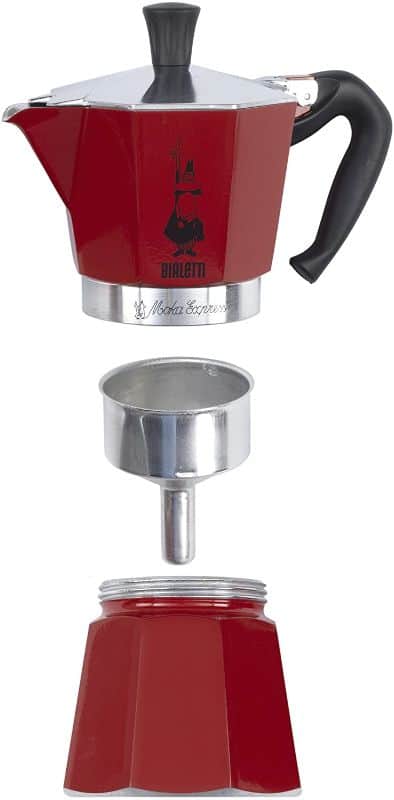 The main parts of a Moka pot consist of three chambers, a safety valve, and a filter. The three chambers are meant for coffee grounds, water, and the resulting coffee brew. 
The chambers explained
Let's start from the bottom. The bottom chamber is where you would pour the water. You need to pour the water just below the valve level. If you go over the valve – the excess steam will have no escape route. In case there is too much of it building inside due to too much heat. In that case – the steam will have to go through the filter, causing an over-extraction of the coffee and ruining the taste. 
On the upper side of the water chamber sits another chamber for the coffee grounds. In this chamber, you would insert the coffee grounds. The water boiling in the first chamber would produce steam, this steam would press tiny particles (and itself) through the coffee grounds to the upper chamber where it would collect as your coffee drink. It is almost as equally important to know how to put the coffee grounds in this chamber. A proper amount of coffee grounds is important – too much or too little may ruin the taste for you. Too much might also cause the grounds to be burnt or pressed too tightly so that the water can not filter through them properly. The use of a coffee tamper is a good way to ensure you don't press them too tightly. As well as the correct amount. 
But before it goes to the third chamber, there is a filter in the middle. Now, I bet you can guess what that is for. In the early days the filter was made of aluminum, and so was the whole Moka pot. Then, the aluminum filter was replaced with a stainless steel one, then – the whole Moka pot was made of stainless steel. Not all of them are, but some are, and some – aren't. So, the filter will prevent any residue, smaller coffee grounds, or any other impurities from leaching into your final coffee brew. 
During this process, the stovetop coffee maker is capable of producing one to two bars of pressure, which is not the level of an espresso maker, but enough to extract all of the flavors from the coffee grounds and into your drink. 
What Are Moka Pots Made of?
Although the materials may vary, the way they are built stays the same – they still need the same parts, bits, and pieces regardless of the material. But each – aluminum stovetop espresso makers and stainless steel Moka pots – have different properties, pros, and cons. 
The bottom line is – aluminum distributes heat more evenly and better, therefore – coffee in these will turn out to be better. But they are known to impart small amounts of trace metal in your brew. Admittedly it is really an extremely small amount, however, it is still there. Stainless steel Moka pots are safer on the health side, but they do not conduct heat the same way as aluminum. But let's dig deeper and find out all about that, shall we?
Aluminum Moka pots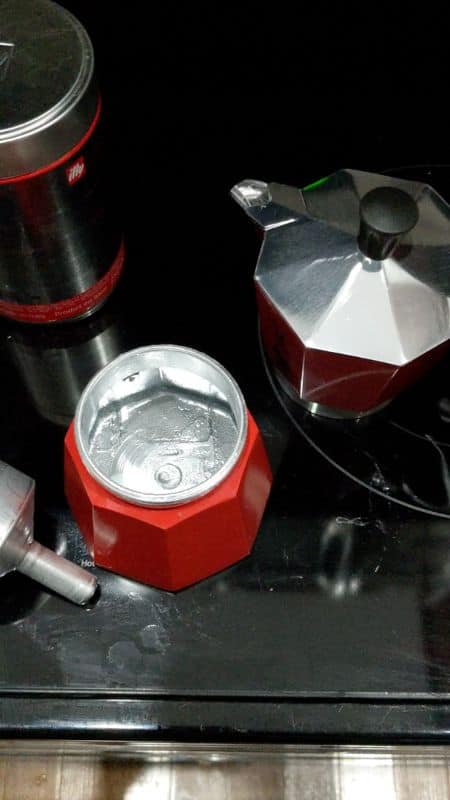 Aluminum stovetop espresso makers have this layer of distrust surrounding them. Many people believe that it is not safe to brew coffee in an aluminum Moka pot. On Coffee Detective there was a discussion regarding whether or not aluminum pots can give us Alzheimer's disease. As it turns out – no. Although there was a lot of talking about this subject, there is little evidence from the scientists that backs up this statement. Sure, you can always find some small connection if you look hard enough, but this is a phenomenon called "confirmation bias", which basically means – if you are looking for something specific you will eventually find it. Ignoring the facts and complete scene and focusing only on what you were looking for. 
Moka pots traditionally were made of aluminum, one reason for that is that it was cheaper. Another is that it conducts heat really well. The Italian coffee makers that make aluminum Moka pots are Bialetti and Alessi, both included in our Moka pots, they have the experience and skills to make the stovetop coffee makers out there. 
Stainless steel Moka pots
Stainless steel Moka pots are a great option, too. And becoming increasingly favored by coffee connoisseurs, as they are more durable and last longer than aluminum Moka pots. One of the biggest disadvantages of a stainless steel stovetop Moka pot is that they distribute heat less evenly than an aluminum pot does. This might lead to burnt coffee grounds and a bad taste in your coffee cup. 
However, they offer a lot in terms of quality, durability, and efficiency, too. Stainless steel contains chromium – an element that prevents corrosion of metal materials. It is also more durable than aluminum, it is not porous and it is way easier to clean and maintain than aluminum. Although stainless steel Moka pots often are more expensive than their aluminum counterparts, it is safe to say that they will also last longer. 
Which material is better – aluminum or stainless steel?
So, the bottom line is – both materials are great for everyday use. Although there are rumors around the adverse effect of aluminum pots and kitchenware – those are not proven, on the contrary – are not true. Although they might impart a little metallic taste to your coffee, in most cases that means that you have been using too much heat to brew your shot of Italian espresso. This taste would go away as soon as you start using the correct temperature. Aluminummoka pots are great at conducting heat, better than stainless steel, actually, but are not as durable and are harder to clean and maintain. 
Stainless steel stovetop coffee percolators, on the other hand, are becoming increasingly popular due to their durability, anti-corrosion properties, and ease of use, cleaning, and maintenance. They are very similar to the aluminum Moka pots, minus the chance of added metallic taste to your coffee if the heat is too big. 
Stovetop types – (Check if your Moka pot is compatible)

Gas stovetop
Gas stovetops are the most versatile coffee maker types. You can use all types of Moka pots here (apart from the ones meant for induction stovetops). 
Induction stovetop
The Moka pot for an induction stovetop is a stainless steel one. You can not use an aluminum Moka pot on an induction stovetop as it is not magnetic and, therefore, does not work on induction. However, not all stainless steel stovetop espresso makers are compatible with induction coffee pots. If you own an induction stovetop – check if it is compatible before buying your Moka pot. 
The Moka pot size guide – (How many cups do you need?)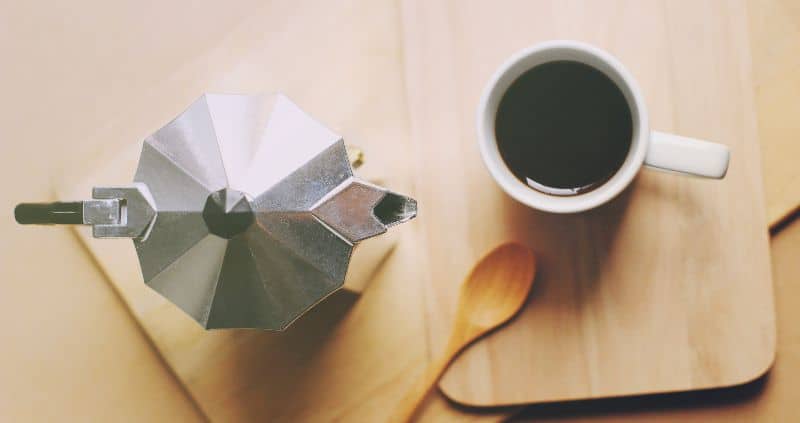 As most Americans think of a cup of coffee as around 6-ounce cups, you might be surprised to order a stovetop coffee maker that states it can fit 2 or 3 cups, just to find out it is way smaller than you expected. As the Moka pot is making Italian coffee, the cup sizes here are meant for espresso. Therefore they are smaller than your average cup size. 
Most Moka pots have various sizes, starting from 1 cup and going up to 16 cups. However, there are sizes that are more common among coffee drinkers. For a household of two to three people who drink coffee, a Moka pot of 6-cups size would be a good fit. For example, one of the Moka pots we can recommend is the Cuisinox Roma, which is perfect for 2 or 3 people.  A pot with 8-cups or 10-cups will be good for 3 to 4 people. 
While larger families should look for bigger Moka pots, like 16 cups. However, if you need a really large Moka pot, perhaps you should consider something else. For example, an espresso maker. Because at some point it will just become too time-consuming and complicated to use a Moka pot for the whole family. Stovetops coffee makers are at brewing small batches of coffee in a brief period of time.
How to take care of your Moka pot?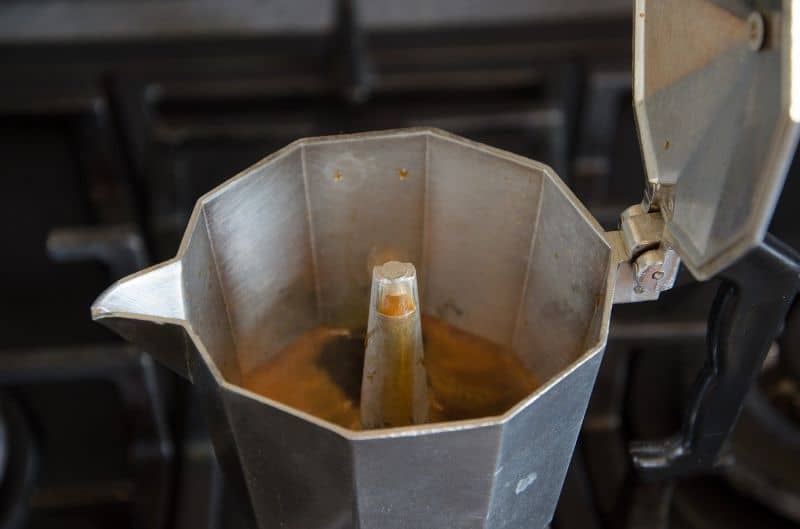 Once you have bought your stovetop espresso maker you will need to take good care of it, so it serves you for a long time. The known way to do that is by doing proper maintenance and cleaning the Moka pot regularly. How to do that? That is why you are here.
First of all – the basics to keep in mind is the proper use of these coffee makers. So you need to make sure you are using your Moka pot on the correct stovetop type. Some of them can not be used on induction stovetops, while others can. Some of them, on the other hand, can't be used on open flame (mostly because they might have wooden or plastic handles that might burn or melt, or they are coated in a material that can not withstand a direct and open flame. You need to check what your stovetop espresso maker can and can not do – just read the manual or the packaging labels, it should be there. 
Cleaning your Moka pot
Cleaning the Moka pot should not be too hard. To clean an aluminum Moka pot you should remember that aluminum is a porous material – that means, if you scratch it (and it can scratch quite easily) it can start adding tiny bits of the material to your coffee. The way to go around cleaning aluminum stovetop espresso makers is to wash them by hand, without using any scrapes or detergents. You only need to rinse it with warm water and that is all. This way you will not wash away the seasoning (if we can call it that) of the Moka pot from the previous times you have used it. And, if kept dry and in a dry place after rinsing it – it will be ready for use the next time you need it. 
A stainless steel stovetop espresso maker can withstand rougher care, so you can use various dish detergents and scrub to clean it, if necessary. 
Most manufacturers also allow the Moka pots to be washed in a dishwasher. However, we would suggest against it, as it can get quite abrasive for the Moka coffee pot. It does not really take that long to clean it. Remember to clean not only the chambers but also the filter and valve. 
Frequently Asked Questions
Q1. How to use a Moka pot?
First, you need to fill the bottom chamber with water. Make sure you don't overfill it. Only add water until it is just below the valve (the small hole-like opening on the side of the bottom chamber). 

Then you need to place the second chamber on the bottom one. Here you need to insert your coffee grounds. Coffee grounds for a Moka pot should be in the fine ground. Most often, on stovetop coffee makers, a dark roast is used for brewing coffee in these stovetop percolators. This will produce a somewhat bitter taste. If you like your coffee creamier and not so bitter – try lighter roasts. Experiment and try out different things. 

Then place the third chamber (it is also the end of the Moka pot) on the and screw it tightly. Brewed coffee will gather in this chamber with the help of pressure that will press the water through the ground coffee, then through the filter, and finally into the upper chamber. 

Place the Moka pot on the stove and turn it on. Make sure to monitor the process. The whole brewing time should take 5 to 10 minutes. But you should keep an eye on it and stop brewing as soon as there is no water left in the bottom chamber. 
! Make sure not to use too much heat. If the water is pushing through the filter with sparkling bubbles – it is too hot, you should turn the heat down a bit. If you think that you smell a bit of burned coffee grounds – you are probably right. In that case, you either kept the percolator on for too long, or the heat is too big. 
Q2. How to clean a Moka pot?
Aluminum Moka pots can not be washed in a dishwasher. You should not use any detergents or scraping tools on it, either. To wash aluminum stovetop coffee makers – use warm water, and maybe a soft cloth. 

Stainless steel Moka pots are more sturdy and you can put them in the dishwasher. However, we would advise against that and just wash them by hand. It takes no time at all. 
Q3. Is Moka coffee as strong as espresso?
Not really, while the coffee brewed in a Moka pot can resemble true espresso to some degree, espresso machines are using at least 9 bars of pressure, while Moka pots can only reach 1 to 2 bars. The process is different, so the taste is different. But you can get a fairly good espresso shot out of a Moka pot if you experiment a bit. 
Q4. Are Aluminium Moka pots safe?
Yes, although they do leech some particles in the coffee, it is far from dangerous levels and can not affect humans in any way.
Closing Thoughts
So, here you are. I hope this article gave you a good insight into what are the Moka pots – we tried to do what we could with our selections. The buying guide is just there in case you were wondering – what makes a good Moka pot, how to tell them apart, and what to pay attention to when choosing your own stovetop coffee maker. 
These things are a great tool for anyone who loves coffee, really. You can use them at home as well as outdoors – nothing better than a freshly brewed cup of espresso-based drink while camping out. They are fairly inexpensive (sure, as with anything else – you can pay more for extra quality, bells, and whistles), but the very basic Moka pot will do its job beautifully. If you need a proper workhorse, try the Bialetti traditionally looking Moka pot. It is number one on our list and approved by thousands of other shoppers, as one of the supreme stovetop coffee makers out there. 
We hope this article proved to be useful for you, and, as always, if you have any questions or anything to tell us – write it down in the comment section.