Are you a person who has longed for a Miele Coffee maker for a long time but didn't dare approach them because of the high prices?
Experience the pinnacle of coffee craftsmanship with Miele coffee makers. In this guide, we'll unveil the best Miele coffee machines, renowned for their precision and convenience. Elevate your coffee experience with the best in the business.
These Miele coffee makers are known for their high prices and superb versatility. If you are familiar with coffee machines, we are sure you would have heard of the Keurig coffee machines, Cuisinart, and others. While these coffee makers are common because of their fairly low prices, their versatility is below par when compared to the Miele coffee maker.
These coffee makers are for the ones who enjoy a variety of different flavors and are not too happy with the regular coffee experience. You will certainly feel like you operate your own little mini Barista in your kitchen.
So, let's dig into the Miele coffee maker suggestions. A buyer's guide to Miele coffee machines. And other useful information about Miele and its products. Here are 5 Milele Coffee makers for any budget.
Our 5 Best Miele Coffee Makers For Any Budget
We agree that Miele Coffee makers are a tad high on prices, but one has to agree they can change your coffee experience. This article lists the 5 Miele coffee makers with a balance between budget and functionality.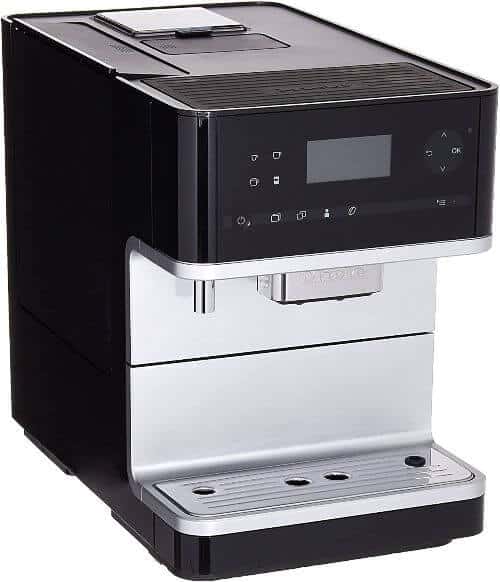 At a glance, the Miele CM6350 coffee maker is an elegantly designed automatic coffee machine. The OneTouch for Two feature produces two cups of coffee simultaneously and creamy milk froth for coffee specialties.
Like with all Miele products, it comes with a hefty price. It is more expensive than every other product on our list. But its features superciliously justify its price. Buying this machine means you'll no longer patronize that fancy coffee shop for your meetings. That is not to save money. However, the quality of coffee from shops wouldn't be anywhere close to what the CM6350 provides. All thanks to the Miele brewing technique (AromaticSystem).
This system ensures full extraction of the richness of the coffee by expanding the brew chamber when water flows in. This allows the coffee grounds to mix better with water, and the coffee aroma and flavor unfold efficiently, producing a toothsome cup of aromatic coffee.
The CM6350 Miele coffee maker comes with many unique features you will not find in one commercial coffee machine, and below are some.
Miele CM6350 Countertop Coffee Machine

features
User profiles – The machine allows you to save the settings for your favorite beverage as one of its ten user profiles. It will then replicate the same drink at the touch of a button. Each user profile saves parameters. Like the amount of coffee, grinder settings, brew time, water temperature and amount, and milk preparation (if applicable). If you think nobody can get your taste preference just right, you haven't met the CM6350.
Convenience is key – The user convenience of the device is also outstanding. First, it comes with an easily accessible Ground coffee chute that allows you to prepare another coffee variety. Without the need to change the beans for the preferred coffee type. There is an integrated timer on the device that can be programmed as required.
Various modes – The device has a coffee and tea specialty that all specialty prepares several cups of coffee or tea. And up to eight cups of a cuppa at a time. It features an Eco mode that saves energy by heating up only before the coffee preparation and will serve up to eight drink specialties. These specialty drinks include Ristretto, Espresso

, Hot milk and hot milk froth, coffee,

cappuccino

, latte macchiato, caffe latte, and long coffee.

Maintenance is easy – Maintaining a commercial-grade coffee maker never gets easier than with this appliance. Its brewing unit is easy to remove and clean. For better convenience, most of its parts are dishwasher-safe, and its removable components and automatic cleaning processes ensure perfect machine hygiene, cleanliness, and long service life.
Pros
Noiseless and fast in operation
Eco-friendly and energy-saving
Easy to clean
Easy to operate
Can produce top-notch quality coffee
Cons
Can't fit a water filter for this model
Very expensive
---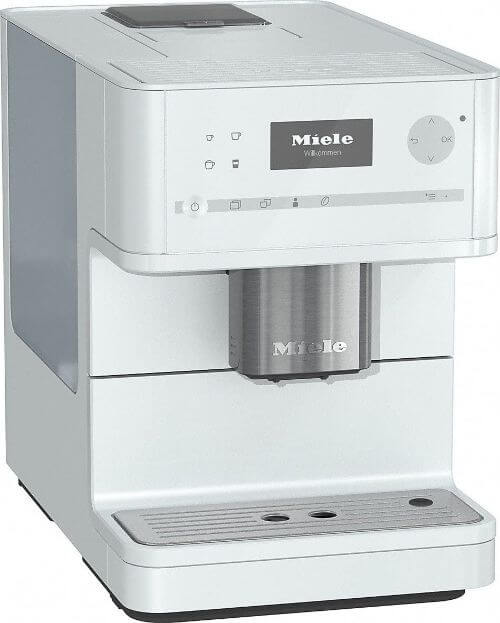 The CM 6150 has a lot in common with the CM 6350. You may not be able to tell the difference between both machines by just looking at them. However, a significant part missing in the CM 6150 is the hot water spout. Aside from that, there is not much difference from the other features.
The above means that the CM 6150 comes with the Aromatic System Fresh that efficiently preserves the aroma and flavor of your coffee. That is possible because of the appliance's innovative conical grinder and its positioning just above the brew unit. Both of these ensure fast brewing time and eradicate the possibility of remnants that may mar the next coffee taste.
Key Features Of CM 6150 Countertop Coffee System
10 programmable user profiles – There are up to ten programmable user profiles that allow you to save the parameters for your favorite drink and see the device make them whenever you want it. This super-automatic coffee machine also has a Cup sensor that detects the height of your cup and positions the central spout correctly to prevent splashing. You can lower the sensor to 4 cm or raise it to 16.5 cm. Either way, the sensor will ensure a convenient positioning of large latte macchiato glasses or little mugs and will not splash a drop.
Easy to operate – With all of these features, you might presume that the device would be hard to operate, but that would be very wrong. Like with any appliance, it will take you a few minutes to understand the machine's interface, and that's it, you won't have to learn it again.
Intuitive and intelligent – Moreover, the device comes with an intuitive and intelligent interface that requires fewer touches of the buttons to produce your desired coffee. Specifically, the One Touch for Two allows you to prepare (as it sounds) two cups of coffee with only a touch of a button. If you do not want to touch a button, you can set a timer and parameters, and the machine will get you your cup promptly.
Like with the CM 6350, the brewing unit of this appliance is easy to remove and clean and is dishwasher-safe. Similarly, CM 6150 will produce the same number of drink specialties.
Other notable features include the Eco Mode, Coffee/tea specialties, Built-in milk frother, ground coffee chute, and system lock.
Overall, CM 6150 is an outstanding Miele coffee maker. It is less pricey than the CM 6350 but will do almost anything the 6350 will do.
Pros
It is feature-rich
Costs less than CM 6350
The device provides extreme drink programmability
Exceptional coffee taste- thanks to the unique brewing method
Convenient cleaning programs for care and maintenance
Cons
We could hardly get a bad side to this device only for its slightly small 2.2-litre water reservoir
---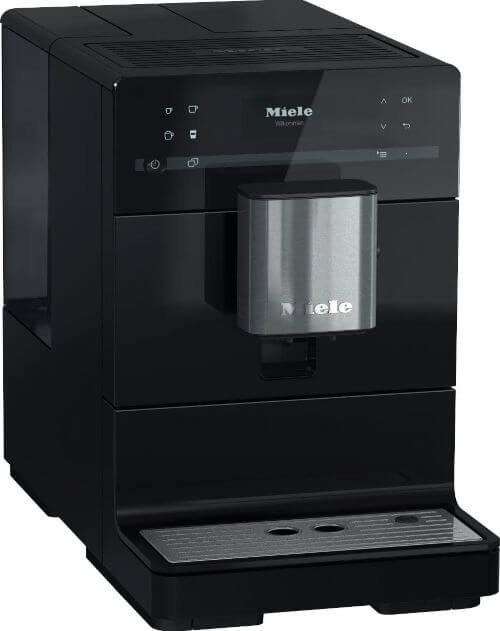 At a glance, the CM 5300 is a lighter and more compact Miele coffee maker than the CM 6150. It is cheaper than both products and has fewer features. For starters, the Cup Heating feature on the 6350 and 6150 is not available on this product. This function, as the name implies, pre-heats the coffee cups or glasses on a heating surface at the upper surface of the machine. The goal is to allow the flavor of the coffee to develop and be retained for extended periods.
Key Features Of Miele CM 5300 Coffee System
No water sprout – Like with the 6150, you will not get the hot water sprout on the 6350. Still, the device is worth its reasonably low price because of its available features. You still have the creamy milk froth to enjoy different coffee specialties. The device also features the AromaticSystem for perfect specialties with intense flavor. So, the brew chamber will expand when the hot water comes in, flavoring the flavors and aroma of the ground efficiently.
Can brew all the coffee drinks you need – You would still get all the drink specialties available on the top-priced Miele coffee makers. Espresso, Ristretto, Coffee, latte macchiato, Cappuccino, hot milk and hot milk froth, Gaffer latte, and long coffee.
The machine comes with a dishwasher-safe drip tray and a removable and easy-to-clean drip tray with an automatic cleaning program. All of these features guarantee optimum machine hygiene at the least possible human effort.
There is a coffee pot function that will be an excellent option when you have visitors. At the touch of a button, this option makes the device dispense up to eight cups of coffee, one after the other, into a coffee pot placed under the spout.
CM 5300 allows you to save your taste preferences by selecting and saving the amount of coffee, grinder setting, water temperature, and amount. With that, you can easily set the timer for when to brew your preferred coffee or drink in no time with a push of a button.
Is Miele CM 5300 enough for the price?
Overall, is there an advantage the CM 5300 (of the CM5 series) has over the CM 6 series (CM 6350 and CM 6150)? Yes! Although there are a lesser number of features on the CM5 than the CM6 series, fewer features also mean better ease of use and lower price.
All in all, although the absence of cup heating will not make the flavor of your coffee last in this product as in the CM 6 series, the CM 5300 is still an outstanding coffee system.
Pros
Integrated milk frother
Easy to clean and maintain
DirectSensor feature to prevent drip
Cons
No hot water sprouts
No cup heating feature
---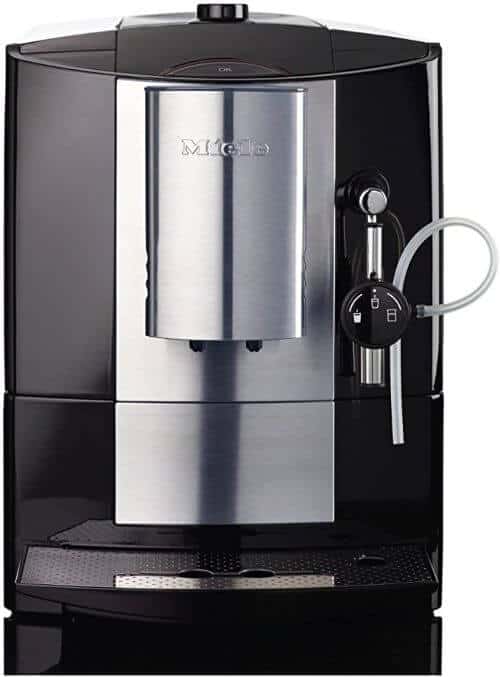 CM 5100 looks very different from all the products on our list, but it still shimmers elegance and luxury. It comes with a very different set of features than the CM 5300 and a slightly lower price. Although this automatic coffee machine is the cheapest on our list, its features and qualities are nowhere near low-end.
Like with every other Miele CM 5 series, this product comes with a milk frother, One Touch for Two option but without a hot water sprout.
No programmable user profiles, I'm afraid
The device does not come with any programmable user profile. So, you will not be able to save the settings of your taste preference like you would have with the CM 6 series. However, you can still choose the amount of water per cup, grinding fineness, water temperature, and strength per cup.
On the bright side, there is a cup heating feature on this device which will guarantee longer retention of flavours. This product comes with an electronic steam valve and an insulated stainless steel milk flask.
The aromatic system option – somewhat like the pride of the Miele coffee maker, is still available on the device. So, you will not get a different taste or aroma on your coffee with the CM 5100 than on any other Miele product.
Like with every other product on our list, this one has the System lock option. This function prevents unintentional operation of the machine as in the case of children playing with the device or tapping the brew button by mistake.
What's important
Most importantly, the machine can brew all the eight drink specialties available on other Miele coffee makers no worse or betterspecialtiesmove the brew unit and clean it up quickly. You can also empty the drip tray and ground container to clean both parts by hand or put them in a dishwasher. The convenience of maintaining this device is excellent. Even more, the integrated ground coffee chute is easily accessible. So, you will not need to replace the coffee beans if you want another coffee type but fill the chute with other ground, e.g., decaf coffee, and put it in the machine.
Other notable features include the coffee and teapot function, the two-line display, the Eco mode option, a programmable timer, and the height-adjustable coffee spout.
Pros
Convenient cleaning programs
Noiseless in operation
Power-saving option
Easy to use and clean
Cons
No cup heating option
No hot water sprouts
---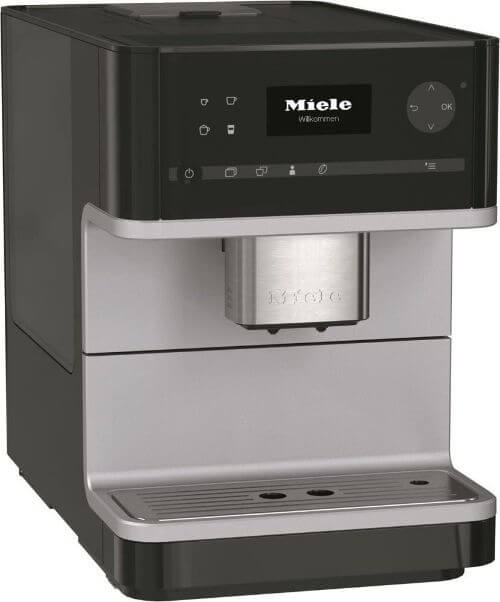 CM 6110 Coffee system is undoubtedly one of the Miele Coffee makers in the market today. It is the least expensive from the CM 6 series on our list. But still has all the outstanding features Miele products possess.
First, CM 6110 comes with Miele's AromaticSystem. This system guarantees full extraction of the entire goodness of the beans by allowing a larger space for the coffee and water to blend, resulting in an intense aroma and flavors.
Key Features Of CM 6110 Countertop Coflavorstem
Brew specialty coffee with ease – From the comfort of your home, you can make the same eight coffee specialties available on every other Miele coffee maker with this product. All you have to do is to tap the button. From a regular coffee to espressos, lattes, cappuccinos, ristrettos, and macchiatos. The CM 6100 will make a toothsome and pleasurable cup.
The device comes with an adjustable dispenser spout. This spout will suit a wide range of cup sizes. From American mug sizes to the classic petite espresso cups to ensure the perfect pouring of coffee.
One-Touch for Two – The device features the One Touch for Two functions that deliver two cups of coffee simultaneously by pressing a button. Unloading your coffee machine of beans because you want to use another coffee bean can be hectic. However, with the CM 6110, you do not need to worry about that- thanks to the coffee bypass chute option. This function allows you to pour coffee grounds into the chute and get your coffee prepared without unloading the bean container.
One of the built-in coffee grinders – The grinder in the machine allows you to select the fineness of your beans to match your aroma and flavor preference. You can also choose the amount of coffee you want to grind to increase its flexibility in replicating your preferred brew strength.
Overall, it is common to think that Miele coffee systems are expensive and out of reach. While its price is quite high, spending only $5 in a coffee shop daily amounts to over $1800 annually. If we add the time you had to wait in line, the gasoline you used driving to the nearest shop, or those incorrect orders, the price gets higher than the stated $1800. Precisely, you would have spent the total cost of the CM 6100 in six months.
Pros
Power-saving function
Noiseless operation
Excellent-tasting coffee
Easy to clean and maintain
Cons
No cup heating function
Does not prepare American
---
Miele coffee makers – Buyer's Guide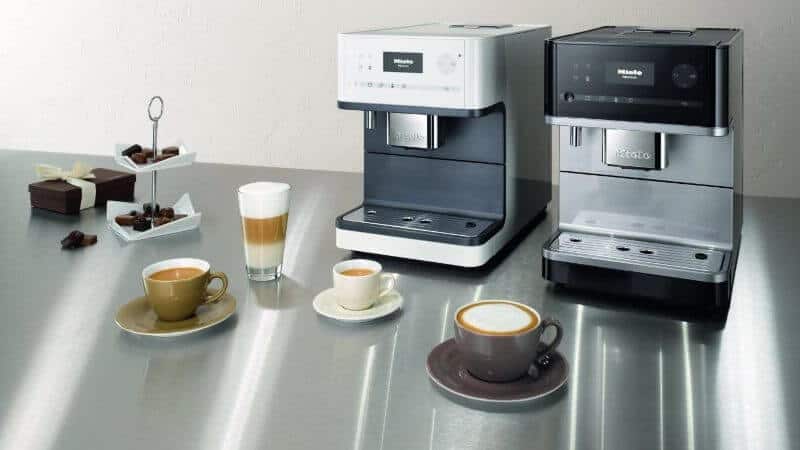 About Miele
Miele is a German-based manufacturer of high-end domestic appliances and commercial equipment. With headquarters in Gutersloh, Ostwestfalan-Lippe. The company has a heritage of over 120 years.
its two founding fathers, Carl Miele and Reinhard Zinkann, founded its philosophy- immer besser (which means better and better).
Miele's 100+ years of experience in manufacturing shines on all its products. Its build, innovative design, and improvement on each product also starkly talk of the brand's philosophy and its value for innovation, quality, and fascination. The company's products have won numerous awards and prizes. If we are going to list all of its awards, the article will become too boring. Yes, they have won that much! The CVA 7845 coffee system won the iF Design Award 2019, and the CM 6310 and CVA 6805 coffee machines took the red dot design award for high design quality in 2015 and 2013, respectively.
Miele, as a brand, also has many awards too. Among these awards include the Brands 2019 Hall of Fame, which implies that Miele belongs to the companies ranked among the well-known three in the "Company Brand" category more than ten times.
Why choose the Miele Coffee System?
The quality of coffee – It is worth mentioning that the quality of Cuppa is the first thing you should look out for when buying any coffee system. Aesthetics, size, brand, and features come only after the coffee taste.
While Miele fully automatic coffee machines

can confidently boast of a superb exterior and features, it can equally pride itself in making super-delicious cups of coffee and other drink specialties – thanks to its unique brewing function.

The AromaticSystem, Miele's unique brewing technique, makes use of a special conical grinder and brewing chamber. The grinder grinds each cup of coffee, and it brews it straight away without any residue in its grinding chamber- all thanks to its efficient positioning above the brew unit.
The brewing chamber expands when water flows in, and this process allows the ground to mix better with water and ensures that the coffee aroma and flavor unfold efficiently. Hence, producing a very delicious cup of aromatic coffee. Miele CM 6 series and above features a cup heating function that heats your coffee mug before filling to retain the flavor and aroma for extended periods.
The drink specialties available – The coffee shop, for some coffee lovers, is a place to get your specialty drink- the kind you wouldn't get at home with your machine. However, with a Miele countertop coffee machine, you would have to ditch that coffee shop. That's because both the Miele built-in coffee machine and the free-standing automated coffee machine (cm systems) can make up to eight drink specialties- cappuccino, espresso, latte, ristretto, long coffee, hot specialties milk froth, latte macchiato, and caffe latte.
The good part is that all of these drinks, even the most complicated ones, can be made with a push of a button. For example, the latte macchiato isn't a drink any coffee maker can pull in simple steps. However, with the Miele coffee system, a push of a button is enough. In three simple steps, the device makes the latte macchiato. First, the brew unit automatically lowers to the height of your cup, thanks to its excellent cup sensor function, and dispenses hot milk.
Next, the machine grinds the beans and pours a strong espresso into your cup. Kindly note that because the dispenser lowers to the height of your mug, there will be minimal temperature loss from the exposure to air. Lastly, the device dispenses the milk froth that will sit on the crest of the beverage. Tada! Your toothsome cup of macchiato is ready without any stress.
For beverages that require milk, Miele coffee machines come with a removable glass container for milk. These containers are easy to monitor (since their construct is of transparent glass) and are also easier to clean than stainless-steel milk containers. You will not need to worry about using up all the milk at a go because the removable glass can be refrigerated.
The user convenience – There is hardly a coffee system in the market today that can beat the convenience Miele coffee maker provides. First, Miele allows you to save the parameters of your favorite drink and will brew the same coffee anytime. So, if you have favorites with a wide range of taste preferences, each person can save his favorite drink parameters into any of the ten available user profiles in your favorite China. These parameters include the bean type, water temperature and quantity, amount of coffee, and milk/ milk froth quantity if applicable.
All Miele coffee makers come with a One Touch for Two Function. This option allows you to brew two beverages at the same time with one button push. If you have many guests, there is a Coffee Pot feature that lets you brew up to eight cups of coffee and have them dispensed via the sprout into your pot.
Miele coffee maker is easy to clean and maintain – All Miele coffee makers come with the ComfortClean feature. This function allows for the easiest ways to clean your device. First, almost all of the individual components are dishwasher-safe, including the drip tray, water container, and ground container/ waste container. Although ComfortClean guarantees convenience, it also ensures optimum hygiene and helps to preserve the value of your device.
Miele machines do not need you to do all the cleaning yourself. The AutoClean function, as the name implies, relieves you of the efforts in cleaning some parts of the machine. Correctly, the AutoClean Function cleans the brew unit and milk pipework automatically. Even more, there is the AutoDescale Function that almost eliminates the need for manual descaling.
Cleaning Guide For Your Miele Coffee Maker
To ensure maximum hygiene on your device, Miele gives an overview of the frequency of cleaning your device.
Recommended frequency
What to clean/maintain
Daily (at the end of the day)

Ground container
Water container
Stainless steel/Glass milk flask
Drip tray and drip tray cover

Once a week (More often if used heavily)

Brew unit
Main dispenser with cappuccinatore
Housing (particularly significant immediately after you describe the appliance)
The area underneath the brew unit

Once a month
Ground coffee chute and bean container
When prompted

Descaling the machine (you can use the AutoDescale option)
Milk pipework (You can use the AutoClean function)
Brew unit
Do note that although some parts of the coffee system are dishwasher-safe. However, cleaning these components in the dishwasher frequently can cause them to become discoloured because of the regular contact with food residues in the didiscoloredorse yet, the surface of these components could get damaged. So, you should reduce how often you put them in the dishwasher.
How To Wash Your Miele Coffee Maker?
You can clean some parts of the device by hand only. They include:
Brew unit
Water reservoir lid
Stainless steel milk flask
Stainless steel central sprout cover
Lower panel
Bean container lid.
Below is a list of the dishwasher-safe parts:
Drip tray and lid
Waste unit
Drip tray cover
Water container
Central spout (without the stainless steel cover)
How to maintain your Miele coffee system?
To better maintain your device, avoid the following:
Cleaning products containing acid, chloride, ammonia, or soda
Lime removers
Cleaners containing solvents
Stainless steel cleaners
Dishwasher detergent
Abrasive cleaning agents like cream cleaners and powder cleaners
Scouring pads like Eraser sponges, metal scrapers, pot brushes, and scrubbers, or used sponges that contain abrasive cleanser residue
You can use glass cleaners on the exterior but do not allow them to sit or puddle as that can damage the surface. In simple terms, remove the cleaner promptly.
How to clean the brew unit of your Miele Coffee Machine?
Descale your Miele Coffee Maker
How to clean the milk pipework of your Miele Coffee System?
You must clean the milk pipework of your Miele coffee maker with the Original Miele cleaning agent for milk pipework. The cleaning takes approximately seven minutes to complete and will require one sachet of the cleaning agent.
It is worth mentioning that you cannot cancel the cleaning process once it starts. It must finish the process. To clean the milk pipework, follow the steps below.
Select "Maintenance" in the main menu then "Clean the milk pipework" to initiate the cleaning process.
Fill the water container with lukewarm water up to the level of the marker. Then add one sachet of the agent to the water container and push the water tank back into the machine.
Allow the machine to rinse the pipework automatically.
When "Rinse and refill the water container" appears on the display console, remove the water tank and rinse it thoroughly with clean water. Ensure that there no cleaning agent is in the container.
Put the water tank back in, and the cleaning process will be complete. Finally, you'd see "Process finished" on the display console.
How to degrease the brew unit?
After the machine dispenses 200 portions of coffee, "Degrease the brew unit" will appear on the display console. This message will not go until you have degreased the brew unit. Still, like with cleaning the milk pipework, degreasing the brew unit is very easy. You'd only need one Miele cleaning tablet, and the process takes roughly 10 minutes.
It is not possible to cancel this cleaning process once it started. It must complete its operation. To decrease the brew unit, follow the steps below.
Touch the "Maintenance icon" on the main menu and select "Degrease the brew unit" to initiate the process.
Follow the instructions on the display console.
When "Place a cleaning tablet in the ground chute and close the chute" appears, remove the coffee chute cover.
Next, open the lid of the coffee chute and place one cleaning tablet in the chute.
Follow further instructions given in the display.
The automatic degreasing process will be completed when "Process finished" appears in the display.
Safety instructions
You must disconnect the coffee system from the electrical supply before attempting any manual cleaning or maintenance
Do not use steam cleaners to clean your Miele coffee system. Steam can reach electrical components and cause a short circuit.
Do not use sticky notes, masking tape, transparent adhesive tape, or other types of adhesive on stainless steel surfaces. Doing that damages the surface and causes it to lose its dirt-repellent protective coating.
Fill the water tank only with fresh, cold tap water warm or hot water, or other liquids that can damage the coffee system.
Miele recommends you change the water every day to prevent bacteria build-up
Do not use mineral water on your device as it could cause limescale deposits to build on your machine and ultimately damage the machine's components.
Fill the bean container with roasted espresso or coffee beans. Do not fill it with beans treated with additives or ground coffee.
Do not use oily beans treated with caramel, sugar, or other substances. That's because oil and sugar will damage your machine.
Never place any alcohol mixtures underneath the main dispenser. The flames could ignite the plastic container and make them melt.
Common errors displayed on the Miele coffee system and how to solve them
Error message
Possible cause and quick fix
F1, F2, F89, and FF82

Your machine has an internal fault.

Switch the coffee system off with the On/Off button. Then wait for approximately one hour before switching it back on.

F41, F42, F74, F77, F235 and F236

Your machine has an internal fault

Switch off the device, and wait for two minutes before turning it back on.

F10 and F17

No water or the machine draws in very little water.

Remove the water container then fill it with fresh water
Check the stainless steel water intake valve filter and clean it if necessary.

Too much ground coffee
There is too much ground coffee in the coffee chute. If there are more than two level scoops of ground coffee in the chute, the brew unit cannot process it. So, the grounds will go to the waste unit, and the error message will appear.

Turn the appliance off from the ON/off button
Remove and clean the brew unit.
Remove the ground coffee inside the system, e.g., with a vacuum cleaner.
Use the coffee scoop supplied to add the ground coffee into the chute. Ensure you do not add more than two portions to the chute.
Closing Thoughts on Best Miele coffee makers
These recommendations on best Miele coffee makers are certainly one of the coffee makers available today. Although its relatively high price might dishearten you, the functionality, versatility, and quality of coffee from this device are undoubtedly worth every penny you spend on a risky purchase.
Along with the quality of coffee and versatility, Miele coffee systems come with a thoughtful design that allows extreme user convenience in operating, maintaining, and caring for the device.
Your pride will take a serious rise when you are able to offer coffee from all around the World to all your friends, can you? This is definitely a machine for those who adore their coffee experience.
We are that you now know what product suits you. Go get it while it is still in stock and start to enjoy the luxury and refreshing coffee experience only Miele coffee machines offer.
FAQs about the best Miele coffee makers
What is a Miele coffee maker?
A Miele coffee maker is a high-quality, premium coffee machine manufactured by the German company Miele. It's designed to brew a wide variety of coffee beverages with precision and convenience.
What types of coffee can I make with a Miele coffee maker?
Miele coffee makers can brew espresso, cappuccino, latte, regular coffee, and more. Some models offer customizable settings for coffee strength and temperature.
Are Miele coffee makers easy to use?
Yes, Miele coffee makers are known for their user-friendly interfaces and intuitive controls. Most models feature touch-screen displays for easy operation.
Do Miele coffee makers have a built-in grinder?
Yes, many Miele coffee makers come with a built-in grinder, allowing you to use fresh coffee beans for your brews. This ensures the freshest taste possible.
Can I use pre-ground coffee with a Miele coffee maker?
Yes, most Miele models allow you to use pre-ground coffee in addition to whole beans, making them versatile for various coffee preferences.
How long does it take for a Miele coffee maker to brew coffee?
The brewing time varies depending on the coffee type and model, but generally, Miele coffee makers are designed for efficient and quick brewing.
Are Miele coffee makers durable and long-lasting?
Miele is known for its high-quality appliances, and their coffee makers are no exception. With proper care and maintenance, they can last for many years.
Can I customize the strength and temperature of my coffee with a Miele coffee maker?
Yes, Miele coffee makers often offer customizable settings for coffee strength and temperature, allowing you to tailor your coffee to your preferences.
Do Miele coffee makers come with a warranty?
Most Miele products come with a warranty. The specific terms and duration of the warranty may vary by model and region, so it's best to check with the retailer or manufacturer for details.
How do I clean and maintain my Miele coffee maker?
Miele provides detailed instructions for cleaning and maintenance in the user manual that comes with the coffee maker. Regular cleaning and descaling are important to keep your machine in top condition.
Are Miele coffee makers compatible with smart home systems?
Some Miele coffee makers offer compatibility with smart home systems, allowing you to control and program your coffee maker remotely through a mobile app or voice commands.
Where can I purchase a Miele coffee maker?
You can find Miele coffee makers at authorized Miele dealers, appliance stores, and online retailers. Be sure to buy from reputable sources to ensure authenticity and warranty coverage.
Are Miele coffee makers energy-efficient?
Miele coffee makers are designed with energy efficiency in mind. They often feature energy-saving modes and automatic shut-off functions to conserve energy.
Can I make specialty coffee drinks like macchiatos or mochas with a Miele coffee maker?
Yes, Miele coffee makers can prepare a wide range of specialty coffee drinks, including macchiatos, mochas, and more, thanks to their versatile brewing capabilities.
Do Miele coffee makers come with a milk frothing feature?
Many Miele coffee makers include a milk frothing or steaming function, making it easy to create frothy milk for cappuccinos and lattes.