Spanish Coffee Recipe That Is Almost Too Pretty To Drink. This recipe is versatile, potent and richly flavoured, while still being low on milk or cream so it won't make you feel too full all through the day. The best part about it is that you can adapt it by increasing or decreasing certain ingredients, as per your choice.
Spanish Coffee Recipe
Every Spaniard has a profound relationship with coffee. The Spanish consider having coffee with a friend one of the most suitable forms of therapy, and we have to say, we cannot agree with them more.
If you have ever been to Spain, you know that there are a zillion varieties of coffee you can choose from, most of them unheard of to us petty foreigners. Sipping coffee while watching the day go by is an art the Spaniards seem to have mastered, and they do it in style. Quaint bistros, terraced restaurants, rooftop eateries, and even sophisticated in-house coffee stations are proof of the fact that the Spanish take their coffee very seriously.
How Is A Spanish Coffee Recipe Different From The Rest Of The World?
Every zone has its own way of doing coffee. You might notice that Spanish coffee is pretty similar to American espresso, less watered down, and powerfully potent. What then makes Spanish coffee different from the rest of the World?
Though spiked coffee is a regular feature, we daresay, that no one really does it as well as the Spanish. Triple sec, Kahlua rum, and whipped cream are a few basic ingredients used to create some of the richest and most decadent coffee experiences.
In addition to spiking the coffee itself, the caramelized glass rim, created by lighting the rum on fire is what gives a Spanish coffee recipe its stamp of authenticity and charm.
Spanish Coffee Recipe – Ingredients, Method of Preparation
Here is a simple, step-by-step guide for you to create the perfect Spanish coffee in the comfort of your home.
Ingredients
3 ounces of coffee
2 ounces Kahlua
½ ounce Triple Sec
½ ounce aged rum (or white or dark)
Granulated sugar, for dipping the glass
Lemon wedge
1 large spoonful of sweetened whipping cream, whipped to soft peaks
For the garnish: grated chocolate or fresh grated or ground nutmeg
Method of Preparation
Brew a strong cup of coffee and allow it to cool a bit before you progress to the next step.
Whip your whipping cream till it reaches the soft peak consistency.
Create the sugar rim of the glass by lining the rim of the glass with a half-inch lemon and then dipping it in sugar.
Use a kitchen torch to caramelize the sugar on the rim of the glass.
Now all the coffee, Kahlua, triple sec, and rum, and give all the liquids a good stir.
Add the whipping cream on top and use the back of a spoon to spread it out over the top of the glass.
Garnish the top with chocolate, nutmeg, cinnamon, or even cocoa powder.
Tips To Give You The Perfect Spanish Coffee
Use good quality ingredients. This is probably the only tip you will need to follow to recreate Spain in your kitchen.
Be careful while creating the caramelized ring. Some recipes call for doing the caramelized ring procedure with a lighter (which is actually how it's done in Spain) but that has led to a few stories of explosions. A kitchen torch is definitely the safest gadget to use for this.
Experiment with different orange liqueurs and flavours of rum if you're feeling adventurous.
Opt for homemade whipping cream if you can. It definitely enhances the flavour and is easier on the pocket as well. All you will need is heavy cream and a good whisk.
Variations Of Spanish Coffee Recipe
Spanish Coffee Cocktail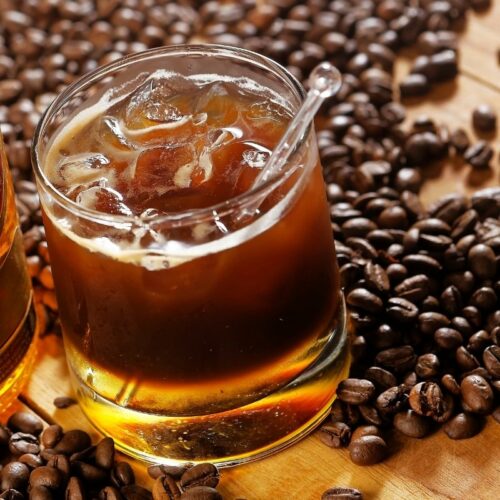 This is a night-friendly version of Spanish coffee, regularly enjoyed in pubs and bars as well. Obviously, it can be created with a variety of alcoholic and non-alcoholic additives. The recipe remains pretty much the same.
Iced Caramel Spanish Latte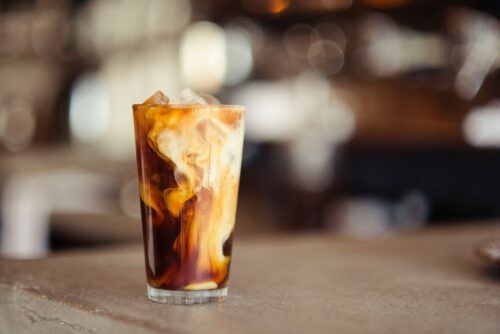 This part caramel mochaccino, part Spanish latte could become your go-to drink if you enjoy your coffee chilled. Though it is traditionally served virgin, you could always spice things up by adding a few boozy touches to it.
Spanish Bombon Coffee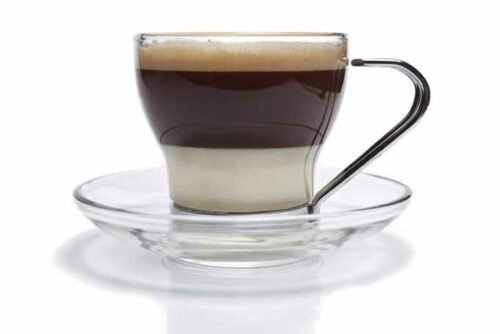 This drink is an amazing marriage of coffee and milk that is aesthetically pleasing while still giving your taste buds that exceptional tingle when the heavier milk mixes with the lighter brewed coffee just as you tilt the coffee mug onto your lips.
Traditional Spanish Carajillo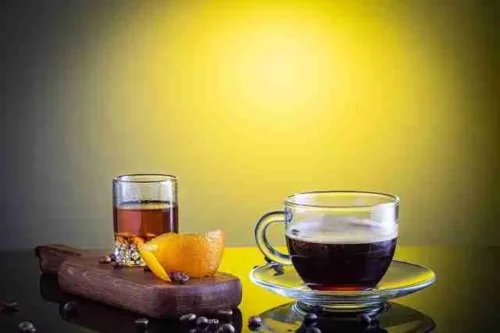 This is the most authentic reason you can find to get tipsy on a weekday in Spain. This portion of brewed coffee and a touch of alcohol is definitely a drink for the Gods. Try it out with a variety of alcoholic beverages and different coffee roasts to find your perfect partner.
The Perfect Accompaniments To Spanish Coffee
As is our nature, we go one step beyond and bring to you a list of snacks you can whip up to go with that steaming hot cup of Spanish coffee. You just have to try these if the aim is to recreate Spain at home.
Croquetas de bacalao are crisp and savory Spanish fritters made with cod. The cod is salted and mixed with bechamel or mashed potatoes and can then be shaped into dumplings and deep-fried to a crusty golden hue.
Torrijas are the Spanish version of French toast. Bread (that might be even stale) is dipped in milk and then in beaten eggs and fried to a crunchy consistency. It can be topped with cinnamon or honey for added flavor.
Patatas Bravas is for the slightly more adventurous who can stomach a large potato dish with creamy coffee. It involves cubed potatoes being topped with a tangy sauce of onions, tomatoes, garlic, chili powder, and paprika. It is also a popular late-night snack and is sometimes even topped with the classic Spanish chorizo.'
Empanadas are the famous half-moon-shaped, crusty pastry pies that can be filled with a variety of fillings. Spiced meats and vegetables are the usual choices for fillings. These savory snacks are crisp on the outside and succulent on the inside. They can be baked or fried.
Conclusion on Spanish Coffee Recipe
No matter what you pair it with or how to choose to make it, the Spanish coffee recipe is certainly a winner. Dole it out at your next theme party and you are sure to be remembered by all your friends.
Play around with the silverware that you use to serve this coffee and also experiment with both hot and cold versions of the same. The Spanish coffee recipe is sure to be a staple in your recipe book because of its full-bodied taste and rich flavour. This one is a keeper.
You can also check,