Vegan Coffee Creamer Recipe
When you speak about vegan creamer, you can make your own rich creamy homemade vegan coffee creamer recipe.
You can make it as sweet as you like with any sweetener you choose and perfect of all you will never need to repurchase any creamer. You can make soy, almond, coconut, or any plant-based creamer you like, in flavors like vanilla, hazelnut, almond, and more. This recipe would definitely require a bit more practice but the end result is just amazing.
Homemade Vegan coffee creamer recipe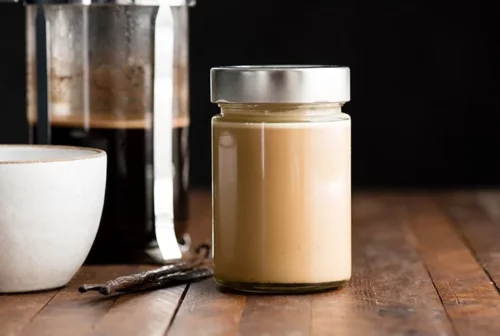 Ingredients
1 Cup vegan sweetened condensed milk. Cooled slightly.
1 ½ cups plain unsweetened almond milk or plant-based milk of choice.
2 teaspoons of pure vanilla extract
2 teaspoons hazelnut extract
1 packet stevia/erythritol blend or more to taste.
Directions
Gather up all the ingredients first.
Combine all ingredients in a blender and blend until smooth.
Store this in an airtight container in the fridge for up to 3 weeks.
Dairy-free coffee creamer recipe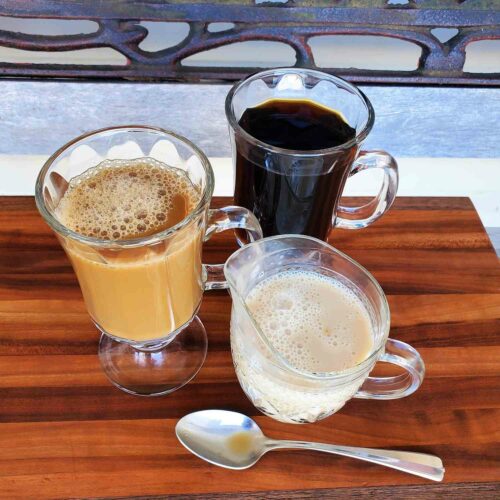 Ingredients
1 cup unsweetened Almond milk
2 Tablespoons Maple Syrup
½ teaspoon cornstarch
2 teaspoons Vanilla Extract
Directions
Are you vegan? Or are you dairy free? Well here is a perfect Dairy free coffee creamer recipe, that is flavorful and sweetens up your cup of coffee. You can leave out the cornstarch. But this helps to make it creamier.
Step 1
Combine Almond Milk, Maple syrup, and cornstarch in a small pan. Whisk all together till the cornstarch is completely dissolved. Continue to stir frequently over medium heat, until the mixture comes to a slow boil.
Step 2
Remove from heat and whisk in the vanilla.
Step 3
Store in an airtight jar in the refrigerator for up to 5 days. Shake well before serving.
Variations of a Dairy free coffee creamer recipe
Here is a variation of an incredibly rich and creamy Dairy Free coffee creamer Recipe with only 3ingredients.
Ingredients
1 cup raw almonds or raw cashews.
1 pinch of sea salt (Optional)
1 Medjool date Pitted
2 cups water
1 dash of vanilla extract.
Directions
It is important to soak the almonds or cashews the previous night. This helps make the almonds or cashews softer, reduces phytic acid, and helps make a creamier, easy-to-digest nut milk. You could either soak them overnight or for at least one-hour min. And do add a pinch of salt.
After soaking drain and transfer the almonds or cashews into a blender along with the two cups of filtered water, date, and vanilla extract.
Blend it all on high or until you get a nice creamy and smooth mixture
Then place a clean towel over a large mixing bowl and pour the mixture using the towel as a strainer. Gather all the edges and squeeze tightly until all of the liquid has been extracted leaving only the pulp behind.
Store this mix in an airtight container for 4 to 5 days or in the refrigerator for up to one month. It's a perfect mix of hot or even iced coffee, tea, and matcha.
Uses of creamer other than coffee.
A creamer shouldn't be used only in coffee. Here are a few more uses for a creamer apart from coffee.
It can be used as a base for smoothies.
Drizzled on a bowl of oatmeal for a perfect morning breakfast.
It can also be used as a substitute for milk in a muffin recipe however reduce the amount of sugar mentioned.
Flavor options for vegan coffee creamer recipe.
The most suitable part about this recipe is that you can test it out with different flavors. But before you do so please remember all these flavors will be used instead of hazelnut flavoring. Below is a list of flavor options that work like magic in this recipe:
Maple-Cinnamon- leave out the hazelnut flavoring and add 2 teaspoons of maple extract and one tablespoon of ground cinnamon.
Almond Joy – Add one teaspoon of coconut extract, one teaspoon of almond extract and one and a half tablespoons of unsweetened cocoa powder, and an additional packet of stevia.
Butterscotch – Add two teaspoons of butterscotch extract.
Coconut – Add two teaspoons of coconut extract.
Caramel Almond – Add one teaspoon of caramel extract and one teaspoon of almond extract.
Peppermint – Add one to two teaspoons of peppermint extract (however this depends on how strong the extract is)
Pumpkin Spice – Add three tablespoons of pumpkin Puree, two teaspoons of pumpkin pie spice, and one additional packet of stevia.
Note: When making vegan sweetened condensed milk you must use canned full-fat unsweetened coconut milk to get the right texture.
Here are a few options to use if you swap out the almond milk while making the creamer:
Cashew Milk
Oat Milk
Soy milk
Hemp milk
Flax milk
Rice milk
Hazelnut milk.
Conclusion:
A non-dairy creamer is known to have fewer calories and less saturated fat as compared to heavy cream or half and half that is usually used.in other words, this is a healthier choice. However, some brands of non-dairy creamer contain unhealthy and processed sugar and oil. The healthiest and safest option would be to use an unsweetened non-dairy creamer.
Also, remember most people drink coffee every single day. Hence finding the right and most suitable vegan milk to supplement your wake-up call is very important.
Vegan milk is the right choice for people who are lactose intolerant.
It is low in saturated fats.
Boosted with vitamins and minerals
You also have a wide wide variety of vegan milk options to choose from.
Everyone is on the path to creating a safe and healthy lifestyle. If we start with small things we could go a long way. Keeping our health as a priority it is very important to eat right. And make sure we do, eat and drink what is perfect for our bodies. Starting with a healthy breakfast or in most cases, a healthy cup of tea or coffee is a good way to start your day and get that energy and positive vibe running throughout the day!
You can also check:
You can also visit foodiewish.com for more food-related blogs.