You only need to plug the power cable of your portable coffee maker into the cigarette lighter to get the coffee maker going. With the very 12-volt coffee makers, you don't have to wait too long before smelling and savoring the rich barista-level coffee.
This article is a guide to the 10 portable coffee makers for camping and backpacking. You just need to plug the power cable of your portable coffee maker into the electric plug and you can enjoy a warm coffee. We have listed some of the portable coffee makers here, from which some use ground beans, and some use just pods for coffee brewing.
Also, please remember to bring a proper storage device for your coffee beans, for a short, one day trip a vacuum-sealable bag might do, for longer trips – take a mason jar or any other hard container that can be sealed off of the air. Check this guide on how to store your coffee beans for more information.

Our Handpicked Recommendations On 12 Volt Coffee Makers for Camping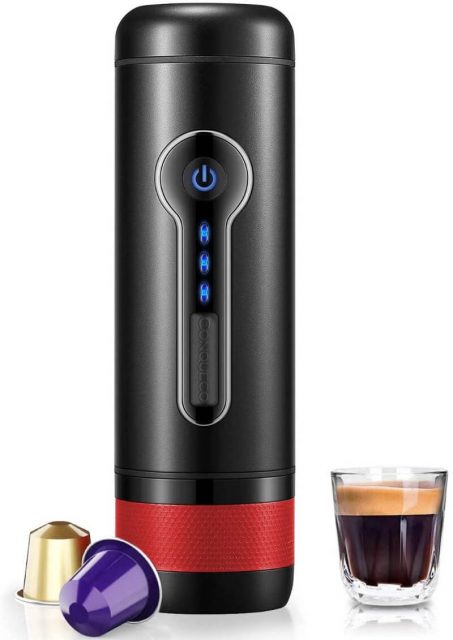 CONQUECO is a fairly new company (est. 2009) with a mission to empower everyone to challenge the climate. What better way can you do that than with a toothsome cup of cuppa?! The manufacturer is renowned as one of the most trusted direct-to-customer brand for heated apparel in the US but has extended its range into accessories like portable coffee makers.
So, why does this product make our selection? First, this small travel coffee maker delivers up to 15 bars of pressure- the same amount found on commercial espresso machines. This high-pressure pump unlocks the delicate flavors and premium aroma of your coffee during the brewing process and guaranteeing a barista-style result.
That is, it uses both hot and cold water. If you add hot water to it, a simple push of the brew button for 5 seconds will get you an aromatic coffee. When using cold water, press the button for two seconds to start heating the water, and in about eight to twelve minutes, your coffee will be ready.
This mobile coffee maker comes with a portable, streamlined, compact, and lightweight design. It could fit into the cup holder in your car or a bottle holder in your backpack easily (somewhat of a backpack coffee maker). So, for hiking, camping, fishing, hunting, etc., you will find this device very comfortable. More so, the coffee maker does not need a USB connection to operate, with the rechargeable battery it can be used standalone. Hence, improving its overall ease of use.
The machines; cleaning process is simple, convenient, and fully automatic. You only need to run the machine without capsules by pressing the power button for 5 seconds.
Sadly, this machine is only compatible with Nespresso capsules or L'OR capsules and will not work with others.
Pros
Powerful espresso pump that brews coffee and espresso
Compact, lightweight, and space-saving design
Easy to use and clean
Made from food-grade plastic material
Cons
Compatible with only Nespresso or L'OR capsules
It is not drip-free
---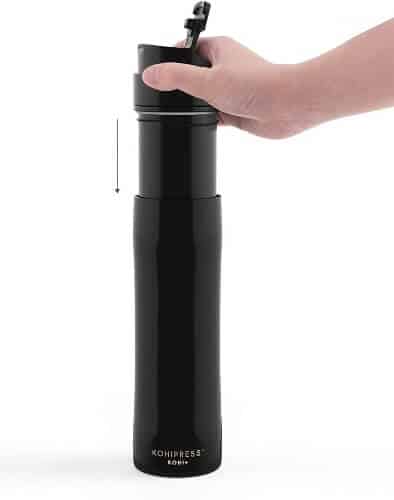 Remember our truce? So, here's one for our French press lovers, and trust me, they'll love it. KOHpress portable French press is an excellent option if you want to enjoy the toothsome taste of French press coffee while traveling, hiking, or camping.
Although the brand is quite new, founded only in 2017, but its mission to provide simple, inexpensive coffeemakers with taste has led it to manufacture what we see as the portable French press coffeemaker or what we call the portable coffee maker for its price.
This product stands out for many reasons. First, it comes with premium steel and BPA-free plastic construction that wouldn't rust nor add a plastic or metallic taste to your coffee. It uses a full-immersion steep with a pressurized plunger press to make rich, smooth cups of both cold and hot brewed coffee.
This portable coffee press has a completely leak-proof lid that allows you to store it anywhere without the worry of spilling your Joe. It uses a fine, reusable, micron stainless steel mesh filter that is both environmental and pocket friendly.
Lastly, another exceptional feature of this car coffee maker is its patented self-lock mechanism for easy cleaning. This function separates the brewed coffee from the used coffee grounds and allows you to rinse the chamber and plunger under a tap.
Pros
Very affordable
It comes with an insulated travel mug, plunger press, and leak-proof lid
Superior-quality construction
It produces excellent tasting coffee
Extremely drip-free
It fits perfectly into car drink holders
Cons
It does not produce as much pressure as an Aeropress but its coffee is still good
---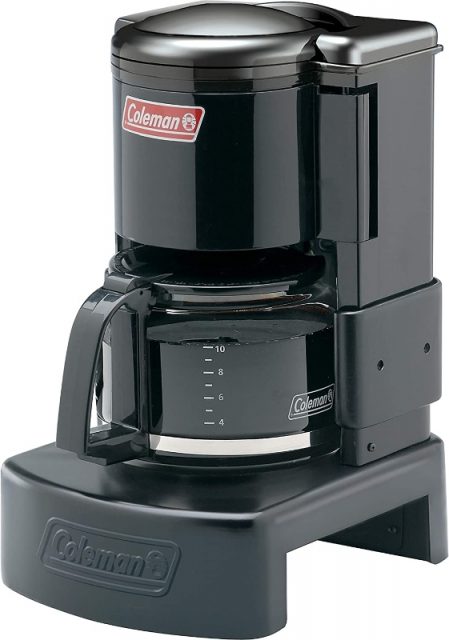 Coleman is a US-based company with over 120 years of experience in producing camping essentials like coolers, camping furniture, sleeping bag, tents, and camp kitchen equipment like coffeemakers. The brand is known for its creating the first portable, gas-powered lantern that illuminated the first evening football game of West Mississippi in 1900 and the camping stoves for WWII soldiers in 1942. Overall, when it comes to camping equipment, Coleman is a go-to brand for many.
The Coleman camping coffee maker is a favourite for truckers, and it is easy to understand why. You can brew up to 16 oz of coffee in 15 minutes while on the move or camping.
Additional features of this travel coffee maker that makes it a big hit among travellers, campers, and RV owners include the water level meter to show you how much water you have left; a vehicle mounting bracket to hold the coffee maker securely; and a 7-foot long power cord.
The machine brews coffee directly into the 16 oz stainless steel mug and also supports a 'Stop-Drip Interrupt' system. This works to reduce or eliminate drips and mess when the portable coffee maker mug is removed.
This travel coffee brewer is suitable for camping, and other static routines. Its base is made of steel that fits over most camp stove burners and it has a Pause 'N Serve feature that lets you serve some cups before the brewing process is complete.
And to cap it all, you don't even have to purchase the filter again as the included filter reusable and easy to clean.
Pros
Comes with mounting bracket
Brewed coffee is great
Easy to use
No need for filters
The mug is made of stainless steel
Cons
A bit slow to brew
Power cords can become very hot
---

This is a Chinese-based company founded in 2013 with the focus of providing coffee freedom via manufacturing portable, world-class quality, and intuitive design coffee makers.
NowPresso NPFP 18001 espresso machine is a small, fully-automated, lightweight, compact cigarette lighter coffee maker with several innovative designs features all geared toward producing full-flavored, creamy coffee, or espresso at any given time.
The travel coffee press features a One-touch operation button, a maximum pump pressure of 15 bar, removable 28.48 WH, battery, NowPresso car charger; and a USB Type-C connected to an AC adaptor.
When fully charged, the machine can boil enough water to make up to 3 cups of coffee. And it takes about 8-10 minutes to get the water to boil. It features a single button function for operation, a digital OLED display, and an automatic pump that pours coffee directly into its detachable TRITAN cup. TRITAN is BPA-free. So, there will be no odor or plastic taste on your hot coffee when using the cup.
For results, it is recommended you brew your coffee or espresso with Nespresso Coffee capsules or SealPod reusable stainless steel capsules. Yet, the device is compatible with aluminum capsules.
The espresso machine looks similar to the Handpresso machine above in both functionality and cost. So you should expect to pay quite a sum for it.
Pros
It is very durable
Made with food-grade plastic material
The brew is okay
It can be used as a USB powered coffee maker
Easy One-touch operation
Compact and lightweight design
Cons
---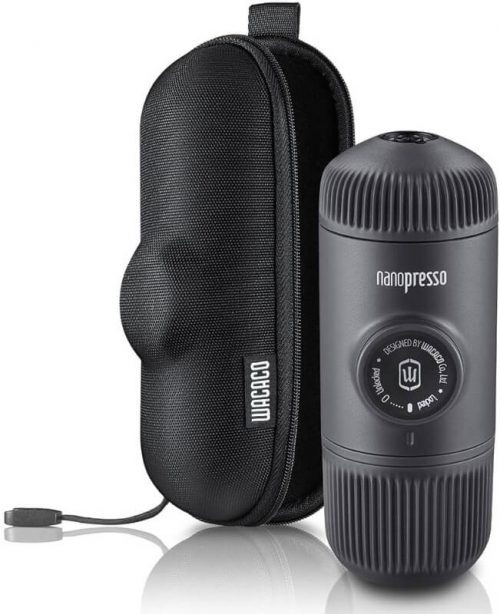 Wacaco is a start-up company founded in 2013 and based in Hong Kong. The brand was established to make devices that allow users to pull their drinks on the go. Wacaco stands as one of the most creative and innovative portable espresso machine manufacturers in the industry. Its products are comprised of portable coffeemakers like the PipaMoka, CuppaMoka, Minipresso, and Nanopresso.
The Nanopresso comes with various color series to match your personality and is arguably one of the most versatile espresso machines you can get for its size.
The most standout feature of this on the go coffee maker is its massive extraction pressure. With a push from your hand, the device can get to a maximum of 18bars of stable pressure for extraction. All thanks to its newly patented pumping system. This force provides you unparalleled coffee extraction and quality more than what many home espresso machine delivers.
This device works with finely ground coffee tamped hard. It is simple to use and would not require much energy from you. Weighing just 336grams, this device will be convenient for any outdoor operation. Its 80ml water tank capacity and detachable cup make it even more convenient as you wouldn't need any other accessory rather than the coffeemaker.
The package includes the Nanopresso, protective case made from durable EVA material with soft fabric interior lining, two detachable cups with heatsink pattern to absorb heat and protect the hands, easy to clean filter basket, scoop, and brush.
Pros
An innovative, efficient, and high-pressure pumping system
Compact, lightweight design easy to carry about
It produces excellent tasting coffee
It is available in different colors
Easy to use and clean
An excellent choice for camping, hiking, or other outdoor activities
The device does not need batteries, electricity, or any power source
Cons
The brewing process is not fully automatic
No auto-clean function
---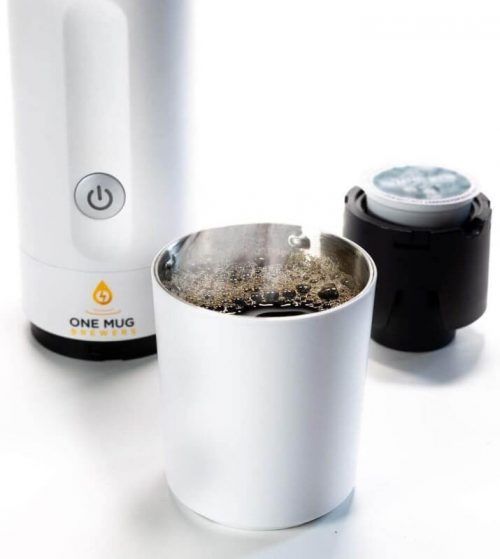 Up until now, all the products on our list supports many coffee types but not K-cups. For that reason, we looked up some of the portable espresso and coffee maker that is compatible with K-Cups and none caught our fancy more than the MobiBrewer coffee maker.
This portable coffee brewer is a stellar product from One Mug Brewers- a US-based manufacturer who pride themselves in quality and is determined to bring to you the most innovative and convenient portable coffee brewing devices.
The coffeemaker has three modes of operation: vehicle, electric travel coffee maker (wall outlet socket), and complete portability. By plugging the device into your 12V vehicle adapter, you can brew a delicious cup of coffee with a push of a button. You may also choose to use an AC/DC adapter (sold separately) to your wall socket or plugin the external lithium-ion battery (also sold separately) for a fully automatic experience.
It is worth mentioning that the two built-in AAA batteries on this device do not support heating water. You can only add hot water to the chamber when using the batteries. For a fully automatic experience, with water at any temperature, you should use the vehicle adapter, wall outlet, or purchase separate 12V lithium-ion batteries.
This portable k-cup coffee maker is slightly longer than the Handpresso and other brands on the list but its overall portability is uncompromised. It features a lightweight, sleek and easy-to-use design that guarantees extreme user convenience at all times. Its 180ml water tank capacity and attached travel mug provide you somewhat of a portable but complete package.
Pros
Compatible with K-cups and lose grounds
It beeps when the brewing process is complete
Easy to use and clean
Cons
It takes up to ten minutes to heat up
---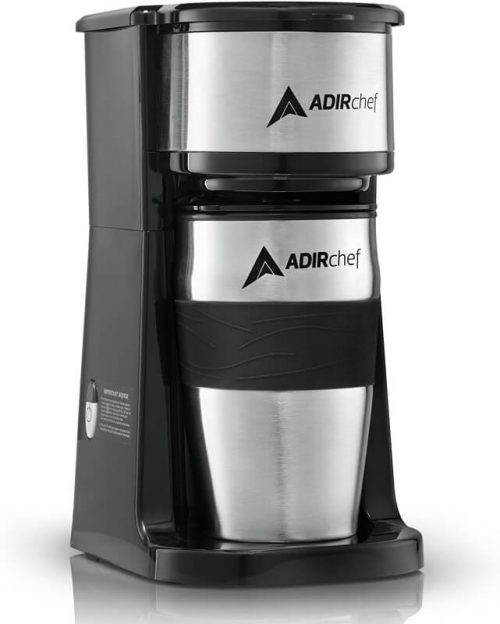 AdirChef is a New Jersey-based manufacturer of small kitchen appliances including coffee makers, fruit, and wine presses. Her products stand out for their sleek, convenient, and easy-to-use designs made from highly durable and high-quality materials.
Grab N' Go coffeemaker comes with a universal design that fits into most travel mugs. Its design is most suited for persons who love to take a cup of coffee whilst on their way to work, school, commute, or while on the go.
The coffee machine comes with a well-insulated mug to keep your coffee warm for a long time. It is also eco-friendly. Meaning that it uses a permanent filter that allows you to cut waste and the extra cost of paper filters.
Transporting this portable drip coffee maker wouldn't be hard at all it comes in a relatively small and lightweight construct and could fit into tight spaces in the office or any other place. The package comes complete- a travel mug, internal filter, lid, and holding a basket. So, you wouldn't have to spend an extra penny on any accessory when you purchase this device.
Pros
Auto shut-off function
Dishwasher-safe
Sleek and stylish design
Makes great cups of coffee
Durable construction
Made with BPA-free plastic
Cons
Some travel mugs won't fit
---
Keurig is probably the biggest name in the coffee industry. It is the 7th largest food and beverage company in the US and had $11bn plus combined net sales in 2019. This coffeemaker wasn't made by Keurig alone though. In 2018, Keurig Green Mountain and Dr. Pepper Snapple Group merged to form Keurig Dr. Pepper to manufacture products that shimmer superior grade construct and the already built reputation of both companies.
K-Mini is the slimmest and most portable brewer in the Keurig family. It is less than 5inches wide, comes with a sleek, stylish, space-saving design, and fits into most spaces. With this brewer, you can make any cup size between 6-12oz with Keurig K-cup pods. Although it is not compatible with K-carafe pods, K-mug pods, Vue pods, or Rivo pods.
On this one cup travel coffee maker, there is an auto-off feature on this device that makes it shut down 90 seconds after its last brew. It also features a removable drip tray that fits a 7.0inch tall travel mug and there is a cord storage system that allows for easy transportation and tidy countertops.
All in all, if you're a Keurig fan, you're sure to get fast and freshly brewed coffee from your favorite K-cup in minutes. With gentle pressure, the travel Keurig coffee maker extracts every ounce of flavor and aroma, producing a rich, full-flavored coffee.
Pros
Compatible with Keurig My K-cup universal reusable coffee filter
It produces a great tasting coffee
Energy efficient
Construct with extreme durability
Cons
One cup reservoir
Only compatible with K-cups
---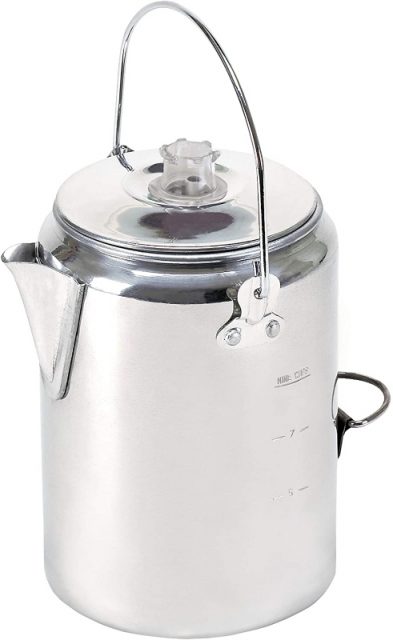 We are not keen on arguing on which coffee preparation method produced the tasting coffee. We call this fight a truce and will provide you a portable device for each preparation technique. For percolator fans, we've been there! We know nothing tells you more than the day will be bright than that distinctive perky sound and the aroma that follows when a percolator is heating on fire- not even the weatherman. So, we meticulously handpick from various options the portable coffee pot percolator- the Stansport coffee pot.
Stansport isn't a new company, like, with Coleman, the brand has established itself as a reputable brand in the camping world. This 70-year old family-run company pride itself on providing quality, yet affordable camping gear like pack and bags, tents, cookware, stove, and grill, etc., for the everyday camper.
Stansport percolator comes in a lightweight, durable, rustproof and high gloss polished aluminum exterior that guarantees fast heating and big enough to hold up to nine cups of delicious coffee. The device comes with two handles strategically placed on the side for easy and safe serving.
It features a drip-free, easy pour spout that wouldn't mess up the whole place nor miss a single drop when you pour your coffee into your cups.
Generally, percolators offer more control of the brewing process than drip machines. By allowing you to alter the coffee to water ratio, brewing heat, percolating time, and more you can tailor your coffee just for your taste.
Pros
Lightweight
Fast heat-up time because of its aluminum construction
It comes with the percolator stem and basket
Easy pour spout
Cons
Not suitable if you can't get a heat source.
It may leak from the pouring spout
---
Handpresso is a France-based manufacturer that offers a whole range of patented manual espresso machines and portable coffee makers.
The good part? This toothsome beverage will be ready in only two minutes!
This travel size coffee maker is sold as a set with the coffee maker, two unbreakable cups, and a napkin. The coffee machine comes with two portafilters that allow you to brew coffee with either the Easy Serving Espresso pods or ground coffee- the small one suitable for E.S.E pods and the larger one for ground coffee.
The mini coffee press also features a round temperature gauge embedded into the body; a switch to serve the coffee when the brewing is complete, and a 12 volts plug that attaches to the cigarette lighter for your car to power the unit.
Using the coffee and espresso maker is quite easy. All you have to do is to load your coffee grounds, plug the 12-volt cord when your car is running then hit the power button. After a while of almost quiet brewing, the device lets you know that the brew is complete by beeping thrice.
All in all, this hand coffee maker is a premium pick. Only that it may leave a hole in your pocket. Yet, on the bright side, you're buying a travel coffee maker set, not just a standalone device. Even more, the quality of the device, as well as the quality of the brew, is so fantastic that you wouldn't mind the price after purchasing it.
Pros
Built-in temperature gauge
Very powerful pump
Extremely durable
It produces delicious espresso and coffee
Easy to use
Cons
It is not drip-free
High price
---
Portable Coffee Makers for Camping Buying Guide
Only regular coffee addicts know what it means to be stuck someplace where the nearest coffee shop is hours away with no guarantee of getting good coffee even if you manage to get there. That is where the 12-volt coffee maker comes in with these 10 Portable Coffee Makers for Camping guide.
With one in your handheld luggage or safely mounted on a rack in your vehicle, your favorite coffee or espresso is never far away.
It gets even better: you can brew hot coffee with the 12V coffee maker with just your vehicle's power supply!
What should you consider before buying a portable coffee maker?
We know how beautifully tempting Nanopresso is- the portability, the aesthetics, and all that. But if you are going to hit the market for a portable coffee and espresso maker, you must put in mind that the product must suit you. What do I mean? 
There are specific questions you must answer that'll lead you to your perfect camping coffeemaker. If you simply pick a product on our list for it looks or just price you will get a device but not suited for you. Below are the factors you consider to lead you to your perfect portable coffee machine. 
Brew strength
This is probably the first thing you must put in place- the design or features doesn't beat the result. How strong do you like your coffee? Do you just prefer 'weak' coffee you could just sip or you're in for an untamed flavor and aroma? Decide on what brew-strength will take you through the cold or hot camping morning and the rest of the day. Yet, if you love more control of the brew strength, Stansport Aluminium Percolator Coffee Pot will be a good pick. Don't get us wrong, you can alter the strength of your Joe with other devices on our list by adding lesser water or coffee grounds but this alteration is quite limited. 
Portability
Your activities, as well as how and when you love your coffee, determines the size of the coffee maker you should get while camping. Put differently, if you love to have your coffee in the wild only in the morning or evening, any coffee maker will do. You can use a percolator, the AdirChef Grab N' Go Personal Coffee Maker, Coleman Camping Coffeemaker, or any machine of any size.
However, if you will be hiking and would love to sip your coffee in between, you need a very portable and lightweight device like the Nanopresso, Nowpresso, Handpresso, or CONQUECO coffeemaker. The whole point of a 12-volt portable coffee maker is the ability to travel easily with it. Portability is key here. Before choosing one, make sure it is not too heavy for you, and there is enough space for it either in your traveling bag or vehicle.
Cleanup
It is common for you to ignore this factor. Who wouldn't though? I see a device that can give me coffee tailored to my taste buds and it's easy to carry about, all is said and done, isn't it? Well, it isn't. You also may have been carried away by some dishwasher-safe products.  Oh, mate, you don't have a dishwasher at your camping site☺.  So, you should get a device you can easily clean with running water or that comes with an auto-clean function. 
Ease of Use
Well, we're quite careful to speak as concerning this matter because there are obstinate fellas who would take a little more pain to get coffee suited for their taste. I may be one of that fraternity, who knows ☺? Let's assume you aren't part of this good brotherhood, you may have got a machine that is straightforward to use and very close to your taste preference. 
Mounting racks
They are essential for the relatively sizeable portable coffee makers, especially for truckers. These racks help truckers to secure the coffee maker when the vehicle is in motion. In some models, the mounting racks come bundled with the coffee maker. If you buy one without the mounting rack, consider purchasing it separately. With it, you'd know your coffee maker is in a fixed and secure place.
In another light, imagine unpacking at your campsite only to realize that you forgot some accessories your machine will need, say its unique coffee filter? We shouldn't imagine the disappointment but avoid it by purchasing coffeemakers with ease and simplicity of use.
Power or Powerless
We know you could use a battery or charge your device from your car as you camp. Yet, you must decide whether you're willing to keep on recharging batteries or just opt for a powerless device. The primary source of power for portable coffee makers is the cigarette lighter of your vehicle. Some of them, though, are fitted with 12v USB adapters to give you more options. If you are traveling in an RV, we have a guide for you for a more sophisticated coffee maker that is less suitable for outdoor camping but is just the right thing if you want to have an excellent coffee while traveling.
Taste
You can presume that you may have accounted for the taste of your coffee by deciding on the brew strength. Well, we hate to piss on your party, but that is incorrect. Put simply, the same coffee grounds will produce cups with different results when used on different coffeemakers. So, if you aren't keen on changing the coffee you like to drink, start by opting for a portable product with the kind of machine you're familiar with. For example, if you love the French press, it is safe to get a portable French press.  
Brew Time
We know how hard it is to wait for your morning brew. Yes, we've all been there! It is even harder if you drink more than two cups and your machine makes a cup at once, after a fairly long wait. You may be, as well, tempted to opt for a quicker device but, then, the wait can be the difference between your coffee (as you would love it) and a decent cup of coffee. You have to decide, can you wait or you want a quick device?
Other factors
There are also other unconventional factors you have to consider before purchasing a coffee maker for a car or truck. Does the device need extra accessories like filters, grinders, measuring cups, etc., that will add to its overall cost? Well, most of the products on our list come with mugs but you will need to get a grinder and measuring cup. Except for the Keurig K-mini Coffee Maker that uses K-pods.
What Are The 3 Types Of Portable Coffee Makers?
There are three broad categories of camping coffee makers. Namely:
Press –

This includes the French press and Aeropress. They both use the same brewing technique by allowing the coffee grounds to brew in hot or cold water for four to five minutes, then the ground is separated from the water using a plunger. There are fully automatic and semi-automatic brewers. However, for camping, they are mostly semi-automatic. Most often, the plunger forces the water through the grounds, leaving your coffee at the bottom. 

Percolators –

Percolators are very sort after when you're camping in a group. That is because they produce coffee in large quantities (typically 8-12 cups). They require a stovetop, camping fire, or any source of heat to operate. These can easily retain heat and provide a wide room for altering the brewing process. Percolators will require frequent checks, a little skill to brew a decent coffee, and does not require you to boil water in a separate pot to use. However, they could easily over-extract, burn, and produce a bitter coffee if not done properly. 

Pour Overs –

Pour overs come in the simplest design and the most convenient to use and clean. They are closest to the typical drip coffee maker you have at home only that it is a little more manual (you will have to pour the water over the grounds). Portable camping pour-over coffeemakers are suited if you want a quick coffee and do not want to be very much involved in the brewing process. But, mind you, less control might mean farness from your taste preference.     
How to brew delicious coffee with your portable coffeemaker? (Tips & Tricks)
Percolators
Percolators require somewhat of a learning curve than other portable coffee machines. So, here are tips you need to observe.
The Grind –

Percolators uses ground coffee beans and the grind size significantly affects the extraction and the resulting coffee. First, while in the wild, you can either grind your coffee from home or carry a battery-operated grinder. Whichever you do, ensure you use a grinder to make a coarse grind. Coarse grounds are perfect because filters common to percolators are not as fine as those on drip coffee makers. So, finely ground coffee will settle at the compartment if used. 

 The setup –

After getting your grind accurately, you should also get the right measure of coffee and water that suits your taste buds. You may consider the golden ratio- two tablespoons of ground for every six ounces of water- if you're not so sure. The water temperature also determines the overall result. 
French Press
The portable French press is very straightforward. There are only two things you should bother yourself with. 
The Grind –

For the French press, you will also need coarse coffee grounds. You will need a grinder to produce the even grounds suitable for this preparation method. You can check our

Coffee Grinders for French Press

for more information.  
The Pressure –

Your coffee still hangs on the scales of quality of the pressure you apply (the force and evenness). We recommend that you not over-press the plunger or push it down too quickly as that will make the water go through the ground too quickly, producing a weak extraction. Gently and slowly press down the plunger to get the results. 
Pour-Overs
For pour-over, a medium-fine ground is considered to be good.The speed of the pour is the cause of the discrepancies in the result. You will need to pour over the grind at an optimal speed. Not so slow that it does not leak down the side of your cup but slowly enough that it only fills up the ground about halfway as it efficiently extracts the flavors and aroma.
Closing Thoughts
We are confident that if you read this section of our 10 travel coffee makers for camping and buyer's guide, you must have gotten a specific product that matches your taste preference, budget, and camping routine. If you are a coffee lover and you either travel a lot, love camping or you are merely a fan of drinking coffee while driving, you need a 12-volt coffee maker with a reliable power source.
However, if you're still unsure of what product suits you, you should look up our 8 Smart Hacks to Make Coffee When Camping. In this article, we analyzed each coffee brewing technique suitable for camping, showing the advantages and demerits of each type. After reading that post, you should have decided on what brewing technique suits you. Then, come back and pick your product.