Versatile, Refreshing And Flavourful Coffee Rub Recipe For You To Use On Anything. This is something that will help you add a delicious touch of coffee to anything coming out of your kitchen. From meats to breads to salad dressings, you can use this coffee rub spice on anything and everything.
Coffee Rub Recipe
A coffee rub recipe is an answer to all your prayers when you want to enjoy a juicy steak that is mildly spiced while still scoring big on the flavour. This recipe is perfect not only for brisket and other heavy meats but also if you want to indulge in a unique chicken roast for Thanksgiving. This is the perfect marinade by itself but can also be paired with other ingredients to boost a dish.
Though you will find a number of coffee rub recipes if you search the net, we have the most reliable one for you. So that's half the job done and you can thank us later.
Ingredients
2 tablespoons ground dark roast coffee

1 tablespoon unsweetened cocoa powder

1/2 teaspoon cinnamon

1/2 teaspoon olive oil

1/4 teaspoon kosher salt

1/4 teaspoon black pepper
Method of Preparation
Combine all the dry powders in a bowl.

Mix them well with a dry spoon or whisk.

Add the olive oil in the end and whisk again.
What Can Coffee Rub Be Used For?
Though coffee rub is used almost exclusively in beef dishes, it can be paired with a couple of other items as well.
Chicken

Turkey

Poultry 

Venison or any other kind of game meat.

Roasted vegetables

Poached eggs

Steamed fruit
Since coffee has quite a bitter and strong flavour, you will need to make an informed choice regarding what to pair it with. There are some items that are a complete no-no when it comes to a coffee marinade, like some bitter vegetables, eg, ash gourd.
On the bright side, dry meats like poultry and turkey seem to do pretty well with a coffee dry rub as the caffeine in the ground coffee seems to be a good tenderizing agent for the meats.
Here are a few more variations of the versatile coffee rub recipe.
Coffee Rubbed Steak Recipe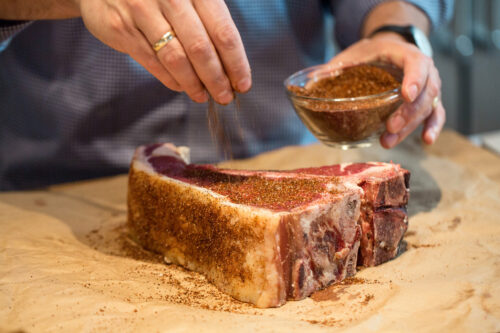 A coffee steak rub recipe is all you need to impress the guests at your next party.
Though a steak is usually associated with either a fiery, spicy marinade or a cheesy and creamy one, you will be surprised at the results of a coffee marinade for a juicy steak. Not only is it bursting with flavour, but also keeps the meat succulent. Take note of this foolproof coffee steak rub recipe that will pack you a number, of compliments.
Ingredients
2 tablespoons ancho chile powder

2 tablespoons finely ground coffee beans

5 teaspoons dark brown sugar

1 tablespoon hot smoked Spanish paprika

1 ½ teaspoons dried oregano

1 ½ teaspoons freshly ground black pepper

1 ½ teaspoon ground coriander

1 teaspoon mustard powder

1 teaspoon chile de árbol powder or ¾ teaspoon finely ground red pepper flakes

1 teaspoon ground ginger

1 tablespoon kosher salt, plus more

2  16-ounce boneless New York strip steaks (about 1 inch thick)

2 tablespoons vegetable oil
Method of Preparation
Mix all the spices along with ginger and 1 tbsp of salt in a small bowl.

Whisk the dry powders together to ensure there are no lumps.

Now salt your steak on both sides and then pat the dry powder on each side of the steak. Around 5 tsp per steak should be enough. You may reserve any leftover spice rub in an airtight container.

Now put the steak to chill for a minimum of 3 hours. We do recommend overnight marination for a potent flavour.

Take the steak out of the refrigerator at least one hour before you are ready to bake or fry it. This will allow the steak to come to room temperature which in turn promotes even heating and cooking.

Preheat your oven to 400 F.

Before popping the steaks in the oven, give them a quick deep fry in hot oil. Around 2 minutes on each side should ensure that they develop a nice crust. 

You can now transfer the steaks to your oven and cook till an instant-read thermometer registers 120 F when inserted into the steak. This will render a medium-rare steak. You may adjust the cooking time in the oven accordingly.
BBQ Brisket With Trager Coffee Rub Recipe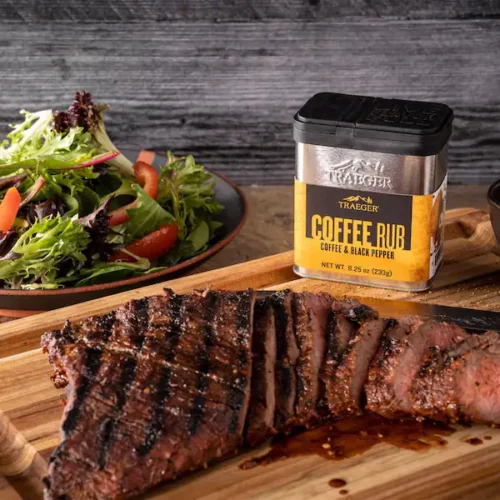 There is no doubt that the Trager coffee rub recipe is something that other rubs will have a tough time matching up to. Trager has come up with some of the perfect coffee rub recipes that give your meats delicious depth and a subtle bitter essence that works perfectly with a mildly sweet BBQ sauce. Our next recipe will help you marry the two flavours to perfection.
Ingredients
2 tbsps Trager coffee rub

1 tbsp salt

1 cup water

15-pound whole packer brisket

5 tbsp BBQ sauce
Method of Preparation
Combine the coffee rub, salt, and water in a bowl. 

Stir until all the salt has dissolved.

Inject the marinade at regular intervals into the meat. If there is any remaining marinade, you may pat it onto the surface of the steak.

Preheat your grill to 250 C for 15 minutes.

Place the marinated steak directly onto the grill plate and cook, covered for 6 hours.

Once the initial grilling is over, wrap the brisket in 2 layers of tin foil and pour in half a cup of water. 

Secure the tin foil tightly and return the brisket to the grill for an additional 3 hours. You may increase the temperature of the grill to 275 if you want a well-done steak.
Conclusion
Choose your cut of meat well. A meaty piece with less fat is always perfect for grilling.

Ensure that you prep your meat by salting it on both sides before marinating. You may also use a brine to soak the meat before marinating.

It is perfect to marinate meats overnight with a few cuts or pricks along the length of the meat to ensure that the spices seep into the meat.

Allow the meat to rest for at least 45 minutes before cutting it. This gives the flavours time to develop.

Make sure that you store this spice rub in an airtight container. Even a little bit of moisture in the air is enough to ruin the whole thing.
You could also store it in the freezer to ensure it stays fresh for a longer time, but it is best if you make it in small batches and use it up quickly.
You can also check:
Also, you can foodiewish.com for more food-related blogs.