A few words on coffee makers with a thermal carafe
Coffee maker with a thermal carafe is something that we all need at home. But buying one might not be so easy. These coffee makers are great because they are so easy to use and so convenient. You can buy a programmable coffee maker with an insulated carafe. Have it programmed so that it brews your coffee just when you wake up. And forget about the mornings that you had to wander around the kitchen. Half asleep, looking for those beans or pre-ground coffee, then remembering that you forgot to pour in some fresh water. Bumping your toe against the counter…you know the drill. If this sounds like you – you would do well with a programmable coffee maker.
Buying a coffee maker with thermal carafe might seem like a daunting task, but it does not have to be so. Here we have written a convenient buying guide for you – all you need to know to find your perfect thermal carafe coffee grinder – read it below. And we have tested (some) and reviewed (all of them) the best coffee makers out there now. Not every model is the newest on the market. But then again – you don't need the newest model, you need the best coffee maker – and that's what we have reviewed here. 
[table id=2 /]
Best Coffee Makers with a Thermal Carafe Reviewed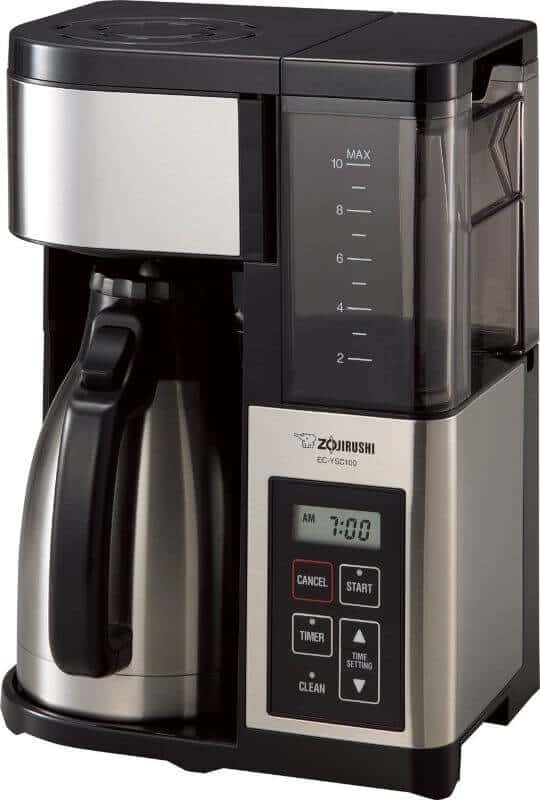 The heritage of the Zojirushi brand dates back to 1918. Since then, the company established itself as a top brand in household products with its latest technologies and leading-edge products. The philosophy of this japan-based company canters on "Creating a Quality of Life," and the EC-YSC/TYC 100 (alongside other products) reflects this goal.
The standout feature of this 10-cups thermal carafe coffee maker is its exclusive Superior Insulation Technology. This option allows the coffee to stay hot for hours. So, it eliminates the use of a hot plate to keep coffee warm as well with the burnt taste from keeping it there for too long. 
Well, that's not all. The device also comes with other useful features common to high-end products. First, it has two brewing cycles – a regular mode and the Time Saver mode. It has the pre-infusion cycle that wets coffee grounds before brewing for efficient extraction of flavor and aroma. 
For convenience, the machine features an easily accessed Swing Basket and Filter Basket. It uses a reusable, eco-friendly stainless-steel mesh filter. 
Finally, there is a programmable timer for preset brew and a clear indicator that alerts you when the machine is due for a cleaning.
Pros
Durable and sturdy stainless-steel construct
Feature-rich
Easy to use and clean 
Auto shutdown
Thumb activated pouring
Cons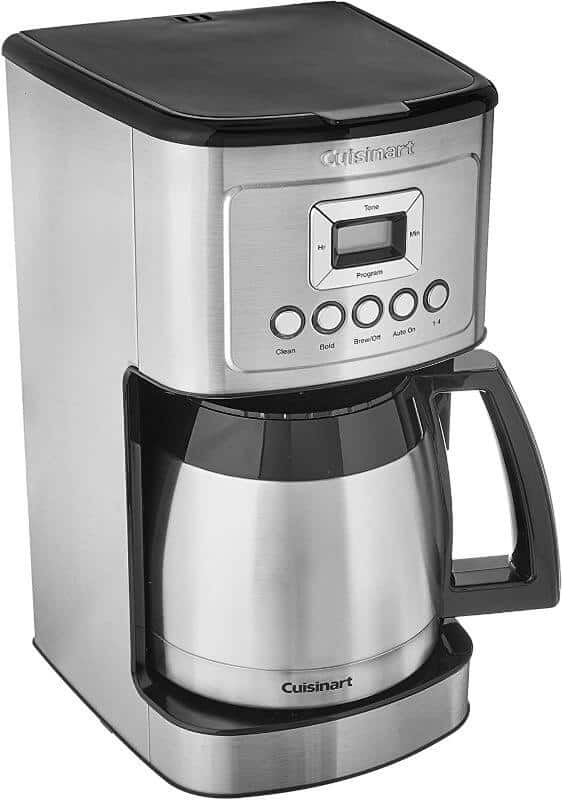 Cuisinart is a prestigious and renowned brand in the cookware industry. The Stamford-based company started production in 1973 with a mission to help customers "Savor the Good Life." That legacy is still alive and well today, and the Cuisinart DCC- 3400P1 12 cups thermal carafe coffee maker very much represents it.
One standout feature of this appliance is its superior coffee-making technology that gives you a hotter coffee without compromising its taste, flavor, or quality. Another is its Brew Strength Control that gives you full control of your flavor profile – either bold or regular. 
Like the Zojirushi EC-YSC 100, this product also comes with a 24-hour programmable timer for preset brew. However, it has a unique technology called the Brew Pause, which lets you enjoy a cup of coffee before the brewing is complete. 
If there is a loss of power, thanks to its 60 Second Reset feature, the machine can recall the settings and position in the brewing process before it was interrupted – and return to it. 
The coffee machine comes with a Gold-Tone Coffee Filter and Charcoal water filter. Both of which are reusable and of excellent quality. There is a self-clean feature, auto-shutdown mechanism, and drip-free cup. 
Pros
SCAA-certified

Top-quality stainless steel construct

Excellent warranty (3years)
Cons
The cup drips when pouring coffee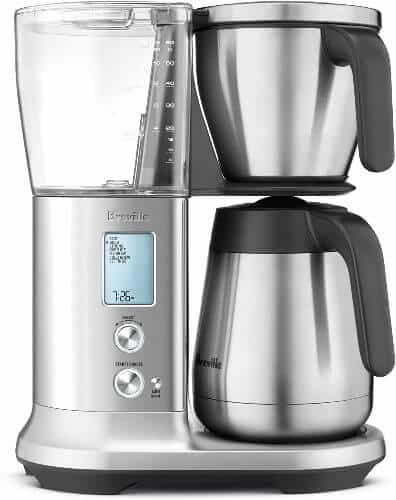 Breville – a Sydney-based company, founded in 1932 – is an iconic global brand that enhances people's lives with its thoughtful design and brilliant innovation of kitchen products. The company is peculiar for its consumer-based innovation insight and overall impressive features on each product. 
The Breville thermal brewer comes with many stand out features. For a start, it has six automatic and customizable brewing modes. These preset modes include Gold, Fast, Strong, Iced, Cold Brew, and My brew. With the "My Brew," you can customize the brewing and overall taste and flavor of each cup by adjusting bloom time, brewing temperature, and flow rate. 
Its heating system comes with highly efficient thermal-coil, in contrast to the typical aluminum coil used in most competitors. '
Also, the device comes with a unique Auto Steep and Release technology. This patented technology utilizes a valve to automatically hold the water in contact with coffee when brewing a small amount of coffee without the carafe in place.
You can brew any volume of coffee exactly how you want it using its included Flat Bottom and Cone Filter basket. Alternatively, you can use the Gold Cup preset mode to brew the SCA standard coffee, with brew temperature and time automatically optimized. 
Pros
Low-energy consumption

Brews large and small quantities of coffee with the same efficiency

Improved heating system 

Versatile brewing modes
Cons
Its brew time is longer than most competitors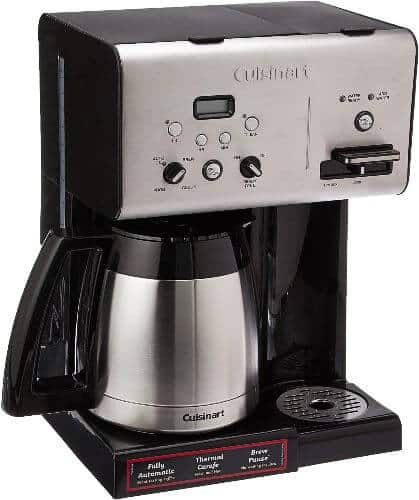 If you're looking for one coffee maker to serve a variety of drinks, this appliance is your best pick. The coffee maker allows you to heat water for cocoa, oatmeal, or tea while brewing a tasty cup of joe alongside. 
The hot water system has a separate power button and a 56oz water reservoir. It operates independently of the coffeemaker and dispenses hot water when you push its lever. 
The device also comes with a sturdy, stainless-steel construct, and a polished, shiny exterior. It also has many other outstanding features peculiar to its manufacturer and a few typical ones. 
To start, it has a fully automatic option with auto-on and an auto-shutdown feature. The auto-on option is the same as the preset brew that allows you to set a time for the machine to brew coffee automatically. The appliance also comes with a selectable Ready Tone to notify you when the brew is complete. 
Like the Cuisinart DCC- 3400P1, this product has the Charcoal Water Filter and Gold Tone Filter to remove impurities that can mar the taste or brew your beverage. It also comes with the unique Cuisinart Brew Pause option and a removable Drip Tray that accommodates both tall and large mugs.
Pros
Excellent warranty

Self-clean function

Separate hot water system

Superb durability 

Brew strength control 
Cons
The programmer might fail after years of use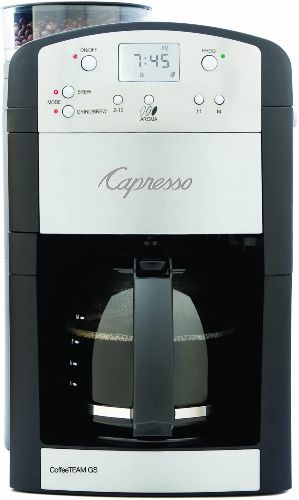 Capresso is a brand marketed by JURA Inc., a US leader in premium home-use coffee equipment. The brand, established in 1994, has been responsible for many industrial first, and its position in the market is alongside top-quality brands like Cuisinart and Zojirushi.
The standout feature of this 10-cup coffee maker is its built-in grinder alongside an excellent coffee brewer. This feature does not only save you the cost of buying a separate grinder. Correctly, it also preserves more flavour because the brewing starts immediately after the coffee grinds. Besides, the 6-ounce bean container can hold enough beans for 20 cups of coffee before refill. 
Yet, its compact direct-feed technology allows the grinder and machine to be compact and space-saving design while keeping moisture away from the ground. 
As with every top-quality thermal carafe coffee maker, this product comes with an easy-to-clean Permanent GoldTone Filter. It also has an efficient Charcoal Water Filter that removes up to 82% of chlorine and other impurities.    
There are five fineness settings on its grinder for light to dark beans. These settings allow you to control the grinder – from coarse to fine- for taste adjustments. 
The appliance also has other features like the auto shutdown, drip-free pouring cup, and programmable timer for preset brew.
Pros
Integrated grinder

Air-tight bean storage container

Compact and space-saving

Large brewing capacity 
Cons
Too many plastic parts

No water level gauge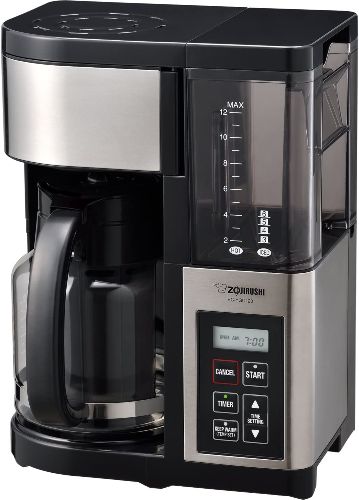 As expected from a company with a century of experience, Zojirushi's product shimmers excellence and superior construction. Thus, the reason why another product from this manufacturer made our list. 
Meanwhile, if you are looking for a thermal carafe coffee maker that brews both hot and iced coffee, this device is your best option. It comes with a quality construct as well as numerous superb features that will produce a tasty cup with superior flavor and aroma.
This 12-cup machine brews coffee at a high temperature (200 degrees Fahrenheit) for superior extraction of grounds, either for hot or iced cup. It comes with a convenient ice basket, coffee water measure lines, and Keep Warm option.
The keep-warm feature helps to keep your coffee at a warm temperature, and the device has options for four selectable levels- High, medium, low, and off. 
Like other top products, this one has a 24-hours programmable timer, clean indicator alert, and auto-shutdown feature. 
Pros
BPA-free parts

Sturdy and durable construct

Excellent and efficient in operation

Easy loaded filter basket 

Easy to clean parts, load tanks, and operate.
Cons
Black & Decker is an American manufacturer of home improvement tools, kitchenware, power tools, and fastening systems based in Towson, Maryland. The company has over a century of experience, and its products are peculiar for its thoughtful design, brilliant construct, and low price. 
The Black & Decker CM2035B is a cheap but top-quality coffeemaker with numerous outstanding features. However, its exceptional feature is its Evenstream showerhead technology. This option allows for an even spread of water over the coffee grounds for maximum flavor extraction. 
The product, like the Cuisinart DCC- 3400P1 and CHW 14, also has an option to pause the brew and take a cup without making a mess- Sneak-a-Cup option. 
Other stand out features are the auto brew and auto shutdown option, quick touch programming interface, water level indicator, and brew strength selector. 
Pros
Excellent warranty (2 years)

It is dishwasher-safe

It comes with a freshness indicator

Modern and compact design
Cons
Coffee grounds can leak into the pot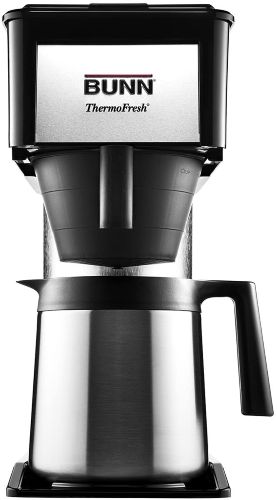 BUNN, since 1957, has been at the forefront of dispensed beverage equipment with its innovative technology to meet the changing needs of customers by the highest possible quality.
The outstanding feature this product has over competitors is its short brew time. Correctly, this machine can brew three to ten cups of coffee in 3 minutes. That is half the time of typical coffee makers, and way faster than any product on our list.
Another standout feature is its vacuum insulated double carafe wall that can keep your coffee warm for up to 2hours without reheating. '
The product also has a spray head design that evenly distributes water for improved and more efficient extraction. 
Pros
Brews quickly

Three years warranty

Sleek design
Cons
It uses a lot of (800W) power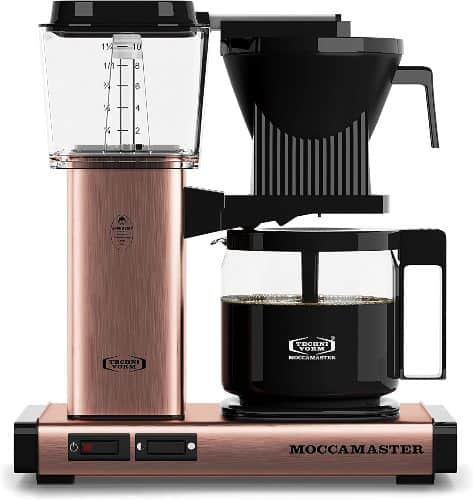 Technivorm is a Netherland-based manufacturer of premium quality Moccamaster coffee makers and grinders since 1964. Its products come in a durable and reliable design with European Coffee Brewing Center (ECBC) approval.
The 59162 KBG is the latest model of the Moccamaster family, and one of its standout features is its excellent, five years product warranty. However, there is no compromise on the quality of its coffee taste or flavor. Correctly, its design is SCA approved to meet and exceed Gold Cup Standards.
Another outstanding feature is its improved 9-hole pipe outlet that triggers water flow for a better spread over the grounds and optimum extraction. 
The machine also features an Auto Drip-Stop brew-basket style, auto shutdown option, and its plastic parts are BPA & Phthalate Free. 
There is a wide range of colours available for this coffee maker that would suit your kitchen's decoration, and it is easy to both use and clean. 
Pros
Excellent warranty

Top-quality construct
Cons
Its power consumption is high (1520W)

It is quite bulky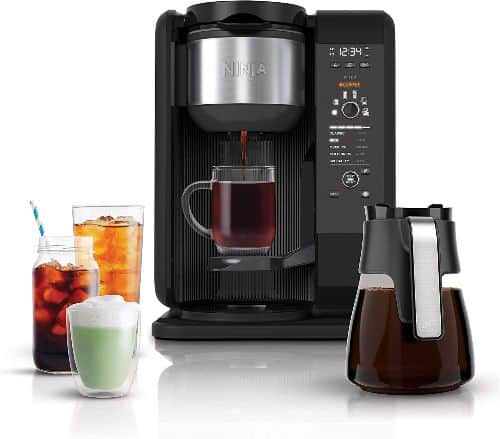 Ninja is a house-care brand developed to lift the lifestyles of busy people all over the world. The Massachusetts-based company prides itself on innovation, ease of use, and competitive pricing.
The exceptional feature of this product is its vast array of coffee and tea options. Correctly, it offers hot, flavourful cups of coffee and tea, over-ice drinks like cold brew and iced coffee and tea, and frothy specialty brews. 
There are five brew styles- Classic, Rich, Over Ice, Cold Brew, and Specialty. There is also a Fold-Away Hot and Cold Frother to turn hot or cold milk into silky-smooth, tasty froths.
The device also comes with a Doubled-Walled Thermal carafe that keeps your beverage hot for up to two hours. It has separate coffee and tea baskets for brewing coffee or loose or bagged tea to keep flavours. 
Another notable feature is its Auto IQ touch intelligence technology that recognizes baskets and displays coffee or tea drinks.
Pros
Versatile 

Built-in milk frother 

It can accommodate a wide range of cup sizes

Stylish design
Cons
Its brew is not very strong
Buying guide – what you need to know before buying your coffee maker
Choosing the "best" thermal carafe coffee maker might seem like a daunting task. First of all – the best is a slippery word. What counts as the best for one, might be something completely different for another. Take this guide with a grain of salt and remember – when you read our suggestions don't forget that you are buying for yourself.
Second of all – there are so many of them, after all. And all of them seem so different and so alike at the same time. In this buyer's guide we have written everything you need to know before buying your coffee maker. Starting from the most important parts – the type of the carafe, to whether or not you need a grinder and what capacity you need.
Most of this you know already, I believe, it is just compiled in one place – so you don't forget to remember about it.
Thermal carafe VS glass carafe – which one is better?
The most notable difference between a coffee maker with a glass carafe and a coffee maker with a thermal carafe is the way that your coffee is kept hot. Coffee makers with glass carafes have a warming plate built-in. They keep the coffee hot when it is finished brewing the coffee. You have the possibility to adjust these plates to your liking. For example, you can choose how long you want them to keep your coffee hot, or how hot you want it to be (not on all models, only the more advanced models will have these options).
Coffee makers with thermal carafes don't have a warming plate because the coffee is kept warm by the carafe itself. In most cases, you will have a stainless steel carafe with insulated walls. Some models have stainless steel thermal carafes with glass-lined walls on the inside. 
A glass carafe can keep the coffee warm for longer, because you can set the warming plate to never stop heating, thus taking care of the temperature of the coffee. 
Whereas a thermal carafe can keep coffee warm only for a certain amount of time before it will give in to the room temperature and the coffee starts losing its heat. 
The pros and cons of both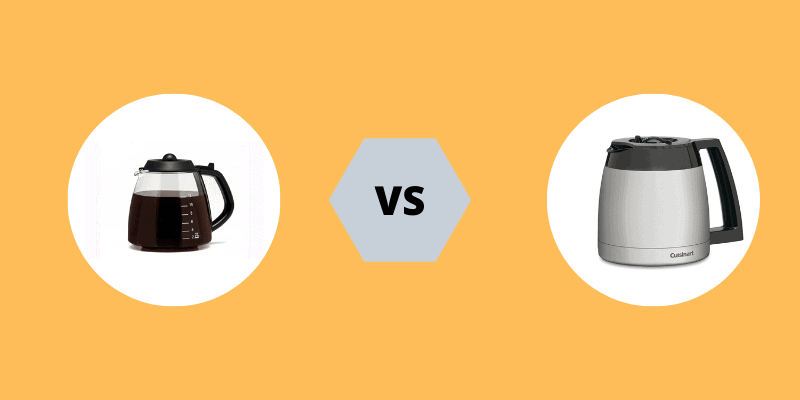 Glass carafe
Although glass carafe, in this case, sounds way better, you should be careful not to keep it warming for too long, as with time coffee will become bitter. Yes – it can keep the coffee warm for days at a time if you choose so, but it will not taste good. As a general guideline – try to drink your freshly brewed coffee within  2 hours after it finishes dripping.
Thermal carafe
Insulated thermal carafe, on the other hand, is capable of keeping your coffee hot for up to 6 hours (as claimed by the manufacturers, in reality – they will give you 3 to 4 hours). Since the coffee is not constantly warmed, it will not become as bitter as in a glass carafe that is placed on a warming plate, but it will still lose some of the taste. 
Glass carafe
One more thing to keep in mind – a glass carafe is a better choice if you are concerned about chemicals leaching into your coffee. Stainless steel carafes are known to be adding slight metallic taste to the coffee. Glass is completely organic and does not do that. 
Thermal carafe
One of the best things about a thermal carafe, in my opinion, is that you can carry it around. Once your coffee is finished brewing, you can just take the carafe and set it down next to your computer in your living room. This is perfect for those who enjoy more than one cup of coffee (or several small cups) at a time. Or if you are planning to sit down and do some work – you won't have to distract yourself by standing up and going to the kitchen to get some more coffee.
Even better when you have friends coming over – just set the carafe on the coffee table in your living room, so everyone can help themselves as they please. With a glass carafe, you would not be able to do that as it would lose its temperature quite soon. That is one of the main reasons why I love a thermal coffee carafe. 
The durability 
The durability should also be considered. I know, you're a grown-up and somewhat a responsible one (proved by the fact that you are actually reading this buying guide and trying to find out more before you buy a thermal coffee maker). So you would think that durability is not an issue. But keep in mind that glass carafes break way more easily than a double-walled insulated thermal carafe made of stainless steel. 
So, if you know that in the mornings you need that one cup of coffee before you really wake up and become fully-functional, better choose something more durable than a coffee maker with a glass carafe. A stainless steel thermal carafe coffee maker, for example. 
What to Look for in a Thermal Carafe Coffee Maker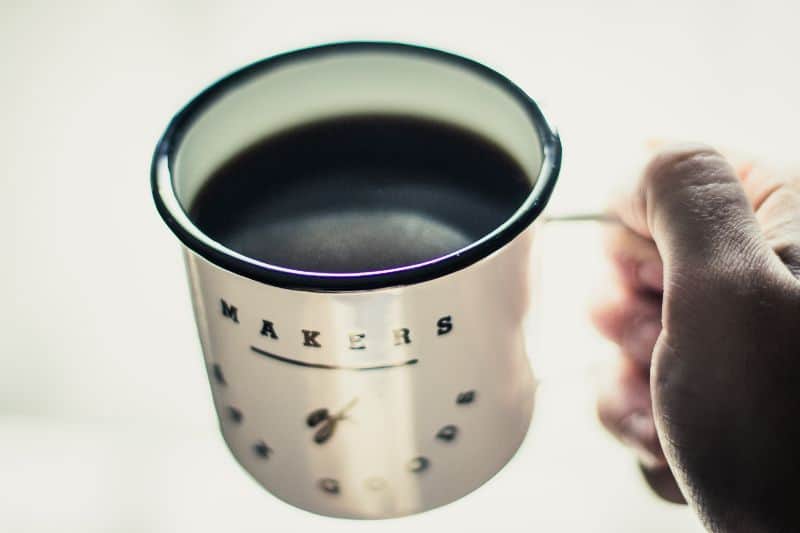 Capacity
How large your drip coffee maker with thermal carafe should largely depend on how many people you want it to serve, as well as – how much coffee you or they will be consuming. When it comes to drip coffee makers, the capacity is determined in cups of coffee it can brew. 
For a smaller household, a 6 cup coffee maker would be enough. Let me remind you that 1 cup equals 4.5oz (or 128 grams). But you also need to remember that our cups might be larger than that. I, for example, own a 450-gram coffee cup. That's nearly 16 ounces of coffee (I like mine with a lot of milk). Way bigger than your average cup. So, when you are calculating the capacity of your coffee maker take into account the usual size of your cup. 
If you tend to use more coffee or have a larger family to provide coffee with, you should probably go for a 10-cup or 12-cup coffee maker. a 12-cup coffee maker might sound quite a lot, but you don't always have to fill it up to the top. More coffee is always better, right?
      Coffee beans grinder
Many drip coffee makers come with a built-in grinder (most bean-to-cup coffee makers, too), but you must be cautious of the built-in coffee grinders here. 
But first – not all of the thermal carafe coffee makers need a grinder. Some of them are accepting only pre-ground coffee. In this case – you don't need to worry about grinding them. Although, if you want to up your coffee connoisseur game, you should start thinking about grinding your coffee beans yourself. That way you can retain more of the flavor and aroma of the coffee beans. 
For the coffee makers that do have grinders built-in them – you need to take a closer look at the quality of the grinder before buying the machine. We have a comprehensive article on coffee grinders that you can read here.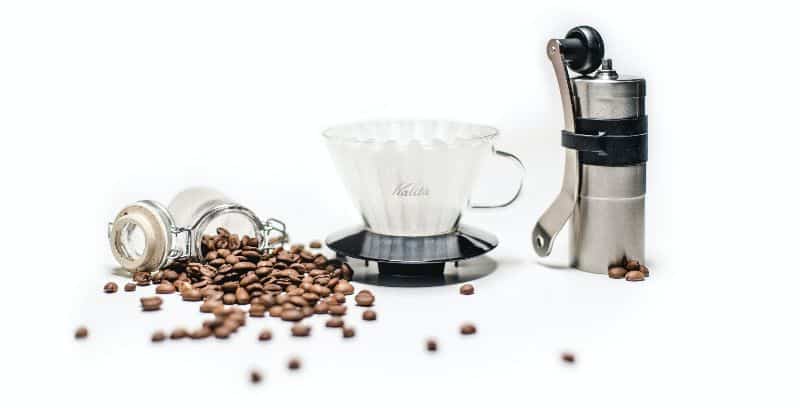 In short – there are two types of grinders you ought to know about:
Blade grinders; and

Burr grinders.
The best grinder is a burr grinder. They are more adept at grinding your coffee beans throughout, reaching a better level of fineness due to the two burr blade-system. Whereas blade grinders employ two blades that cut and crush the beans between the blades, rather than grinding them. 
Next, you want to look at the blade material. There are two most common and best materials for grinders – steel and ceramic. Steel is cheap, grinds well, is durable and gives good performance overall. But ceramic blades are better – they last longer, do not lose their sharpness over time and they are much harder to break than steel blades (steel blades are not easy to break, don't get me wrong, but nevertheless – they can break).
My suggestion for you would be – when choosing your coffee maker consider first – do you need a built-in grinder in the first place? Perhaps you are fine with using just pre-ground coffee? In that case – the cost will go down on both – the coffee maker. Because coffee makers without grinders are cheaper. And the cost of the beans – most pre-ground beans are cheaper than whole beans. 
If you do want to go for the highest quality and best possible taste for every one of your coffee cups – you must use whole beans that you are grinding yourself. If this is the case – I would suggest you to consider buying a separate grinder for that. 
                     Built-in versus separate coffee grinder
Here you need to write about the differences between a built-in coffee grinder and a separate coffee grinder. Mention, what are the best materials for a built-in and separate coffee maker. In which scenario should the buyer choose a built-in grinder and when they should go for a separate grinder (we have an article on grinders, too). 
     The controls of your coffee maker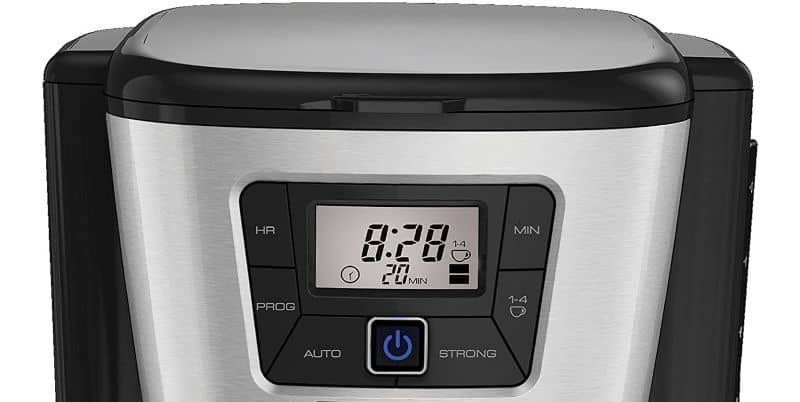 Automatic shut-off
This is a safety feature more than an extra. Automatic shut-off will take care of two things. One – it will help you save electricity and become more "green", leaving a smaller energy footprint behind you. And it will make sure you don't burn down your home, or apartment, or office space. The most basic coffee makers do not have this feature, but only for the very basic ones. You should always make sure you check the coffee maker to see if it has it, just to stay on the safe side.
                    Brew-pause feature
Some coffee brewers allow you to pause the brewing process midway to allow you to steal a quick cup of coffee before the whole brewing cycle is over. This is a very useful feature and one that I employ all the time. When I see that the coffee in the carafe is enough for one cup – I often just take the carafe out to top up my cup. 
And this feature allows you to do just that, without making any mess. It will stop the dripping process mid-way and allow you to remove the carafe before the brewing is finished. It will not drop on the carafe base (or the warming plate) making a mess that you would need to clean afterward. So this is something I suggest you consider when choosing your drip coffee maker. 
                    Keep-warm feature
This feature is only available for the drip-coffee makers that have a warming plate. The keep-warm feature will start the induction plate that will constantly provide heat to the carafe, thus keeping the coffee warm until you are ready to drink it. 
                    Programming features
Coffee makers from the higher shelves can be programmed to automatically start brewing coffee at a certain time, preset by you. That means – you can set your coffee maker to start brewing in the morning, so when you get up, get dressed and head for the kitchen – your coffee maker will be waiting for you with a steaming hot, fresh cup of coffee (well, it will not pour it for you, unless you have a single cup coffee maker, it will be waiting in the carafe).
However, before you go on a shopping craze looking for that coffee maker that will obey your wishes as if they were commands – consider if you actually need it. A programmable coffee maker is nice. And going to the kitchen and see that coffee is already brewed for you – that is also nice. But it also adds to the cost. Do you really need it, or can you wait those 5 or 6 minutes for the coffee maker to brew your coffee?
                    Alerts
The alerts can come in quite handy. Meaning, the coffee machine will let you know (with a loud, annoying "beep" in most cases) that it is finished brewing your Java drink and you should tend to it. And they will keep on beeping (every once in a while) to remind you that you have not taken care of it. And all that is good, actually. It is a nice safety feature that will give you a peace of mind. So the next time you've forgotten that you have coffee waiting for you in the kitchen – the beep will remind you of it. 
      Brewing temperature
The coffee maker you choose should be able to reach and maintain the water temperature from 195F to 205F. This is the optimal brewing temperature to get the best taste out of your coffee grounds. Anything below that might result in a mild-tasting coffee as cold water is not able to extract all the enzymes (not to be mistaken with cold-brew coffee brewing method, for which cold water is used specifically and the brewing method is completely different). Go higher, and you will burn the coffee grounds, resulting in a bitter-tasting coffee that you will not enjoy. All coffee makers have the information of the brewing temperatures provided by the manufacturers. Make sure you check it before buying the coffee maker.         
      Brewing time
An average and optimal brewing time of a drip-feed coffee maker is around 5 minutes. If the brewing time is less than 5 minutes, the brew might turn out under-extracted. The coffee, in that case, will taste mild and weak. The brewing time is closely influenced by the water temperature, as mentioned before in the article – the brewing temperature should be between 195 and 205 degrees in Fahrenheit. Colder than that – it will take longer to extract the taste of the coffee, and the brew will be milder, weaker. 
All of the coffee makers in our reviews brew coffee in around 6 minutes, which is enough time for the water to extract the complete range of flavor from the coffee grounds and prepare tasty coffee. However, in most of the coffee makers, you can adjust the brewing time to your likings.
      Water filters
Those come in handy if you don't already have a water filtering system. A big part of the overall taste of your coffee depends on the water quality. If there are any impurities to your tap water – it will affect the taste of your coffee. Water filters can make sure that does not happen.  
There are two kinds of filters available – paper filters and reusable coffee filters. Paper filters cost less that one reusable filter, however, keep in mind that you will have to buy paper filters all the time. Whereas a reusable coffee filter will serve you for a long, long time. 
Then there's also an environmental issue to consider. Unless you recycle and compost the coffee you have used in a paper filter (and the paper filters themselves) you will end up making a greater impact on the environment than if you would choose a metal reusable filter. 
                     Paper water filters
Paper filters are the most common and the cheapest option. You might have heard the ongoing discussions regarding bleached and unbleached paper filters. Basically – bleached paper filters are white in color, while unbleached are brown-ish. Are bleached paper filters less healthy than unbleached? No, they both offer the same quality, they just look different.  
What you ought to look out for is not whether they are bleached or not, but the overall quality of the filters. Do not try to save a little bit on the filters as it will have a direct impact on the taste of your coffee. 
The first thing to remember choosing your filters – get the right size and shape. I know, this might sound silly, and if it does – you already know what to do. For those who are buying the filters the first time – size and shape – check which ones fit your coffee machine. 
Another thing to keep in mind is the thickness of the filter. The thicker it is – the better it will filter out tiny coffee particles and the more time it will have to extract the flavors and taste of the coffee from the coffee grounds. A thinner filter will also allow the water to filter through it more quickly, this will speed up the brewing process and might result in an under-extraction. 
                     Reusable water filters
Reusable metal coffee filters are way better for the environment. But are they better for you?
Coffee contains an oil that is called cafestol. This oil is known to be raising the cholesterol levels when consumed. The thing with the paper filters is – they are better at filtering out this oil because the water is going through pores in the paper. The metal filters do not have such pores. Instead, they have tiny holes that filter the coffee, and they can not filter most of the oils. 
There is also an upside to this. Metal coffee filters do not filter out as many oils as the paper filters  – therefore your coffee with metal filters will taste somewhat better, richer and creamier. 
So, there are pros and cons to both filter types. You will need to weigh them out and use the ones that fit your preferences the best. If you ask me – I would always go for the metal filters. They are cheaper in the long run. They make my coffee taste better than if I use paper filters and I am very conscious of the environmental issues we have around us. 
What material is the coffee maker made of?
Most coffee maker with thermal carafe are made of stainless steel and high-quality plastic parts. There is not a single coffee maker that is made only of plastic or steel. There is always a mix of both, what is important is to check the durability and quality of the materials used. The more steel used in making the coffee maker, the better, more sturdy it will be. Cheaper coffee makers are made mostly of plastic and will not last as long. The best heating element for such a coffee maker is copper. Also, look for the brands that promise no phthalates or other chemicals that might be leaching into your coffee while brewing, such as BPA free plastic. 
FAQ
What is the best coffee maker with thermal carafe?
Our Top suggestion is the Zojirushi EC-YSC100. Its 10-cup insulated carafe is large enough for any household, and capable of keeping your coffee hot for several hours. And in addition it is programmable and quite smart, so you can adjust it to fit your everyday routine and pace.  But any item on our list is worthy of consideration. 
How long will a thermal carafe keep coffee hot?
A good quality carafe should be able to keep your coffee hot for a good 12-hour long day. That said  -this is not something you actually need, or want. The longer your coffee stays in the carafe, the less tastier it will get. So, I would suggest not to keep your coffee in the carafe for more than two to three hours. Just nbrew less amounts of coffee but do it more often. 
Is Thermal Carafe better than glass?
This depends on your preferences. Coffee in a glass carafe is kept hot by a warming plate of the coffee maker. This means that the coffee, after it is finished brewing, will be constantly heated until you take it off, or drink it. By constantly heating your coffee, it will become too bitter as the enzymes will evaporate along with the water. Thermal carafes are better in that way that they do not actually heat the coffee, they just keep it warm. But – thermal carafes are made of steel, which is known to be adding a light metallic taste to the coffee. Whereas glass carafe does not have any additional taste to your coffee. The middle ground here might be a thermal carafe with a glass lining. 
How long can you leave coffee on the burner?
If you ask at a diner – they would say 30 minutes, tops. But at home (if you're not a picky drinker), you can leave it on for up to two or three hours, any longer than that and the coffee will lose its good taste. 
How do you clean a thermal carafe?
Final words
So there you are, if you read the complete buying guide of our approach to buying the best coffee maker with thermal carafe, you should now be able to go to your favourite shop, browse the products and choose the best one for you. We have also reviewed here the best, in our opinion, thermal carafe coffee makers for your convenience here. Take a look, if you have any additional questions about any of them – let us know in the comment section. I hope you found this guide and the reviews useful and that we managed to help you make the best decision for you.